Abstract
Benefited from their broad-spectrum antimicrobial property, silver nanoparticles (AgNPs) have been widely used in various daily life and medical products. Consequently, the bio-safety of AgNPs, especially long-term in vivo biological effects is of more and more importance. However, there are no correlated publications about AgNP carcinogenicity at present. Thus, in this study, we have investigated the potential carcinogenicity of polyvinylpyrrolidone (PVP)-coated AgNPs with an intermediate size (diameter ~ 42.5 nm). The C57-ras transgenic mouse model (CB6F1 Tg mice) harboring human c-Ha-ras gene was used to shorten the duration of in vivo experiments from 2 years to 22 weeks. CB6F1 Tg mice were intravenously injected by different single doses of AgNPs (0.4, 4, and 20 mg/kg body weight) during the 22-week carcinogenicity study. There were no obvious AgNP-related neoplastic lesions by microscope examination and no increase in the incidence of non-neoplastic lesions in the AgNP-treated mice in our study. Overall, these results indicate that AgNPs (≤ 20 mg/kg) do not cause carcinogenesis in CB6F1 Tg mice via a single-dose intravenous injection. This provides useful toxicological information and is of great importance to more applications of AgNPs in the future.
This is a preview of subscription content, log in to check access.
Access options
Buy single article
Instant access to the full article PDF.
US$ 39.95
Price includes VAT for USA
Subscribe to journal
Immediate online access to all issues from 2019. Subscription will auto renew annually.
US$ 99
This is the net price. Taxes to be calculated in checkout.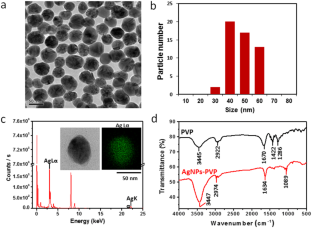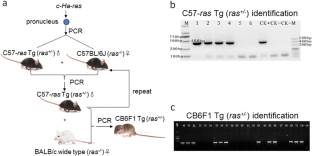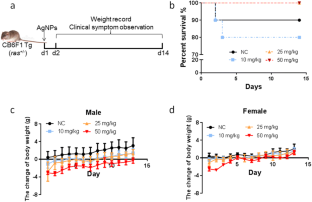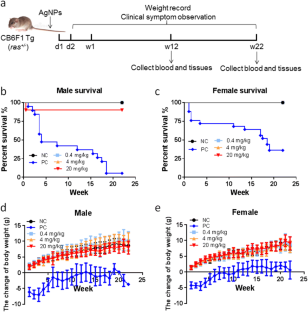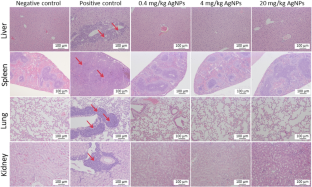 References
Ahamed M, Alsalhi MS, Siddiqui MK (2010) Silver nanoparticle applications and human health. Clin Chim Acta 411:1841–1848. https://doi.org/10.1016/j.cca.2010.08.016

Ahlberg S, Antonopulos A, Diendorf J, Dringen R, Epple M, Flöck R, Goedecke W, Graf C, Haberl N, Helmlinger J, Herzog F, Heuer F, Hirn S, Johannes C, Kittler S, Köller M, Korn K, Kreyling WG, Krombach F, Lademann J, Loza K, Luther EM, Malissek M, Meinke MC, Nordmeyer D, Pailliart A, Raabe J, Rancan F, Rothen-Rutishauser B, Rühl E, Schleh C, Seibel A, Sengstock C, Treuel L, Vogt A, Weber K, Zellner R (2014) PVP-coated, negatively charged silver nanoparticles: a multi-center study of their physicochemical characteristics, cell culture and in vivo experiments. Beilstein J Nanotechnol 5:1944–1965. https://doi.org/10.3762/bjnano.5.205

Asare N, Duale N, Slagsvold HH, Lindeman B, Olsen AK, Gromadzka-Ostrowska J, Meczynska-Wielgosz S, Kruszewski M, Brunborg G, Instanes C (2016) Genotoxicity and gene expression modulation of silver and titanium dioxide nanoparticles in mice. Nanotoxicology 10:312–321. https://doi.org/10.3109/17435390.2015.1071443

Beer C, Foldbjerg R, Hayashi Y, Sutherland DS, Autrup H (2012) Toxicity of silver nanoparticles—nanoparticle or silver ion? Toxicol Lett 208:286–292. https://doi.org/10.1016/j.toxlet.2011.11.002

Biju V (2014) Chemical modifications and bioconjugate reactions of nanomaterials for sensing, imaging, drug delivery and therapy. Chem Soc Rev 43:744–764. https://doi.org/10.1039/c3cs60273g

Boyle MH, Paranjpe MG, Creasy DM (2018) High background incidence of spontaneous subcapsular adrenal gland hyperplasia of Tg.rasH2 mice used in 26-week carcinogenicity studies. Toxicol Pathol 46:444–448. https://doi.org/10.1177/0192623318770965

Butler KS, Peeler DJ, Casey BJ, Dair BJ, Elespuru RK (2015) Silver nanoparticles: correlating nanoparticle size and cellular uptake with genotoxicity. Mutagenesis 30:577–591. https://doi.org/10.1093/mutage/gev020

Carotenuto G, Pepe GP, Nicolais L (2000) Preparation and characterization of nano-sized Ag/PVP composites for optical applications. Eur Phys J B 16:11–17

Chaloupka K, Malam Y, Seifalian AM (2010) Nanosilver as a new generation of nanoproduct in biomedical applications. Trends Biotechnol 28:580–588. https://doi.org/10.1016/j.tibtech.2010.07.006

Che B, Luo Q, Zhai B, Fan G, Liu Z, Cheng K, Xin L (2017) Cytotoxicity and genotoxicity of nanosilver in stable GADD45alpha promoter-driven luciferase reporter HepG2 and A549 cells. Environ Toxicol 32:2203–2211. https://doi.org/10.1002/tox.22433

Chithrani BD, Ghazani AA, Chan WC (2006) Determining the size and shape dependence of gold nanoparticle uptake into mammalian cells. Nano Lett 6:662–668. https://doi.org/10.1021/nl052396o

Danish Consumer Council (2015) The Nanodatabase. http://nanodb.dk/. Accessed 28 Feb 2015

Dobrzynska MM, Gajowik A, Radzikowska J, Lankoff A, Dusinska M, Kruszewski M (2014) Genotoxicity of silver and titanium dioxide nanoparticles in bone marrow cells of rats in vivo. Toxicology 315:86–91. https://doi.org/10.1016/j.tox.2013.11.012

Dziendzikowska K et al (2012) Time-dependent biodistribution and excretion of silver nanoparticles in male Wistar rats. J Appl Toxicol 32:920–928. https://doi.org/10.1002/jat.2758

Environmental Protection Agency of United States (2010) State of the science literature review: everything nanosilver and more scientific, Technical, Research, Engineering and Modeling Support Final Report

European Commission (2014) Opinion on nanosilver: safety, health and environmental effects and role in antimicrobial resistance. Scientific Committee on Emerging and Newly Identified Health Risks (SCENIHR)

Geranio L, Heuberger M, Nowack B (2009) The behavior of silver nanotextiles during washing. Environ Sci Technol 43:8113–8118. https://doi.org/10.1021/es9018332

Gerber C, Lang HP (2006) How the doors to the nanoworld were opened. Nat Nanotechnol 1:3–5. https://doi.org/10.1038/nnano.2006.70

Gliga AR, Skoglund S, Wallinder IO, Fadeel B, Karlsson HL (2014) Size-dependent cytotoxicity of silver nanoparticles in human lung cells: the role of cellular uptake, agglomeration and Ag release. Part Fibre Toxicol 11:11. https://doi.org/10.1186/1743-8977-11-11

Gottschalk F, Sonderer T, Scholz RW, Nowack B (2009) Modeled environmental concentrations of engineered nanomaterials (TiO(2), ZnO, Ag, CNT, fullerenes) for different regions. Environ Sci Technol 43:9216–9222. https://doi.org/10.1021/es9015553

Huang Y, Chen S, Bing X, Gao C, Wang T, Yuan B (2011) Nanosilver migrated into food-simulating solutions from commercially available food fresh containers. Packag Technol Sci 24:201–297

International Conference on Harmonisation of Technical Requirements for Registration of Pharmaceuticals for Human Use (1997) ICH Harmonised Tripartite Guideline. Testing for carcinogenicity of pharmaceuticals. S1B wwwichcom

Jacobson-Kram D, Sistare FD, Jacobs AC (2004) Use of transgenic mice in carcinogenicity hazard assessment. Toxicol Pathol 32(Suppl 1):49–52. https://doi.org/10.1080/01926230490424761

Jiang X, Foldbjerg R, Miclaus T, Wang L, Singh R, Hayashi Y, Sutherland D, Chen C, Autrup H, Beer C (2013) Multi-platform genotoxicity analysis of silver nanoparticles in the model cell line CHO-K1. Toxicol Lett 222:55–63. https://doi.org/10.1016/j.toxlet.2013.07.011

Johnston HJ, Hutchison G, Christensen FM, Peters S, Hankin S, Stone V (2010) A review of the in vivo and in vitro toxicity of silver and gold particulates: particle attributes and biological mechanisms responsible for the observed toxicity. Crit Rev Toxicol 40:328–346. https://doi.org/10.3109/10408440903453074

Kawata K, Osawa M, Okabe S (2009) In vitro toxicity of silver nanoparticles at noncytotoxic doses to HepG2 human hepatoma cells. Environ Sci Technol 43:6046–6051. https://doi.org/10.1021/es900754q

Kim S, Ryu DY (2013) Silver nanoparticle-induced oxidative stress, genotoxicity and apoptosis in cultured cells and animal tissues. J Appl Toxicol 33:78–89. https://doi.org/10.1002/jat.2792

Kim YJ, Rahman MM, Lee SM, Kim JM, Park K, Kang JH, Seo YR (2019) Assessment of in vivo genotoxicity of citrated-coated silver nanoparticles via transcriptomic analysis of rabbit liver tissue. Int J Nanomedicine 14:393–405. https://doi.org/10.2147/IJN.S174515

Lankveld DP et al (2010) The kinetics of the tissue distribution of silver nanoparticles of different sizes. Biomaterials 31:8350–8361. https://doi.org/10.1016/j.biomaterials.2010.07.045

Lansdown AB (2010) A pharmacological and toxicological profile of silver as an antimicrobial agent in medical devices. Adv Pharmacol Sci 2010:910686–910616. https://doi.org/10.1155/2010/910686

Lee BS, Park SJ, Kim YB, Han JS, Jeong EJ, Son HY, Moon KS (2017) Twenty-six-week oral carcinogenicity study of 3-monochloropropane-1,2-diol in CB6F1-rasH2 transgenic mice. Arch Toxicol 91:453–464. https://doi.org/10.1007/s00204-016-1696-9

Long GG, Goodman DG, Credille KM, Mann PC, Wilson JM, Cardy R (2010) Hematopoietic proliferative lesions in the spleen of rasH2 transgenic mice treated with MNU. Toxicol Pathol 38:1026–1036. https://doi.org/10.1177/0192623310382557

Meng J, Ji Y, Liu J, Cheng X, Guo H, Zhang W, Wu X, Xu H (2014) Using gold nanorods core/silver shell nanostructures as model material to probe biodistribution and toxic effects of silver nanoparticles in mice. Nanotoxicology 8:686–696. https://doi.org/10.3109/17435390.2013.822593

Moradi-Sardareh H, Basir HRG, Hassan ZM, Davoudi M, Amidi F, Paknejad M (2018) Toxicity of silver nanoparticles on different tissues of Balb/C mice. Life Sci 211:81–90. https://doi.org/10.1016/j.lfs.2018.09.001

Nowack B, Krug HF, Height M (2011) 120 years of nanosilver history: implications for policy makers. Environ Sci Technol 45:1177–1183. https://doi.org/10.1021/es103316q

Paranjpe MG, Shah SA, Denton MD, Elbekai RH (2013) Incidence of spontaneous non-neoplastic lesions in transgenic CBYB6F1-Tg (HRAS)2Jic mice. Toxicol Pathol 41:1137–1145. https://doi.org/10.1177/0192623313478207

Pritchard JB, French JE, Davis BJ, Haseman JK (2003) The role of transgenic mouse models in carcinogen identification. Environ Health Perspect 111:444–454. https://doi.org/10.1289/ehp.5778

Pulit-Prociak J, Banach M (2016) Silver nanoparticles—a material of the future … ? Open Chem 14:76–91

Rai M, Yadav A, Gade A (2009) Silver nanoparticles as a new generation of antimicrobials. Biotechnol Adv 27:76–83. https://doi.org/10.1016/j.biotechadv.2008.09.002

Recordati C, de Maglie M, Bianchessi S, Argentiere S, Cella C, Mattiello S, Cubadda F, Aureli F, D'Amato M, Raggi A, Lenardi C, Milani P, Scanziani E (2016) Tissue distribution and acute toxicity of silver after single intravenous administration in mice: nano-specific and size-dependent effects. Part Fibre Toxicol 13:12. https://doi.org/10.1186/s12989-016-0124-x

Robinson DE, MacDonald JS (2001) Background and framework for ILSI's collaborative evaluation program on alternative models for carcinogenicity assessment. International Life Sciences Institute. Toxicol Pathol 29(Suppl):13–19. https://doi.org/10.1080/019262301753178438

Roda E, Barni S, Milzani A, Dalle-Donne I, Colombo G, Coccini T (2017) Single silver nanoparticle instillation induced early and persisting moderate cortical damage in rat kidneys. Int J Mol Sci 18. https://doi.org/10.3390/ijms18102115

Singh N, Manshian B, Jenkins GJS, Griffiths SM, Williams PM, Maffeis TGG, Wright CJ, Doak SH (2009) NanoGenotoxicology: the DNA damaging potential of engineered nanomaterials. Biomaterials 30:3891–3914. https://doi.org/10.1016/j.biomaterials.2009.04.009

Suemizu H, Muguruma K, Maruyama C, Tomisawa M, Kimura M, Hioki K, Shimozawa N, Ohnishi Y, Tamaoki N, Nomura T (2002) Transgene stability and features of rasH2 mice as an animal model for short-term carcinogenicity testing. Mol Carcinog 34:1–9. https://doi.org/10.1002/mc.10045

Takaoka M, Sehata S, Maejima T, Imai T, Tor M, Satoh H, Toyosawa K, Tanakamaru ZY, Adachi T, Hisada S, Ueda M, Ogasawara H, Matsumoto M, Kobayashi K, Mutai M, Usui T (2003) Interlaboratory comparison of short-term carcinogenicity studies using CB6F1-rasH2 transgenic mice. Toxicol Pathol 31:191–199. https://doi.org/10.1080/01926230390183670

Tamaoki N (2001) The rasH2 transgenic mouse: nature of the model and mechanistic studies on tumorigenesis. Toxicol Pathol 29(Suppl):81–89. https://doi.org/10.1080/019262301753178492

Tang J, Xiong L, Wang S, Wang J, Liu L, Li J, Yuan F, Xi T (2009) Distribution, translocation and accumulation of silver nanoparticles in rats. J Nanosci Nanotechnol 9:4924–4832

Tiwari R, Singh RD, Khan H, Gangopadhyay S, Mittal S, Singh V, Arjaria N, Shankar J, Roy SK, Singh D, Srivastava V (2017) Oral subchronic exposure to silver nanoparticles causes renal damage through apoptotic impairment and necrotic cell death. Nanotoxicology 11:671–686. https://doi.org/10.1080/17435390.2017.1343874

Usui T, Mutai M, Hisada S, Takoaka M, Soper KA, McCullough B, Alden C (2001) CB6F1-rasH2 mouse: overview of available data. Toxicol Pathol 29(Suppl):90–108. https://doi.org/10.1080/019262301753178500

Wu M, Chen L, Li R, Dan M, Liu H, Wang X, Wu X, Liu Y, Xu L, Xie L (2018) Bio-distribution and bio-availability of silver and gold in rat tissues with silver/gold nanorod administration. RSC Adv 8:12260–12268

Wu M, Guo H, Liu L, Liu Y, Xie L (2019) Size-dependent cellular uptake and localization profiles of silver nanoparticles. Int J Nanomedicine 14:4247–4259. https://doi.org/10.2147/IJN.S201107

Xue Y, Zhang S, Huang Y, Zhang T, Liu X, Hu Y, Zhang Z, Tang M (2012) Acute toxic effects and gender-related biokinetics of silver nanoparticles following an intravenous injection in mice. J Appl Toxicol 32:890–899. https://doi.org/10.1002/jat.2742

Yang L, Kuang H, Zhang W, Aguilar ZP, Wei H, Xu H (2017) Comparisons of the biodistribution and toxicological examinations after repeated intravenous administration of silver and gold nanoparticles in mice. Sci Rep 7:3303. https://doi.org/10.1038/s41598-017-03015-1
Funding
This work was supported by the financial support from "Strategic Priority Research Program" of Chinese Academy of Sciences (XDA09040300) and the National Natural Science Foundation of China (31600814).
Ethics declarations
Conflict of interest
The authors declare that they have no conflict of interest.
Additional information
Publisher's note
Springer Nature remains neutral with regard to jurisdictional claims in published maps and institutional affiliations.
Electronic supplementary material
About this article
Cite this article
Liu, Y., Liu, S., Wu, M. et al. In vivo carcinogenicity study of silver nanoparticles in transgenic rasH2 mice by one single-dose intravenous administration. J Nanopart Res 22, 146 (2020). https://doi.org/10.1007/s11051-020-04836-4
Received:

Accepted:

Published:
Keywords
Carcinogenicity

Silver nanoparticles (AgNPs)

C57-ras transgenic mouse (CB6F1 Tg mice)

Intravenous injection

Neoplastic lesions

Nanomedicine