Abstract
Nanozyme biosensors are generally constructed by using the conventional lock-and-key strategy, which may not be available for some emerging analytes without specific recognition elements. In addition, it is difficult to carry out multiplex detection. To address these challenges, array-based sensing platforms have been constructed by using peroxidase-like nanozymes (i.e., "nanozyme sensor arrays"). In this review, we highlight the newly developed nanozyme sensor arrays and their applications for detection and discrimination of various analytes, including bioactive small molecules, proteins, and cancer cells. Moreover, we discuss the use of nanozyme sensor arrays for monitoring the enzymatic hydrolysis process by tracking patterns. They were successfully used for probing the hydrolytic processes of adenosine 5′-triphosphate disodium salt (ATP) and pyrophosphate (PPi) catalyzed by apyrase and PPase, respectively. To further enhance the robustness of output signals, ratiometric fluorescent sensor arrays were also constructed by using C3N4-based fluorescent nanozymes. Finally, some insights on future development for nanozyme sensor arrays were provided.
This is a preview of subscription content, log in to check access.
Access options
Buy single article
Instant access to the full article PDF.
US$ 39.95
Price includes VAT for USA
Subscribe to journal
Immediate online access to all issues from 2019. Subscription will auto renew annually.
US$ 99
This is the net price. Taxes to be calculated in checkout.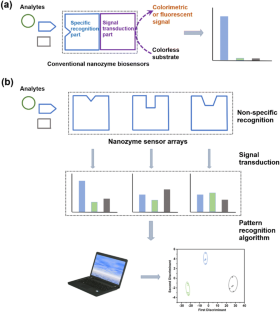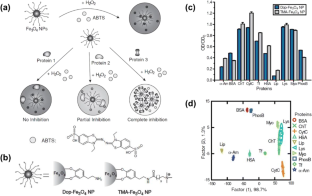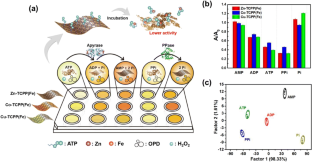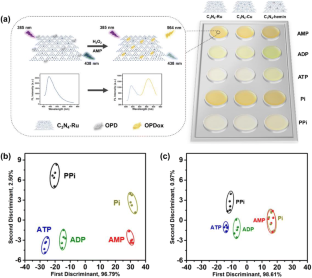 Funding
This work was supported by the China Postdoctoral Science Foundation (2019TQ0144, and 2019M661786), National Natural Science Foundation of China (21722503, 21874067, and 91859112), 973 Program (2015CB659400), PAPD Program, Shuangchuang Program of Jiangsu Province, Open Funds of the State Key Laboratory of Analytical Chemistry for Life Science (SKLACLS1704), Open Funds of the State Key Laboratory of Coordination Chemistry (SKLCC1819), Open Funds of Key Laboratory of Analytical Chemistry for Biology and Medicine (Wuhan University), Ministry of Education (ACBM2019001), and Fundamental Research Funds for the Central Universities (021314380145).
Ethics declarations
Conflict of interest
The authors declare that they have no conflict of interest.
Additional information
Publisher's note
Springer Nature remains neutral with regard to jurisdictional claims in published maps and institutional affiliations.
This article is part of the topical collection on Nanoparticles in Biotechnology and Medicine
About this article
Cite this article
Wang, X., Wei, H. Peroxidase-like nanozyme sensing arrays for versatile analytes. J Nanopart Res 22, 22 (2020). https://doi.org/10.1007/s11051-019-4738-4
Received:

Accepted:

Published:
Keywords
Nanozymes

Sensor array

Peroxidase-like activity

Biosensing