Abstract
N-Doped carbon layer–coated carbon nanotube (N-C/CNT) nanocomposites with stable core-shell structures were synthesized using a one-pot hydrothermal reaction. After high-temperature carbonization and KOH activation, the resultant N-C/CNT materials used as supercapacitor electrodes show high specific capacitance, good rate capability, and long cycle stability. The specific capacitance exhibits a high value of 322.1 F g−1 at 1 A g−1, and still maintains 200.7 F g−1, 168.7 F g−1, and 120.0 F g−1 at 5 A g−1, 10 A g−1, and 20 A g−1, respectively. During the 10,000-cycle testing at 5 A g−1, the specific capacitance was kept stable. The high performance of the supercapacitor electrodes could be attributed to the synergistic effect of the high specific surface area with fine pore structure, high electronic conductivity, and mechanical strength of CNT support and pseudocapacitance provided by doping N atoms in the carbon layer.
This is a preview of subscription content, log in to check access.
Access options
Buy single article
Instant access to the full article PDF.
US$ 39.95
Price includes VAT for USA
Subscribe to journal
Immediate online access to all issues from 2019. Subscription will auto renew annually.
US$ 99
This is the net price. Taxes to be calculated in checkout.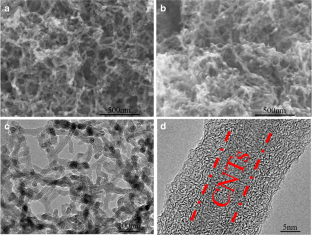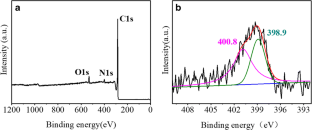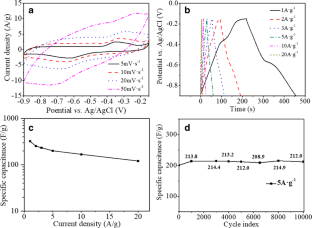 References
Alaş MÖ, Güngör A, Genç R, Erdem E (2019) Feeling the power: robust supercapacitors from nanostructured conductive polymers fostered with Mn2+ and carbon dots. Nanoscale 11:12804–12816

An BG, Xu SF, Li LX, Tao J, Huang F, Geng X (2013) Carbon nanotubes coated with a nitrogen-doped carbon layer and its enhanced electrochemical capacitance. J Mater Chem A 1:7222–7228

Borchardt L, Oschatza M, Kaskel S (2014) Tailoring porosity in carbon materials for supercapacitor applications. Mater Horiz 1:157–168

Deng YF, Xie Y, Zou KX, Ji XL (2016) Review on recent advances in nitrogen-doped carbons: preparations and applications in supercapacitors. J Mater Chem A 4:1144–1173

Futaba DN, Hata K, Yamada T, Hiraoka T, Hayamizu Y, Kakudate Y, Tanaike O, Hatori H, Yumura MT, Iijima S (2006) Shape-engineerable and highly densely packed single-walled carbon nanotubes and their application as super-capacitor electrodes. Nat Mater 5:987–994

Genc R, Alas MO, Harputlu E, Repp S, Kremer N, Castellano M, Colak SG, Ocakoglu K, Erdem E (2017) High-capacitance hybrid supercapacitor based on multi-colored fluorescent carbon-dots. Sci Rep 7:11222

González A, Goikolea E, Barrena JA, Mysyk R (2016) Review on supercapacitors: technologies and materials. Renew Sust Energ Rev 58:1189–1206

Han JW, Wei W, Zhang C, Tao Y, Lv W, Ling GW, Kang FY, Yang QH (2018) Engineering graphenes from the nano- to the macroscale for electrochemical energy storage. Electrochem Energy Rev 1:139–168

Hu JT, Yang J, Duan YD, Liu CK, Tang HT, Lin LP, Lin Y, Chen HB, Pan F (2017) The synergistic effect achieved by combining different nitrogen-doped carbon shells for high performance capacitance. Chem Commun 53:857–860

Jia DD, Yu X, Tan H, Li XQ, Han F, Li LL, Liu H (2017) Hierarchical porous carbon with ordered straightmicro-channels templated by continuous filamentglass fiber arrays for high performance supercapacitors. J Mater Chem A 5:1516–1526

Kasap S, Kaya II, Reppc S, Erdem E (2019) Superbat: battery-like supercapacitor utilized by graphene foam and zinc oxide (ZnO) electrodes induced by structural defects. Nanoscale Adv 1:2586–2597

Kruk M, Jaroniec M (2001) Gas adsorption characterization of ordered organic-inorganic nanocomposite materials. Chem Mater 13:3169–3183

Liu L, Xu SD, Yu Q, Wang FY, Zhu HL, Zhang RL, Liu X (2016) The synergistic effect achieved by combiningdifferent nitrogen-doped carbon shells for high performance capacitance. Chem Commun 52:11693–11696

Lu J, Chen ZW, Pan F, Cui Y, Amine K (2018) High-performance anode materials for rechargeable lithium-ion batteries. Electrochem Energy Rev 1:35–53

Najib S, Erdem E (2019) Current progress achieved in novel materials for supercapacitor electrodes: mini review. Nanoscale Adv 1:2817–2827

Niu CM, Sichel EK, Hoch R, Moy D, Tennent H (1997) High power electrochemical capacitors based on carbon nanotube electrodes. Appl Phys Lett 11:1480–1482

Pan ZY, Ren J, Guan GZ, Fang X, Wang BJ, Doo SG, Son IH, Huang XL, Peng HS (2016) Synthesizing nitrogen-doped core–sheath carbon nanotube films for flexible lithium ion batteries. Adv Energy Mater 6:1600271

Peng C, Zhang SW, Jewell D, Chen GZ (2008) Carbon nanotube and conducting polymer compositesfor supercapacitors. Prog Nat Sci 18:777–788

Repp S, Harputlu E, Gurgen S, Castellano M, Kremer N, Pompe N, Wörner J, Hoffmann A, Thomann R, Emen FM, Weber S, Ocakoglu K, Erdem E (2018) Synergetic effects of Fe3+ doped spinel Li4Ti5O12 nanoparticles on reduced graphene oxide for high surface electrode hybrid supercapacitors. Nanoscale 10:1877–1884

Sevilla M, Fuertes AB (2009) The production of carbon materials by hydrothermal carbonization of cellulose. Carbon 47:2281–2289

Tan SJ, Zeng XX, Ma Q, Wu XW, Guo YG (2018) Recent advancements in polymer-based composite electrolytes for rechargeable lithium batteries. Electrochem Energy Rev 1:113–138

Wang JC, Kaskel S (2012) KOH activation of carbon-based materials for energy storage. J Mater Chem 22:23710–23725

Wang J, Shen LF, Xu YL, Dou H, Zhang XG (2015) Lamellar-structured biomass-derived phosphorus- and nitrogen-co-doped porous carbon for high-performance supercapacitors. New J Chem 39:9497–9503

Wang CL, Zhang FF, Wang XX, Huang G, Yuan DX, Yin DM, Cheng Y, Wang LM (2016) Preparation of a graphitic N-doped multi-walledcarbon nanotube composite for lithium–sulfurbatteries with long-life and high specific capacity. RSC Adv 6:76568–76574

Xie C, Yang SH, Li BB, Wang HK, Shi JW, Li GD, Niu CM (2016a) C-doped mesoporous anatase TiO2 comprising 10 nm crystallites. J Colloid Interface Sci 476:1–8

Xie C, Yang SH, Shi JW, Niu CM (2016b) Highly crystallized C-doped mesoporous anataseTiO2 with visible light photocatalytic activity. Catalysts 6:117–127

Yao YY, Ma C, Wang JT, Qiao WM, Ling LC, Long DH (2015) Rational design of high-surface-area carbon nanotube/microporous carbon core-shell nanocomposites for supercapacitor electrodes. ACS Appl Mater Interfaces 7:4817–4825

Yu MY, Xie BQ, Yang Y, Zhang Y, Chen Y, Yu WY, Zhang SS, Lu LH, Liu D (2017) Residual oxygen groups in nitrogen-doped graphene to enhance the capacitive performance. RSC Adv 7:15293–15301

Zhang LL, Zhao XS (2009) Carbon-based materials as supercapacitor electrodes. Chem Soc Rev 38:2520–2531

Zhao L, Fan LZ, Zhou MQ, Guan H, Qiao SY, Antonietti M, Titirici MM (2010) Nitrogen-containing hydrothermal carbons with superior performance in supercapacitors. Adv Mater 22:5202–5206
Acknowledgments
The SEM work was done at International Center for Dielectric Research (ICDR), Xi'an Jiaotong University, China. The authors also thank Ms. Yanzhu Dai for her help in using SEM.
Ethics declarations
Conflict of interest
The authors declare that they have no conflict of interest.
Additional information
Publisher's note
Springer Nature remains neutral with regard to jurisdictional claims in published maps and institutional affiliations.
Electronic supplementary material
About this article
Cite this article
Xie, C., Yang, S., Xu, X. et al. Core-shell structured carbon nanotubes/N-doped carbon layer nanocomposites for supercapacitor electrodes. J Nanopart Res 22, 25 (2020). https://doi.org/10.1007/s11051-019-4734-8
Received:

Accepted:

Published:
Keywords
Core-shell structure

Carbon nanotubes

Supercapacitor

Nitrogen doping

Nanomaterials