A historical review and bibliometric analysis of nanoparticles toxicity on algae
Abstract
With growing concerns about the toxicity of nanoparticles (NPs) to aquatic systems, a number of toxicity studies about different NPs to algae have been reported. Based on Science Citation Index Expanded (SCI-Expanded), a bibliometric and network analysis of research outputs was carried out to analyze the global research situation and trends of NP toxicity to algae from 2006 to 2017. The results indicate that annual publication outputs increased rapidly over the past decade. China was the most high-publishing country accounting for 19.8% of the total publications, followed by the USA (17.1%). The USA and most European countries like England, Norway, Denmark, and Switzerland played major roles in the collaboration network. Swiss Federal Institute of Aquatic Science and Technology contributed the most publications (19) and total citations (1708). Furthermore, Ag NPs and TiO2 NPs and Pseudokirchneriella subcapitata and Desmodesmus subspicatus were the most common studied NPs and algae, respectively. In addition, the overview of current research and the research tendency about the toxicity of single NPs and interactions between NPs and environmental contaminants to algae were analyzed and summarized with a timeline. The historical review about NP toxicity on algae and a bibliometric analysis of the publications give a global view on future research and identify potential opportunities and challenges.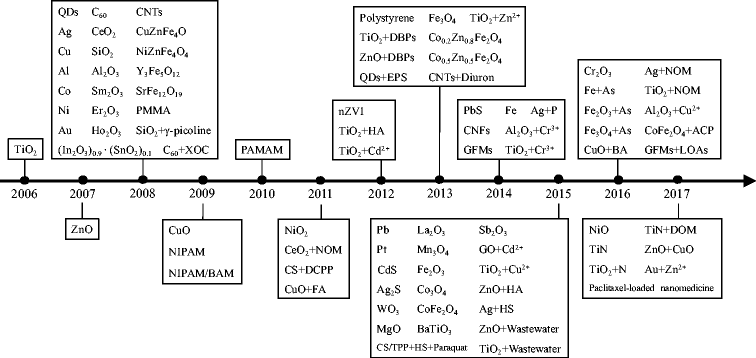 Keywords
Nanoparticles 
Toxicity 
Algae 
SCI-Expanded 
Bibliometric 
Notes
Acknowledgements
This work was supported by Natural Science Foundation of China (21776224) and National Water Pollution Control and Treatment Key Technologies RD Program (2015ZX07406-001).
Compliance with ethical standards
Conflict of interest
The authors declare that they have no conflict of interest.
Copyright information
© Springer Science+Business Media B.V., part of Springer Nature 2018