Mesoporous silica nanoparticles in an efficient solvent-free transamidation of carboxamides with amines: an exhibition of a green recyclable nanocatalyst
Abstract
A protocol is described for an efficient transamidation of amides with amines in the presence of mesoporous silica nanoparticles (MSNs). The latter is used as a green, heterogeneous, and recyclable nanocatalyst, under solvent-free conditions. Following this protocol, a wide range of aromatic, aliphatic, and cyclic/acyclic primary or secondary amines are used in synthesis of a series of amides with good to excellent yields (65–96%). MSNs is characterized by using scanning electron microscopy (SEM), transmission electron microscopy (TEM), small-angle powder X-ray diffraction (XRD), nitrogen adsorption-desorption analysis, and FT-IR spectroscopy. The metal/solvent-free condition, easy work up, high purity of the products, recyclability, and environmentally-friendly nature of the catalyst are the attractive features of this methodology.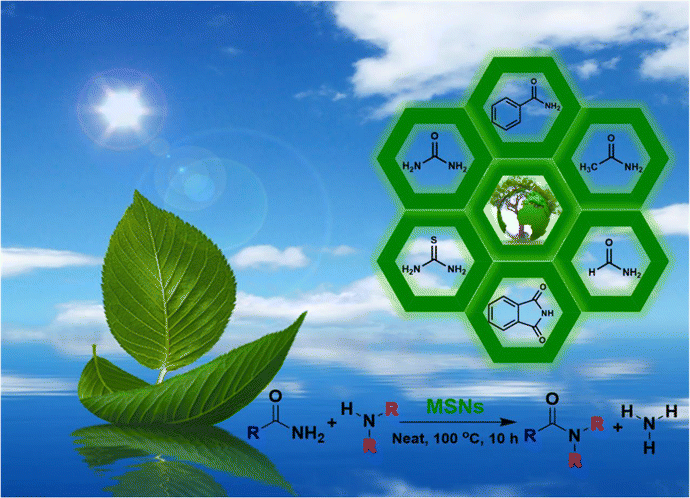 Keywords
Mesoporous silica nanoparticles 
Heterogeneous catalyst 
Carboxamide 
Transamidation 
Environmentally-friendly nature of the catalyst 
Notes
Compliance with ethical standards
Conflict of interest
The authors declare that they have no conflict of interest.
Copyright information
© Springer Science+Business Media B.V., part of Springer Nature 2018