The synergistic effect of nitrogen-doped titanium dioxide/mercaptobenzoic acid/silver nanocomplexes for surface-enhanced Raman scattering
Abstract
We synthesized titanium dioxide (TiO2) and nitrogen-doped TiO2 nanoparticles (N-TiO2 NPs) via a sol-hydrothermal method using ammonium chloride (NH4Cl) as the nitrogen (N) source. Furthermore, an N-TiO2/4-mercaptobenzoic acid (4-MBA)/silver (Ag) nanocomplex served as an active substrate for surface-enhanced Raman scattering (SERS) and was prepared by self-assembly. During SERS, the Raman signals of 4-MBA of the N-TiO2/MBA/Ag nanocomplexes exhibited higher intensity and sensitivity than pure TiO2/MBA/Ag, with 1% N doping in N-TiO2, producing the strongest Raman signals. We characterized the N-TiO2 hybrid materials by transmission electron microscopy, X-ray diffraction, X-ray photoelectron spectroscopy, and ultraviolet-visible diffuse reflectance spectra. N doping did not influence the phase of the TiO2 crystal. The doped N entered into the crystal lattice of the TiO2, replacing some oxygen (O) to form Ti-O-N or Ti-N-O linkage. The results indicated that an appropriate amount of N doping could enhance the SERS performance of the TiO2 SERS substrate via N substitution doping. These doping forms were beneficial to the molecular charge transfer (CT), and this resulted in improved SERS performance for N-doped TiO2 NPs. We attributed this improvement to the formation of N-doping energy levels that were beneficial to the process of TiO2 to MBA molecule CT. This work not only enriched the nonmetal-doped CT mechanism in SERS but also provided several reference values for practical applications.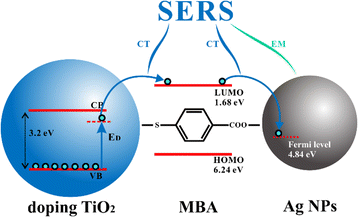 Keywords
N-doped TiO2 
Nanocomplex 
Surface-enhanced Raman scattering (SERS) 
Charge transfer mechanism 
Semiconductor substrates 
Notes
Acknowledgements
We would like to thank LetPub (www.letpub.com) for providing the linguistic assistance during the preparation of this manuscript.
Funding information
This work was financially supported by the National Natural Science Foundation of China (Grant No. 31560466), the Natural Science Foundation of Guangxi (Grant No. 2016GXNSFAA 380108), and the High Levels of Innovation Team and Excellence Scholars Program in Colleges of Guangxi.
Compliance with ethical standards
Conflict of interest
The authors declare that they have no conflicts of interest.
Copyright information
© Springer Science+Business Media B.V., part of Springer Nature 2018