Preparation of novel poly(vinylidene fluoride)/TiO2 photocatalysis membranes for use in direct contact membrane distillation
Abstract
Immobilization of TiO2 is a potential approach to obtain photocatalytic membranes that could eliminate concentration polarization in sewage disposal for direct contact membrane distillation (DCMD) process. A simple non-solvent-induced phase separation (NIPS) method was proposed to prepare poly(vinylidene fluoride) (PVDF) membrane, and the double-coating technology was further used to prepare the self-cleaning membranes with different TiO2 content. The effects of TiO2 nano-particles on membrane crystal form, morphology, porosity, pore size, pore size distribution, hydrophobicity, permeation, and photocatalytic efficiency were investigated, respectively. The flux of the prepared membranes is higher than the membrane (MS) provided by Membrane Solutions, LLC, in DCMD process. The contact angle between water and membrane could be increased ~ 22° by introducing photocatalytic layer containing TiO2. During the photocatalytic test, 65.78–96.31% degrading rate of 15 mg/L Rhodamine B (RhB) was achieved. The relative flux of the membrane T-3 can be recovered to 0.96 in photocatalysis-membrane reactor for 8 h UV radiation. The fabricated membrane has great potential in high-salty dyeing wastewater treatment due to its high hydrophobicity and photocatalytic capability.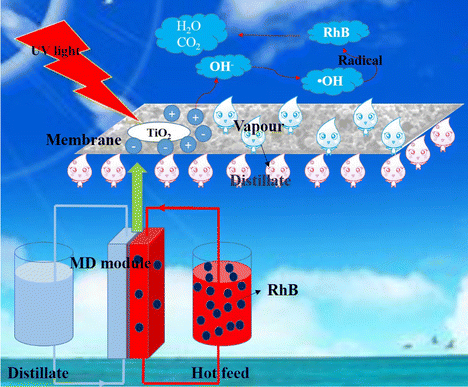 Keywords
Photocatalytic membranes 
TiO2 
DCMD 
Dye waste water 
Concentration polarization 
Nanostructures 
Filtration 
Notes
Funding
This study was funded by the National Natural Science Foundation of China (Grant Nos. U1604137).
Compliance with ethical standards
Conflict of interest
The authors declare that they have no conflict of interest.
Copyright information
© Springer Science+Business Media B.V., part of Springer Nature 2018
corrected publication March/2018