Dynamic shear rheology of colloidal suspensions of surface-modified silica nanoparticles in PEG
Abstract
The present work illustrates the effect of surface modification of silica nanoparticles (500 nm) with 3-(glycidoxypropyl)trimethoxy silane which was carried out at different reaction times. The suspensions prepared from modified and unmodified silica nanoparticles were evaluated for their shear rate-dependent viscosity and strain-frequency-dependent modulus. The linear viscoelastic moduli, viz., storage modulus and loss modulus, were compared with those of nonlinear moduli. The shear-thickened suspensions displayed strain thinning at low-frequency smaller strains and a strong strain overshoot at higher strains, characteristics of a continuous shear thickening fluids. The shear-thinned suspension, conversely, exhibited a strong elastic dominance at smaller strains, but at higher strains, its strain softened observed in the steady shear viscosity plot indicating characteristics of yielding material. Considering higher order harmonic components, the decomposed elastic and viscous stress revealed a pronounced elastic response up to 10% strain and a high viscous damping at larger strains. The current work is one of a kind in demonstrating the effect of silica surface functionalization on the linear and nonlinear viscoelasticity of suspensions showing a unique rheological fingerprint. The suspensions can thus be predicted through rheological studies for their applicability in energy absorbing and damping materials with respect to their mechanical properties.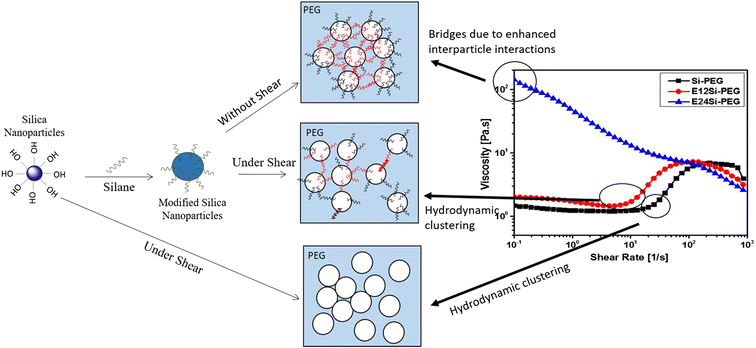 Keywords
Colloidal suspensions 
Silica modification 
Nonlinear rheology 
Shear thickening 
Strain thinning 
Nanoparticles 
Notes
Funding information
The authors are grateful to Defense Research and Development Organization, Govt. of India, for their financial support.
Compliance with ethical standards
Conflict of interest
The authors declare that they have no conflict of interest.
Copyright information
© Springer Science+Business Media B.V., part of Springer Nature 2018