Magnetic M x O y @N-C as heterogeneous catalysts for the catalytic oxidation of aniline solution with sulfate radicals
Abstract
Metal nanoparticles have been combined with magnet metal–organic frameworks (MOFs) to afford new materials that demonstrate an efficient catalytic degradation, high stability, and excellent reusability in areas of catalysis because of their exceptionally high surface areas and structural diversity. Magnetic M x O y @N-C (M = Fe, Co, Mn) nanocrystals were formed on nitrogen-doped carbon surface by using 8-hydroxyquinoline as a C/N precursor. The Co@N-C, MnO@N-C, and Fe/Fe2O3@N-C catalysts were characterized by X-ray diffraction (XRD), Raman, scanning electron microscopy (SEM), high-resolution transmission electron microscopy (HRTEM), N2 adsorption/desorption, and X-ray photoelectron spectroscopy (XPS). The catalytic performances of catalysts were thoroughly investigated in the oxidation of aniline solution based on sulfate radicals (SO4 −.) toward Fenton-like reaction. Magnetic M x O y @N-C exhibits an unexpectedly high catalytic activity in the degradation of aniline in water. A high magnetic M x O y @N-C catalytic activity was observed after the evaluation by aniline degradation in water. Aniline degradation was found to follow the first-order kinetics, and as a result, various metals significantly affected the structures and performances of the catalysts, and their catalytic activity followed the order of Co > Mn > Fe. The nanoparticles displayed good magnetic separation under the magnetic field.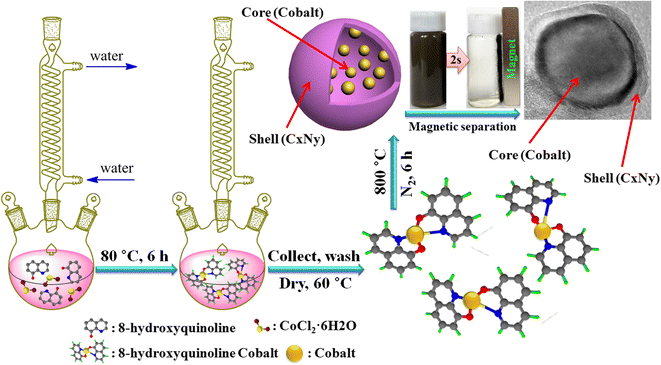 Keywords
Metal–organic frameworks (MOFs) 
Peroxymonosulfate (PMS) 
Sulfate radicals (SO4−•) 
Aniline 
Nanoparticle separation 
Environmental effects 
Notes
Acknowledgements
The study was supported by the National Natural Science Foundation of China (Nos. 21507081; 21671133), Natural Science Foundation of Shanghai (No. 15ZR1417800), Shanghai Municipal Education Commission (No. 15SG49), Sailing Program of Shanghai Science and Technology Commission (No. 15YF1404700), and Science and Technology Commission of Shanghai Municipality (No. 14DZ2261000). Additionally, the study was also sponsored by "Chenguang Program" supported by Shanghai Education Development Foundation and Shanghai Municipal Education Commission (No. 14CG54).
Compliance with ethical standards
Conflict of interest
The authors declare that they have no conflict of interest.
Copyright information
© Springer Science+Business Media B.V. 2017