Solution templating of Au and Ag nanoparticles by linear poly[2-(diethylamino)ethyl methacrylate]
Abstract
Linear poly[2-(diethylamino)ethyl methacrylate], poly(DEAMA), is an uncommon example of a homopolymer that can reduce salts of Au and Ag in solution to yield stable dispersions of nanoparticles (5–25 nm typical size). Poly(DEAMA)-stabilized Au and Ag nanoparticles were prepared in a mixture of water and 2-butoxyethanol, an amphiphilic organic solvent. The "loading ratio" (mole ratio of metal atoms to amines), a key parameter influencing particle size and clustering, was systematically varied. The size distribution and clustering of the nanoparticles were characterized by transmission electron microscopy and small-angle X–ray scattering. The maximum loading ratio achievable without inducing precipitation was approximately 0.3 for Au, but the maximum loading ratio for Ag was only about 0.04. The preparation of both Au and Ag nanoparticles in solution with a linear polymeric template illustrates that dendritic or hyperbranched architecture of the polymer is not a prerequisite for obtaining stable, non-aggregated dispersions. From a practical standpoint, poly(DEAMA) is an inexpensive template material that is readily immobilized on silica, which could facilitate development of novel, nanoparticle-based heterogeneous catalysts.
Table of content graphic and summary
TEM image and corresponding particle size distribution of poly(DEAMA)-stabilized gold nanoparticles.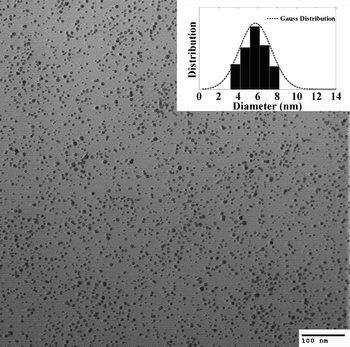 Keywords
Metal nanoparticles 
Polymer templating 
Small-angle X-ray scattering 
Nanostructured catalysts 
Notes
Acknowledgments
We would like to thank Mark Angelone of Penn State University for assistance with the SAXS measurements. The authors are grateful to Charlie Linch of Texas Tech University for assistance with TEM imaging.
Copyright information
© Springer Science+Business Media B.V. 2012