Abstract
Otomycosis is a common finding in otorhinolaryngology clinics and is usually caused by species of Candida and Aspergillus, particularly black aspergilli. Meanwhile, other fungi can give rise to this infection, and the identification of these requires accurate methods. Here, we report three cases of otomycosis due to rare fungal pathogens. All the patients were young females, and manipulation of the ear canal was identified as a common potentially predisposing factor. In direct examination, filamentous fungal elements (in one case) and yeast cells (in two other cases) were seen. Culture was positive in all cases. Based on PCR-sequencing of internal transcribed spacers and β-tubulin (for mold isolate), the isolated fungi were identified as Talaromyces purpurogenus, Naganishia albida and Filobasidium magnum. By susceptibility testing of the isolates to fluconazole, itraconazole, voriconazole and amphotericin B, the lowest minimum inhibitory concentration values were observed for amphotericin B followed by voriconazole. Patients were successfully treated by a combination of antifungals and corticosteroids with no relapse over the next year, except for the case due to F. magnum, in which, despite partial recovery, a course of relapse was reported in the 1-year follow-up call.
This is a preview of subscription content, log in to check access.
Access options
Buy single article
Instant access to the full article PDF.
US$ 39.95
Price includes VAT for USA
Subscribe to journal
Immediate online access to all issues from 2019. Subscription will auto renew annually.
US$ 199
This is the net price. Taxes to be calculated in checkout.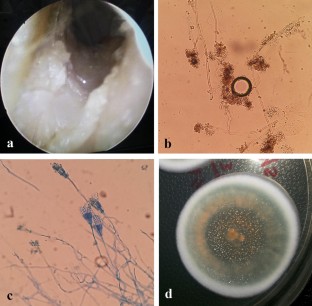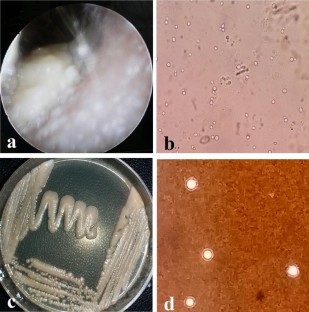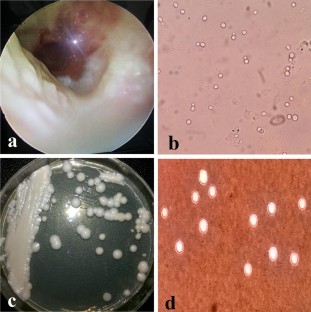 References
1.

Cheraghsahar S, Kazemi S, Birjandi M, et al. Otomycosis in western Iran: clinical and mycological aspects. Arch Clin Infect Dis. 2017;12(2):e57287.

2.

Vennewald I, Klemm E. Otomycosis: diagnosis and treatment. Clin Dermatol. 2010;28(2):202–11.

3.

Sarwestani ZK, Hashemi SJ, Rezaie S, et al. Species identification and in vitro antifungal susceptibility testing of Aspergillus section Nigri strains isolated from otomycosis patients. J Mycol Med. 2018;28(2):279–84.

4.

Gharaghani M, Seifi Z, Mahmoudabadi AZ. Otomycosis in Iran: a review. Mycopathologia. 2015;179(5–6):415–24.

5.

Jia X, Liang Q, Chi F, Cao W. Otomycosis in Shanghai: aetiology, clinical features and therapy. Mycoses. 2012;55(5):404–9.

6.

Fasunla J, Ibekwe T, Onakoya P. Otomycosis in western Nigeria. Mycoses. 2008;51(1):67–70.

7.

Sarwestani HK, Ghazvini RD, Hashemi SJ, et al. Investigation of etiologic agents and clinical presentations of otomycosis at a tertiary referral center in Tehran, Iran. Iran J Public Health. 2019;48(2):331–7.

8.

Aboutalebian S, Mahmoudi S, Mirhendi H, et al. Molecular epidemiology of otomycosis in Isfahan revealed a large diversity in causative agents. J Med Microbiol. 2019;68(6):918–23.

9.

Ahmadi B, Mirhendi H, Makimura K, et al. Phylogenetic analysis of dermatophyte species using DNA sequence polymorphism in calmodulin gene. Med Mycol. 2016;54(5):500–14.

10.

CLSI. Reference Method for Broth Dilution Antifungal Susceptibility Testing of Filamentous Fungi; Approved Standard-Second Edition. CLSI document M38-A2. Wayne, PA: Clinical and Laboratory Standards Institute; 2008.

11.

Silva GAD, Bernardi TL, Schaker PDC, Menegotto M, Valente P. Rapid yeast DNA extraction by boiling and freeze-thawing without using chemical reagents and DNA purification. Braz Arch Biol Technol. 2012;55(2):319–27.

12.

CLSI. Reference Method for Broth Dilution Antifungal Susceptibility Testing of Yeasts; Fourth Informational Supplement. CLSI document M27-S4. Wayne, PA; Clinical and Laboratory Standards Institute; 2012.

13.

CLSI. Reference Method for Broth Dilution Antifungal Susceptibility Testing of Yeasts; Approved Standard-Third Edition. CLSI document M27-A3. Wayne, PA; Clinical and Laboratory Standards Institute; 2008.

14.

Badali H, Fakhim H, Zarei F, et al. In vitro activities of five antifungal drugs against opportunistic agents of Aspergillus Nigri complex. Mycopathologia. 2016;181(3–4):235–40.

15.

Nemati S, Hassanzadeh R, Jahromi SK, Abadi ADN. Otomycosis in the north of Iran: common pathogens and resistance to antifungal agents. Eur Arch Otorhinolaryngol. 2014;271(5):953–7.

16.

Aneja K, Sharma C, Joshi R. Fungal infection of the ear: a common problem in the north eastern part of Haryana. Int J Pediatr Otorhinolaryngol. 2010;74(6):604–7.

17.

Benjamin CR. Ascocarps of Aspergillus and Penicillium. Mycologia. 1955;47(5):669–87.

18.

Yilmaz N, Visagie CM, Houbraken J, Frisvad JC, Samson RA. Polyphasic taxonomy of the genus Talaromyces. Stud Mycol. 2014;78:175–341.

19.

Atalay A, Koc AN, Akyol G, et al. Pulmonary infection caused by Talaromyces purpurogenus in a patient with multiple myeloma. Infez Med. 2016;24:153–7.

20.

Breton P, Germaud P, Morin O, et al. Rare pulmonary mycoses in patients with hematologic diseases. Revue de pneumologie clinique. 1998;54(5):253–7.

21.

Hagen F, Lumbsch HT, Arsenijevic VA, et al. Importance of resolving fungal nomenclature: the case of multiple pathogenic species in the Cryptococcus genus. Msphere. 2017;2(4):e00238–e317.

22.

Khawcharoenporn T, Apisarnthanarak A, Mundy LM. Non-neoformans cryptococcal infections: a systematic review. Infection. 2007;35(2):51–8.

23.

Ali K, Hamed MA, Hassan H, Esmail A, Sheneef A. Identification of fungal pathogens in otomycosis and their drug sensitivity: our experience. Int Arch Otorhinolaryngol. 2018;22(4):400–3.

24.

Liu X-Z, Wang Q-M, Göker M, et al. Towards an integrated phylogenetic classification of the Tremellomycetes. Stud Mycol. 2015;81:85–147.

25.

Gharehbolagh SA, Nasimi M, Afshari SAK, Ghasemi Z, Rezaie S. First case of superficial infection due to Naganishia albida (formerly Cryptococcus albidus) in Iran: a review of the literature. Curr Med Mycol. 2017;3(2):33.

26.

Ghajari A, Lotfali E, Norouzi M, Arab-Mazar Z. First report of Vulvovaginitis due to Cryptococcus magnus in Iran. Curr Med Mycol. 2018;4(1):30.

27.

Khan Z, Mokaddas E, Ahmad S, Burhamah MH. Isolation of Cryptococcus magnus and Cryptococcus chernovii from nasal cavities of pediatric patients with acute lymphoblastic leukemia. Med Mycol. 2011;49(4):439–43.

28.

Poth T, Seibold M, Werckenthin C, Hermanns W. First report of a Cryptococcus magnus infection in a cat. Med Mycol. 2010;48(7):1000–4.

29.

Bouchara JP, Chaturvedi V. The curious case of "Case Report" of infections caused by human and animal fungal pathogens: an educational tool, an online archive, or a format in need of retooling. Mycopathologia. 2018;183(6):879–91.
Funding
The funding was provided by Isfahan University of Medical Sciences, Isfahan, Iran (Grant No. 396223).
Ethics declarations
Ethical Approval
The authors confirm that all the data and figures in this article are original and have not been published elsewhere. All the authors contributed sufficiently to the work and have approved the final version of the manuscript.
Informed Consent
Informed consent was obtained from all cases prior to publishing their data. Furthermore, the authors confirm that the checklist for submission of a case report to Mycopathologia published by Bouchara et al. [29] has been followed and completed.
Additional information
Publisher's Note
Springer Nature remains neutral with regard to jurisdictional claims in published maps and institutional affiliations.
Handling editor: Hamid Badali.
About this article
Cite this article
Aboutalebian, S., Mahmoudi, S., Okhovat, A. et al. Otomycosis Due to the Rare Fungi Talaromyces purpurogenus, Naganishia albida and Filobasidium magnum. Mycopathologia 185, 569–575 (2020). https://doi.org/10.1007/s11046-020-00439-8
Received:

Accepted:

Published:

Issue Date:
Keywords
Otomycosis

Otitis externa

Filobasidium magnum
Talaromyces purpurogenus
Naganishia albida