Abstract
The Sustainable Development Goals (SDGs) are a universal call to action addressed not only to governments but also to businesses and civil society. In this scenario, Universities play a key role in achieving the SDGs and, also, in creating awareness about these global issues. As an example, the University of Bologna is carrying out several initiatives related to sustainability matters. Considering, in particular, the environmental dimension, the University undertook different strategies to reduce the waste of paper, embracing the dematerialization and paperless movements. To make these initiatives visible to the University community and to increase awareness about these issues, we designed a system that intends to provide data related to the implications of such initiatives in terms of paper waste avoided and benefits for the environment, to be exploited using different devices. In particular, this study focuses on the design and the evaluation of two infographics, conceived by two different groups of experts and researchers: one "animated" and one "aesthetic". The evaluation intends to present the differences in terms of perceived design and informative dimensions, with the final aim to present insights on the design of infographics able to foster awareness, targeting specific communities.
This is a preview of subscription content, log in to check access.
Access options
Buy single article
Instant access to the full article PDF.
US$ 39.95
Price includes VAT for USA
Subscribe to journal
Immediate online access to all issues from 2019. Subscription will auto renew annually.
US$ 199
This is the net price. Taxes to be calculated in checkout.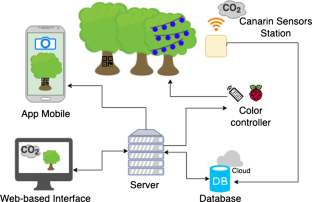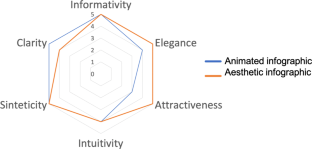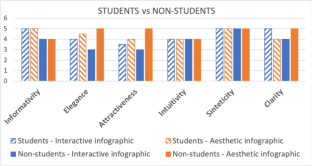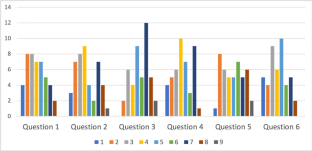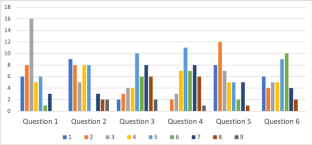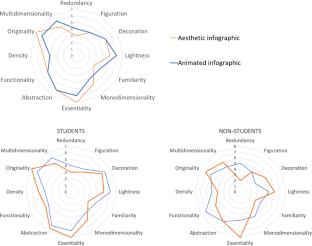 References
1.

Åborg C, Billing A (2003) Health effects of 'the paperless office'–evaluations of the introduction of electronic document handling systems. Behav Inf Technol 22(6):389–396

2.

Antle AN, Bevans A, Tanenbaum J, Seaborn K, Wang S (2011) Futura. In: Proceedings of the fifth international conference on Tangible, embedded, and embodied interaction - TEI'11. ACM Press. https://doi.org/10.1145/1935701.1935721

3.

Antle AN, Tanenbaum J, Bevans A, Seaborn K, Wang S (2011) Balancing act: Enabling public engagement with sustainability issues through a multi-touch tabletop collaborative game. In: Human-computer interaction – INTERACT 2011. Springer, Berlin, pp 194–211

4.

Arney J, Jones I, Wolf A (2012) Going green: paperless technology and feedback from the classroom. J Sustain Green Bus 1:1

5.

Association EU Sustainable Development Goals. https://eua.eu/issues/24:sustainable-development-goals.html https://eua.eu/issues/24:sustainable-development-goals.html. [Online; accessed 19-September-2019]

6.

Beckline M, Yujun S, Eric Z, Kato MS (2016) Paper consumption and environmental impact in an emerging economy. Journal of Energy, Environmental & Chemical Engineering

7.

Bendor R, Maggs D, Peake R, Robinson J, Williams S (2017) The imaginary worlds of sustainability: observations from an interactive art installation. Ecology and Society 22(2)

8.

Blanco A, Negro C, Monte C, Fuente E, Tijero J (2004) Peer reviewed: The challenges of sustainable papermaking

9.

Bologna U The university of bologna for the u.n. sustainable development goals. https://site.unibo.it/almagoals/en. [Online; accessed 19-September-2019]

10.

Botros F, Perin C, Aseniero BA, Carpendale S (2016) Go and grow. In: Proceedings of the International Working Conference on Advanced Visual Interfaces - AVI'16. ACM Press. https://doi.org/10.1145/2909132.2909267

11.

Cairo A (2012) The Functional Art: An introduction to information graphics and visualization. New Riders

12.

Comber R, Thieme A (2012) Designing beyond habit: opening space for improved recycling and food waste behaviors through processes of persuasion, social influence and aversive affect. Pers Ubiquit Comput 17(6):1197–1210. https://doi.org/10.1007/s00779-012-0587-1

13.

Compass S (2015) The guide for business action on the sdgs. World Business Council for Sustainable Development (WBCSD), Geneva

14.

Crowther TW, Glick HB, Covey KR, Bettigole C, Maynard DS, Thomas SM, Smith JR, Hintler G, Duguid MC, Amatulli G et al (2015) Mapping tree density at a global scale. Nature 525(7568):201

15.

De Bonis S, De Bonis N (2011) Going green: Managing a paperless classroom. Online Submission

16.

DeRosa J (2007) The green pdf: Reducing greenhouse gas emissions one ream at a time. Retrieved on June 24 2017

17.

DiSalvo C, Sengers P, Brynjarsdóttir H (2010) Mapping the landscape of sustainable hci. In: Proceedings of the SIGCHI conference on human factors in computing systems. ACM, pp 1975–1984

18.

Dourish P (2010) Hci and environmental sustainability: the politics of design and the design of politics. In: Proceedings of the 8th ACM conference on designing interactive systems. ACM, pp 1–10

19.

Egan C, Benyon D (2017) Sustainable hci: Blending permaculture and user-experience. In: Proceedings of the 2017 ACM Conference Companion Publication on Designing Interactive Systems. ACM, pp 39–43

20.

Fogg B, Cueller G, Danielson D (2007) Motivating, influencing, and persuading users: an introduction to captology. In: The human-computer interaction handbook. CRC press, pp 159–172

21.

Gershon N, Eick SG, Card S (1998) Information visualization. Interactions 5(2):9–15

22.

Gupta S (2015) Paperless society-from vision to fulfillment. Global Journal of Enterprise Information System 7(1)

23.

Harrison L, Reinecke K, Chang R (2015) Infographic aesthetics: Designing for the first impression. In: Proceedings of the 33rd Annual ACM Conference on Human Factors in Computing Systems. ACM, pp 1187–1190

24.

Hill JN (2015) The paperless movement. Undergraduate Honors Theses

25.

Holmes TG (2007) Eco-visualization: combining art and technology to reduce energy consumption. In: Proceedings of the 6th ACM SIGCHI conference on Creativity & cognition. ACM, pp 153–162

26.

Iqbal H, Ahmed F (2015) Paperless campus: the real contribution towards a sustainable low carbon society. IOSR J Environ Sci Toxicol Food Technol 9(8):10–17

27.

Jacobs R, Benford S, Selby M, Golembewski M, Price D, Giannachi G (2013) A conversation between trees: what data feels like in the forest. In: Proceedings of the SIGCHI Conference on Human Factors in Computing Systems. ACM, pp 129–138

28.

Kim T, Hong H, Magerko B (2010) Designing for persuasion: toward ambient eco-visualization for awareness. In: International conference on persuasive technology. Springer, pp 106–116

29.

King K, Toland J (2014) ipads and the paperless office: the impact of tablet devices on paper consumption in higher education. J Appl Comput Inf Technol 18(1):1–12

30.

Kosara R (2016) Presentation-Oriented visualization techniques. In: IEEE Computer graphics and applications, vol 36. IEEE Computer Society, pp 80–85. https://doi.org/10.1109/MCG.2016.2

31.

Lee BX, Kjaerulf F, Turner S, Cohen L, Donnelly PD, Muggah R, Davis R, Realini A, Kieselbach B, MacGregor LS et al (2016) Transforming our world: implementing the 2030 agenda through sustainable development goal indicators. J Publ Health Policy 37(1):13–31

32.

Locoro A, Cabitza F, Actis-Grosso R, Batini C (2017) Static and interactive infographics in daily tasks: a value-in-use and quality of interaction user study. Comput Hum Behav 71:240–257

33.

McMullen A (2011) Paperless society? what a load of scrap. The Bottom Line 24(1):58–60

34.

Nations U (2015) Forests. https://sustainabledevelopment.un.org/topics/forests [Online; accessed 15 March 2019]

35.

Nations U (2015) Transforming Our World, the 2030 Agenda for Sustainable Development. http://www.un.org/ga/search/view_doc.asp?symbol=A/RES/70/1&Lang=E [Online; accessed 15 March 2019]

36.

Odom W, Pierce J, Roedl D (2008) Social incentive and eco-visualization displays: Toward persuading greater change in dormitory communities. In: Workshop at OZCHI 2008

37.

Orantes-Jimenez SD, Zavala-Galindo A, Vazquez-Alvarez G (2015) Paperless office: a new proposal for organizations. Syst Cybern Inf 13(3):47–55

38.

Pimentel D, McNair M, Buck L, Pimentel M, Kamil J (1997) The value of forests to world food security. Human Ecol 25(1):91–120

39.

Plaisant C (2004) The challenge of information visualization evaluation. In: Proceedings of the working conference on Advanced visual interfaces. ACM, pp 109–116

40.

Pokrić B., Krčo S, Pokrić M, Knežević P, Jovanović D (2015) Engaging citizen communities in smart cities using iot, serious gaming and fast markerless augmented reality. In: 2015 International conference on recent advances in internet of things (RIot). IEEE, pp 1–6

41.

Potapov P, Hansen MC, Laestadius L, Turubanova S, Yaroshenko A, Thies C, Smith W, Zhuravleva I, Komarova A, Minnemeyer S et al (2017) The last frontiers of wilderness: Tracking loss of intact forest landscapes from 2000 to 2013. Sci Adv 3(1):e1600821

42.

Pousman Z, Rouzati H, Stasko J (2008) Imprint, a community visualization of printer data: designing for open-ended engagement on sustainability. In: Proceedings of the 2008 ACM conference on Computer supported cooperative work. ACM, pp 13–16

43.

Prandi C, Ceccarini C, Salomoni P (2019) Augmenting good behaviour: Mixing digital and reality to promote sustainability in a campus community. In: Proceedings of the 5th EAI International Conference on Smart Objects and Technologies for Social Good. ACM, pp 189–194

44.

Prandi C, Monti L, Ceccarini C, Salomoni P (2019) Smart campus: Fostering the community awareness through an intelligent environment. Mobile Networks and Applications:1–8

45.

Rist T, Masoodian M (2019) Promoting sustainable energy consumption behavior through interactive data visualizations. Multimodal Technol Interact 3 (3):56. https://doi.org/10.3390/mti3030056

46.

Ruini L, Ciati R, Marchelli L, Rapetti V, Pratesi CA, Redavid E, Vannuzzi E (2016) Using an infographic tool to promote healthier and more sustainable food consumption: the double pyramid model by barilla center for food and nutrition. Agric Agricult Sci Procedia 8:482–488

47.

Smith R The environmental sustainability of paper

48.

Sun M, Wang Y, Shi L, Klemeš JJ (2018) Uncovering energy use, carbon emissions and environmental burdens of pulp and paper industry: A systematic review and meta-analysis. Renew Sust Energ Rev 92:823–833

49.

Thieme A, Comber R, Miebach J, Weeden J, Kraemer N, Lawson S, Olivier P (2012) We've bin watching you. In: Proceedings of the 2012 ACM annual conference on Human Factors in Computing Systems - CHI'12. ACM Press. https://doi.org/10.1145/2207676.2208394

50.

Tse R, Monti L, Prandi C, Aguiari D, Pau G, Salomoni P (2018) On assessing the accuracy of air pollution models exploiting a strategic sensors deployment. In: Proceedings of the 4th EAI International Conference on Smart Objects and Technologies for Social Good. ACM, pp 55–58

51.

Valkanova N, Jorda S, Tomitsch M, Vande Moere A (2013) Reveal-it!: the impact of a social visualization projection on public awareness and discourse. In: Proceedings of the SIGCHI Conference on Human Factors in Computing Systems. ACM, pp 3461–3470

52.

Vatavu RD (2013) On designing interactivity awareness for ambient displays. Multimed Tools Appl 66(1):59–80
Acknowledgements
We would like to thank all the people who participated in the study, from the researchers and experts who contributed to designing the interfaces, to the students, faculty and staff members of the University of Bologna who answered the questionnaire. Moreover, special thanks go to Ana Bettencourt, the designer who created the aesthetic infographic design, and Elisa Gasparri who contributed to the web content.
Additional information
Publisher's note
Springer Nature remains neutral with regard to jurisdictional claims in published maps and institutional affiliations.
About this article
Cite this article
Prandi, C., Ceccarini, C., Nisi, V. et al. Designing interactive infographics to stimulate environmental awareness: an exploration with a University community. Multimed Tools Appl (2020). https://doi.org/10.1007/s11042-020-09140-w
Received:

Revised:

Accepted:

Published:
Keywords
Infographic

User's awareness

University community

Evaluating interactive systems

Sustainability