Abstract
Adequate pedagogical approaches for integration of technology in the learning process create new opportunities for improving the quality of teaching and learning experiences, raising students' interest and motivation for the classroom activities at the same time. Game-based learning implemented with different technologies can utilize students' energy and enthusiasm for educational purposes. In order to increase the quality of experience of the learning process, elements of popular games (e.g., mobile games and augmented reality games) should be used in the educational context. This paper proposes methodological guideline that can be used for the integration of games in education. The methodological guideline defines the two steps process of creating educational games starting from students' attitudes and needs, and then incorporates educational outcomes. As a case-study augmented reality educational games platform was designed in order to illustrate the possibilities and benefits of the proposed approach.
This is a preview of subscription content, log in to check access.
Access options
Buy single article
Instant access to the full article PDF.
US$ 39.95
Price includes VAT for USA
Subscribe to journal
Immediate online access to all issues from 2019. Subscription will auto renew annually.
US$ 199
This is the net price. Taxes to be calculated in checkout.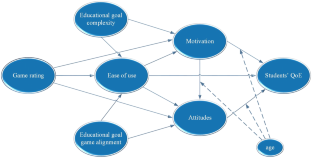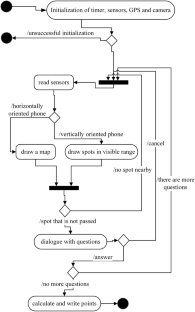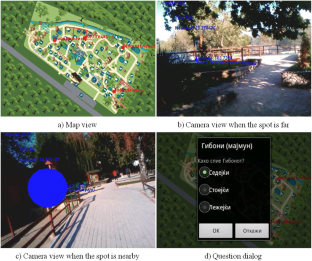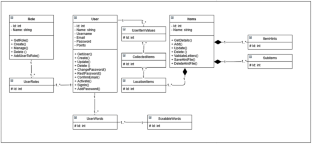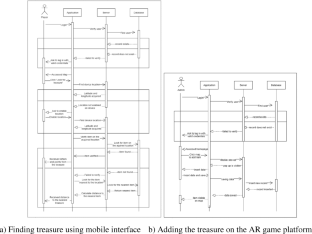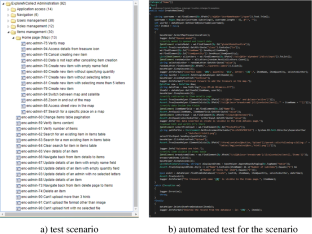 References
1.

Spires HA (2008) 21st century skills and serious games: preparing the N generation. In L.a. Annetta serious educational games. Sense Publishing, Rotterdam

2.

Trajkovik V, Malinovski T, Vasileva-Stojanovska T, Vasileva M (2018) Traditional games in elementary school: relationships of student's personality traits, motivation and experience with learning outcomes. PLoS One 13(8):e0202172

3.

Prensky M (2001) Digital game-based learning. McGraw-Hill, New York

4.

Videnovik M, Kiønig L, Vold T, Trajkovik V (2018) Testing framework for investigating learning outcome from quiz game: a study from Macedonia and Norway. In 17th international conference on information technology based higher education and training (ITHET) pp 1-5

5.

Lymbery J (2012) The potential of a game-based learning approach to improve learner outcomes. CINZS 24(1):21–39

6.

Wali E, Winters N, Oliver M (2008) Maintaining, changing and crossing contexts: an activity theoretic reinterpretation of mobile learning. The Journal of the Association for Learning Technology. Res Learn Technol 16(1):41–57

7.

Huizenga J, Admiraal W, Akkerman S, Dam GT (2009) Mobile game-based learning in secondary education: engagement, motivation and learning in a mobile city game. J Comput Assist Learn 25(4):332–344

8.

Wen Y, Looi CK (2019) Review of augmented reality in education: situated learning with digital and non-digital resources. In learning in a digital world pp 179-193

9.

Karakus M, Ersozlu A, Clark AC (2019) Augmented reality research in education: a Bibliometric study. EURASIA J Math Sci Tech Ed 15:10

10.

Barma S, Daniel S, Bacon N, Gingras MA, Fortin M (2015) Observation and analysis of a classroom teaching and learning practice based on augmented reality and serious games on mobile platforms. Int J Ser Games 69-88

11.

Hamari J, Malik A, Koski J, Johri A (2019) Uses and gratifications of Pokémon go: why do people play mobile location-based augmented reality games? Int J Human Comput Interact 35(9):804–819

12.

Saidin NF, Halim NDA, Yahaya N (2015) A review of research on augmented reality in education: advantages and applications. Int Educ Stud 8(13):1–8

13.

Costa MC, Manso A, Patrício J (2020) Design of a Mobile Augmented Reality Platform with game-based learning purposes. Information 11(3):127

14.

Zaibon SB, Shiratuddin N (2010) Mobile game-based learning (mGBL) engineering model as a systematic development approach. In Global Learn pp 1862-1871

15.

McClarty KL, Orr A, Frey PM, Dolan RP, Vassileva V, McVay A (2012) A literature review of gaming in education (research report). Pearson, Iowa City

16.

Nicholson S (2018) Creating engaging escape rooms for the classroom. Child Educ 94(1):44–49

17.

Yang YTC (2012) Building virtual cities, inspiring intelligent citizens: digital games for developing. Comput Educ 59:365–377

18.

Van Eck R (2006) Digital game-based learning: It's not just the digital natives who are restless. Educ Rev 41(2):16

19.

Elmqaddem N (2019) Augmented reality and virtual reality in education. Myth or reality? Int J Emerg Technol Learn 14(03):234–242

20.

Johnson L, Adams Becker S, Estrada V, Freeman A (2014) Horizon report 2014 - higher education edition. The New Media Consortium, Austin

21.

Pedaste M, Mitt G, Jürivete T (2020) What is the effect of using Mobile augmented reality in K12 inquiry-based learning?

22.

Wang X (2012) Augmented reality: a new way of augmented learning. Magazine eLearn, ACM, New York

23.

Cheng KH, Tsai CC (2013) Affordances of augmented reality in science learning: suggestions for future research. J Sci Educ Technol 22(4):449–462

24.

Lee K (2012) The future of learning and training in augmented reality. InSight J Sch Teach 7:31–40

25.

Lin HCK, Chen MC, Chang CK (2015) Assessing the effectiveness of learning solid geometry by using an augmented reality-assisted learning system. Interact Learn Environ 23(6):799–810

26.

Barrow J, Forker C, Sands A, O'Hare D, Hurst W (2019) Augmented reality for enhancing life science education. In Proc. of VISUAL

27.

Dede C (2012) Customisation in immersive learning environments: implications for digital teaching platforms. In: Dede C, Richards J (eds) Digital teaching platforms customizing classroom learning for each student. Teacher's College Press, New York, pp 282–297

28.

Sahin D, Yilmaz RM (2020) The effect of augmented reality technology on middle school students' achievements and attitudes towards science education. Comput Educ 144:103710

29.

Dikkers S, Gagnon D, Martin J, Squire K (2014) Participatory scaling through augmented reality learning through local games. TechTrends 58(1):35–41

30.

Nincarean D, Ali MB, Halim NDA, Rahman MHA (2013) Mobile augmented reality: the potential for education. Procedia - Soc Behav Sci 103:657–664

31.

Bellotti F, Ott M, Arnab S, Berta R, de Freitas S, Kiili K, De Gloria A (2011) Designing Serious Games for Education: From Pedagogical Principles to Game Mechanisms. In Gouscos, D. & Meimaris, M. (Eds,.) Proceedings of the 5th European Conference on Games Based Learning pp 26–34

32.

Hainey T, Connolly TM, Boyle EA, Wilson A, Razak A (2016) A systematic literature review of games-based learning empirical evidence in primary education. Comput Educ 102:202–223

33.

Quinn C, Neal L (2008) Serious games for serious topics. eLearn Magazine

34.

Annetta L, Burton EP, Frazier W, Cheng R, Chmiel M (2012) Augmented reality games: using technology on a budget. Sci Scope 36(3):54

35.

Kearney M, Schuck S, Burden K, Aubusson P (2012) Viewing mobile learning from a pedagogical perspective. Res Learn Technol 20(1):14406

36.

Holden C (2014) Homegrown augmented reality. TechTrends 58(1):42–48

37.

Wu HK, Lee SW, Chang HY, Liang JC (2013) Current status, opportunities and challenges of augmented reality in education. Comput Educ 62:41–49

38.

Cerqueira CS, Kirner C (2012) Developing educational applications with a non-programming augmented reality authoring tool. Proceedings of World Conference on Educational Multimedia, Hypermedia and Telecommunications, pp 2816–2825

39.

Klopfer E, Sheldon J (2010) Augmenting your own reality: student authoring of science-based augmented reality games. New Dir Youth Dev 2010(128):85–94

40.

Bennett A (2011) The role of play and games in learning. The 33rd earl V. Pullias lecture, University of South California (USC) USA

41.

Dunleavy M (2014) Design principles for augmented reality learning. TechTrends 58(1):28–34

42.

Klopfer E, Squire K (2008) Environmental detectives-the development for an augmented reality platform for environmental simulations. Educational Tech Research Dev 56:203–228

43.

Burton EP, Frazier W, Annetta L, Lamb R, Cheng R, Chmiel M (2011) Modeling augmented reality games with preservice elementary and secondary science teachers. J Technol Teach Educ 19(3):303–329

44.

Bacca J, Baldiris S, Fabregat R, Graf S (2014) Augmented reality trends in education: a systematic review of research and applications

45.

Miller D, Dousay T (2015) Implementing augmented reality in the classroom. Issues Trends Educ Technol 3(2)

46.

Wei X, Weng D, Liu Y, Wang Y (2015) Teaching based on augmented reality for a technical creative design course. Comput Educ 81:221–234

47.

Melles G, de Vere I, Misic V (2011) Socially responsible design: thinking beyond the triple bottom line to socially responsive and sustainable product design. CoDesign 7(3–4):143–154

48.

Rauschnabel PA, Rossmann A, Tom Dieck MC (2017) An adoption framework for mobile augmented reality games: the case of Pokémon go. Comput Hum Behav 76:276–286

49.

Davis FD (1989) Perceived usefulness, perceived ease of use, and user acceptance of information technology. MIS Q 13(3):319–340

50.

Lee DY, Lehto MR (2013) User acceptance of YouTube for procedural learning: an extension of the technology acceptance model. Comput Educ 61:193–208

51.

Koivisto J, Hamari J (2014) Demographic differences in perceived benefits from gamification. Comput Hum Behav 35:179–188
Acknowledgments
We thank Vladimir Veta for his valuable contribution to the programming of the AR game prototype, as well as Gjogji Nastovski and Daniela Trendafilovska for their work in the implementation of the AR game platform.
Additional information
Publisher's note
Springer Nature remains neutral with regard to jurisdictional claims in published maps and institutional affiliations.
About this article
Cite this article
Videnovik, M., Trajkovik, V., Kiønig, L.V. et al. Increasing quality of learning experience using augmented reality educational games. Multimed Tools Appl (2020). https://doi.org/10.1007/s11042-020-09046-7
Received:

Revised:

Accepted:

Published:
Keywords
Augmented reality educational games

Quality of experience of learning

Game-based learning

Interactive learning environments