Abstract
In order to achieve information visualization, realize good interaction between users and information, and meet the needs of users, this study first studied the interaction behavior of the user when using the smartphone was studied, and analyzed the visual factors of the smartphone interface were analyzed from the user sensory interaction level, and the user operation mode level, from the expression of visual form to the commonly used interface mode and User Interface (UI) component space. On this basis, the situational visual expression of the scene in different interaction scenarios was analyzed. Secondly, the basic theory of visual design of smartphone application interface was explained from the perspectives of aesthetics, semiotics and Gestalt psychology, In other words, the visual design of the application interface should be metaphorical, highlighting the key points in the overall visual style, and conforming to the user's psychological model. At the same time, in order to meet the user's personalized needs for control, it must add customized options. Finally, the model of the interface visual design method of the interdisciplinary "Shared Communication" system for the interface design of the mobile APP was constructed, and the case of Didi Chuxing was analyzed, which preliminarily confirmed the feasibility of the construction of the interface visual design method model of the "Shared Communication" system.
Access options
Buy single article
Instant access to the full article PDF.
US$ 39.95
Tax calculation will be finalised during checkout.
Subscribe to journal
Immediate online access to all issues from 2019. Subscription will auto renew annually.
US$ 119
Tax calculation will be finalised during checkout.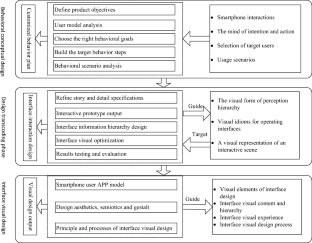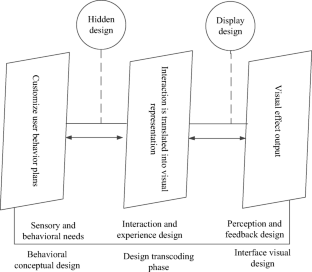 References
1.

Anagnostopoulos T, Ferreira D, Samodelkin A et al (2016) Cyclist-aware traffic lights through distributed smartphone sensing[J]. Pervasive & Mobile Computing 31(3):22–36

2.

Aounallah MA, Slimene-Debez IB, Djebali K et al (2017) Enhancement of xxochitinase production by Bacillus licheniformis AT6 strain and improvement of N-Acetylglucosamine production[J]. Appl Biochem Biotechnol 181(2):1–17

3.

Awwad AM, Slany W (2016) Automated bi-directional languages localization testing for android apps with rich GUI[J]. Mob Inf Syst 16(27):1–13

4.

Breil C, Meullemiestre A, Vian M et al (2016) Bio-based solvents for green extraction of lipids from oleaginous yeast biomass for sustainable aviation biofuel [J]. Molecules 21(2):196–198

5.

Cheng K, Chen Y, Larson K et al (2017) Proving the value of visual design in scientific communication[J]. Information Design Journal 23(1):80–95

6.

Droste A, Pape JJ, Overeem A et al (2017) Crowdsourcing urban air temperatures through smartphone battery temperatures in São Paulo, Brazil [J]. J Atmos Ocean Technol 34(9):1853–1866

7.

He X, Zhao R, Sankaridurg P et al (2017) Design and methodology of the Shanghai child and adolescent large-scale eye study (SCALE) [J]. Clin Exp Ophthalmol 46(4):281–290

8.

Hesse G (2018) [Smartphone app-supported approaches to tinnitus therapy][J]. HNO 66(5):350–357

9.

Jung W (2017) The effect of representational UI design quality of Mobile shopping applications on users' intention to shop[J]. Procedia Computer Science 121:166–169

10.

Kim K, Lee MJ (2016) Flocking in interpretation with visual art design principles [J]. Wirel Pers Commun 93(1):1–12

11.

Lee H (2016) SmartUI: resource-saving and editable smartphone user Interface for fast remote PC control[J]. IEICE Trans Inf Syst 5(7):1852–1861

12.

Lee U, Lee U, Lee U et al (2017) Let's FOCUS: mitigating mobile phone use in college classrooms[J]. Proceedings of the Acm on Interactive Mobile Wearable & Ubiquitous Technologies 1(3):63–66

13.

Lee LSA, Shaharuddin SS, Ng GW et al (2018) An investigation on the usability of mobile travel guide application: a comparison study[J]. Adv Sci Lett 24(2):1012–1016

14.

Loohuis AMM, Wessels NJ, Jellema P et al (2018) The impact of a mobile application-based treatment for urinary incontinence in adult women: design of a mixed-methods randomized controlled trial in a primary care setting[J]. Neurourol Urodyn (5):22–36

15.

Maloshonok N, Terentev E (2016) The impact of visual design and response formats on data quality in a web survey of MOOC students[J]. Comput Hum Behav 62(5):506–515

16.

Miraz MH, Excell PS, Ali M (2016) User interface (UI) design issues for multilingual users: a case study[J]. Univ Access Inf Soc 15(3):431–444

17.

Moon SM, Kwon SY, Lim JH (2016) Implementation of smartphone-based color temperature and wavelength control LED lighting system[J]. Clust Comput 19(2):949–966

18.

Nunes F, Barros AC, Barros AC (2016) User interface design guidelines for smartphone applications for people with Parkinson's disease [J]. Univ Access Inf Soc 15(4):659–679

19.

Petis SM, Vasarhelyi EM, Lanting BA et al (2016) Mid-term survivorship and clinical outcomes of cobalt-chrome and oxidized zirconium on highly crosslinked polyethylene [J]. Can J Surg 59(1):48–53

20.

Poan ED, Gachon P, Dueymes G et al (2016) West African monsoon intraseasonal activity and its daily precipitation indices in regional climate models: diagnostics and challenges[J]. Clim Dyn 47(9–10):3113–3140

21.

Rahmat H, Zulzalil H, Ghani AA et al (2018) A comprehensive usability model for evaluating smartphone apps [J]. J Comput Theor Nanosci 24(3):1633–1637

22.

Salman HM, Wan FWA, Sulaiman S (2018) Usability evaluation of the smartphone user interface in supporting elderly users from experts' perspective[J]. IEEE Access 4(99):1–1

23.

Simpson N (2018) Managing the use of style guides in an organisational setting: practical lessons in ensuring UI consistency[J]. Interact Comput 11(3):323–351

24.

Singh S, Angrish A, Barkley J et al (2017) Streaming machine generated data to enable a third-party ecosystem of digital manufacturing apps ☆[J]. Procedia Manufacturing 10:1020–1030

25.

Tomita K (2017) Visual design tips to develop an inviting poster for poster presentations[J]. Techtrends 61(4):1–3

26.

Weersink A (2017) The growing heterogeneity in the farm sector and its implications[J]. Canadian Journal of Agricultural Economics/revue Canadienne Dagroeconomie 66(1):1–5

27.

Xiang L, Helaoui M, Du X (2018) Class-X--harmonically tuned power amplifiers with maximally flat waveforms suitable for over one-octave bandwidth designs[J]. IEEE Transactions on Microwave Theory & Techniques 99(3):1–12

28.

Zhang MW, Ho RC (2016) Smartphone application for multi-phasic interventional trials in psychiatry: technical design of a smart server [J]. Technol Health Care 25(2):373–375
Additional information
Publisher's note
Springer Nature remains neutral with regard to jurisdictional claims in published maps and institutional affiliations.
About this article
Cite this article
Wu, H., Li, G. Innovation and improvement of visual communication design of mobile app based on social network interaction interface design. Multimed Tools Appl 79, 1–16 (2020). https://doi.org/10.1007/s11042-019-7523-6
Received:

Revised:

Accepted:

Published:

Issue Date:
Keywords
Social network

Smartphone

Interaction

User interface design

Visual design