Abstract
A vision based human system interface has gained its significance in many areas like drowsy driving, Computer Vision Syndrome (CVS), face detection or recognition etc. The image processing method used in these applications for eye detection is Viola-Jones algorithm. In a natural communication environment, a human face tends to have different roll, yaw and pitch orientation angles. Thus, maintaining a straight focus with a camera is not always practically possible. Motivated by this challenge, experimental analysis is done to identify an eye blink on various head orientation angles. The proposed idea suggests using a single eye to detect the eye state (open or close) rather than both eyes, as blink detection is the rapid closure of both eyes simultaneously and a single eye can be progressively located for wider orientation angles. For analysis roll orientation angles are computed based on eye canthus line and yaw orientations angles are based on nose-line. Accepted experimental results from the customized dataset in different situations shows that the proposed work of using single eye outperforms both eyes with more accuracy and can be resolved for wider orientation angles.
Access options
Buy single article
Instant access to the full article PDF.
US$ 39.95
Tax calculation will be finalised during checkout.
Subscribe to journal
Immediate online access to all issues from 2019. Subscription will auto renew annually.
US$ 119
Tax calculation will be finalised during checkout.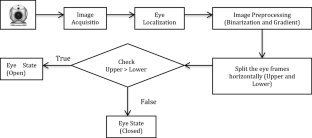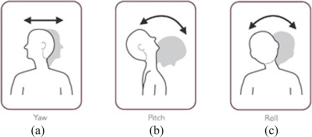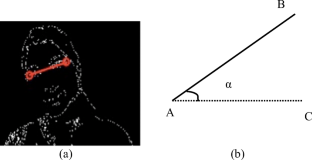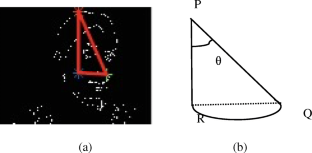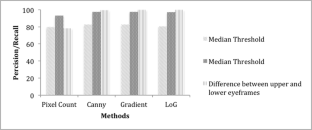 References
1.

Ashwini M, Chakravarty N, Nandini M, Gaikwad R, Myna AN (2015) Eye Detection in Frontal Face Images. International Research Journal of Engineering and Technology 02(03):197–202

2.

Feng GC, Yuen PC (2001) Multi-cues eye detection on gray intensity image. Pattern Recogn 34:1033–1046

3.

Gao H, Yang Z (2017) AutoPath: Harnessing Parallel Execution Paths for Efficient Resource Allocation in Multi-Stage Big Data Frameworks. International Conference on Computer Communication and Networks (ICCCN)

4.

Ghaoui C (2006) Encyclopedia of Human Computer Interaction. Idea Group Reference

5.

Hemlata A, Motwani M (2013) Face Detection By Finding The Facial Features And The Angle of Inclination of Tilted Face. IJCSI International Journal of Computer Science Issues 10(2):472–479

6.

John SJ, Sharmila ST (2017) Edge Based Eye-Blink Detection for Computer Vision Syndrome, IEEE International Conference on Computer, Communication and Signal Processing (ICCCSP-2017), pp. 140–144

7.

John SJ, Sharmila ST, Rajendran V (2015) Gradient Based Image Enhancement Technique For Acoustic Images. International Journal of Applied Engineering Research

8.

John SJ, Sharmila ST, Srinivasan R (2016) Facial feature extraction for head tilt images based on eye canthus. IEEE TENCON

9.

Kim DO, Park RH (2012) New image quality metric using random projection. IEE Proceedings - Vision, Image and Signal Processing 6(9):1246–1255

10.

Królak A, Strumiłło P (2009) Eye-blink controlled human–computer interface for the disabled. Advances Intell Soft Comput 60:133–144

11.

Lam KM, Yan H (1996) Locating and extracting the eye in human face images. Pattern Recogn 29(5):771–779

12.

Li G, Chen Q (2016) Exploiting Explicit and Implicit Feedbacks for Personalized Ranking. Math Probl Eng 2016:1–11

13.

Li G, Weihua O (2016) Pairwise probabilistic matrix factorization for implicit feedback collaborative filtering. Journal Neurocomputing 204:17–25

14.

Li G, Wang L, Ou W (2016, 2016) Robust Personalized Ranking from Implicit Feedback Int. J Patt Recogn Artif Intell Volume 30

15.

Li G, Zhang Z, Wang L, Chen Q, Pan J (2017) One-class collaborative filtering based on rating prediction and ranking prediction. Knowledge-Based Systems 46–54

16.

Lin WS, Gai YL, Kassim A (2006) Perceptual impact of edge sharpness in images. IEE Proceedings - Vision, Image and Signal Processing 153(2):215–223

17.

Liu J, Zeng G, Fan J (2012) Fast local self-similarity for describing interest regions. Pattern Recogn Lett 33(9):1224–1235

18.

Magee JJ, Scott MR, Waber BN, Betke M (2004) EyeKeys: A real-time vision interface based on gaze detection from a low-grade video camera. Conference on Computer Vision and Pattern Recognition Workshop, CVPRW'04., pp 159–159

19.

Mikolajczyk K, Tuytelaars T, Schmid C (2005) A comparison of affine region detectors. Proceedings of International Journal of Computer Vision: 43–72

20.

Paul SK, Uddin MS, Bouakaz S (2012) Extraction of Facial Feature Points Using Cumulative Histogram. IJCSI International Journal of Computer Science Issues 9(1):3

21.

Rajagopalan K, Kumar J, Karlekar R, Manivasakan M, Patil U, Desai P, Poonacha S. Chaudhuri (1998) Finding faces in photographs. In: Proceedings of Sixth IEEE International Conference on Computer Vision, pp 640–645

22.

Roemer J, Groman M (2014) Improving Virtual Machine Migration via Deduplication. IEEE 11th International Conference on Mobile Ad Hoc and Sensor Systems

23.

Rowley HA, Baluja S, Kanade T (1998) Neural network-based face detection. IEEE Trans Pattern Anal Mach Intell 20(1):23–38

24.

Seki M, Shimotani M, Nishida M (1998) A study of blink detection using bright pupils. JSAE Rev 19:49–67

25.

Sharmila ST, Ramar K (2012) Efficient Analysis of Hybrid Directional Lifting Technique for Satellite Image Denoising. Signal Image and Video Processing, Springer-Verlag London Limited 8(7):1399–1404

26.

Sharmila ST, and Ramar K (2012) Comparative and Efficient Analysis of Gradient Based Edge Detection Technique in Medical Images. International Journal of Computational Engineering Research, pp 167–170

27.

Sirohey SA, Rosenfeld A (2001) Eye detection in a face image using linear and nonlinear filters. Pattern Recogn 34:1367–1391

28.

Sree ST, Ramar K, Sree Renga Raja T (2013) Impact of Applying preprocessing Techniques for Improving Classification Accuracy. Signal Image and Video Processing, Springer-Verlag London Limited 8(1):149–157

29.

Tai J, Liu D (2017) Improving flash resource utilization at minimal management cost in virtualized flash-based storage systems. IEEE Transactions on Cloud Computing 5(3)

30.

Tan H, Zhang Y-J (2005) Detecting eye blink states by tracking iris and eyelids. Pattern Recogn Lett 27, Elsevier Science:667–675

31.

Tian Y, Kanade T, Cohn JF (2000) Dual-state parametric eye tracking. Proc. 4th IEEE Int. Conf. On Automatic Face and Gesture Recognition

32.

Torricelli D, Conforto S, Schmid M, D'Alessio T (2008) A neural-based remote eye gaze tracker under natural head motion. Comput Methods Prog Biomed 92(1):66–78

33.

Villanueva A, Ponz V, Sesma-Sanchez L, Ariz M, Porta S, Cabeza R (2013) Hybrid method based on topography for robust detection of iris center and eye corners. ACM Transactions on Multimedia Computing, Communications and Applications (TOMCCAP) 9:4

34.

Viola P, Jones M (2001) Rapid object detection using a boosted cascade of simple features, Computer Vision and Pattern Recognition, 2001. CVPR 2001. Proceedings of the 2001 IEEE Computer Society, vol. 1, pp 511–518

35.

Viola P, Jones M (2004) Robust Real-Time Face Detection. Int J Comput Vis 57(2):137–154

36.

Waber BN, Magee JJ, Betke M (2005) Fast Head Tilt Detection for Human-Computer Interaction, Springer-Verlag Berlin Heidelberg, HCI/ICCV 2005. LNCS 3766:90–99

37.

Wang J, Wang T (2016) eSplash: Efficient Speculation in Large Scale Heterogeneous Computing Systems, International Performance Computing and Communications Conference (IPCCC)

38.

Wang J, Wang T (2017) SEINA: A Stealthy and Effective Internal Attack in Hadoop Systems, International Conference on Computing, Networking and Communications, (ICNC 2017)

39.

Wang T, Wang J (2017) EA2S2: An Efficient Application-Aware Storage System for Big Data Processing in Heterogeneous Clusters. International Conference on Computer Communication and Networks (ICCCN)

40.

Xie X, Livermore C (2016) A pivot-hinged, multilayer SU-8 micro motion amplifier assembled by a self-aligned approach,.2016 IEEE 29th International Conference on Micro Electro Mechanical Systems (MEMS)

41.

Xie X, Livermore C (2017) Passively self-aligned assembly of compact barrel hinges for high-performance, out-of-plane mems actuators, IEEE 30th International Conference on Micro Electro Mechanical Systems (MEMS)

42.

Xie X, Zaitsev Y, Livermore C, Velásquez-García LF, Teller SJ (2014) Scalable, MEMS-enabled, vibrational tactile actuators for high resolution tactile displays. Journal of Micromechanics and Microengineering 24

43.

Xie X, Zaitsev Y, Velasquez-Garcia L, Teller S, Livermore C (2014) Compact, scalable, high-resolution, MEMS-enabled tactile displays. In: Proc. of Solid-State Sensors, Actuators, and Microsystems Workshop, pp. 127–130

44.

Xu Q (2013) A novel machine learning strategy based on two-dimensional numerical models in financial engineering. Mathematical Problems in Engineering, Volume 2013

45.

Xu Q, Wu J, Chen Q (2014) A Novel Mobile Personalized Recommended Method Based on Money Flow Model for Stock Exchange, Mathematical Problems in Engineering, Volume 2014

46.

Xu Q, Wang Z, Wang F (2017) Thermal comfort research on human CT data modelling. Multimedia Tools and Applications 1–16

47.

Yan C, Zhang Y (2014) A Highly Parallel Framework for HEVC Coding Unit Partitioning Tree Decision on Many-core Processors. IEEE Signal Processing Letters 21(5):573–576

48.

Yan C, Zhang Y (2014) Efficient Parallel Framework for HEVC Motion Estimation on Many-core Processors. IEEE Transactions on Circuits and Systems for Video Technology 24:2077–2089

49.

Yan C, Xie H, Yang D, Yin J, Zhang Y (2017) Supervised hash coding with deep neural network for environment perception of intelligent vehicles. IEEE Transactions on Intelligent Transportation Systems, pp 1–12

50.

Yan C, Xie H, Liu S, Yin J, Zhang Y (2017) Effective uyghur language text detection in complex background images for traffic prompt identification. IEEE Transactions on Intelligent Transportation Systems, pp 1–10

51.

Yang G, Huang TS (1994) Human face detection in complex background. Pattern Recogn 27(1):53–63

52.

Yang M-H, Kriegman DJ, Ahuja N (2002) Detecting Faces in Images: A Survey. IEEE Trans Pattern Anal Mach Intell 24(1):34–48

53.

Yang J, Li J, Liu S (2017) A novel technique applied to the economic investigation of recommender system. Multimedia Tools and Applications

54.

Yow KC, Cipolla R (1997) Feature-based human face detection. Image Vis Comput 15(9):713–735
About this article
Cite this article
John, S.J., Sharmila, S.T. Real time blink recognition from various head pose using single eye. Multimed Tools Appl 77, 31331–31345 (2018). https://doi.org/10.1007/s11042-018-6113-3
Received:

Revised:

Accepted:

Published:

Issue Date:
Keywords
Eye canthus

Roll and yaw orientations

Single eye detection

Viola-Jones algorithm