Abstract
Many efforts have been made in the area of multimedia to bridge the so-called "semantic-gap" with the implementation of ontologies from 2001 to the present. In this paper, we provide a comparative study of the most well-known ontologies related to multimedia aspects. This comparative study has been done based on a framework proposed in this paper and called FRAMECOMMON. This framework takes into account process-oriented dimension, such as the methodological one, and outcome-oriented dimensions, like multimedia aspects, understandability, and evaluation criteria. Finally, we derive some conclusions concerning this one decade state-of-art in multimedia ontologies.
Access options
Buy single article
Instant access to the full article PDF.
USD 39.95
Price includes VAT (USA)
Tax calculation will be finalised during checkout.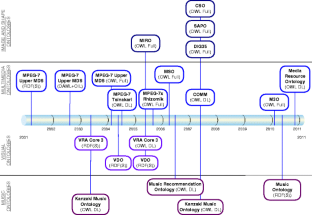 Notes
1.

2.

3.

4.

5.

6.

7.

8.

Knowledge resources refer to ontologies, non-ontological resources, and ontology design patterns.

9.

10.

11.

12.

13.

14.

15.

16.

17.

18.

19.

20.

21.

22.

23.

24.

25.

26.

27.

28.

29.

30.

31.

32.

33.

34.

35.

36.

37.

38.

39.

40.

41.

42.

43.

44.

45.

46.

47.

48.
References
1.

Albertoni A, Papapleo L, Robbiano R, Spagnuolo M (2006) Towards a conceptualization for Shape Acquisition and Processing. In: Proceedings of the 1st International Workshop on Shapes and Semantics, Matsushima

2.

Arndt R, Troncy R, Staab S, Hardman L, Vacura M (2007) COMM: Designing a Well-Founded Multimedia Ontology for the Web. 6th International Semantic Web Conference ISWC'2007), Busan, Korea, November 11–15, 2007

3.

Arndt R, Troncy R, Staab S, Hardman L (2009) COMM: A Core Ontology for Multimedia Annotation. In Staab S, Studer R (Eds.) Handbook on Ontologies, 2nd ed., Series: International Handbooks on Information Systems. Springer Verlag, pp. 403–421, 2009

4.

Benitez AB, Rising H, Jörgensen C, Leonardi R, Bugatti A, Hasida K, Mehrotra R, Tekalp AM, Ekin A, Walker T (2002) Semantics of multimedia in MPEG-7. Proceedings of the IEEE International Conference on Image Processing, Rochester, New York, USA (2002)

5.

Bloehdorn S, Simou N, Tzouvaras V, Petridis K, Handschuh S, Avrithis Y, Kompatsiaris I, Staab S, Strintzis M (2004) Knowledge representation for semantic multimedia content analysis and reasoning. Proceedings of European Workshop on the Integration of Knowledge, Semantics and Digital Media Technology (EWIMT), London, U.K. 25–26 November 2004

6.

Bloehdorn S, Petridis K, Saathoff C, Simou N, Tzouvaras V, Avrithis Y, Handschuh S, Kompatsiaris Y, Staab S, Strintzis MG (2005) Semantic Annotation of Images and Videos for Multimedia Analysis. 2nd European Semantic Web Conference, ESWC 2005, Heraklion, Greece, May 2005

7.

Carsten S, Ansgar S (2010) Unlocking the semantics of multimedia presentations in the web with the multimedia metadata ontology. Proceedings of the 19th International conference on World Wide Web, WWW'10, pages 831–840, New York, NY, USA, 2010. ACM

8.

Celma O (2006) Foafing the music: Bridging the semantic gap in music recommendation. Semantic Web Challenge 2006

9.

Chang SF, Sikora T, Puri A (2001) Overview of the MPEG-7 standard. IEEE Trans Circ Syst Video Technol 11(6):688–695

10.

Dasiopoulou S, Tzouvaras V, Kompatsiaris I, Strintzis M (2010) Enquiring MPEG-7 based multimedia ontologies. Special Issue on Data Semantics for Multimedia Systems; Guest Editors: Mei-Ling Shyu, Yu Cao, Jun Kong, Ming Li, Mathias Lux and Jie Bao. In Journal Multimedia Tools and Applications. Volume 46, Numbers 2–3, 331–370. January 2010

11.

Digital Imaging Group (DIG), DIG35 Specification - Metadata for Digital Images - Version 1.0 August 30, 2000 (http://xml.coverpages.org/FU-Berlin-DIG35-v10-Sept00.pdf)

12.

Gangemi A, Guarino N, Masolo C, Oltramari A, Schneider L (2002) Sweetening Ontologies with DOLCE. Proceedings of the 13th International Conference on Knowledge Engineering and Knowledge Management (EKAW 2002). Ontologies and the Semantic Web. Springer-Verlag London. ISBN: 3-540-44268-5

13.

García R, Celma O (2005) Semantic Integration and Retrieval of Multimedia Metadata. 5th Knowledge Markup and Semantic Annotation Workshop, SemAnnot 2005. CEUR Workshop Proceedings, Vol. 185, pp. 69–80, 2006 ISSN 1613–0073

14.

Halaschek-Wiener C, Golbeck J, Schain A, Grove M, Parsia B, Hendler J (2006) Annotation and provenance tracking in semantic web photo libraries. International provenance and annotation workshop (IPAW 2006)

15.

Hunter J (2001) Adding Multimedia to the Semantic Web - Building an MPEG-7 Ontology. International Semantic Web Working Symposium (SWWS), Stanford, July 30 - August 1, 2001

16.

Moscato V, Penta A, Persia F, Picariello A (2010) MOWIS: A system for building Multimedia Ontologies from Web Information Sources. Proceedings of the 1st Italian Information Retrieval Workshop (IIR'10), pp 89–93, Padova, Italy, January 27–28, 2010. http://ims.dei.unipd.it/websites/iir10/index.html

17.

MPEG-7. Multimedia Content Description Interface. Standard No. ISO/IEC 15938, 2001

18.

Nack F, Lindsay AT (1999) Everything you wanted to know about MPEG-7 (Parts I & II). IEEE Multimedia, 6(3–4), 1999

19.

Pinto HS, Martins JP (2001) A methodology for ontology integration. Proceedings of the 1st International Conference On Knowledge Capture. Victoria, British Columbia, Canada. Pages: 131–138. 2001. ISBN: 1-58113-380-4

20.

Poveda-Villalón M, Suárez-Figueroa MC, Gómez-Pérez A (2010) A double classification of common pitfalls in ontologies. Workshop on Ontology Quality (OntoQual 2010), Co-located with EKAW 2010, October 15, 2010, Lisbon, Portugal

21.

Poveda-Villalón M, Suárez-Figueroa MC, Gomez-Perez A (2010). Common pitfalls in ontology development. Current Topics in Artificial Intelligence, CAEPIA 2009 Selected Papers

22.

Raimond Y, Jacobson F, Fazekas G, Gängler T, Reinhardt S (2010) Music ontology specification. Specification Document (14 February 2010). http://musicontology.com

23.

Simou N, Tzouvaras V, Avrithis Y, Stamou G, Kollias S (2005) A visual descriptor ontology for multimedia reasoning. In Proceedings of Workshop on Image Analysis for Multimedia Interactive Services (WIAMIS'05). Montreux, Switzerland, April 13–15, 2005

24.

Smeulders A, Worring M, Santini S, Gupta A, Jain R (2000) Content-based image retrieval at the end of the early years. IEEE Trans Pattern Anal Mach Intell 22(12):1349–1380

25.

Suárez-Figueroa MC (2010) NeOn methodology for building ontology networks: Specification, scheduling and reuse. PhD Thesis. Universidad Politécnica de Madrid, 2010. http://oa.upm.es/3879/

26.

Troncy R, Bailer W, Hausenblas M, Hofmair P, Schlatte R (2006) Enabling multimedia metadata interoperability by defining formal semantics of MPEG-7 profiles. In 1st International Conference on Semantics And digital Media Technology (SAMT'06), pages 41–55, Athens, Greece, 2006

27.

Troncy R, Celma O, Little S, Garcia R, Tsinaraki C (2007) MPEG-7 based Multimedia Ontologies: Interoperability Support or Interoperability Issue? In International Workshop on Multimedia Annotation and Retrieval enabled by Shared Ontologies (MAReSO), p. 2–15

28.

Tsinaraki C, Polydoros P, Christodoulakis S (2004) Interoperability support for Ontology-based Video Retrieval Applications. Proceedings of the 3rd International Conference on Image and Video Retrieval (CIVR 2004), pp. 582–591, Dublin, Ireland, 21–23 July 2004

29.

Vasilakis G, Garcia-Rojas A, Papaleo L, Catalano C, Spagnuolo M, Robbiano F, Vavalis M, Pitikakis M (2007) A common ontology for multi-dimensional shapes. SAMT 2007 2nd International Conference on Semantic and Digital Media, MAReSO Workshop Proceedings, pp. 31– 43

30.

Visual Resources Association Data Standards Committee. VRA Core Categories, Version 3.0. 20/2/2002. http://www.vraweb.org/vracore3.htm
Acknowledgements
This work has been developed in the framework of the Spanish project BUSCAMEDIA (www.cenitbuscamedia.es), a CENIT-E project with reference number CEN-2009-1026 and funded by the Centre for the Development of Industrial Technology (CDTI). We would like to thank our partners in the project for their help.
About this article
Cite this article
Suárez-Figueroa, M.C., Atemezing, G.A. & Corcho, O. The landscape of multimedia ontologies in the last decade. Multimed Tools Appl 62, 377–399 (2013). https://doi.org/10.1007/s11042-011-0905-z
Keywords
Ontology

Multimedia

RDF(S)

OWL

Comparative Framework