Features of the development of digital twins of thermomechanical steel treatment processes and examples of production tasks solved with their use are considered. The technique of creating digital twins of hot rolling, as well as hot or cold rolling with subsequent heat treatment is described. Adistinctive feature of the digital twin being developed is that in addition to the finite-element model of the process, it must also contain an integral model of structure formation that occurs in the treated steel throughout the process.
This is a preview of subscription content, log in to check access.
Access options
Buy single article
Instant access to the full article PDF.
US$ 39.95
Price includes VAT for USA
Subscribe to journal
Immediate online access to all issues from 2019. Subscription will auto renew annually.
US$ 199
This is the net price. Taxes to be calculated in checkout.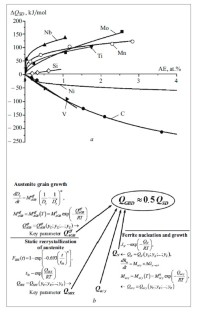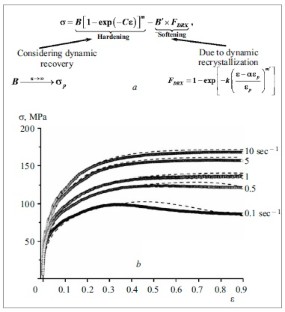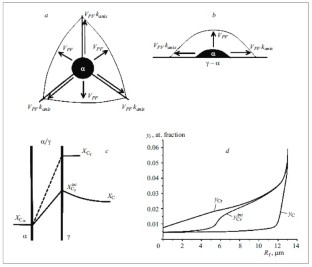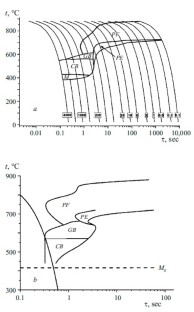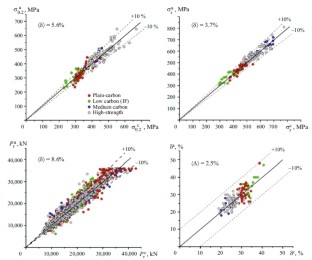 References
1.

A. A. Vasilyev, S. F. Sokolov, N. G. Kolbasnikov, and D. F. Sokolov, "About the effect of alloying on the activation energy of self-diffusion in ã-iron," Fiz. Tverd. Tela, 53(11), 2086 – 2092 (2011).

2.

A. Vasilyev, "Carbon diffusion coefficient in complexly alloyed austenite," in: Proceedings of Materials Science and Technology 2007, Detroit (2007), pp. 537 – 551.

3.

S. F. Medina, C. A. Hernandez, "Modeling austenite flow stress in low alloy and micro-alloyed steels," Acta Mater., 44(1), 175 – 183 (1996).

4.

H. S. Zurob, C. R. Hutchison, Y. Brechet, and G. Purdy, "Modeling recrystallization of microalloyed austenite: effect of coupling recovery, precipitation and recrystallization," Acta Mater., 50(12), 3075 – 3092 (2002).

5.

M. Verdier, Y. Brechet, and P. Guyot, "Recovery of AlMg alloys: flow stress and strain-hardening properties," Acta Mater., 47(1), 127 – 134 (1998).

6.

A. Smith, H. Luo, D. N. Hanlon, et al., "Recovery processes in the ferrite phase in C – Mn steel," ISIJ Int., 44(7), 1188 – 1194 (2004).

7.

N. Yu. Zolotorevsky, E. V. Nesterova, Yu. F. Titovets, and E. I. Khlusova, "The model of structure formation during bainite transformation in low-carbon low-alloyed steels," Nauch.-Tekhn. Ved. St.-Peterb. Gos. Politekh. Univ., Fiz.-Mat. Nauki, No. 4, 94 – 103 (2010).

8.

D. Gaude-Fugarolas and P. J. Jacques, "A new physical model for the kinetics of the bainite transformation," ISIJ Int., 46(5), 712 – 717 (2006).

9.

V. D. Sadovsky and A. A. Popov, "Diagrams of the kinetics of transformations of supercooled austenite," in: Physical Metallurgy and Heat Treatment of Steel: Handbook in 2 Volumes [in Russian], Gosudarstvennoe Nauchno-Tekhnicheskoe Izdatel'-stvo Literatury po Chernoi i Tsvetnoi Metallurgii, Moscow (1961).

10.

G. P. Anastasiadi, S. Yu. Kondrat'ev, V. A. Malyshevskii, and M. V. Sil'nikov, "Importance of thermokinetic diagrams of transformation of supercooled austenite for development of heat treatment modes for critical steel parts," Met. Sci. Heat Treat., 58(11 – 12), 656 – 661 (2017).

11.

L. I. Efron, Industrial Applications of Physical Metallurgy: Pipe Steel [in Russian], Metallurgizdat, Moscow (2012).
The research was supported by a grant from the Russian Science Foundation (project No. 17-19-01178).
Additional information
Translated from Metallovedenie i Termicheskaya Obrabotka Metallov, No. 1, pp. 4 – 11, January, 2020.
About this article
Cite this article
Rudskoy, A.I., Kolbasnikov, N.G. Digital Twins of Processes of Thermomechanical Treatment of Steel. Met Sci Heat Treat (2020). https://doi.org/10.1007/s11041-020-00505-4
Key words
thermomechanical treatment

steel

mechanical properties

microstructure

digital technologies