Abstract
The following paper is discussing the concept of smart cities in the nexus with social innovations. The objective of these two concepts should be increased quality of life in the urban areas. Paper critically examines smart cities and focuses on their use of Information and Communication Technologies (ICT) as tools for reaching the objective of better and sustainable cities. Case study method is utilized in order to examine how the environment for social innovations can be fostered and how ICT can be used to achieve change in citizens behavior and improve the quality of life in the city of Poprad in Slovakia.
This is a preview of subscription content, log in to check access.
Access options
Buy single article
Instant access to the full article PDF.
US$ 39.95
Price includes VAT for USA
Subscribe to journal
Immediate online access to all issues from 2019. Subscription will auto renew annually.
US$ 99
This is the net price. Taxes to be calculated in checkout.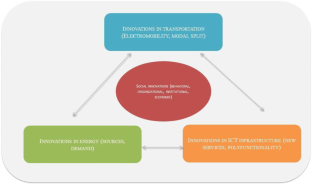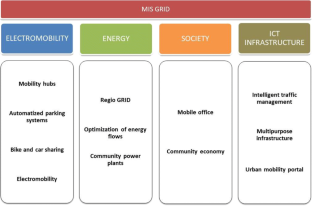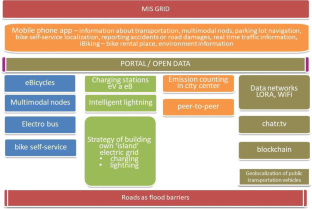 References
1.

Nam T, Pardo TA (2011) Smart city as urban innovation. In: 5th international conference on theory and practice of electronic governance (ICEGOV2011), p 185. https://doi.org/10.1145/2072069.2072100

2.

Vanolo A (2013) Smartmentality: the Smart City as disciplinary strategy. Urban Stud Early View:1–16. https://doi.org/10.1177/0042098013494427

3.

Schaffers H, Komninos NP, Trousse M, Nilsson B, Oliveira A (2011) Smart cities and the future internet: towards cooperation frameworks for open innovation. In: Lecture notes in computer science (including subseries lecture notes in artificial intelligence and lecture notes in bioinformatics), vol 6656, pp 431–446. https://doi.org/10.1007/978-3-642-20898-0_31

4.

Gibson DV, Kozmetsky G, Smilor RW (eds) (1992) The technopolis phenomenon: smart cities, fast systems, global networks. Rowman & Littlefield, Lanham

5.

Kitchin R, Lauriault TP, McArdle G (2015) Smart cities and the politics of urban data. In: Marvin S, Luque-Ayala A, McFarlane C (eds) Smart urbanism: utopian vision or false dawn? Routledge, London

6.

Giffinger R, Gudrun H (2010) Smart cities ranking: an effective instrument for the positioning of the cities? ACE: Architecture, City and Environment 4(12):7–26

7.

Hall RE, Bowerman B, Braverman J, Taylor J, Todosow H, Von Wimmersperg U (2000) The vision of a smart city (no. BNL--67902; 04042). Brookhaven National Lab, Upton

8.

Hartley J (2005) Innovation in governance and public services: past and present. Public Money & Management 25(1):27–34

9.

Toppeta D (2010) The smart city vision: how innovation and ICT can build smart, "livable", sustainable cities. The Innovation Knowledge Foundation. Think

10.

Washburn D, Sindhu U, Balaouras S, Dines RA, Hayes N, Nelson LE (2009) Helping CIOs understand "smart city" initiatives. Growth 17(2):1–17

11.

Hollands R (2016) Beyond the corporate smart city?: glimpses of other possibilities of smartness. In: Marvin S, Luque-Ayala A, McFarlane C (eds) Smart urbanism: utopian vision or false dawn? Routledge, London

12.

Gabrys N (2015) Getting smart about smart cities in Cape Town: beyond the rhetoric. In: Marvin S, Luque-Ayala A, McFarlane C (eds) Smart urbanism: utopian vision or false dawn? Routledge, London

13.

Marvin S, Luque-Ayala A, McFarlane C (eds) (2015) Smart urbanism: utopian vision or false dawn? Routledge, London

14.

Greenfield A (2006) Everyware: the dawning age of ubiquitous computing. New Riders, Boston

15.

Caragliu A, Del Bo C, Nijkamp P (2009) Smart cities in Europe. Research memoranda series 0048. VU University Amsterdam, Faculty of Economics, Business Administration and Econometrics, Amsterdam

16.

Husar M, Ondrejicka V, Varis SC (2017) Smart Cities and the idea of smartness in urban development-a critical review. In: IOP conference series: materials science and engineering, vol 245. ISSN 1757-8981

17.

Varghese P (2016) Exploring other concepts of smart-cities within the Urbanising Indian context. Procedia Technology 24:1858–1867

18.

Townsend AM (2013) Smart cities: big data, civic hackers, and the quest for a new utopia. WW Norton & Company, New York

19.

Kitchin R (2014) The real-time city? Big data and smart urbanism. GeoJournal 79(1):1–14

20.

Sennett R (2012) No one likes a city that's too smart [online]. Guardian, 4 December. Available at: www.guardian.co.uk/commentisfree/2012/dec/04/smart-city-rio-songdo-masdar. Accessed 2 Apr 2017

21.

Foucault M (1977) Discipline and punish: the birth of the prison, trans. A. Sheridan

22.

Choe K, Laquian AA, Kim H (2008) Urban development experience and visions: India and the People's Republic of China. Asian Development Bank

23.

Odendaal N (2015) Getting smart about smart cities in Cape Town: beyond the rhetoric. In: Marvin S, Luque-Ayala A, McFarlane C (eds) Smart urbanism: utopian vision or false dawn? Routledge, London

24.

Pol E, Ville S (2009) Social innovation: buzz word or enduring term? J Socio-Econ 38(6):878–885. https://doi.org/10.1016/j.socec.2009.02.011

25.

Mulgan G, Tucker S, Ali R, Sanders B (2008) Social innovation. Stanf Soc Innov Rev. https://doi.org/10.1016/j.biocontrol.2007.10.015

26.

Altschuler A, Zegans M (1997) Innovation and public management: notes from the state house and city hall. In: Althschuler A, Behn R (eds) Innovation in American government. Brookings Institution, Washington, DC

27.

Mulgan G, Albury D (2003) Innovation in the public sector. Strategy Unit, Cabinet Office, London, pp 1–40

28.

Centre for Social Innovation (2008) http://www.socialinnovation.ca/about/social-innovation

29.

McElroy MW (2002) Social innovation capital. J Intellect Cap 3(1):30–39. https://doi.org/10.1108/14691930210412827

30.

Kuhn TS (1970) The structure of scientific revolutions, 2nd enl. edn. University of Chicago Press, Chicago

31.

Coe A, Paquet G, Roy J (2001) E-governance and smart communities: a social learning challenge. Soc Sci Comput Rev 19(1):80–93. https://doi.org/10.1177/089443930101900107

32.

Eurocities (2010) Cities and Innovation in Europe. Discussion paper

33.

Petrikova D, Jasso M (2017) Towards creating place attachment and social communities in the SMART cities. In: Institute for Computer Sciences, social informatics and telecommunications engineering. The LNICST series. Smart Technology Trends in Industrial and Business Management. ISBN 978-3-319-76997-4

34.

Husar M, Finka M, Jamecny L, Ondrejicka V (2018) Innovations and changing role of public sector and challenges for local and regional development in central and eastern European countries after 2020. In: The role of public sector in local economic and territorial development. Innovation in Central, Eastern and South Eastern Europe, pp 7–24. ISBN 978-3-319-93574-4
Acknowledgements
This contribution is the result of the project implementation: SPECTRA+ No. 26240120002 "Centre of Excellence for the Development of Settlement Infrastructure of Knowledge Economy" supported by the Research & Development Operational Programme funded by the ERDF. The key finding will be used in outputs (assessment of HBA governance system at national level, local strategy for Poprad HBA) developed under the INTERREG project Bhenefit CE 1202 "Build heritage, energy and environmental-friendly integrated tools for the sustainable management of historic urban areas" and national grant scheme Vega 2/0013/17.
Additional information
Publisher's Note
Springer Nature remains neutral with regard to jurisdictional claims in published maps and institutional affiliations.
About this article
Cite this article
Husar, M., Ondrejicka, V. Social Innovations in Smart Cities – Case of Poprad. Mobile Netw Appl 24, 2043–2049 (2019). https://doi.org/10.1007/s11036-018-01209-z
Keywords
Smart cities

Social innovation

Poprad

ICT