Abstract
The decision making process is an integral part of every management activity. Different methods can be used for decision making. Each of these methods is appropriate in other conditions that may occur in the enterprise. One of the decision making methods is also the exact decision making. Mentioned method is based on general models and procedures. The exact decision making is appropriate to use for complex problems. The analytic hierarchy process (AHP) is one of the methods used in the exact decision making. The AHP can be used in the Smart City concept, specifically within the Smart People. This method will be used to solve employee selection in accordance with the Age management concept. The main objective of the paper is to select the right employee in accordance with the Age management concept and on the basis of defined criteria. The partial objective is to set the order of importance of the individual criteria on which the selection will take place.
This is a preview of subscription content, log in to check access.
Access options
Buy single article
Instant access to the full article PDF.
US$ 39.95
Price includes VAT for USA
Subscribe to journal
Immediate online access to all issues from 2019. Subscription will auto renew annually.
US$ 99
This is the net price. Taxes to be calculated in checkout.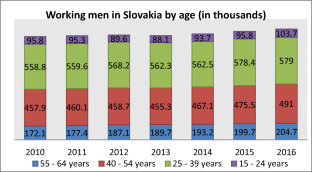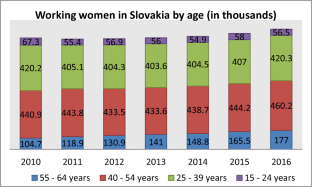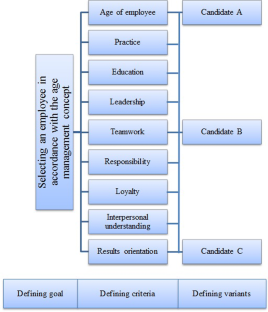 References
1.

Mar Iman AH (2002) An introduction to property marketing. Penerbit Universiti Teknologi Malaysia (UTM), Johor ISBN 983-52-0252-4

2.

Peregrin S, Jablonský J (2015) Analytický hierarchický proces a vážené agregačné metódy ako nástroje skupinového rozhodovania v manažmente spoločnosti. Logos Polytechnikos 3-2015. Jihlava: Vysoká škola polytechnická. [online] 2015. [2017-02-21]. Available at: ftp://193.87.31.84/0207879/LOGOS%20POLYTECHNIKOS%203-2015.pdf

3.

Kousalya P et al. (2012) Analytical hierarchy process approach – an application of engineering education. Mathematica Aeerna, vol 2. [online] 2012. [2017-02-19]. Available at: http://www.e-hilaris.com/MA/2012/MA2_10_5.pdf

4.

Chovanová HH et al (2012) Operačná analýza. Časť II. AlumniPress, Trnava ISBN 978-80-8096-165-7

5.

Štorová I, Fukan J (2012) Zaměstnanec a věk aneb age management na pracovišti. Českomoravská konfederace odborových svazů, Praha ISBN 978-80-87137-35-2

6.

Podpora aktívneho starnutia na pracovisku. [online] [2017-02-10]. Available at: https://osha.europa.eu/sk/tools-and-publications/publications/articles/promoting-active-ageing-in-the-workplace

7.

Štatistický úrad Slovenskej republiky, databáza SLOVSTAT. [2017-06-20]. Available at: http://www.statistics.sk/pls/elisw/vbd

8.

Naegele G, Walker A (2006) A guide to good practice in age management. Office for Official Publications of the European Communities, Dublin ISBN 92-897-0934-0
Acknowledgements
The paper is a part of Young Research Project No. 1382 "Implementation of the Age management concept as a tool to achieve synergy of different generation groups in the context of S CSR".
The paper is part of the H2020 project RISE-SK called "Research and Innovation Sustainability for Europe in Slovakia", which was approved as an institutional project with foreign participation.
About this article
Cite this article
Vraňaková, N., Koltnerová, K., Chlpeková, A. et al. Application of Exact Methods in Employee Selection in Accordance with the Age Management Concept. Mobile Netw Appl 24, 2038–2042 (2019). https://doi.org/10.1007/s11036-018-01207-1
Keywords
Age management

Analytic hierarchy process

Decision making

Employee selection

Expert choice