Abstract
Papillon Lefevre syndrome (PLS) manifests with palmoplantar keratoderma, combined with a rapidly progressive periodontitis associated with mutations in Cathepsin C (CTSC) gene. This article reports a 15-year old male proband with typical PLS traits having a novel compound heterozygote with p.Q49X mutation in exon 1 and p.Y259C missense mutation in exon 6 of CTSC gene respectively. The exon 1 mutation, p.Q49X, (found in proband's mother) was located in exclusion domain and exon 6 mutation, p.Y259C (found in proband's father), was present in peptidase C1A, papain C-terminal domain. Interestingly, missense mutation p.Y259C identified in this study was found to be not reported so far. Upon computational analysis, this missense mutation was found to be lethal. Moreover, our protein modelling approach using mutant protein revealed the presence of monomeric structure on contrary to the tetrameric structure of the wild type protein. In addition, in vitro functional characterization of mutant p.Y259C expressed in HEK293 cells showed a significant reduction in CTSC activity (0.015 ± 0.009 mU/ml) when compared with wild type protein (0.21 ± 0.008 mU/ml). Thus, in this study, we have demonstrated that the pathogenic missense mutant p.Y259C might cause PLS by impaired CTSC function.
This is a preview of subscription content, log in to check access.
Access options
Buy single article
Instant access to the full article PDF.
US$ 39.95
Price includes VAT for USA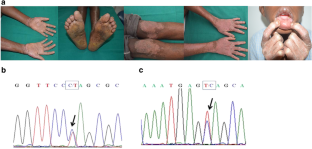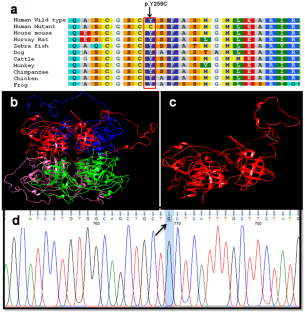 Abbreviations
PLS:

Papillon lefevre syndrome

CTSC:

Cathepsin C
References
1.

Papillon MN, Lefevre B (1924) Two cases of familial symmetric palmoplanter keratosis (Maleda's disease) in a brother and his sister. Alterations in both cases (in French). Bull Soc Francaise Dermatologie Syphiligraphie 31:81–84

2.

Fageeh HN (2018) Papillon-Lefèvre syndrome: a rare case report of two brothers and review of the literature. Int J Clin Pediatr Dent 1:352–355. https://doi.org/10.5005/jp-journals-10005-1523

3.

Korkmaz B, Caughey GH, Chapple I et al (2018) Therapeutic targeting of cathepsin C: from pathophysiology to treatment. Pharmacol Ther 190:202–236. https://doi.org/10.1016/j.pharmthera.2018.05.011

4.

Hart TC, Bowden DW, Ghaffar KA, Wang W, Cutler CW, Cebeci I et al (1998) Sublocalization of the Papillon-Lefevre syndrome on chromosome 11q14-q21. Am J Med Genet 79(19980901):134–139

5.

Lingeswaran A, Gopal SD (2018) A rare presentation of psychotic depression with suicidality in a case of papillon–lefèvre syndrome. Indian J Psychol Med 40:372–374

6.

Toomes C, James J, Wood AJ, McCormick D, Lench N, Hewitt CH et al (1999) Loss-of-function mutations in the cathepsin C gene result in periodontal disease and palmoplantar keratosis. Nat Genet 23:421–424. https://doi.org/10.1038/70525

7.

Chedid JA, Salameh M, El-Outa A, Noujeim ZEF (2019) Papillon-Lefèvre Syndrome: diagnosis, dental management, and a case report. Case Rep Dent. https://doi.org/10.1155/2019/4210347

8.

Bullón P, Castejón-Vega B, Román-Malo L et al (2018) Autophagic dysfunction in patients with Papillon-Lefèvre syndrome is restored by recombinant cathepsin C treatment. J Allergy Clin Immunol 142:1131–1143

9.

Hattab FN (2019) Papillon-Lefèvre syndrome: from then until now. Stomatol Dis Sci 3:1. https://doi.org/10.20517/2573-0002.2018.22

10.

Allende LM, García-Pérez MA, Moreno A, Corell A, Carasol M, Martínez-Canut P et al (2001) Cathepsin C gene: first compound heterozygous patient with Papillon-Lefèvre syndrome and a novel symptomless mutation. Hum Mutat 17:152–153

11.

Selvaraju V, Markandaya M, Prasad PV, Sathyan P, Sethuraman G, Srivastava SC (2003) Mutation analysis of the cathepsin C gene in Indian families with Papillon-Lefèvre syndrome. BMC Med Genet 4:5. https://doi.org/10.1186/1471-2350-4-5

12.

Rai R, Thiagarajan S, Mohandas S, Natarajan K, Shanmugasekar C, Ramalingam S (2010) Haim Munk syndrome and Papillon Lefevre syndrome–allelic mutations in cathepsin C with variation in phenotype. Int J Dermatol 49:541–543. https://doi.org/10.1111/j.1365-4632.2010.04300.x

13.

Nakano A, Nomura K, Nakano H, Ono Y, LaForgia S, Pulkkinen L, Hashimoto I, Uitto J (2001) Papillon-Lefèvre syndrome: mutations and polymorphisms in the cathepsin C gene. J Invest Dermatol 116:339–343. https://doi.org/10.1186/1471-2350-4-5

14.

Nagy N, Vályi P, Csoma Z, Sulák A, Tripolszki K, Farkas K et al (2014) CTSC and Papillon-Lefèvre syndrome: detection of recurrent mutations in Hungarian patients, a review of published variants and database update. Mol Genet Genomic Med 2:217–228. https://doi.org/10.1002/mgg3.61

15.

Moghaddasian M, Arab H, Dadkhah E, Boostani H, Babak AR, Abbaszadegan MR (2014) Protein modeling of cathepsin C mutations found in Papillon-Lefèvre syndrome. Gene 538:182–187. https://doi.org/10.1016/j.gene.2013.11.079

16.

Yang W, Xia W, Mao J, Xu D, Chen J, Feng S et al (2011) High level expression, purification and activation of human dipeptidyl peptidase I from mammalian cells. Protein Expr Purif 76:59–64. https://doi.org/10.1016/j.pep.2010.09.001

17.

Dağlioğlu C (2017) Cloning, expression, and activity analysis of human cathepsin C in the yeast Pichia pastoris. Turk J Biol 41:746–753. https://doi.org/10.3906/biy-1704-4

18.

Romero-Quintana JG, Frías-Castro LO, Arámbula-Meraz E, Aguilar-Medina M, Dueñas-Arias JE, Melchor-Soto JD et al (2013) Identification of novel mutation in cathepsin C gene causing Papillon-Lefèvre Syndrome in Mexican patients. BMC Med Genet 14:7. https://doi.org/10.1186/1471-2350-14-7

19.

Yousry YM, El-Latif AEA, El-Gawad RYA (2018) Case report: clinical manifestation and dental management of Papillon-Lefèvre syndrome. F1000Res 7:1420. https://doi.org/10.12688/f1000research.16042.1

20.

Tyagi S, Thomas AM, Balla V, Kundra R (2019) Cu-sil dentures: a novel approach of Papillon-Lefèvre syndrome management. J Indian Soc Pedod Prev Dent 37:303–307. https://doi.org/10.4103/JISPPD.JISPPD_256_18

21.

Millet C, Virard F, Lienhart G, Ducret M (2020) Digital prosthodontic management of a young patient with Papillon-Lefèvre syndrome: a clinical report. J Prosthet Dent 123:548–552. https://doi.org/10.1016/j.prosdent.2019.03.013

22.

Giannetti L, Apponi R, Dello Diago AM, Jafferany M, Goldust M, Sadoughifar R (2020) Papillon-Lefèvre syndrome: oral aspects and treatment. Dermatol Ther. https://doi.org/10.1111/dth.13336
Funding
This study was supported financially by The PSG & Sons' Charities Trust, Coimbatore, Tamil Nadu, India.
Ethics declarations
Conflict of interest
The authors did not declare any conflict of interest.
Ethical approval
This study was approved by the Institutional Human Ethics Committee (IHEC), PSG Institute of Medical Sciences and Research, Coimbatore, India and the study procedures were in accordance with the 1964 Helsinki declaration and its later amendments or comparable ethical standards.
Informed consent
The patient and his parents gave written informed consent for genetic analysis and for a future possible publication.
Additional information
Publisher's Note
Springer Nature remains neutral with regard to jurisdictional claims in published maps and institutional affiliations.
Electronic supplementary material
Below is the link to the electronic supplementary material.
About this article
Cite this article
Meenu, S., Pradeep, B., Ramalingam, S. et al. Papillon–Lefèvre syndrome (PLS) with novel compound heterozygous mutation in the exclusion and Peptidase C1A domains of Cathepsin C gene. Mol Biol Rep (2020). https://doi.org/10.1007/s11033-020-05622-0
Received:

Revised:

Accepted:

Published:
Keywords
Papillon Lefevre syndrome

Cathepsin C

Compound heterozygote

Missense mutation

Palmoplantar keratoderma.