Abstract
Thousands of genes are involved in spermatogenesis, however, the functional roles of most these genes for male fertility remain to be discovered. This research focused to explore the function of evolutionarily conserved and testis-specific expressed gene 4930524B15Rik, which is known as C5orf47 in human. We generated 4930524B15Rik knockout mice by CRISPR/Cas9 technology and found 4930524B15Rik−/− mice were fertile. Furthermore, no averted abnormalities were observed in testis morphology, epididymal sperm contents and sperm morphology in 4930524B15Rik knockout mice. Subsequently, histological analysis of testicular tissue revealed intact structure of seminiferous tubules along with the presence of all types of germ cells in 4930524B15Rik−/− mice similar to wild type. Additionally, cytological analysis of spermatocytes displayed no significant differences in the prophase I progression of meiosis, further indicating that 4930524B15Rik have no essential function in mammalian spermatogenesis. Altogether, these results indicated that 4930524B15Rik is dispensable for fertility of male mice and these findings will help researchers to avoid future research overlap and to focus on genes that are crucial for spermatogenesis and reproduction.
This is a preview of subscription content, log in to check access.
Access options
Buy single article
Instant access to the full article PDF.
US$ 39.95
Price includes VAT for USA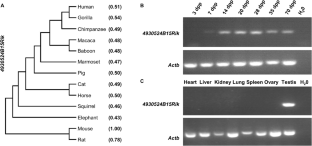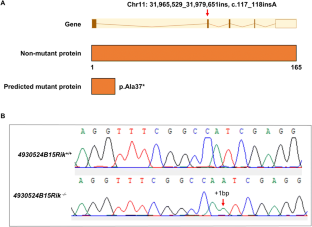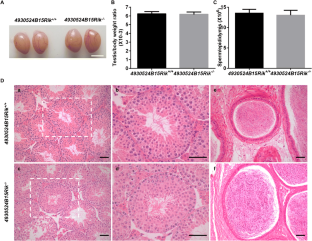 Acknowledgements
This work was supported by the National Key Research and Developmental Program of China (2018YFC1004700, 2018YFC1003403 and 2016YFC1000600), the Strategic Priority Research Program of the Chinese Academy of Sciences (XDB19000000), the National Natural Science Foundation of China (31890780, 31630050 and 31871514), Major Program of Development Foundation of Hefei Centre for Physical Science and Technology (2018ZYFX005), the Fundamental Research Funds for the Central Universities (YD2070002006).
Ethics declarations
Conflict of interest
All authors declare that no conflict of interest exists.
Ethical approval
All the experiments and examination on laboratory animals were directed by the institutional rules of Institutional Animal Care Committee of University of Science and Technology of China with the approval number USTCACUC1301021.
Additional information
Publisher's Note
Springer Nature remains neutral with regard to jurisdictional claims in published maps and institutional affiliations.
About this article
Cite this article
Khan, R., Ye, J., Yousaf, A. et al. Evolutionarily conserved and testis-specific gene, 4930524B15Rik, is not essential for mouse spermatogenesis and fertility. Mol Biol Rep (2020). https://doi.org/10.1007/s11033-020-05595-0
Received:

Accepted:

Published:
Keywords
4930524B15Rik
C5orf47

Testis-specific gene

Spermatogenesis

Fertility