Abstract
Curcumin was demonstrated to be an active ingredient with anti-inflammatory effects. This research was to investigate the effects of curcumin. We found that curcumin promoted cell viability and suppressed cell apoptosis. Meanwhile, curcumin decreased the level of cleaved caspase-3 and the release of TNF-α, IL-1β, IL-6, but increased IL-10 release in LPS-treated BV2 cells. miR-362-3p expression was upregulated by curcumin, while TLR4 expression was downregulated. Besides, we observed that the cytoprotective effects of curcumin were lost when miR-362-3p was silenced. TLR4 was a direct target gene of miR-362-3p. Moreover, miR-362-3p deletion attenuated the cytoprotective effects of curcumin by regulating TLR4 expression in LPS-induced BV2 cells. Furthermore, curcumin suppressed p-p65 expression via regulating miR-362-3p/TLR4 axis. We discovered that curcumin exhibited protective effects against LPS-triggered cell injury via modulating miR-362-3p/TLR4 axis through NF-κB pathway.
This is a preview of subscription content, log in to check access.
Access options
Buy single article
Instant access to the full article PDF.
US$ 39.95
Price includes VAT for USA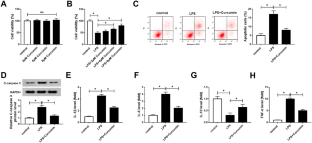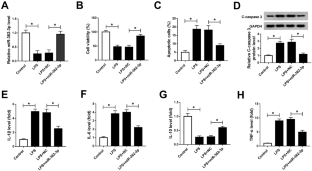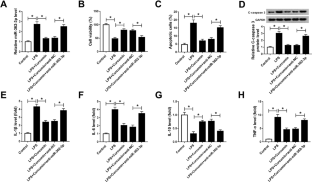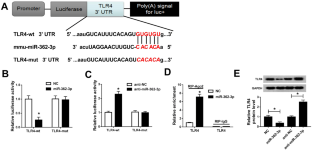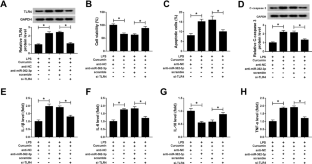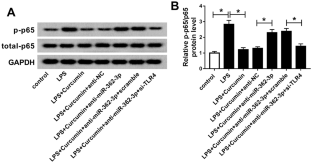 References
1.

Aktas C, Kanter M, Erboga M, Ozturk S (2012) Anti-apoptotic effects of curcumin on cadmium-induced apoptosis in rat testes. Toxicol Ind Health 28:122–130. https://doi.org/10.1177/0748233711407242

2.

Anthwal A, Thakur BK, Rawat MS, Rawat DS, Tyagi AK, Aggarwal BB (2014) Synthesis, characterization and in vitro anticancer activity of C-5 curcumin analogues with potential to inhibit TNF-alpha-induced NF-kappaB activation. Biomed Res Int 2014:524161. https://doi.org/10.1155/2014/524161

3.

Cemil B et al (2010) Curcumin improves early functional results after experimental spinal cord injury. Acta Neurochir (Wien) 152:1583–1590; discussion 1590. https://doi.org/10.1007/s00701-010-0702-x

4.

Chen Y, Li C, Duan S, Yuan X, Liang J, Hou S (2019) Curcumin attenuates potassium oxonate-induced hyperuricemia and kidney inflammation in mice. Biomed Pharmacother 118:109195. https://doi.org/10.1016/j.biopha.2019.109195

5.

Dong W et al (2018) Curcumin plays neuroprotective roles against traumatic brain injury partly via Nrf2 signaling. Toxicol Appl Pharmacol 346:28–36. https://doi.org/10.1016/j.taap.2018.03.020

6.

Fan H et al (2019) The in vitro and in vivo anti-inflammatory effect of osthole, the major natural coumarin from Cnidium monnieri (L) Cuss, via the blocking of the activation of the NF-kappaB and MAPK/p38 pathways. Phytomedicine 58:152864. https://doi.org/10.1016/j.phymed.2019.152864

7.

Fu SP et al (2014) BHBA suppresses LPS-induced inflammation in BV-2 cells by inhibiting NF-κB activation. Mediators Inflamm. https://doi.org/10.1155/2014/983401

8.

Galbraith NJ et al (2017) IkappaK-16 decreases miRNA-155 expression and attenuates the human monocyte inflammatory response. PLoS ONE 12:e0183987. https://doi.org/10.1371/journal.pone.0183987

9.

Gupta SC, Tyagi AK, Deshmukh-Taskar P, Hinojosa M, Prasad S, Aggarwal BB (2014) Downregulation of tumor necrosis factor and other proinflammatory biomarkers by polyphenols. Arch Biochem Biophys 559:91–99. https://doi.org/10.1016/j.abb.2014.06.006

10.

He Z et al (2017) Dl-3-n-butylphthalide attenuates acute inflammatory activation in rats with spinal cord injury by inhibiting microglial TLR4/NF-kappaB signalling. J Cell Mol Med 21:3010–3022. https://doi.org/10.1111/jcmm.13212

11.

Hu Y, Liu Q, Zhang M, Yan Y, Yu H, Ge L (2019) MicroRNA-362-3p attenuates motor deficit following spinal cord injury via targeting paired box gene 2. J Integr Neurosci 18:57–64. https://doi.org/10.31083/j.jin.2019.01.12

12.

Huang L et al (2018) Neuroprotective effect of curcumin against cerebral ischemia-reperfusion via mediating autophagy and inflammation. J Mol Neurosci 64:129–139. https://doi.org/10.1007/s12031-017-1006-x

13.

Jin X, Chen D, Zheng RH, Zhang H, Chen YP, Xiang Z (2017) miRNA-133a-UCP2 pathway regulates inflammatory bowel disease progress by influencing inflammation, oxidative stress and energy metabolism. World J Gastroenterol 23:76–86. https://doi.org/10.3748/wjg.v23.i1.76

14.

Jurenka JS (2009) Anti-inflammatory properties of curcumin, a major constituent of Curcuma longa: a review of preclinical and clinical research. Altern Med Rev 14:141–153 PMID: 19594223

15.

Komatsu W, Kishi H, Yagasaki K, Ohhira S (2018) Urolithin A attenuates pro-inflammatory mediator production by suppressing PI3-K/Akt/NF-kappaB and JNK/AP-1 signaling pathways in lipopolysaccharide-stimulated RAW264 macrophages: Possible involvement of NADPH oxidase-derived reactive oxygen species. Eur J Pharmacol 833:411–424. https://doi.org/10.1016/j.ejphar.2018.06.023

16.

Lin J et al (2014) Novel specific microRNA biomarkers in idiopathic inflammatory bowel disease unrelated to disease activity. Mod Pathol 27:602–608. https://doi.org/10.1038/modpathol.2013.152

17.

Liu RP et al (2014) Paroxetine ameliorates lipopolysaccharide-induced microglia activation via differential regulation of MAPK signaling. J Neuroinflammation 11:47. https://doi.org/10.1186/1742-2094-11-47

18.

Loganes C et al (2017) Curcumin anti-apoptotic action in a model of intestinal epithelial inflammatory damage. Nutrients. https://doi.org/10.3390/nu9060578

19.

Lv YN, Ou-Yang AJ, Fu LS (2017) MicroRNA-27a negatively modulates the inflammatory response in lipopolysaccharide-stimulated microglia by targeting TLR4 and IRAK4. Cell Mol Neurobiol 37:195–210. https://doi.org/10.1007/s10571-016-0361-4

20.

Ma F, Liu F, Ding L, You M, Yue H, Zhou Y, Hou Y (2017) Anti-inflammatory effects of curcumin are associated with down regulating microRNA-155 in LPS-treated macrophages and mice. Pharm Biol 55:1263–1273. https://doi.org/10.1080/13880209.2017.1297838

21.

Ma S, Zhang C, Zhang Z, Dai Y, Gu R, Jiang R (2019) Geniposide protects PC12 cells from lipopolysaccharide-evoked inflammatory injury via up-regulation of miR-145-5p. Artif Cells Nanomed Biotechnol 47:2875–2881. https://doi.org/10.1080/21691401.2019.1626406

22.

O'Neill L (2000) The Toll/interleukin-1 receptor domain: a molecular switch for inflammation and host defence. Biochem Soc Trans 28:557–563. https://doi.org/10.1042/bst0280557

23.

Qian D, Shao X, Li Y, Sun X (2019) Notoginsenoside R1 protects WI-38 cells against lipopolysaccharide-triggered injury via adjusting the miR-181a/TLR4 axis. J Cell Biochem 120:19764–19774. https://doi.org/10.1002/jcb.29282

24.

Roy A et al (2016) Potential therapeutic targets for inflammation in toll-like receptor 4 (TLR4)-mediated signaling pathways. Int Immunopharmacol 40:79–89. https://doi.org/10.1016/j.intimp.2016.08.026

25.

Shi L, Zheng X, Fan Y, Yang X, Li A, Qian J (2019) The contribution of miR-122 to the innate immunity by regulating toll-like receptor 4 in hepatoma cells. BMC Gastroenterol 19:130. https://doi.org/10.1186/s12876-019-1048-3

26.

Silva LS, Catalao CH, Felippotti TT, Oliveira-Pelegrin GR, Petenusci S, de Freitas LA, Rocha MJ (2017) Curcumin suppresses inflammatory cytokines and heat shock protein 70 release and improves metabolic parameters during experimental sepsis. Pharm Biol 55:269–276. https://doi.org/10.1080/13880209.2016.1260598

27.

Wang D, Wang H, Li Y, Li Q (2018) MiR-362-3p functions as a tumor suppressor through targeting MCM5 in cervical adenocarcinoma. Biosci Rep. https://doi.org/10.1042/BSR20180668

28.

Wang S, Cui Y, Xu J, Gao H (2019) miR-140-5p attenuates neuroinflammation and brain injury in rats following intracerebral hemorrhage by targeting TLR4. Inflammation 42:1869–1877. https://doi.org/10.1007/s10753-019-01049-3

29.

Xu R, Li H, Wu S, Qu J, Yuan H, Zhou Y, Lu Q (2019) MicroRNA-1246 regulates the radio-sensitizing effect of curcumin in bladder cancer cells via activating P53. Int Urol Nephrol 51:1771–1779. https://doi.org/10.1007/s11255-019-02210-5

30.

Zhang J, Zheng Y, Luo Y, Du Y, Zhang X, Fu J (2019) Curcumin inhibits LPS-induced neuroinflammation by promoting microglial M2 polarization via TREM2/ TLR4/ NF-κB pathways in BV2 cells. Mol Immunol 12:116. https://doi.org/10.1016/j.molimm.2019.09.020

31.

Zhang S, Zou J, Li P, Zheng X, Feng D (2018) Curcumin protects against atherosclerosis in apolipoprotein E-knockout mice by inhibiting toll-like receptor 4 expression. J Agric Food Chem 66:449–456. https://doi.org/10.1021/acs.jafc.7b04260

32.

Zhou J, Miao H, Li X, Hu Y, Sun H, Hou Y (2017) Curcumin inhibits placental inflammation to ameliorate LPS-induced adverse pregnancy outcomes in mice via upregulation of phosphorylated Akt. Inflamm Res 66:177–185. https://doi.org/10.1007/s00011-016-1004-4
Funding
This study was supported by the Fundamental Research Funds for the Central Universities (Grant No. 2042017kf0139), Innovative Seed Funds of Medical College of Wuhan University (Grant No. TFZZ2018027), Natural Science Foundation of Hubei Province (Grant No. 2019CFB457) and Wuhan Medical Research Project (Youth Project) (Grant No. WZ19Q02).
Ethics declarations
Conflict of interest
All authors declare that they have no conflict of interest.
Additional information
Publisher's Note
Springer Nature remains neutral with regard to jurisdictional claims in published maps and institutional affiliations.
About this article
Cite this article
Xie, P., Deng, M., Sun, Q. et al. Curcumin protects BV2 cells against lipopolysaccharide-induced injury via adjusting the miR-362-3p/TLR4 axis. Mol Biol Rep 47, 4199–4208 (2020). https://doi.org/10.1007/s11033-020-05543-y
Received:

Accepted:

Published:

Issue Date:
Keywords
Curcumin

Spinal cord injury

miR-362-3p

TLR4

NF-κb