Abstract
Important regulatory roles of long non-coding RNAs (lncRNAs) have been recently found, and reported as useful biomarkers in cancer. To identify a potential expression of the new discovered lncRNA (ARA), during promotes cell proliferation, apoptosis inhibit, migration and cell cycle arrest, we firstly evaluate its expression in two cancer tissues (breast cancer and liver cancer) and then compared its variability expression in tumor versus non-tumor samples. Expression profile of ARA lncRNA was evaluated using qRT-PCR in paired tumor and marginal non-tumor samples collected from patients who had been referred to the Shiraz General. After RNA extraction from tissue samples, cDNA synthesis and RT-qPCR method were performed according to the protocols. ARA lncRNA expression level was calculated using 2−ΔΔCt method. Principal-component analysis followed by receiver operating characteristic curve analyses was performed to evaluate the diagnostic potential of selected lncRNA. Our data revealed a significant upregulation (P < 0.001) of ARA in breast and liver tumor tissues, in comparison to same patients non-tumor marginal samples. Also, there was a significant difference between the expression of ARA lncRNA in breast cancer and liver cancer patients (P < 0.05). In conclusion, the results of our study suggest a possible role of ARA lncRNA in proliferation of breast and liver tissues, as well as its potential usefulness as a novel diagnostic biomarker for breast and liver tumors.
Access options
Buy single article
Instant access to the full article PDF.
US$ 39.95
Tax calculation will be finalised during checkout.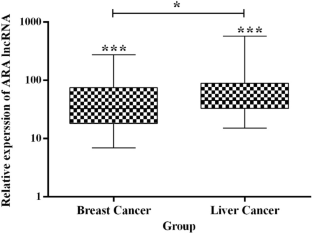 References
1.

Ilic M, Ilic I (2016) Epidemiology of pancreatic cancer. World J Gastroenterol 22:9694–9705. https://doi.org/10.3748/wjg.v22.i44.9694

2.

Sighoko D, Hunt BR, Irizarry B et al (2018) Disparity in breast cancer mortality by age and geography in 10 racially diverse US cities. Cancer Epidemiol 53:178–183. https://doi.org/10.1016/j.canep.2018.02.003

3.

Seyfried TN, Huysentruyt LC (2013) On the origin of cancer metastasis. Crit Rev Oncog 18:43–73

4.

Chen W, Hoffmann AD, Liu H, Liu X (2018) Organotropism: new insights into molecular mechanisms of breast cancer metastasis. NPJ Precis Oncol 2:4. https://doi.org/10.1038/s41698-018-0047-0

5.

Byler S, Goldgar S, Heerboth S et al (2014) Genetic and epigenetic aspects of breast cancer progression and therapy. Anticancer Res 34:1071–1077

6.

Samulin Erdem J, Notø H, Skare Ø et al (2017) Mechanisms of breast cancer risk in shift workers: association of telomere shortening with the duration and intensity of night work. Cancer Med 6:1988–1997. https://doi.org/10.1002/cam4.1135

7.

Kar P (2014) Risk factors for hepatocellular carcinoma in India. J Clin Exp Hepatol 4:S34–S42. https://doi.org/10.1016/j.jceh.2014.02.155

8.

Pan H, Fu X, Huang W (2011) Molecular mechanism of liver cancer. Anticancer Agents Med Chem 11:493–499

9.

Jiang K, Al-Diffalha S, Centeno BA (2018) Primary liver cancers-part 1: histopathology, differential diagnoses, and risk stratification. Cancer Control. https://doi.org/10.1177/1073274817744625

10.

Kaikkonen MU, Lam MTY, Glass CK (2011) Non-coding RNAs as regulators of gene expression and epigenetics. Cardiovasc Res 90:430–440. https://doi.org/10.1093/cvr/cvr097

11.

Lin C-P, He L (2017) Noncoding RNAs in cancer development. Annu Rev Cancer Biol 1:163–184. https://doi.org/10.1146/annurev-cancerbio-050216-034443

12.

Schmitt AM, Chang HY (2016) Long noncoding RNAs in cancer pathways. Cancer Cell 29:452–463. https://doi.org/10.1016/j.ccell.2016.03.010

13.

Jiang M, Huang O, Xie Z et al (2014) A novel long non-coding RNA-ARA: adriamycin resistance associated. Biochem Pharmacol 87:254–283. https://doi.org/10.1016/j.bcp.2013.10.020

14.

Malhotra A, Jain M, Prakash H et al (2017) The regulatory roles of long non-coding RNAs in the development of chemoresistance in breast cancer. Oncotarget 8:110671–110684. https://doi.org/10.18632/oncotarget.22577

15.

Livak KJ, Schmittgen TD (2001) Analysis of relative gene expression data using real-time quantitative PCR and the 2–∆∆CT method. Methods 25:402–408. https://doi.org/10.1006/meth.2001.1262

16.

Shahryari A, Rafiee MR, Fouani Y et al (2014) Two novel splice variants of ARA, ARA-S1, and ARA-S2 are coupregulated with SOX2 and OCT4 in esophageal squamous cell carcinoma. Stem Cells 32:126–134. https://doi.org/10.1002/stem.1542

17.

Tian Y, Zhang X, Hao Y et al (2014) Potential roles of abnormally expressed long noncoding RNA UCA1 and Malat-1 in metastasis of melanoma. Melanoma Res 24:335–341. https://doi.org/10.1097/CMR.0000000000000080

18.

He Y, Meng X-M, Huang C et al (2014) Long noncoding RNAs: novel insights into hepatocelluar carcinoma. Cancer Lett 344:20–27. https://doi.org/10.1016/j.canlet.2013.10.021

19.

Zhou H-L, Luo G, Wise JA, Lou H (2014) Regulation of alternative splicing by local histone modifications: potential roles for RNA-guided mechanisms. Nucleic Acids Res 42:701–713. https://doi.org/10.1093/nar/gkt875

20.

Soreq L, Guffanti A, Salomonis N et al (2014) Long non-coding RNA and alternative splicing modulations in Parkinson's leukocytes identified by RNA sequencing. PLoS Comput Biol 10:e1003517. https://doi.org/10.1371/journal.pcbi.1003517

21.

Kung JTY, Colognori D, Lee JT (2013) Long noncoding RNAs: past, present, and future. Genetics 193:651–669. https://doi.org/10.1534/genetics.112.146704

22.

Wapinski O, Chang HY (2011) Long noncoding RNAs and human disease. Trends Cell Biol 21:354–361

23.

Kondo Y, Shinjo K, Katsushima K (2017) Long non-coding RNAs as an epigenetic regulator in human cancers. Cancer Sci 108:1927–1933

24.

Cortés-Funes H, Coronado C (2007) Role of anthracyclines in the era of targeted therapy. Cardiovasc Toxicol 7:56–60. https://doi.org/10.1007/s12012-007-0015-3
Acknowledgements
The authors are grateful to the staffs of research deputy of Shahrekord University of Medial Sciences and Cellular and Molecular Research Center, Shahrekord University of Medical Sciences.
Ethics declarations
Conflict of interest
The authors declare they have no conflict of interest.
Ethical approval
All applicable international, national, and institutional guidelines for the care of human were followed.
About this article
Cite this article
Raeisi, F., Abolfathi, M., Ahmadi-Naji, R. et al. ARA lncRNA, is upregulated in liver and breast tumor tissues. Mol Biol Rep 46, 77–82 (2019). https://doi.org/10.1007/s11033-018-4447-6
Received:

Accepted:

Published:

Issue Date:
Keywords
LncRNA

ARA

Breast cancer

Liver cancer