Abstract
Multiplexed single nucleotide polymorphism (SNP) markers have the potential to increase the speed and cost-effectiveness of genotyping, provided that an optimal SNP density is used for each application. To test the efficiency of multiplexed SNP genotyping for diversity, mapping and breeding applications in rice (Oryza sativa L.), we designed seven GoldenGate VeraCode oligo pool assay (OPA) sets for the Illumina BeadXpress Reader. Validated markers from existing 1536 Illumina SNPs and 44 K Affymetrix SNP chips developed at Cornell University were used to select subsets of informative SNPs for different germplasm groups with even distribution across the genome. A 96-plex OPA was developed for quality control purposes and for assigning a sample into one of the five O. sativa population subgroups. Six 384-plex OPAs were designed for genetic diversity analysis, DNA fingerprinting, and to have evenly-spaced polymorphic markers for quantitative trait locus (QTL) mapping and background selection for crosses between different germplasm pools in rice: Indica/Indica, Indica/Japonica, Japonica/Japonica, Indica/O. rufipogon, and Japonica/O. rufipogon. After testing on a diverse set of rice varieties, two of the SNP sets were re-designed by replacing poor-performing SNPs. Pilot studies were successfully performed for diversity analysis, QTL mapping, marker-assisted backcrossing, and developing specialized genetic stocks, demonstrating that 384-plex SNP genotyping on the BeadXpress platform is a robust and efficient method for marker genotyping in rice.
Access options
Buy single article
Instant access to the full article PDF.
US$ 39.95
Tax calculation will be finalised during checkout.
Subscribe to journal
Immediate online access to all issues from 2019. Subscription will auto renew annually.
US$ 79
Tax calculation will be finalised during checkout.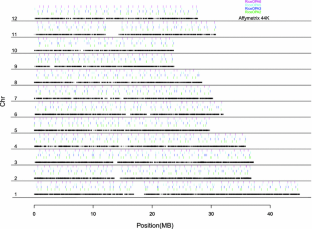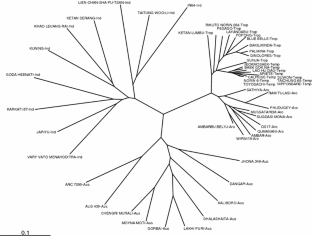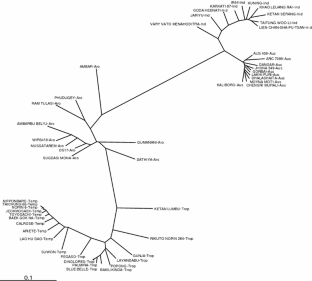 References
Akhunov E, Nicolet C, Dvorak J (2009) Single nucleotide polymorphism genotyping in polyploid wheat with the Illumina GoldenGate assay. Theor Appl Genet 119:507–517

Boualaphanh C, Daygon VD, Calingacion MN, Sanitchon J, Jothityangkoon D, Mumm R, Hall RD, Fitzgerald MA (2011) Use of new generation single nucleotide polymorphism genotyping for rapid development of near-isogenic lines in rice. Crop Sci 51:2067–2073

Chen H, He H, Zou Y, Chen W, Yu R, Liu X, Yang Y, Gao YM, Xu JL, Fan LM, Li Y, Li ZK, Deng XW (2011) Development and application of a set of breeder-friendly SNP markers for genetic analyses and molecular breeding of rice (Oryza sativa L.). Theor Appl Genet 123:869–879

Chin JH, Gamuyao R, Dalid C, Bustamam M, Prasetiyono J, Moeljopawiro S, Wissuwa M, Heuer S (2011) Developing rice with high yield under phosphorus deficiency: Pup1 sequence to application. Plant Physiol 156:1202–1216

Clark RM, Schweikert G, Toomajian C, Ossowski S, Zeller G, Shinn P, Warthmann N, Hu TT, Fu G, Hinds DA, Chen H, Frazer KA, Huson DH, Schölkopf B, Nordborg M, Rätsch G, Ecker JR, Weigel D (2007) Common sequence polymorphisms shaping genetic diversity in Arabidopsis thaliana. Science 317:338–342

Close TJ, Bhat PR, Lonardi S, Wu Y, Rostoks N, Ramsay L, Druka A, Stein N, Svensson JT, Wanamaker S, Bozdag S, Roose ML, Moscou MJ, Chao S, Varshney RK, Szucs P, Sato K, Hayes PM, Matthews DE, Kleinhofs A, Muehlbauer GJ, DeYoung J, Marshall DF, Madishetty K, Fenton RD, Condamine P, Graner A, Waugh R (2009) Development and implementation of high-throughput SNP genotyping in barley. BMC Genomics 10:582

Collard B, Vera Cruz C, McNally K, Virk P, Mackill D (2008) Rice molecular breeding laboratories in the genomics era: current status and future considerations. Int J Plant Genomics 2008:524847. doi:10.1155/2008/524847

Deulvot C, Charrel H, Marty A, Jacquin F, Donnadieu C, Lejeune-Hénaut I, Burstin J, Aubert G (2010) Highly-multiplexed SNP genotyping for genetic mapping and germplasm diversity studies in pea. BMC Genomics 11:468

Feltus FA, Wan J, Schulze SR, Estill JC, Jiang N, Paterson AH (2004) An SNP resource for rice genetics and breeding based on subspecies indica and japonica genome alignments. Genome Res 14:1812–1819

Garris AJ, Tai TH, Coburn JR, Kresovich S, McCouch S (2005) Genetic structure and diversity in Oryza sativa L. Genetics 169:1631–1638

Huang X, Wei X, Sang T, Zhao Q, Feng Q, Zhao Y, Li C, Zhu C, Lu T, Zhang Z, Li M, Fan D, Guo Y, Wang A, Wang L, Deng L, Li W, Lu Y, Weng Q, Liu K, Huang T, Zhou T, Jing Y, Li W, Lin Z, Buckler ES, Qian Q, Zhang QF, Li J, Han B (2010) Genome-wide association studies of 14 agronomic traits in rice landraces. Nat Genet 42:961–967

Hyten DL, Song Q, Choi IY, Yoon MS, Specht JE, Matukumalli LK, Nelson RL, Shoemaker RC, Young ND, Cregan PB (2008) High-throughput genotyping with the GoldenGate assay in the complex genome of soybean. Theor Appl Genet 116:945–952

Kwon SJ, Truco MJ, Hu J (2011) LSGermOPA, a custom OPA of 384 EST-derived SNPs for high-throughput lettuce (Lactuca sativa L.) germplasm fingerprinting. Mol Breed. doi:10.1007/s11032-011-9623-5

Lin CH, Yeakley JM, McDaniel TK, Shen R (2009) Medium- to high-throughput SNP genotyping using VeraCode microbeads. Methods Mol Biol 496:129–142

Liu K, Muse SV (2005) PowerMarker: an integrated analysis environment for genetic marker analysis. Bioinformatics 21:2128–2129

McCouch SR, Zhao K, Wright M, Tung CW, Ebana K, Thomson M, Reynolds A, Wang D, DeClerck G, Ali ML, McClung A, Eizenga G, Bustamante C (2010) Development of genome-wide SNP assays for rice. Breed Sci 60:524–535

McMullen MD, Kresovich S, Villeda HS, Bradbury P, Li H, Sun Q, Flint-Garcia S, Thornsberry J, Acharya C, Bottoms C, Brown P, Browne C, Eller M, Guill K, Harjes C, Kroon D, Lepak N, Mitchell SE, Peterson B, Pressoir G, Romero S, Oropeza Rosas M, Salvo S, Yates H, Hanson M, Jones E, Smith S, Glaubitz JC, Goodman M, Ware D, Holland JB, Buckler ES (2009) Genetic properties of the maize nested association mapping population. Science 325:737–740

McNally K, Childs K, Bohnert R, Davidson R, Zhao K, Ulat V, Zeller G, Clark R, Hoen D, Bureau T, Stokowski R, Ballinger D, Frazer K, Cox D, Padhukasahasram B, Bustamante C, Weigel D, Mackill D, Bruskiewich R, Rätsch G, Buell C, Leung H, Leach J (2009) Genomewide SNP variation reveals relationships among landraces and modern varieties of rice. Proc Natl Acad Sci USA 106:12273–12278

Milne I, Shaw P, Stephen G, Bayer M, Cardle L, Thomas WT, Flavell AJ, Marshall D (2010) Flapjack—graphical genotype visualization. Bioinformatics 26:3133–3134

Moragues M, Comadran J, Waugh R, Milne I, Flavell AJ, Russell JR (2010) Effects of ascertainment bias and marker number on estimations of barley diversity from high-throughput SNP genotype data. Theor Appl Genet 120:1525–1534

Nagasaki H, Ebana K, Shibaya T, Yonemaru J, Yano M (2010) Core single-nucleotide polymorphisms—a tool for genetic analysis of the Japanese rice population. Breed Sci 60:648–655

Pavy N, Pelgas B, Beauseigle S, Blais S, Gagnon F, Gosselin I, Lamothe M, Isabel N, Bousquet J (2008) Enhancing genetic mapping of complex genomes through the design of highly-multiplexed SNP arrays: application to the large and unsequenced genomes of white spruce and black spruce. BMC Genomics 9:21

Rostoks N, Ramsay L, MacKenzie K, Cardle L, Bhat PR, Roose ML, Svensson JT, Stein N, Varshney RK, Marshall DF, Graner A, Close TJ, Waugh R (2006) Recent history of artificial outcrossing facilitates whole-genome association mapping in elite inbred crop varieties. Proc Natl Acad Sci USA 103:18656–18661

Shen YJ, Jiang H, Jin JP, Zhang ZB, Xi B, He YY, Wang G, Wang C, Qian L, Li X, Yu QB, Liu HJ, Chen DH, Gao JH, Huang H, Shi TL, Yang ZN (2004) Development of genome-wide DNA polymorphism database for map-based cloning of rice genes. Plant Physiol 135:1198–1205

Shen R, Fan JB, Campbell D, Chang W, Chen J, Doucet D, Yeakley J, Bibikova M, Wickham Garcia E, McBride C, Steemers F, Garcia F, Kermani BG, Gunderson K, Oliphant A (2005) High-throughput SNP genotyping on universal bead arrays. Mutat Res 573:70–82

Tung CW, Zhao K, Wright K, Ali L, Jung J, Kimball J, Tyagi W, Thomson M, McNally KL, Leung H, Kim H, Ahn SN, Reynolds A, Scheffler B, Eizenga G, McClung A, Bustamante C, McCouch S (2010) Development of a research platform for dissecting phenotype-genotype associations in rice (Oryza spp.). Rice 3:205–217

Vignal A, Milan D, SanCristobal M, Eggen A (2002) A review on SNP and other types of molecular markers and their use in animal genetics. Genet Sel Evol 34:275–305

Wright MH, Tung CW, Zhao K, Reynolds A, McCouch SR, Bustamante CD (2010) ALCHEMY: a reliable method for automated SNP genotype calling for small batch sizes and highly homozygous populations. Bioinformatics 26:2952–2960

Yamamoto T, Nagasaki H, Yonemaru J, Ebana K, Nakajima M, Shibaya T, Yano M (2010) Fine definition of the pedigree haplotypes of closely related rice cultivars by means of genome-wide discovery of single-nucleotide polymorphisms. BMC Genomics 11:267

Yan J, Yang X, Shah T, Sánchez-Villeda H, Li J, Warburton M, Zhou Y, Crouch JH, Xu Y (2010) High-throughput SNP genotyping with the GoldenGate assay in maize. Mol Breed 25:441–451

Zhao K, Wright M, Kimball J, Eizenga G, McClung A, Kovach M, Tyagi W, Ali ML, Tung CW, Reynolds A, Bustamante CD, McCouch SR (2010) Genomic diversity and introgression in O. sativa reveal the impact of domestication and breeding on the rice genome. PLoS One 5:e10780

Zhao K, Tung CW, Eizenga GC, Wright MH, Ali ML, Price AH, Norton GJ, Islam MR, Reynolds A, Mezey J, McClung AM, Bustamante CD, McCouch SR (2011) Genome-wide association mapping reveals a rich genetic architecture of complex traits in Oryza sativa. Nat Commun 2:467
Acknowledgments
We thank Dennis Lozada, Erwin Tandayu, Pauline Capistrano and Socorro Carandang for excellent technical assistance with the BeadXpress Reader at IRRI. This research was supported in part by the International Rice Research Institute, the German Federal Ministry of Development (BMZ/GTZ), the government of Japan, and by grants from the U.S. National Science Foundation (Award # 0606461) and the U.S. Department of Agriculture (CRIS # 0219056) to S. R. M. and C. B. USDA-ARS support staff, Melissa Jia and Sheron Simpson at Stuttgart, Arkansas and Stoneville, MS, respectively, are acknowledged for DNA preparation of samples for running on RiceOPA 4.0.
Electronic supplementary material
Below is the link to the electronic supplementary material.
About this article
Cite this article
Thomson, M.J., Zhao, K., Wright, M. et al. High-throughput single nucleotide polymorphism genotyping for breeding applications in rice using the BeadXpress platform. Mol Breeding 29, 875–886 (2012). https://doi.org/10.1007/s11032-011-9663-x
Received:

Accepted:

Published:

Issue Date:
Keywords
Oryza sativa

Single nucleotide polymorphism

Illumina BeadXpress reader