Abstract
Molecular variation within known genes controlling specific functions provide candidate gene-based markers which are tightly linked with the trait of interest. Unigene-derived microsatellite markers, with their unique identity and positions, offer the advantage of unraveling variation in the expressed component of the genome. We characterized ≥12-bp-long microsatellite loci from 13,899 unique sequences of sorghum [Sorghum bicolor (L.) Moench] available in the NCBI unigene database for their abundance and possible use in sorghum breeding. Analysis of 12,464 unigenes (≥200-bp) using MISA software identified 14,082 simple sequence repeats (SSRs) in 7,370 unigenes, from which 1,519 unigene SSR markers were developed. The average frequency of SSR was 1 per1.6 kb and 1.0 per 1.1 unigene; hexamers followed by trimers were found in abundance, of which 33.3% AT-rich and CCG repeats were the most abundant. Of the 302 unigene SSRs tested, 60 (19.8%) were polymorphic between the two parents, M35-1 and B35 of a recombinant inbred line (RIL) mapping population. A mapping population consisting of 500 RILs was developed using the above two parents, and a subset of random 245 RILs was used for genotyping with polymorphic SSRs. We developed a linkage map containing 231 markers, of which 228 (174 genomic and 54 genic) were microsatellites and three were morphological markers. Markers were distributed over 21 linkage groups, and spanned a genetic distance of 1235.5 cM. This map includes 81 new SSRs, of which 35 (21 unigene and 14 genomic) were developed in the present study and 46 from other studies. The order of the SSR markers mapped in the present study was confirmed physically by BLAST search against the whole-genome shotgun sequence of sorghum. Many unigene sequences used for marker development in this study include genes coding for important regulatory proteins and functional proteins that are involved in stress-related metabolism. The unigene SSR markers used together with other SSR markers to construct the sorghum genetic map will have applications in studies on comparative mapping, functional diversity analysis and association mapping, and for quantitative trait loci detection for drought and other agronomically important traits in sorghum.
Access options
Buy single article
Instant access to the full article PDF.
US$ 39.95
Tax calculation will be finalised during checkout.
Subscribe to journal
Immediate online access to all issues from 2019. Subscription will auto renew annually.
US$ 79
Tax calculation will be finalised during checkout.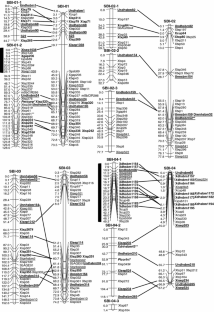 References
Andersen JR, Lübberstedt T (2003) Functional markers in plants. Trends Plant Sci 8:554–559

Aubert G, Morin J, Jacquin F, Loridon K, Quillet MC, Petit A, Rameau C, Lejeune-Henaut I, Huguet T, Burstin J (2006) Functional mapping in pea, as an aid to the candidate gene selection and for investigating synteny with the model legume Medicago truncatula. Theor Appl Genet 112:1024–1041

Ayres NM, McClung AM, Larkin PD, Bligh HFJ, Jones CA, Park WD (1997) Microsatellites and a single-nucleotide polymorphism differentiate apparent amylose classes in an extended pedigree of US rice germplasm. Theor Appl Genet 94:773–781

Berhan AM, Hulbert SH, Bulter LG, Bennetzen JL (1993) Structure and evolution of the genomes of Sorghum bicolor and Zea mays. Theor Appl Genet 86:598–604

Bhattramakki D, Dong J, Chhabra AK, Hart GE (2000) An integrated SSR and RFLP linkage map of Sorghum bicolor (L.) Moench. Genome 43:988–1002

Binelli G, Gianfranceschi L, Po ME, Taramino G, Busso C, Stenhouse J, Ottaviano E (1992) Similarity of maize and sorghum genomes as revealed by maize RFLP probes. Theor Appl Genet 84:10–16

Boivin K, Deu M, Rami JF, Trouche G, Hamon P (1999) Towards a saturated sorghum map using RFLP and AFLP markers. Theor Appl Genet 98:320–328

Borstnik B, Pumpernik D (2002) Tandem repeats in protein coding regions of primate genes. Genome Res 12:909–915

Bowers JE, Abbey C, Anderson S, Chang C, Draye X, Hoppe AH, Jessup R, Lemke C, Lennington J, Li Z, Lin YR, Liu SC, Luo L, Marler BS, Ming R, Mitchell SE, Qiang D, Reischmann K, Schulze SR, Skinner DN, Wang YW, Kresovich S, Schertz KF, Paterson AH (2003) A high-density genetic recombination map of sequence-tagged sites for sorghum, as a framework for comparative structural and evolutionary genomics of tropical grains and grasses. Genetics 165:367–386

Brown SM, Hopkins MS, Mitchell SE, Senior ML, Wang TY, Duncan RR, Gonzales-Candelas F, Kresovitch S (1996) Multiple methods for the identification of polymorphic simple sequence repeats (SSRs) in sorghum [Sorghum bicolor (L.) Moench]. Theor Appl Genet 93:190–198

Calviño M, Miclaus M, Bruggmann R, Messing J (2009) Molecular markers for sweet sorghum based on microarray expression data. Rice, doi 10.1007/s12284-009-9029-8

Chen H, Xue L, Chintamanani S, Germain H, Lin H, Cui H, Cai R, Zuo J, Tang X, Li X, Guo H, Zhou JM (2009) ETHYLENE INSENSITIVE3 and ETHYLENE INSENSITIVE3-LIKE1 repress SALICYLIC ACID INDUCTION DEFICIENT2 expression to negatively regulate plant innate immunity in Arabidopsis. Plant Cell 21:2527–2540

Childs KL, Klein RR, Klein PE, Morishige DT, Mullet JE (2001) Mapping genes on an integrated sorghum genetic and physical map using cDNA selection technology. Plant J 27:243–255

Chittenden LM, Schertz KF, Lin YR, Wing RA, Paterson AH (1994) A detailed RFLP map of Sorghum bicolor × S. propinquum, suitable for high density mapping, suggests ancestral duplication of sorghum chromosomes or chromosomal segments. Theor Appl Genet 87:925–933

Cordeiro GM, Casu R, McIntyre CL, Manners JM, Henry RJ (2001) Microsatellite markers from sugarcane (Saccharum spp.) ESTs cross transferable to Erianthus and sorghum. Plant Sci 160:1115–1123

Crasta OR, Xu WW, Rosenow DT, Mullet J, Nguyen HT (1999) Mapping of post-flowering drought resistance traits in grain sorghum: association between QTLs influencing premature senescence and maturity. Mol Gen Genet 262:579–588

Cummings CJ, Zoghbi HY (2000) Trinucleotide repeats: mechanisms and pathophysiology. Annu Rev Genom Hum Genet 1:281–328

Don RH, Cox PT, Wainwright BJ, Baker K, Mattick JS (1991) 'Touchdown' PCR to circumvent spurious priming during gene amplification. Nucleic Acids Res 19:4008

Dresselhaus T, Cordts S, Heuer S, Sauter M, Lörz H, Kranz E (1999) Novel ribosomal genes from maize are differentially expressed in the zygotic and somatic cell cycles. Mol Gen Genet 261:416–427

Dufour P, Deu M, Grivet L, D'Hont A, Paulet F, Bouet A, Lanaud C, Glaszmann JC, Hamon P (1997) Construction of a composite sorghum genome map and comparison with sugarcane, a related complex polyploid. Theor Appl Genet 94:409–418

Ellis JR, Burke JM (2007) EST-SSRs as a resource for population genetic analyses. Heredity 99:125–132

Eujayl I, Sledge MK, Wang L, May GD, Chekhovskiy K, Zwonitzer JC, Mian MAR (2004) Medicago truncatula EST-SSRs reveal cross-species genetic markers for Medicago spp. Theor Appl Genet 108:414–422

FAOSTAT (2009) http://faostat.fao.org/

Fernandez MGS, Hamblin MT, Li L, Rooney WL, Tunistra MR, Kresovich S (2008) Quantitative trait loci analysis of endosperm color and carotenoid content in sorghum grain. Crop Sci 48:1732–2743

Fritz AK, Caldwell S, Worral WD (1999) Molecular mapping of Russian wheat aphid resistance from triticale accession, PI 386156. Crop Sci 39:1707-1710

Gong L, Deng Z (2010) EST-SSR markers for gerbera (Gerbera hybrida). Mol Breed 26:125–132. doi:10.1007/s11032-009-9380-x

Goulden CH (1939) Problems in plant selection. In: Burnett RC (ed) Proceedings international genetics congress, 7th, Edinburgh, 1939. Cambridge University Press, Edinburgh, pp 132–133

Gower JC (1971) A general coefficient of similarity and some of its properties. Biometrics 27:857–874

Gupta PK, Varshney RK (2000) The development and use of microsatellite markers for genetic analysis and plant breeding with emphasis on bread wheat. Euphytica 113:163–185

Gupta PK, Balyan HS, Sharma PC, Ramesh B (1996) Microsatellites in plants: a new class of molecular markers. Curr Sci 70:45–54

Gupta HS, Agrawal PK, Mahajan V, Bisht GS, Kumar A, Verma P, Srivastava A, Saha S, Babu R, Pant MC, Mani VP (2009) Quality protein maize for nutritional security: rapid development of short duration hybrids through molecular marker assisted breeding. Curr Sci 96:230–237

Gur-Arie R, Cohen CJ, Eitan Y, Shelef L, Hallerman EM, Kashi Y (2000) Simple sequence repeats in Escherichia coli: abundance, distribution, composition, and polymorphism. Genome Res 10:62–71

Harris K, Subudhi PK, Borrell A, Jordan DR, Rosenow DT, Nguyen HT, Klein PE, Klein RR, Mullet J (2007) Sorghum staygreen QTL individually reduce post-flowering drought induced leaf senescence. J Exp Bot 58:327–338

Haussmann BIG, Hess DE, Seetharama N, Welz HG, Geiger HH (2002a) Construction of a combined sorghum linkage map from two recombinant inbred population using AFLP, SSR, RFLP, and RAPD markers, and comparison with other sorghum maps. Theor Appl Genet 105:629–637

Haussmann BIG, Mahalakshmi V, Reddy BVS, Seetharama N, Hash CT, Geiger HH (2002b) QTL mapping of staygreen in two sorghum recombinant inbred populations. Theor Appl Genet 106:133–142

Heesacker A, Kishore VK, Gao WX, Tang SX, Kolkman JM, Gingle A, Matvienko M, Kozik A, Michelmore RM, Lai Z, Rieseberg LH, Knapp SJ (2008) SSRs and INDELs mined from the sunflower EST database: abundance, polymorphisms, and cross-taxa utility. Theor Appl Genet 117:1021–1029

Hulbert SH, Richter TE, Axtell JD, Bennetzen JL (1990) Genetic mapping and characterization of sorghum and related crops by means of maize DNA probes. Proc Natl Acad Sci USA 87:4251–4255

Iuchi S, Yamaguchi-Shinozaki K, Urao T, Terao T, Shinozaki K (1996) Novel drought-inducible genes in the highly drought-tolerant cowpea: cloning of cDNAs and analysis of the expression of the corresponding genes. Plant Cell Physiol 37:1073–1082

Jayashree B, Punna R, Prasad P, Bantte K, Hash CT, Chandra S, Hoisington DA, Varshney RK (2006) A database of simple sequence repeats from cereal and legume expressed sequence tags mined in silico: survey and evaluation. In Silico Biol 6:0054. http://www.bioinfo.de/isb/2006/06/0054/

Kantety RV, Rota ML, Matthews DE, Sorrells ME (2002) Data mining for simple sequence repeats in expressed sequence tags from barley, maize, rice, sorghum and wheat. Plant Mol Biol 48:501–510

Katti MV, Ranjekar PK, Gupta VS (2001) Differential distribution of simple sequence repeats in eukaryotic genome sequences. Mol Biol Evol 18:1161–1167

Kim JS, Klein PE, Klein RR, Price HJ, Mullet JE, Stelly DM (2005) Chromosome identification and nomenclature of Sorghum bicolor. Genetics 169:1169–1173

Klein RR, Mullet JE, Jordan DR, Miller FR, Rooney WL, Menz MA, Franks CD, Klein PE (2008) The effect of tropical sorghum conversion and inbred development on genome diversity as revealed by high-resolution genotyping. Crop Sci 48:S12–S26

Knoll J, Gunaratna N, Ejeta G (2007) QTL analysis of early-season cold tolerance in sorghum. Theor Appl Genet 116:577–587, doi 10.1007/s00122-007-0692-0

Kong L, Dong J, Hart GE (2000) Characteristics, linkage map positions, and allelic differentiation of Sorghum bicolor (L.) Moench. DNA simple-sequence repeats (SSRs). Theor Appl Genet 101:438–448

Li M, Yuyama N, Luo L, Hirata M, Cai H (2009) In silico mapping of 1758 new SSR markers developed from public genomic sequences for sorghum. Mol Breed 24:41–47, doi:10.1007/s11032-009-9270-2

Lopez C, Jorge V, Pie′gu B, Mba C, Cortes D, Restrepo S, Soto M, Laudie′ M, Berger C, Cooke R, Delseny M, Tohme J, Verdier V (2004) A unigene catalogue of 5700 expressed genes in cassava. Plant Mol Biol 56:541–554

Mace ES, Jordan DR (2010) Location of major effect genes in sorghum (Sorghum bicolor (L.) Moench). Theor Appl Genet 121:1339–1356, doi:10.1007/s00122-010-1392-8

Mace ES, Xia L, Jordan DR, Halloran K, Parh DK, Huttner E, Wenzl P, Kilian A (2008) DArT markers: diversity analyses and mapping in Sorghum bicolor. BMC Genom 9:26–30

Mace ES, Rami JF, Bouchet S, Klein PE, Klein RR, Kilian A, Wenz P, Xia L, Halloran K, Jordan DR (2009) A consensus genetic map of sorghum that integrates multiple component maps and high-throughput Diversity Array Technology (DArT) markers. BMC Plant Biol 9:13, doi:10.1186/1471-2229-9-13

Matthews BF, Devine TE, Weisemann JM, Beard HS, Lewers KS, McDonald MH, Park YB, Maiti R, Lin JJ, Kuo J, Pedroni MJ, Cregan PB, Saunders JA (2001) Incorporation of sequenced cDNA and genomic markers into the soybean genetic map. Crop Sci 41:516–521

McCouch SR, Teytelman L, Xu Y, Lobos KB, Clare K, Walton M, Fu B, Maghirang R, Li Z, Xing Y, Zhang Q, Kono I, Yano M, Fjellstrom R, DeClerck G, Schneider D, Cartinhour S, Ware D, Stein L (2002) Development and mapping of 2240 new SSR markers for rice (Oryza sativa L.). DNA Res 9(6):199–207

Menz MA, Klein RR, Mullet JE, Obert JA, Unruh NC, Klein PE (2002) A high-density genetic map of Sorghum bicolor (L.) Moench based on 2926 AFLP, RFLP and SSR markers. Plant Mol Biol 48:483–499

Metzgar D, Bytof J, Wills C (2000) Selection against frame shift mutations limits microsatellite expansion in coding DNA. Genome Res 10:72–80

Moretzsohn MC, Leoi L, Proite K, Guimaraes PM, Leal-Bertioli SC, Gimenes MA, Martins WS, Valls JF, Grattapaglia D, Bertioli DJ (2005) A microsatellite-based, gene-rich linkage map for the AA genome of Arachis (Fabaceae). Theor Appl Genet 111:1060–1071

Murray SC, Sharma A, Rooney WL, Klein PE, Mullet JE, Mitchell SE, Kresovich S (2008) Genetic improvement of sorghum as a biofuel feedstock I: QTL for stem sugar and grain nonstructural carbohydrates. Crop Sci 48:2165–2179

Ottoman RJ, Hane DC, Brown CR, Yilma S, James SR, Mosley AR, Crosslin JM, Vales MI (2009) Validation and implementation of marker-assisted selection (MAS) for PVY resistance (Rygene) in a tetraploid potato breeding program. Am J Potato Res 86:304–314

Parh DK, Jordan DR, Aitken EAB, Mace ES, Jun-ai P, McIntyre CL, Godwin ID (2008) QTL analysis of ergot resistance in sorghum. Theor Appl Genet 117:369–382

Parida SK, Kumar AR, Dalal V, Singh NK, Mohapatra T (2006) Unigene derived microsatellite markers for the cereal genomes. Theor Appl Genet 112:808–817

Paterson AH, Bowers JE, Bruggmann R, Dubchak I, Grimwood J, Gundlach H, Haberer G, Hellsten U, Mitros T, Poliakov A, Schmutz J, Spannagl M, Tang H, Wang X, Wicker T, Bharti AK, Chapman J, Feltus FA, Gowik U, Grigoriev IV, Lyons E, Maher CA, Martis M, Narechania A, Otillar RP, Penning BW, Salamov AA, Wang Y, Zhang L, Carpita NC, Freeling M, Gingle AR, Hash CT, Keller B, Klein P, Kresovich S, McCann MC, Ming R, Peterson DG, Mehboob-ur-Rahman WareD, Westho VP, Mayer KFX, Messing J, Rokhsar DS (2009) The Sorghum bicolor genome and the diversification of grasses. Nature 457:551–556

Pontius JU, Wagner L, Schuler GD (2003) UniGene: a unified view of the transcriptome. In: McEntyre J, Ostell J (eds) The NCBI Handbook. National Library of Medicine (US), NCBI, Bethesda, MD

Powell W, Machray GC, Provan J (1996) Polymorphism revealed by simple sequence repeats. Trends Plant Sci 1:215–222

Pratt LH, Liang C, Shah M, Sun F, Wang H, Reid SP, Alan RG, Paterson AH, Wing R, Dean R, Klein R, Nguyen HT, Hi Ma, Zhao X, Daryl TM, Mullet JE, Cordonnier-Pratt M (2005) Sorghum expressed sequence tags identify signature genes for drought, pathogenesis, and skotomorphogenesis from a milestone set of 16, 801 unique transcripts. Plant Physiol 139:869–884

Rampino P, Spano G, Pataleo S, Mita G, Napier JA, Fonzo ND, Shewry PR, Perrotta C (2006) Molecular analysis of a durum wheat 'staygreen' mutant: expression pattern of photosynthesis-related genes. J Cereal Sci 43:160–168

Ramu P, Kassahun B, Senthilvel S, Ashok Kumar C, Jayashree B, Folkertsma RT, Ananda Reddy L, Kuruvinashetti MS, Haussmann BIG, Hash CT (2009) Exploiting rice-sorghum synteny for targeted development of EST-SSRs to enrich the sorghum genetic linkage map. Theor Appl Genet 119:1193–1204

Ritter KB, Jordan DR, Chapman SC, Godwin ID, Mace ES, McIntyre CL (2008) Identification of QTL for sugar-related traits in a sweet × grain sorghum (Sorghum bicolor L. Moench) recombinant inbred population. Mol Breed 22:367–384

Saghai-Maroof MA, Soliman KM, Jordensen RA, Allard RW (1984) Ribosomal DNA spacer-length polymorphism in barley, Mendelian inheritance, chromosomal location, and population dynamics. Proc Natl Acad Sci 81:8014–8018

Sanchez AC, Subudhi PK, Rosenow DT, Nguyen HT (2002) Mapping QTLs associated with drought resistance in sorghum (Sorghum bicolor L. Moench). Plant Mol Biol 48:713–726

Satish K, Srinivas G, Madhusudhana R, Padmaja PG, Nagaraja Reddy R, Murali Mohan S, Seetharama N (2009) Identification of quantitative trait loci for resistance to shoot fly in sorghum [Sorghum bicolor (L.) Moench]. Theor Appl Genet 119(8):1425–1439, doi 10.1007/s00122-009-1145-8

Schloss SJ, Mitchell SE, White GM, Kukatla R, Bowers JE, Paterson AH, Kresovich S (2002) Characterization of RFLP probe sequences for gene discovery and SSR development in Sorghum bicolor (L.) Moench. Theor Appl Genet 105:912–920

Smith JSC, Kresovich S, Hopkins MS, Mitchell SE, Dean RE, Woodman WL, Lee M, Porter K (2000) Genetic diversity among elite sorghum inbred lines assessed with simple sequence repeats. Crop Sci 40:226–232

Solano R, Stepanova A, Chao Q, Ecker JR (1998) Nuclear events in ethylene signaling: a transcriptional cascade mediated by ETHYLENE-INSENSITIVE3 and ETHYLENE-RESPONSE—FACTOR1. Genes Dev 12:3703–3714

Squirrell J, Hollingsworth PM, Woodhead M, Russell J, Lowe AJ, Gibby M, Powell W (2003) How much effort is required to isolate nuclear microsatellites from plants? Mol Ecol 12:1339–1348

Srinivas G, Satish K, Murali Mohan S, Nagaraja Reddy R, Madhusudhana R, Balakrishna D, Venkatesh Bhat B, Howarth CJ, Seetharama N (2008) Development of genic-microsatellite markers for sorghum staygreen QTL using a comparative genomic approach with rice. Theor Appl Genet 117:283–296

Srinivas G, Satish K, Madhusudhana R, Seetharama N (2009a) Exploration and mapping of microsatellite markers from subtracted drought stress ESTs in Sorghum bicolor (L.) Moench. Theor Appl Genet 118:703–717

Srinivas G, Satish K, Madhusudhana R, Nagaraja Reddy R, Murali Mohan S, Seetharama N (2009b) Identification of quantitative trait loci for agronomically important traits and their association with genic-microsatellite markers in sorghum. Theor Appl Genet 118:1439–1454

Stam P, Van Ooijen JW (1995) JoinMapTM version 2.0: software for the calculation of genetic linkage maps. CPRO-DLO, Wageningen

Subramanian S, Madgula VM, George R, Mishra RK, Pandit MW, Kumar CS, Singh L (2003) Triplet repeats in human genome: distribution and their association with genes and other genomic regions. Bioinformatics 19:549–552

Subudhi PK, Rosenow DT, Nguyen HT (2000) Quantitative trait loci for the stay green trait in sorghum (Sorghum bicolor L. Moench): consistency across genetic backgrounds and environments. Theor Appl Genet 101:733–741

Tang S, Yu JK, Slabaugh MB, Shintani DK, Knapp SJ (2002) Simple sequence repeat map of the sunflower genome. Theor Appl Genet 105:1124–1130

Taramino G, Tarchini R, Ferrario S, Lee M, Pe ME (1997) Characterization and mapping of simple sequence repeats (SSRs) in Sorghum bicolor. Theor Appl Genet 95:66–72

Taylor DR, Ingvarsson PK (2003) Common features of segregation distortion in plants and animals. Genetica 117:27–35

Temnykh S, Park WD, Ayers N, Cartinhour S, Hauck N, Lipovich L, Cho YG, Ishii T, McCouch SR (2000) Mapping and genome organization of microsatellite sequences in rice (Oryza sativa L.). Theor Appl Genet 100:697–712

Thiel T, Michalek W, Varshney RK, Graner A (2003) Exploiting EST databases for the development of cDNA derived microsatellite markers in barley (Hordeum vulgare L.). Theor Appl Genet 106:411–422

Van Ooijen JW, Voorrips RE (2001) JoinMap 3.0. Software for the calculation of genetic linkage maps. Plant Research International, Wageningen, The Netherlands

Van OSH, Stam P, Visser RGF, Van Eck HG (2005) RECORD: a novel method for ordering loci on a genetic linkage map. Theor Appl Genet 112:30–40

Varshney RK, Thiel T, Stein N, Langridge P, Graner A (2002) In silico analysis on frequency and distribution of microsatellites in ESTs of some cereal species. Cell Mol Biol Lett 7:537–546

Vierling E (1991) The roles of heat shock proteins in plants. Annu Rev Plant Physiol Plant Mol Biol 42:579–620

Voorrips RE (2002) MapChart: Software for the graphical presentation of linkage maps and QTLs. J Hered 93(1):77–78

Whitkus R, Doebley J, Lee M (1992) Comparative genome mapping of sorghum and maize. Genetics 132:1119–1130

William HM, Trethowan R, Crosby-Galvan EM (2007) Wheat breeding assisted by markers: CIMMYT's. experience. Euphytica 157:307–319

Wu YQ, Haung Y (2006) An SSR genetic map of Sorghum bicolor (L) Monch and its comparison to a published genetic map. Genome 50:84–89

Xu GW, Magill CW, Schertz KF, Hart GE (1994) A RFLP linkage map of Sorghum bicolor (L.) Moench. Theor Appl Genet 89:139–145

Xu W, Subudhi PK, Crasta OR, Rosenow DT, Mullet JE, Nguyen NT (2000) Molecular mapping of QTLs conferring staygreen in grain sorghum (Sorghum bicolor L. Moench). Genome 43:461–469

Yonemaru J-I, Ando T, Mizubayashi T, Kasuga S, Matsumoto T, Yano M (2009) Development of genome-wide simple sequence repeat markers using whole-genome shotgun sequences of sorghum (Sorghum bicolor (L.) Moench). DNA Res 16:187–193, doi:10.1093/dnares/dsp005

Zhang WK, Wang YJ, Luo GZ, Zhang JS, He CY, Wu XL, Gai JY, Chen SY (2004) QTL mapping of ten agronomic traits on the soybean (Glycine max L. Merr.) genetic map and their association with EST markers. Theor Appl Genet 108:1131–1139
Acknowledgments
The authors gratefully acknowledge the Department of Biotechnology (DBT), Government of India (GOI), for supporting this work under the network projects "Development and applications of biotechnological tools for millet improvement" under grant no. BT/PR 6031/AGR/02/307/2005, and the Director, Directorate of Sorghum Research (DSR), Rajendranagar, Hyderabad for the facilities to undertake the study.
Electronic supplementary material
Below is the link to the electronic supplementary material.
About this article
Cite this article
Nagaraja Reddy, R., Madhusudhana, R., Murali Mohan, S. et al. Characterization, development and mapping of Unigene-derived microsatellite markers in sorghum [Sorghum bicolor (L.) Moench]. Mol Breeding 29, 543–564 (2012). https://doi.org/10.1007/s11032-011-9571-0
Received:

Accepted:

Published:

Issue Date:
Keywords
Sorghum

Unigene-derived microsatellite markers

Mapping

Drought tolerance