Abstract
An unexpected regio- and stereoselective [4 + 3] cycloaddition reaction of azomethine ylides with 5-benzylidenethiazolidine-2,4-diones has been successfully developed for the synthesis of the novel pharmacologically active 4′,5′-dihydro-3′H-spiro[indoline-3,2′-[1, 3] oxazepin]-2-one derivatives in basic condition. Easy purification, high yield, short experimental time and operational simplicity are specific advantages of this protocol. Furthermore, all the synthesized compounds have been evaluated for antioxidant and antibacterial activities. According to the results, most of the synthesized compounds exhibited DPPH radical scavenging activity and nine of them showed antibacterial properties. The reaction mechanism and 1H NMR spectrum have been evaluated by B3LYP/6311G method.
Graphic abstract

Access options
Buy single article
Instant access to the full article PDF.
US$ 39.95
Tax calculation will be finalised during checkout.
Subscribe to journal
Immediate online access to all issues from 2019. Subscription will auto renew annually.
US$ 79
Tax calculation will be finalised during checkout.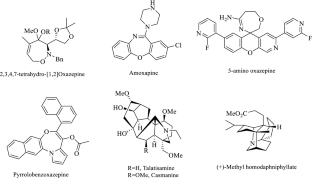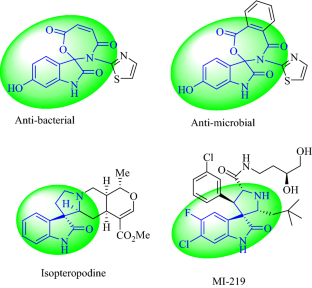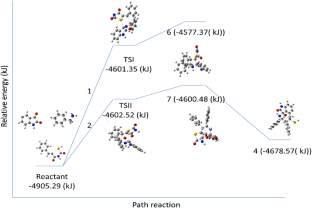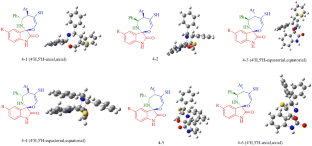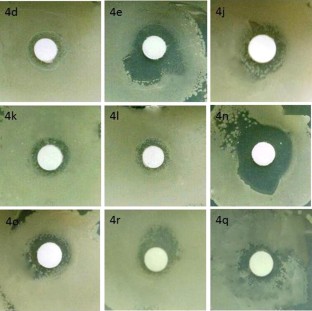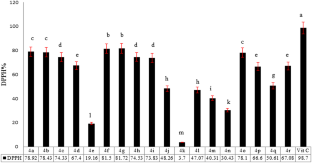 References
1.

Sayyafi M, Seyyedhamzeh M, Khavasi HR, Bazgir A (2008) One-pot, three-component route to 2H-indazolo[2,1-b]phthalazine-triones. Tetrahedron 64(10):2375–2378. https://doi.org/10.1016/j.tet.2008.01.006

2.

Gao Y, Honzatko RB, Peters RJ (2012) Terpenoid synthase structures: a so far incomplete view of complex catalysis. Nat Prod Rep 29(10):1153–1175. https://doi.org/10.1039/C2NP20059G

3.

Corey EJ, Ohno M, Mitra RB, Vatakencherry PA (1964) Total Synthesis of Longifolene. J Am Chem Soc 86(3):478–485. https://doi.org/10.1021/ja01057a039

4.

Andrews SP, Ball M, Wierschem F, Cleator E, Oliver S, Högenauer K, Simic O, Antonello A, Hünger U, Smith MD, Ley SV (2007) Total Synthesis of Five Thapsigargins: Guaianolide Natural Products Exhibiting Sub-Nanomolar SERCA Inhibition. Chem Eur J 13(20):5688–5712. https://doi.org/10.1002/chem.200700302

5.

Pouwer RH, Richard J-A, Tseng C-C, Chen DY-K (2012) Chemical Synthesis of the Englerins. Chem Asian J 7(1):22–35. https://doi.org/10.1002/asia.201100780

6.

Hoffmann HMR (1984) The Cycloaddition of Allyl Cations to 1,3-Dienes: General Method for the Synthesis of Seven-Membered Carbocycles. New Synthetic Methods (40). Chem Asian J 23 (1):1-19. doi:https://doi.org/10.1002/anie.198400013

7.

Harmata M (1997) Intramolecular cycloaddition reactions of allylic cations. Tetrahedron 53(18):6235–6280. https://doi.org/10.1016/S0040-4020(97)00051-3

8.

Lee JC, Jin S-j, Cha JK (1998) Total Synthesis of Colchicine. α-Methoxy-Substituted Oxyallyl [4 + 3] Cycloaddition Approach. The Journal of Organic Chemistry 63 (9):2804-2805. https://doi.org/10.1021/jo980220j

9.

Yang W, Yuan C, Liu Y, Mao B, Sun Z, Guo H (2016) [4 + 3] Cycloaddition of Phthalazinium Dicyanomethanides with Azoalkenes Formed in Situ: Synthesis of Triazepine Derivatives. J Org Chem 81(17):7597–7603. https://doi.org/10.1021/acs.joc.6b01296

10.

Kim S, Kim H, Um K, Lee PH (2017) Synthesis of Azepinoindoles via Rhodium-Catalyzed Formal Aza-[4 + 3] Cycloaddition Reaction of 3-Diazoindolin-2-imines with 1,3-Dienes in One-Pot. J Org Chem 82(18):9808–9815. https://doi.org/10.1021/acs.joc.7b01150

11.

Mann J (1986) The synthetic utility of oxyallyl cations. Tetrahedron 42(17):4611–4659. https://doi.org/10.1016/S0040-4020(01)82046-9

12.

Harmata M, Bohnert GJ (2003) A 4 + 3 Cycloaddition Approach to the Synthesis of (±)-Sterpurene. Org Lett 5(1):59–61. https://doi.org/10.1021/ol027176l

13.

Sasaki T, Ishibashi Y, Ohno M (1982) Catalyzed cycloaddition reactions of α-silyloxy-α, β-unsaturated ketone and aldehyde. Tetrahedron Lett 23(16):1693–1696. https://doi.org/10.1016/S0040-4039(00)87192-0

14.

Harmata M, Sharma U (2000) Synthesis and Some Cycloaddition Reactions of 2-(Triisopropylsilyloxy)acrolein. Org Lett 2(17):2703–2705. https://doi.org/10.1021/ol006281x

15.

Aungst RA, Funk RL (2001) Stereoselective Preparation of (Z)-2-(Trialkylsilyloxy)-2-alkenals by Retrocycloaddition Reactions of 4H-4-Alkyl-5-(trialkylsilyloxy)-1,3-dioxins. Useful Reactants for Lewis Acid Catalyzed [4 + 3] Cyclizations. Org Lett 3 (22):3553-3555. https://doi.org/10.1021/ol016668f

16.

Bajajt K, Srivastava VK, Kumar A (2003) Synthesis of 1,5-Benzothia/Oxazepine as Potent Neuroleptic Agents. Indian J Chem B 42:1149–1155

17.

Serrano-Wu MH, St. Laurent DR, Chen Y, Huang S, Lam K-R, Matson JA, Mazzucco CE, Stickle TM, Tully TP, Wong HS, Vyas DM, Balasubramanian BN (2002) Sordarin Oxazepine Derivatives as Potent Antifungal Agents. Bioorg Med Chem Lett 12(19):2757–2760. https://doi.org/10.1016/S0960-894X(02)00529-2

18.

Kubota K, Kurebayashi H, Miyachi H, Tobe M, Onishi M, Isobe Y (2011) Synthesis and structure–activity relationship of tricyclic carboxylic acids as novel anti-histamines. Biorg Med Chem 19(9):3005–3021. https://doi.org/10.1016/j.bmc.2011.03.003

19.

Abdel-Hafez AA, Abdel-Wahab BA (2008) 5-(4-Chlorophenyl)-5,6-dihydro-1,3-oxazepin-7(4H)-one derivatives as lipophilic cyclic analogues of baclofen: Design, synthesis, and neuropharmacological evaluation. Biorg Med Chem 16(17):7983–7991. https://doi.org/10.1016/j.bmc.2008.07.064

20.

Hallinan EA, Hagen TJ, Tsymbalov S, Husa RK, Lee AC, Stapelfeld A, Savage MA (1996) Aminoacetyl Moiety as a Potential Surrogate for Diacylhydrazine Group of SC-51089, a Potent PGE2 Antagonist, and Its Analogs. J Med Chem 39(2):609–613. https://doi.org/10.1021/jm950454k

21.

Agirbas H, Kemal B, Budak F (2011) Synthesis and structure–antibacterial activity relationship studies of 4-substituted phenyl-4,5-dihydrobenzo[f][1,4]oxazepin-3(2H)-thiones. Med Chem Res 20(8):1170–1180. https://doi.org/10.1007/s00044-010-9457-4

22.

Hajishaabanha F, Shaabani A (2014) Synthesis of oxazepin-quinoxaline bis-heterocyclic scaffolds via an efficient three component synthetic protocol. RSC Advances 4(87):46844–46850. https://doi.org/10.1039/C4RA08486A

23.

Bucher JR, Haseman JK, Herbert RA, Hejtmancik M, Ryan MJ (1998) Toxicity and Carcinogenicity Studies of Oxazepam in the Fischer 344 Rat. Toxicol Sci 42(1):1–12. https://doi.org/10.1006/toxs.1997.2421

24.

Mohammad A-T, Osman H, Yeap G-Y (2011) 1,3-Oxazepane-4,7-Diones Compounds: 1H and 13C NMR High-Resolution Spectroscopy (1D and 2D) %J International Journal of Spectroscopy. Int J Spectrosc 2011:7. https://doi.org/10.1155/2011/945216

25.

Singh GS, Desta ZY (2012) Isatins As Privileged Molecules in Design and Synthesis of Spiro-Fused Cyclic Frameworks. Chem Rev 112(11):6104–6155. https://doi.org/10.1021/cr300135y

26.

Yu J, Shi F, Gong L-Z (2011) Brønsted-Acid-Catalyzed Asymmetric Multicomponent Reactions for the Facile Synthesis of Highly Enantioenriched Structurally Diverse Nitrogenous Heterocycles. Acc Chem Res 44(11):1156–1171. https://doi.org/10.1021/ar2000343

27.

Shanmugam P, Viswambharan B, Madhavan S (2007) Synthesis of Novel Functionalized 3-Spiropyrrolizidine and 3-Spiropyrrolidine Oxindoles from Baylis − Hillman Adducts of Isatin and Heteroaldehydes with Azomethine Ylides via [3 + 2]-Cycloaddition. Org Lett 9(21):4095–4098. https://doi.org/10.1021/ol701533d

28.

Liu J, Sun H, Liu X, Ouyang L, Kang T, Xie Y, Wang X (2012) Direct construction of novel exo′-selective spiropyrrolidine bisoxindoles via a three-component 1,3-dipolar cycloaddition reaction. Tetrahedron Lett 53(18):2336–2340. https://doi.org/10.1016/j.tetlet.2012.02.099

29.

Zhao Y, Liu L, Sun W, Lu J, McEachern D, Li X, Yu S, Bernard D, Ochsenbein P, Ferey V, Carry J-C, Deschamps JR, Sun D, Wang S (2013) Diastereomeric Spirooxindoles as Highly Potent and Efficacious MDM2 Inhibitors. J Am Chem Soc 135(19):7223–7234. https://doi.org/10.1021/ja3125417

30.

Bienaymé H, Hulme C, Oddon G, Schmitt P (2000) Maximizing Synthetic Efficiency: Multi-Component Transformations Lead the Way. Chem Eur J 6(18):3321–3329. https://doi.org/10.1002/1521-3765(20000915)6:18%3c3321:aid-chem3321%3e3.0.co;2-a

31.

Nefzi A, Ostresh JM, Houghten RA (1997) The Current Status of Heterocyclic Combinatorial Libraries. Chem Rev 97(2):449–472. https://doi.org/10.1021/cr960010b

32.

Thompson LA (2000) Recent applications of polymer-supported reagents and scavengers in combinatorial, parallel, or multistep synthesis. Curr Opin Chem Biol 4(3):324–337. https://doi.org/10.1016/S1367-5931(00)00096-X

33.

Dömling A (2002) Recent advances in isocyanide-based multicomponent chemistry. Curr Opin Chem Biol 6(3):306–313. https://doi.org/10.1016/S1367-5931(02)00328-9

34.

Pouramiri B, Moghimi S, Mahdavi M, Nadri H, Moradi A, Tavakolinejad-Kermani E, Firoozpour L, Asadipour A, Foroumadi A (2017) Synthesis and anticholinesterase activity of new substituted benzo[d]oxazole-based derivatives. Chem Biol Drug Des 89(5):783–789. https://doi.org/10.1111/cbdd.12902

35.

Pouramiri B, Tavakolinejad Kermani E (2016) One-pot, four-component synthesis of new 3,4,7,8-tetrahydro-3,3-dimethyl-11-aryl-2H-pyridazino[1,2-a]indazole-1,6,9(11H)-triones and 2H-indazolo[2,1-b]phthalazine-1,6,11(13H)-triones using an acidic ionic liquid N, N-diethyl-N-sulfoethanammonium chloride ([Et3N–SO3H]Cl) as a highly efficient and recyclable catalyst. Tetrahedron Lett 57(9):1006–1010. https://doi.org/10.1016/j.tetlet.2016.01.074

36.

Shojaei R, Zahedifar M, Mohammadi P, Saidi K, Sheibani H (2019) Novel magnetic nanoparticle supported ionic liquid as an efficient catalyst for the synthesis of spiro [pyrazole-pyrazolo[3,4-b]pyridine]-dione derivatives under solvent free conditions. J Mol Struct 1178:401–407. https://doi.org/10.1016/j.molstruc.2018.10.052

37.

Zahedifar M, Es-haghi A, Zhiani R, Sadeghzadeh SM (2019) Synthesis of benzimidazolones by immobilized gold nanoparticles on chitosan extracted from shrimp shells supported on fibrous phosphosilicate. RSC Adv 9(12):6494–6501. https://doi.org/10.1039/C9RA00481E

38.

Zahedifar M, Sheibani H, Saheb V (2018) Regioselectivity and Reactivity of Intramolecular [2 + 2] Cycloaddition Reactions of Acyl Ketenes: Experimental and Theoretical Studies. Synlett 29(14):1836–1841. https://doi.org/10.1055/s-0037-1610198

39.

da Silva JAV, Modesto-Costa L, de Koning MC, Borges I, França TCC (2018) Theoretical NMR and conformational analysis of solvated oximes for organophosphates-inhibited acetylcholinesterase reactivation. J Mol Struct 1152:311–320. https://doi.org/10.1016/j.molstruc.2017.09.058

40.

Li W, Xu L-l, Xie Q, Chen Y, Lu M-y, Chao B, Wang X-h, Tang Y, Qiu Z-b, Fu W, Lau C (2013) Theoretical and NMR investigations on the conformations of (-)-meptazinol hydrochloride in solution. Mol Simulat 39(13):1065–1069. https://doi.org/10.1080/08927022.2013.794272

41.

Cancelieri NM, Ferreira TR, Vieira IJC, Braz-Filho R, Piló-Veloso D, Alcântara AFdC (2015) Correlations among experimental and theoretical NMR data to determine the absolute stereochemistry of darcyribeirine, a pentacyclic indole alkaloid isolated from Rauvolfia grandiflora. J Mol Struct 1098:76–83. https://doi.org/10.1016/j.molstruc.2015.05.038

42.

Bhaskar G, Arun Y, Balachandran C, Saikumar C, Perumal PT (2012) Synthesis of novel spirooxindole derivatives by one pot multicomponent reaction and their antimicrobial activity. Eur J Med Chem 51:79–91. https://doi.org/10.1016/j.ejmech.2012.02.024

43.

El-Hashash MA, Rizk SA (2017) One-pot Synthesis of Novel Spirooxindoles as Antibacterial and Antioxidant Agents. J Heterocycl Chem 54(3):1776–1784. https://doi.org/10.1002/jhet.2758

44.

Kaur M, Singh B, Singh B, Arjuna A (2017) Synthesis and Evaluation of Novel Spiro[oxindole-isoxazolidine] Derivatives as Potent Antioxidants. J Heterocycl Chem 54(2):1348–1354. https://doi.org/10.1002/jhet.2712

45.

Gaussian 09 RA, M. J. Frisch GWT, H. B. Schlegel, G. E. Scuseria,, M. A. Robb JRC, G. Scalmani, V. Barone, B. Mennucci,, G. A. Petersson HN, M. Caricato, X. Li, H. P. Hratchian,, A. F. Izmaylov JB, G. Zheng, J. L. Sonnenberg, M. Hada,, M. Ehara KT, R. Fukuda, J. Hasegawa, M. Ishida, T. Nakajima,, Y. Honda OK, H. Nakai, T. Vreven, J. A. Montgomery, Jr.,, J. E. Peralta FO, M. Bearpark, J. J. Heyd, E. Brothers,, K. N. Kudin VNS, R. Kobayashi, J. Normand,, K. Raghavachari AR, J. C. Burant, S. S. Iyengar, J. Tomasi,, M. Cossi NR, J. M. Millam, M. Klene, J. E. Knox, J. B. Cross,, V. Bakken CA, J. Jaramillo, R. Gomperts, R. E. Stratmann,, O. Yazyev AJA, R. Cammi, C. Pomelli, J. W. Ochterski,, R. L. Martin KM, V. G. Zakrzewski, G. A. Voth,, P. Salvador JJD, S. Dapprich, A. D. Daniels,, O. Farkas JBF, J. V. Ortiz, J. Cioslowski,, and D. J. Fox G, Inc., Wallingford CT, 2009
Acknowledgements
The authors express appreciation to the University of Jiroft Faculty Research Committee and Jiroft University of Medical Science for supporting this investigation.
Additional information
Publisher's Note
Springer Nature remains neutral with regard to jurisdictional claims in published maps and institutional affiliations.
Electronic supplementary material
Below is the link to the electronic supplementary material.
About this article
Cite this article
Zahedifar, M., Pouramiri, B., Ezzati Ghadi, F. et al. Unexpected regio- and stereoselective [4 + 3] cycloaddition reaction of azomethine ylides with benzylidene thiazolidinediones: synthesis of pharmacologically active spiroindoline oxazepine derivatives and theoretical study. Mol Divers 25, 29–43 (2021). https://doi.org/10.1007/s11030-019-10022-z
Received:

Accepted:

Published:

Issue Date:
Keywords
Regioselectivity

Spiroindoline oxazepine

[4 + 3] Cycloaddition reaction

Pharmacologically active

Theoretical NMR analysis