Abstract
A series of 2-phenyl-4-aminoquinolines were designed, synthesized and evaluated for their antifungal activities against three phytopathogenic fungi in vitro. All of the target compounds were fully elucidated by 1H NMR, 13C NMR and HRMS spectra. The results indicated that most of the target compounds demonstrated significant activities against the tested fungi. Among them, compound 6e exhibited more promising inhibitory activities against C. lunata (EC50 = 13.3 μg/mL), P. grisea (EC50 = 14.4 μg/mL) and A. alternate (EC50 = 15.6 μg/mL), superior to azoxystrobin, a commercial agricultural fungicide. The structure–activity relationship (SAR) revealed that the aniline moiety at position 4 of the quinoline scaffold played a key role in the potency of a compound. And the substitution positions of the aniline moiety significantly influenced the activities. These encouraging results yielded a variety of 2-phenylquinolines bearing an aniline moiety acting as promising antifungal agents.
Graphic abstract

This is a preview of subscription content, log in to check access.
Access options
Buy single article
Instant access to the full article PDF.
US$ 39.95
Tax calculation will be finalised during checkout.
Subscribe to journal
Immediate online access to all issues from 2019. Subscription will auto renew annually.
US$ 99
Tax calculation will be finalised during checkout.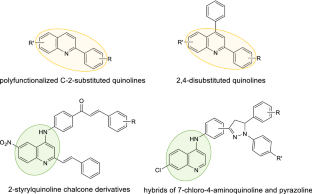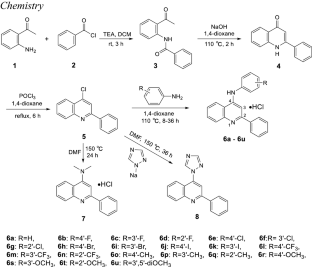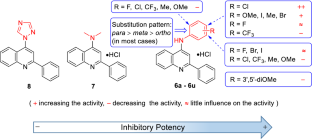 Acknowledgements
This work was funded by the National Natural Science Foundation of China (No. 31601670) and the Foundation of Education Department of Sichuan Province (No. 18ZB0079).
Ethics declarations
Conflict of interest
The authors declare that they have no conflict of interest.
Additional information
Publisher's Note
Springer Nature remains neutral with regard to jurisdictional claims in published maps and institutional affiliations.
Electronic supplementary material
Below is the link to the electronic supplementary material.
About this article
Cite this article
Yang, R., Du, W., Yuan, H. et al. Synthesis and biological evaluation of 2-phenyl-4-aminoquinolines as potential antifungal agents. Mol Divers 24, 1065–1075 (2020). https://doi.org/10.1007/s11030-019-10012-1
Received:

Accepted:

Published:

Issue Date:
Keywords
4-Aminoquinoline

Phytopathogenic fungi

Antifungal activity

Structure–activity relationship