Abstract
Risk-based insurance is a commonly proposed and discussed flood risk adaptation mechanism in policy debates across the world such as in the United Kingdom and the United States of America. However, both risk-based premiums and growing risk pose increasing difficulties for insurance to remain affordable. An empirical concept of affordability is required as the affordability of adaption strategies is an important concern for policymakers, yet such a concept is not often examined. Therefore, a robust metric with a commonly acceptable affordability threshold is required. A robust metric allows for a previously normative concept to be quantified in monetary terms, and in this way, the metric is rendered more suitable for integration into public policy debates. This paper investigates the degree to which risk-based flood insurance premiums are unaffordable in Europe. In addition, this paper compares the outcomes generated by three different definitions of unaffordability in order to investigate the most robust definition. In doing so, the residual income definition was found to be the least sensitive to changes in the threshold. While this paper focuses on Europe, the selected definition can be employed elsewhere in the world and across adaption measures in order to develop a common metric for indicating the potential unaffordability problem.
Access options
Buy single article
Instant access to the full article PDF.
USD 39.95
Price includes VAT (USA)
Tax calculation will be finalised during checkout.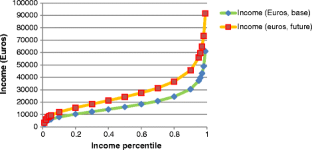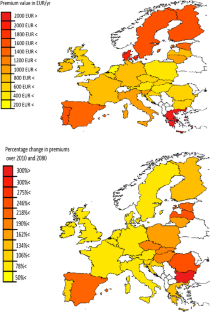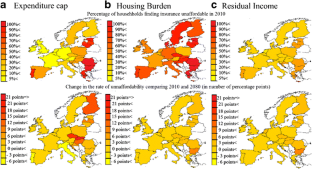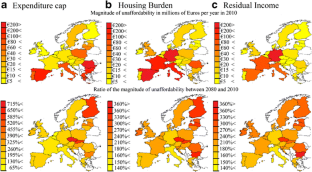 Notes
1.

The following climate models are used: GFDL-ESM2M, HadGEM2-ES, IPSL-CM5A-LR, MIROC-ESM-CHEM, and Nor-ESM1-M

2.

In particular: 1/2, 1/5, 1/10, 1/20, 1/50, 1/100, 1/250, 1/500, and 1/1000

3.

4.

The data can be found at: floods.wri.org/.

5.

On average across a nation

6.

However, it must be kept in mind that this as an example for investigating a voucher scheme based on the proposals of Kunreuther (2008) rather than unaffordability directly.

7.

Information on the 10th decile is missing. However, this is not problematic as these households are the least likely to face issues of unaffordability.

8.

The particular Eurostat variable is named ilc_di01 from the EU-SILIC dataset.

9.

However, this particular value is highly sensitive as discussed in Section 4.1.

10.

The particular Eurostat variable is named ilc_li03

11.

The particular Eurostat variable is named tessi166

12.
References
Aerts JCJH, Botzen WJW, de Moel H (2013) Cost estimates for flood resilience and protection strategies in New York City. Annals N Y Acad Sci 1294:1–104

Botzen WJW, van den Bergh JCJM (2008) Insurance against climate change and flooding in the Netherlands: present, future, and comparison with other countries. Risk Anal 28(2):413–426. https://doi.org/10.1111/j.1539-6924.2008.01035.x

Botzen WJW, Aerts JCJH, van den Bergh JCJM (2009) Willingness of homeowners to mitigate climate risk through insurance. Ecol Econ 68(8-9):2265–2277. https://doi.org/10.1016/j.ecolecon.2009.02.019

Bubeck P, Aerts JCJH, de Moel H, Kreibich H (2016) Preface: flood-risk analysis and integrated management natural hazards and earth. Syst Sci 16:1005–1010

Bundorf M, Pauly M (2006) Is health insurance affordable for the uninsured. J Health Econ 25(4):650–673. https://doi.org/10.1016/j.jhealeco.2005.11.003

Burby R (2001) Flood insurance and floodplain management: the US experience. Global Environ Change Part B: Environ Hazard 3(3-4):111–122. https://doi.org/10.1016/S1464-2867(02)00003-7

Charpentier A (2008) Insurability of climate risks. Geneva Pap 33:91–109

Chen S, Ravallion M (2012) More relatively-poor people in a less absolutely-poor world. World Bank, Washington. https://doi.org/10.1596/1813-9450-6114

Consorcio de compensacion de seguros (2008) Natural catastrophes insurance cover. A diversity of systems. Consorcio de compensacion de seguros, Madrid

DEFRA (2011) Flood risk and insurance: a roadmap to 2013 and beyond final report of the flood insurance working groups PB 13684. Department for Environment, Food and Rural Affairs, London

Dixon L, Clancy N, Miller BM, Hoegberg S, Lewis MM, Bender B, Ebinger S, Hodges M, Syck GM, Nagy C, Choquette SR (2017) The cost and affordability of flood insurance in New York City. Rand Corporation, Santa Monica. https://doi.org/10.7249/RB9957

European Commission (2013) Green Paper on the insurance of natural and man-made disasters (Communication No. COM(2013) 213 final). European Commission, Strasbourg

Frieler K, Betts R, Burke E, Ciais P, Denvil S, Deryng D, Ebi K, Eddy T, Emanuel K, Elliott J, Galbraith E, Gosling SN, Halladay K, Hattermann F, Hickler T, Hinkel J, Huber V, Jones C, Krysanova V, Lange S, Lotze HK, Lotze-Campen H, Mengel M, Mouratiadou I, Müller Schmied H, Ostberg S, Piontek F, Popp A, Reyer CPO, Schewe J, Stevanovic M, Suzuki T, Thonicke K, Tian H, Tittensor DP, Vautard R, van Vliet M, Warszawski L, Zhao F (2016) Assessing the impacts of 1.5 °C global warming– simulation protocol of the Inter-Sectoral Impact Model Intercomparison Project (ISIMIP2b). Geosci Model Dev Discuss:1–59. https://doi.org/10.5194/gmd-2016-229

Hegger DLT, Driessen PPJ, Dieperink C, Wiering M, Raadgever GT, van Rijswick HFMW (2014) Assessing stability and dynamics in flood risk governance: an empirically illustrated research approach. Water Resour Manag 28(12):4127–4142. https://doi.org/10.1007/s11269-014-0732-x

Hudson P, Botzen WJW, Feyen L, Aerts JCJH (2016) Incentivising flood risk adaptation through risk based insurance premiums: trade-offs between affordability and risk reduction. Ecol Econ 125:1–13. https://doi.org/10.1016/j.ecolecon.2016.01.015

Jongman B, Hochrainer-Stigler S, Feyen L, Aerts JCJH, Mechler R, Botzen WJW, Bouwer LM, Pflug G, Rojas R, Ward PJ (2014) Increasing stress on disaster-risk finance due to large floods. Nat Clim Chang 4(4):264–268. https://doi.org/10.1038/nclimate2124

Kind JM (2014) Economically efficient flood protection standards for the Netherlands. J Flood Risk Manage 7(2):103–117. https://doi.org/10.1111/jfr3.12026

Kousky K, Kunreuther H (2014) Addressing affordability in the National Flood Insurance Program. J Extreme Events 1(01):1450001. https://doi.org/10.1142/S2345737614500018

Kreibich H, van den Bergh JCJM, Bouwer LM, Bubeck P, Ciavola P, Green C, Hallegatte S, Logar I, Meyer V, Schwarze R, Thieken AH (2014) Costing natural hazards. Nat Clim Chang 4(5):303–306. https://doi.org/10.1038/nclimate2182

Kron W (2005) Flood risk = hazard • values • vulnerability. Water Int 30(1):58–68. https://doi.org/10.1080/02508060508691837

Kunreuther H (1996) Mitigating disaster losses through insurance. J Risk Uncertain 12(2-3):171–187. https://doi.org/10.1007/BF00055792

Kunreuther H (2008) Reducing losses from catastrophic risks through long-term insurance and mitigation. Soc Res 75:903–930

Kunreuther H (2015) The role of insurance in reducing losses from extreme events: the need for public-private partnerships. Geneva Pap Risk Insur Issues Pract 40:741–762

Lamond JE, Penning-Rowsell EC (2014) The robustness of flood insurance regimes given changing risk resulting from climate change. Clim Risk Manag 2:1–10. https://doi.org/10.1016/j.crm.2014.03.001

Linnerooth-Bayer J, Warner K, Bals C, Höppe P, Burton I, Loster T, Haas A (2009) Insurance, developing countries and climate change. Geneva Pap 34(3):381–400. https://doi.org/10.1057/gpp.2009.15

Lloyds (2009) Insurance in developing countries. Llyods, London

McAneney J, McAneney D, Musulin R, Walker G, Crompton R (2016) Government-sponsored natural disaster insurance pools: a view from down-under. Int J Disaster Risk Reduct 15:1–9. https://doi.org/10.1016/j.ijdrr.2015.11.004

Michel-Kerjan E (2010) Catastrophe economics: the National Flood Insurance Program. J Econ Perspect 24(4):165–186. https://doi.org/10.1257/jep.24.4.165

Munich Re (2017) Natural catastrophes 2016 Analyses, assessments, position

National Research Council (2015) Affordability of National Flood Insurance Program Premiums: Report 1. National Research Council, Washington, DC. 10.17226/21709

Natural Disaster Insurance Review (2011) Inquiry into flood insurance and related matters. Canberra

OECD (2016) Financial management of flood risk. Paris

Paudel Y, Botzen WJW, Aerts JCJH (2012) A comparative study of public-private catastrophe insurance schemes: Lessons from current practices. Geneva Pap Risk Insur 37:257–285

Paudel Y, Botzen WJW, Aerts JCJH (2013) Estimation of insurance premiums for coverage against natural disaster risk: an application of Bayesian Inference Natural Hazards and Earth Schemes. Science 13:737–754

Paudel Y, Botzen WJW, Aerts JCJH, Dijkstra T (2015) Risk allocation in a public-private catastrophe insurance system: an actuarial analysis of deductibles; stop-loss; and premium. J Flood Risk Manage 8(2):116–134. https://doi.org/10.1111/jfr3.12082

Saenz C (2009) What is affordable health insurance? The reasonable tradeoff account of affordability. Kennedy Inst Ethics J 19(4):401–414. https://doi.org/10.1353/ken.0.0294

Schwarze R, Schwindt M, Weck-Hannemann H, Raschky P, Zahn F, Wagner G (2011) Natural hazard insurance in Europe: tailored responses to climate change are needed. Environ Pol Gov 21:14–30

Scussolini P, Aerts JCJH, Jongman B, Bouwer L, Winsemius HC, de Moel H, Ward PJ (2016) FLOPROS: an evolving global database of flood protection standards. Nat Hazards Earth Schemes Sci 16(5):1049–1061. https://doi.org/10.5194/nhess-16-1049-2016

Surminski S, Eldridge J (2015) Flood insurance in England: an assessment of the current and newly proposed insurance scheme in the context of rising flood risk. J Flood Risk Manage. https://doi.org/10.1111/jfr3.12127

Surminski S, Oramas-Dorta D (2014) Flood insurance schemes and climate adaptation in developing countries. Int J Disaster Risk Reduct 7:154–164. https://doi.org/10.1016/j.ijdrr.2013.10.005

Surminski S, Aerts JCJH, Botzen WJW, Hudson P, Mysiak J, Pérez-Blanco CD (2015) Reflection on the current debate on how to link flood insurance and disaster risk reduction in the European Union. Nat Hazards 79(3):1451–1479. https://doi.org/10.1007/s11069-015-1823-5

Surminski S, Bouwer L, Linnerooth-Bayer J (2016) How insurance can support climate resilience. Nat Clim Chang 6(4):333–334. https://doi.org/10.1038/nclimate2979

Swiss Re (2017) Natural catastrophes and man-made disasters in 2016: a year of widespread damages. Swiss Re, Zurich

UNISDR (2011) Global assessment report on disaster individual flood protection. Revealing risk, redefining development. Geneva

Ward PJ, Jongman B, Weiland FS, Bouwman A, van Beek R, Bierkens MFP, Ligtvoet W, Winsemius HC (2013) Assessing flood risk at the global scale: model setup, results, and sensitivity. Environ Res Lett 8(4):044019. https://doi.org/10.1088/1748-9326/8/4/044019

Ward PJ, Jongman B, Aerts JCJH, Bates PD, Botzen WJW, Diaz Loaiza A, Hallegatte S, Kind JM, Kwadijk J, Scussolini P, Winsemius HC (2017) A global framework for future costs and benefits of river-flood protection in urban areas. Nat Clim Chang 7(9):642–646. https://doi.org/10.1038/nclimate3350

Warner K, Ranger N, Surminski S, Arnold M, Linnerooth-Bayer J, Michel-Kerjan E, Kovacs P, Herweijer C (2009) Adaptation to climate change: linking disaster risk reduction and insurance. UNISDR, Geneva

Weedon GP, Gomes S, Viterbo P, Shuttleworth WJ, Blyth E, Österle H, Adam JC, Bellouin N, Boucher O, Best M (2011) Creation of the WATCH forcing data and its use to assess global and regional reference crop evaporation over land during the twentieth century. J Hydrometeorol 12(5):823–848. https://doi.org/10.1175/2011JHM1369.1

Winsemius HC, van Beek LPH, Jongman B, Ward PJ, Bouwman A (2013) A framework for global river flood risk assessments. Hydrol Earth Syst Sci 17(5):1871–1892. https://doi.org/10.5194/hess-17-1871-2013

Winsemius HC, Aerts JCJH, van Beek LPH, Bierkens MFP, Bouwman A, Jongman B, Kwadijk JCJK (2016) Global drivers of future river flood risk. Nat Clim Chang 6(4):381–385. https://doi.org/10.1038/nclimate2893
About this article
Cite this article
Hudson, P. A comparison of definitions of affordability for flood risk adaption measures: a case study of current and future risk-based flood insurance premiums in Europe. Mitig Adapt Strateg Glob Change 23, 1019–1038 (2018). https://doi.org/10.1007/s11027-017-9769-5
Received:

Accepted:

Published:

Issue Date:
Keywords
Flood risk

Insurance

Affordability

Climate change

Adaptation

Public policy