Abstract
In November 2014, the United States of America (USA) and the People's Republic of China (China) governments announced their carbon emission reduction targets by 2030. The objective of this paper is to quantitatively project the two countries' carbon emission reductions that will likely contribute to or facilitate the global climate change mitigation commitment and strategies in Paris in 2015. A top-down approach is used to analyze the relationship between China economic development and energy demand and to identify potentials of energy savings and carbon emission reduction in China. A simple time series approach is used to project carbon emission reduction in the USA. The predictions drawn from the analysis of this paper indicate that both China and the USA should use energy efficiency as first tool to achieve their carbon emission reduction goals.
Access options
Buy single article
Instant access to the full article PDF.
US$ 39.95
Tax calculation will be finalised during checkout.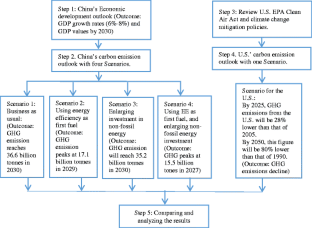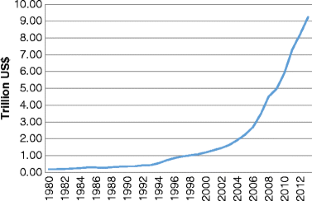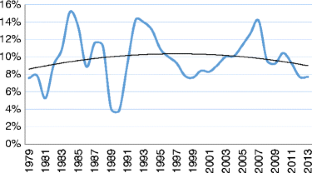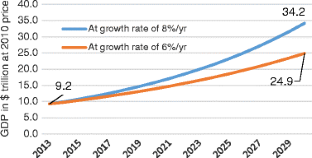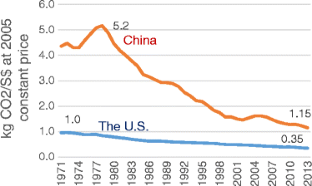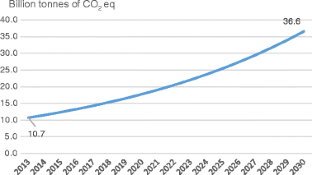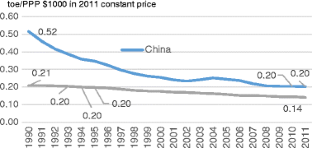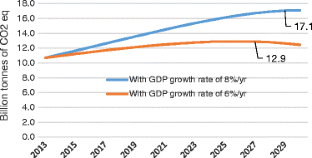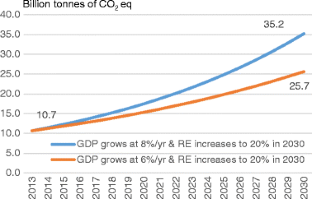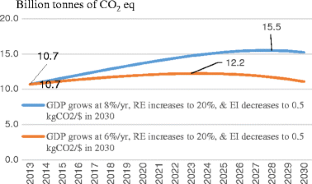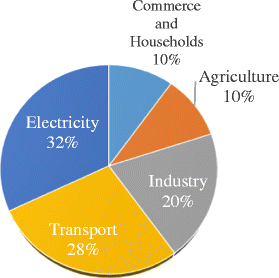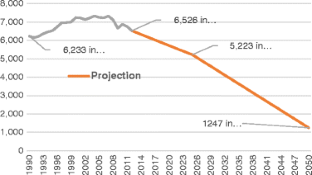 Notes
1.

In China, replacing coal by nature gas in power generation is not priority in the next 20 or 30 years. Natural gas resources in China are not as rich as in the USA. Many Chinese cities are still using coal for heating and cooking. It is priority for city consumers not power plants to replace coal by nature gas in the next two or three decades.
References
Baidu (2014) Chinese dream: Xi proposed guideline. http://baike.baidu.com/subview/1817221/9342599.htm Cited on November 26, 2014

China Statistic Year Book (2014) National bureau of statistics of China. http://www.stats.gov.cn/tjsj/ndsj/2014/indexeh.htm

U.S. EPA (2014a) History of the clean air act, http://www.epa.gov/air/caa/amendments.html, Cited on December 18, 2014

U.S. EPA (2014b) EPA history, http://www2.epa.gov/aboutepa/epa-history, Cited on December 18, 2014

U.S. EPA (2014c) Sources of greenhouse gas emissions, http://www.epa.gov/climatechange/ghgemissions/sources/electricity.html, Cited on December 18, 2014

IEA – International Energy Agency (2013) CO2 emissions from fuel combustion highlights 2013, Paris

World Bank (2014a) Catalog sources world development indicators, http://data.worldbank.org/indicator/NY.GDP.MKTP.CD Cited on December 22, 2014

World Bank (2014b) World Development Indicators. http://data.worldbank.org/country/china and http://data.worldbank.org/country/us Cited on December 22, 2014
Acknowledgments
Acknowledgements are due to Mr. Fan Yang of the International Monetary Fund and Mr. Andy DuPont of the US Environmental Protection Agency for their suggestions, comments, and edits on the paper.
Conflict of interest
The authors declare that they have no conflict of interest.
Disclaimer
The views, findings, interpretations, and conclusions expressed in this article are entirely those of the authors and should not be attributed in any manner to the organizations where the authors work.
About this article
Cite this article
Yang, M., Yu, X. Energy efficiency to mitigate carbon emissions: strategies of China and the USA. Mitig Adapt Strateg Glob Change 22, 1–14 (2017). https://doi.org/10.1007/s11027-015-9657-9
Received:

Accepted:

Published:

Issue Date:
Keywords
Emission peaks in China

Emission declines in the USA

Drivers of carbon emissions