Abstract
Small farmers who supply the city of Bogotá with food are facing many challenges that are jeopardizing their livelihoods and by extension, the food security of Colombia's capital. We expect future changes in climatic conditions to exacerbate the plight of the small farmers and this is expected to compromise Bogota's food security even further. This paper specifically seeks to assess the impact of climate change (CC) on the livelihoods of smallholders who supply Bogota with most of its food. In our multidisciplinary methodology, we translated the exposure to CC into direct impact on crops and assessed sensitivity and adaptive capacity using the sustainable rural livelihoods framework. The results show that rainfall (by average of 100 mm) and temperature (by average of 2.1 °C) will increase over the study area, while the future climate suitability of the most important crops such as mango (Mangifera indica), papaya (Carica papaya), corn (Zea mays) and plantain (Musa balbisiana) shows a decrease of 19 % to 47 % climate suitability by the year 2050. The assessment of sensitivity and adaptive capacity demonstrates that farmers participating in a farmers' market, initiated by several local and international non-governmental organizations (NGOs), are less vulnerable to CC than farmers who sell through intermediaries. Those farmers selling directly to consumers in the farmers' market have a higher adaptive capacity (3 on a scale of 3) in social and financial capital than those selling to intermediaries with less adaptive capacity (1 on a scale of 3). In light of the reduction in overall climatic suitability of some of the major crops and the change of geographic location of suitability for others, there are likely to be serious threats for Bogotá's food security, the ecological landscape around the city, and farmers' livelihoods. We further conclude that unless proper adaptation measures are implemented, the geographical shift in climate suitability may also force farmers to shift their crops to higher elevations including remaining forests and páramos (the Colombian alpine tundra ecosystems), which may be threatened in the near future.
Access options
Buy single article
Instant access to the full article PDF.
US$ 39.95
Tax calculation will be finalised during checkout.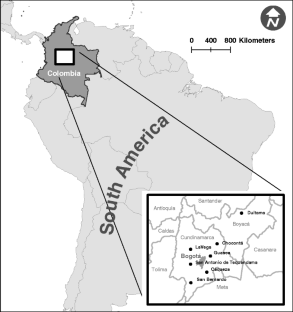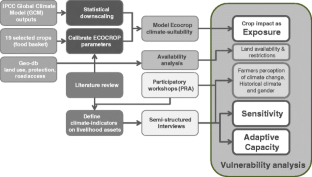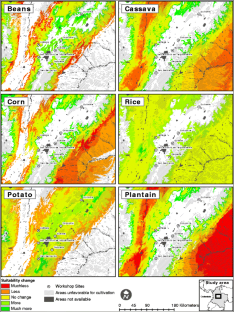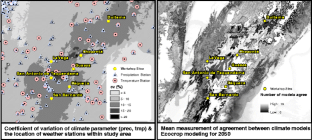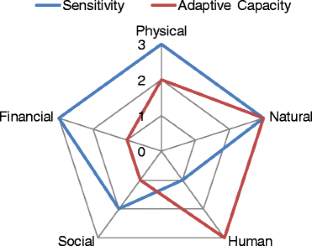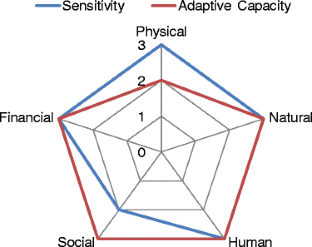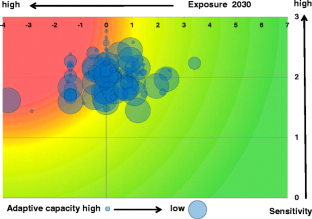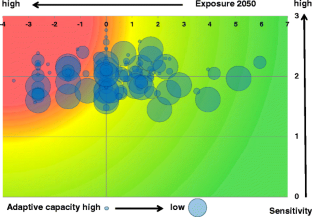 References
Amnesty International (2009) Everything left behind: internal displacement in Colombia. London, United Kingdom

Bhandari BB (2003) Module 4: Participatory Rural Appraisal (PRA). Kamiyamaguchi, Japan

Chambers R (1994) The origins and practice of participatory rural appraisal. World Dev 22:953–969. doi:10.1016/0305-750X(94)90141-4

Darwin R (2001) Climate change and food security. Agric Inf Bull 765:1–2

Epstein PR, Diaz HF, Elias S et al (1998) Biological and physical signs of climate change: focus on mosquito-borne diseases. Am Meteorol Soc 79:409–417

FAO (2000) The Ecocrop database. Rome

FAO (2003) Trade reforms and food security. Rome

FAO (2009) The state of food and agriculture. Rome

Farrington J, Carney D, Ashley C, Turton C (1999) Sustainable livelihoods in practice: early applications of concepts in rural areas. Development 42:189–200

Githeko AK, Lindsay SW, Confalonieri UE, Patz JA (2000) Climate change and vector-borne diseases: a regional analysis. Bull World Health Organ 78:1136–1147

Godfrey C (2009) Food and nutritional security. National dialogue poverty reduction and adaptation to climate change. United Nations Development Programme, Bogotá, p 4

Hijmans RJ, Guarino L, Cruz M, Rojas E (2001) Computer tools for spatial analysis of plant genetic resources data. 1. DIVA-GIS. Plant Genet Resour Newsl 127:15–19

Hijmans RJ, Cameron SE, Parra JL et al (2005) Very high resolution interpolated climate surfaces for global land areas. Int J Climatol 25:1965–1978

Hinkel J (2011) Indicators of vulnerability and adaptive capacity: towards a clarification of the science-policy interface. Glob Environ Chang 21:198–208. doi:10.1016/j.gloenvcha.2010.08.002

IPCC (2001) IPCC Third Assessment Report: Climate change 2001 (TAR). Geneva, Switzerland

IPCC (2007) IPCC Fourth Assessment Report: Climate Change 2007 (AR4). Geneva, Switzerland

Jarvis A, Ramirez J, Anderson B et al (2010) Scenarios of climate change within the context of agriculture. Climate change and crop production. CABI Publishing, Wallingford, pp 9–37

Jarvis A, Lau C, Cook S et al (2011) An Integrated adaptation and mitigation framework for developing agricultural research: synergies and trade-offs. Exp Agric 47:185–203. doi:10.1017/S0014479711000123

Jones P, Thornton P (2003) The potential impacts of climate change on maize production in Africa and Latin America in 2055. Glob Environ Chang 13:51–59. doi:10.1016/S0959-3780(02)00090-0

Lee RA (2002) Interactive design of farm conversion: linking agricultural research and farmer learning for sustainable small scale horticulture production in Colombia. Wageningen University

Lobell DB, Burke MB, Tebaldi C et al (2008) Prioritizing climate change adaptation needs for food security in 2030. Science (New York, NY) 319:607–610. doi:10.1126/science.1152339

Lobell DB, Schlenker W, Costa-Roberts J (2011) Climate trends and global crop production since 1980. Science (New York, NY) 333:616–620. doi:10.1126/science.1204531

Ludi E (2009) Climate change, water and food security—ODI Background Note. ODI Background Notes 8

Magrin G, Gay Garcia C (2007) Latin America. Climate Change 2007: impacts, adaptation and vulnerability. Contribution ofWorking Group II to the Fourth Assessment Report of the Intergovernmental Panel on Climate Change. IPCC, pp 581–615

Montoya G, Mondragón H (2010) Los mercados campesinos: comercializatión alternativa de alimentos en Bogotá. Cuadernos Tierra y Justicia 2

Parry M (2007) The implications of climate change for crop yields, global food supply and risk of hunger. Journal of SAT Agricultural Research 4:1–44

Ramirez-Villegas J, Jarvis A (2010) Downscaling global circulation model outputs: the delta method decision and policy analysis Working Paper No. 1. Policy Analysis

Ramirez-Villegas J, Jarvis A, Läderach P (2011) Empirical approaches for assessing impacts of climate change on agriculture: the EcoCrop model and a case study with grain sorghum. Agr Forest Meteorol. doi:10.1016/j.agrformet.2011.09.005

Ramirez-Villegas J, Salazar M, Jarvis A, Navarro-Racines CE (2012) A way forward on adaptation to climate change in Colombian agriculture: perspectives towards 2050. Clim Chang. doi:10.1007/s10584-012-0500-y

Rochin RI (1977) Rural poverty and the problem of increasing food production on small farms: The case of Colombia. West J Agric Econ 1:181–186

Rodriguez B (2004) Bogotá sin hambre: una oportunidad para reconocer el papel central de los campesinos en la construcción de Colombia. Bogotá, Colombia

Schmidhuber J, Tubiello FN (2007) Global food security under climate change. Proc Natl Acad Sci USA 104:19703–19708. doi:10.1073/pnas.0701976104

Scoones I (1998) Sustainable rural livelihoods: a framework for analysis: IDS Working Paper 72, pp 1–22
Acknowledgement
The authors thank the participating farmer of the departments of Boyacá and Cundinamarca, local government agencies, NGOs and private institutions who made this research possible. The author also wish to acknowledge the kind support through the global program on Climate Change Agriculture and Food Security (CCAFS, http://ccafs.cgiar.org/).
About this article
Cite this article
Eitzinger, A., Läderach, P., Bunn, C. et al. Implications of a changing climate on food security and smallholders' livelihoods in Bogotá, Colombia. Mitig Adapt Strateg Glob Change 19, 161–176 (2014). https://doi.org/10.1007/s11027-012-9432-0
Received:

Accepted:

Published:

Issue Date:
Keywords
Colombia

Bogotá

Climate change

Crop climate-suitability

Food security

Vulnerability