Abstract
Indentifying common priorities in shared natural resource systems constitutes an important platform for implementing adaptation and a major step in sharing a common responsibility in addressing climate change. Predominated by discourses on REDD + (Reduced Emissions from Deforestation and Forest Degradation and conservation, sustainable management of forests and enhancement of forest carbon stocks in developing countries) with little emphasis on adaptation there is a risk of lack of policy measures in addressing climate change in the Congo Basin. Forest products and ecosystem services provide security portfolios for the predominantly rural communities, and play major roles in national development programmes in both revenue and employment opportunities. Thus, raising the profile of forests in the policy arena especially in the twin roles of addressing climate change in mitigation and adaptation and achieving resilient development is crucial. Within the framework of the Congo Basin Forests and Climate Change Adaptation project (COFCCA) project, science policy dialogue was conducted to identify and prioritize forest based sectors vulnerable to climate change but important to household livelihoods and national development. The goal of the prioritization process was for the development of intervention in forest as measures for climate change adaptation in Central Africa. Participants constituted a wide range of stakeholders (government, Non Governmental Organizations, research institutions, universities, community leaders, private sectors etc.) as representatives from three countries directly involved in the project: Cameroon, Central African Republic and Democratic Republic of Congo. Building on national priorities, four forest related sectors were identified as common priorities at the regional level for focus on climate change adaptation. These sectors included: (1) energy with emphasis on fuel wood and Charcoal; (2) Water principally quality, quantity, accessibility, etc.; (3) Food with emphasis on Non Timber Forest Products, and (4) Health linked to healthcare products (medicinal plants). Using these prioritized sectors, the project focused on addressing the impacts of climate change on local communities and the development of adaptation strategies in the three pilot countries of the Congo Basin region. The four sectors constitute the key for development in the region and equally considered as priority sectors in the poverty reduction papers. Focused research on these sectors can help to inject the role of forests in national and local development and their potentials contributions to climate change adaptation in national and public discourses. Mainstreaming forest for climate change adaptation into national development planning is the key to improve policy coherence and effectiveness in forest management in the region.
Access options
Buy single article
Instant access to the full article PDF.
US$ 39.95
Tax calculation will be finalised during checkout.
Subscribe to journal
Immediate online access to all issues from 2019. Subscription will auto renew annually.
US$ 79
Tax calculation will be finalised during checkout.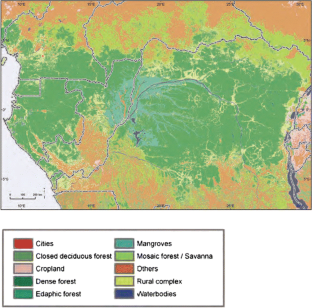 References
Bele MY, Somorin O, Sonwa DJ, Nkem JN, Locatelli B (2011) Forests and climate change adaptation policies in Cameroon. Mitig Adapt Strateg Glob Chang 16:369–385

Brown HCP, Nkem J, Sonwa DJ, Bele Y (2010) Institutional adaptive capacity and climate change response in the Congo Basin forests of Cameroon. Mitig Adapt Strateg Glob Chang 15:263–282

Brummett R, Tanania C, Pandi A, Ladel J, Munzini Y, Russell A, Stiassny M, Thieme M, White S, Davies D (2009) Ressources en eau et biens et services lies à l'écosystème forestier. In: Wasseige C, Devers D, de Marcen P, Eba'a Atyi R, Nasi R, Mayaux Ph (ed) Les forêts du Bassin du Congo. Etat des Forêts 2008. Pp 145–161. Office des publications de l'Union Européenne

CIFOR (2008) Rapport de l'atelier de lancement du projet CoFCCA en Afrique Centrale. 26pp. CIFOR Yaoundé-Cameroon

Ebi KL, Burton I (2008) Identifying practical adaptation options: an approach to address climate change-related health risks. Environ Sci Pol 11:359–369

Ejigu M (2008) Toward energy and livelihoods security in Africa: smallholder production and processing of bioenergy as a strategy. Nat Resour Forum 32:152–162

FAO (2003) "Sustainable use and management of freshwater resources: the role of forests" State of the world's forests. Rome

FAO (2006) The new generation of watershed management programmes and projects. A resource book for practitioners and local decision-makers based on the findings and recommendations of an FAO review. FAO Forestry Paper No. 150. Rome

FAO (2009) Unasylva No 231 & 232. FAO, Rome

Gockowski J, Sonwa D (2011) Cocoa intensification scenarios and their predicted impact on CO2 emissions, biodiversity conservation, and rural livelihoods in the guinea rain forest of West Africa. Environmental Management (Accepted for publication)

Hamilton LS (2008) Forests and water: a thematic study prepared in the framework of the Global Forest Resources Assessment 2005. FAO Forestry Paper 155

IPCC (2007) Summary for policymakers. In: Climate change 2007: impacts, adaptation and vulnerability. Contribution of Working Group II to the Fourth Assessment Report of the Intergovernmental Panel on Climate Change. Cambridge University Press, Cambridge, United Kingdom and New York, NY, USA

IUFRO (2009) Adaptation of forests and people to climate change. A Global Assessment Report. IUFRO World Series Volume 22. Helsinki. 224 p

Jones N, Jones H, Walsh C (2008) Political science? strengthening science–policy dialogue in developing countries. Overseas Development Institute. 111 Westminster Bridge Road London SE1 7JD. 67p

Locatelli B, Kanninen M, Brockhaus M, Colfer CJP, Murdiyarso D, Santoso H (2008) Facing an uncertain future: how forests and people can adapt to climate change. Forest Perspectives no. 5. CIFOR, Bogor, Indonesia

Mapongmetsem PM, Nkongmeneck BA, Duguma B (2002) Flowering patterns in some indigenous trees in the Humid Lowlands of Cameroon. Ghana J Sci 42:19–27

Marien JN (2009) Peri-urban forests and wood energy: what are the perspectives for central Africa? In: Wasseige C, Devers D, de Marcen P, Eba'a Atyi R, Nasi R, Mayaux Ph (ed) Congo basin forests -state of forests 2008. Pp 209–221. Office des publications de l'Union Européenne

Molua EL (2008) Turning up the heat on African agriculture: the impact of climate change on Cameroon' agriculture African Journal of Agricultural and Resource Economics, 2008, 02, (1)

Ndoye O, Ruiz Perez M, Armand DM, Lema ND (1999) Les effets de la crise économique et la dévaluation sur l'utilisation des plantes médicinales au Cameroun. Implications pour la gestion durable des forêts. Atelier International FORAFRI-CIRAD- Forêts Denses Humides Africaines Aujourd'hui. Libreville. Gabon, October 1999. 15 pp

Nkem J (2008) Altering the climate of poverty under climate change in Sub-Saharan Africa: Setting priorities for adaptation with forests to climate change. First Interim Technical Report. 67p

Nkem J, Kalame FB, Idinoba M, Somorin OA, Ndoye O, Awono A (2010) Shaping forest safety nets with markets: adaptation to climate change under changing roles of tropical forests in Congo Basin. Environ Sci Pol 13:498–508

Somorin OA, Brown HCP, Visseren-Hamakers IJ, Sonwa DJ, Arts B, Nkem J (2011) The Congo Basin forests in a changing climate: policy discourses on adaptation and mitigation (REDD+). Global Environ Change. doi:10.1016/j.gloenvcha.2011.08.001

Sonwa D, Bele Y, Somorin O, Jum C, Nkem J (2009) Adaptation for forests and dependent-communities in the Congo Basin: the CoFCCA experience. ETRFN News 50:93–100

Sonwa DJ, Bele YM, Somorin OA, Nkem JN (2011a) Central Africa is not only carbon stock: preliminary efforts to promote adaptation to climate change for forest and communities in Congo Basin. Nature & Faune 25(1):52–57

Sonwa DS, Walker S, Nasi R, Kanninen M (2011b) Potential synergies of the main current forestry efforts and climate change mitigation in central Africa. Sustain Sci 6(1):59–67. doi:10.1007/s11625-010-0119-8

Sunderland TCH, Clark LE, Vantomme P (eds) (1999) Non-wood forest products of Central Africa: current research issues and prospects for conservation and development. Food and Agriculture Organization, Rome

Veit S (2010) Climate risk management for the energy sector in Africa: the role of the African Development Bank. In: Troccoli A (ed) Management of weather and climate risk in the energy industry, NATO Science Series, Springer Academic Publisher, pp 121–135

Wasseige C, Devers D, de Marcen P, Eba'a Atyi R, Nasi R, Mayaux Ph (ed) (2009) Congo Basin Forests -State of Forests 2008. Pp 209–221. Office des publications de l'Union Européenne

WHO (2009) Protecting health from climate change: connecting science, policy and people. World Health Organization, Geneva, p 36

World Bank (2004) Sustaining forests: a development strategy. The World Bank, Washington

World Resources Institute (2005) The wealth of the poor-managing ecosystems to fight poverty. UNDP, UNEP, World Bank, WRI, Washington

Yengoh GT, Tchuinte A, Armah FA, Odoi JO (2010) Impact of prolonged rainy seasons on food crop production in Cameroon. Mitig Adapt Strateg Glob Chang 15(8):825–841
Acknowledgement
This paper has been produced with financial contributions from the Canadian Government through the International Development Research Center (IDRC) and the Department for International Development (DFID) of UK to the Adaptation to Climate Change in Africa (ACCA) program. Thanks to all those who participated to (or contributed to the organization of) the CoFCCA science policy dialogue. Many thanks go to Bruno Locatelli for his useful comments. The views expressed in this paper remain those of the authors.
About this article
Cite this article
Sonwa, D.J., Nkem, J.N., Idinoba, M.E. et al. Building regional priorities in forests for development and adaptation to climate change in the Congo Basin. Mitig Adapt Strateg Glob Change 17, 441–450 (2012). https://doi.org/10.1007/s11027-011-9335-5
Received:

Accepted:

Published:

Issue Date:
Keyword
Congo Basin

Climate Change

adaptation

ecosystem services

development sectors

Science policy dialogue