Abstract
Empathic concern is essential to our social lives because it motivates helping behavior. It has, however, well-known shortcomings such as its limitation in scope. Here, we highlight a further shortcoming of empathic concern: it contributes little to understanding the relevant features of complex social situations (e.g. the causes of somebody's distress), and unaided by further cognitive inputs, likely fails to produce effective helping. We then elaborate on the conditions needed for an accurate assessment of others' situations: the ability to pay attention and try to understand others for their own sake. We explain that when combining these abilities with the valuing aspect of empathic concern, we obtain "availability", an understudied mental state which plays a crucial role in helping motivation. We provide a detailed definition of that notion and show how availability can be trained and exercised by health professionals in order to improve their care and relationships with patients.
This is a preview of subscription content, log in to check access.
Access options
Buy single article
Instant access to the full article PDF.
US$ 39.95
Price includes VAT for USA
Subscribe to journal
Immediate online access to all issues from 2019. Subscription will auto renew annually.
US$ 99
This is the net price. Taxes to be calculated in checkout.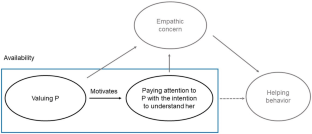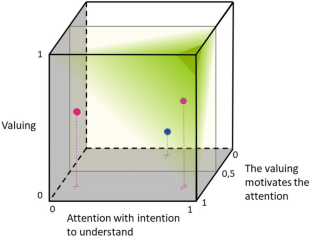 Notes
1.

Methodological note: in order to develop the model of availability presented in this paper, we used an empirically and phenomenologically informed approach, complemented with conceptual analysis. We started by identifying the problem, namely the cognitive limit of empathic concern as discussed in the empirical literature. We set the goal of finding what attitude could be more conductive to appropriate helping behavior. We found a possible candidate, availability, in the work of Gabriel Marcel. We explored how this notion is understood in his work and in the broader phenomenological and existential literature. We observed incoherencies and lack of precisions. We then applied the method of conceptual analysis to the notion of availability in order to make it more precise, more workable, and to elaborate on the distinctions between empathic concern and availability. What we present here is the resulting model. We hope that future empirical research will confirm our theoretical results.

2.

There is no agreement between disciplines (bioethics, psychology, philosophy) on how to label the different other-oriented affective phenomena. Most agree, however, that there is a difference between emotional identification (feeling what someone else feels) and concern for another (feeling sorry for, concerned about, afraid for, etc.) (Batson 2011; Darwall 1998; Gelhaus 2012). While many philosophers call the latter "sympathy" (Darwall 1998; Slote 2007; Maibom 2017; de Vignemont and Singer 2006; Simmons 2014; Keen 2007), we use Batson's term "empathic concern".

3.

From 1978 to 1996, Batson and his team conducted numerous experiments to test whether empathic concern could motivate helping behavior and to differentiate it from egoistic motives. The results of these experiments consistently verified Batson's hypothesis.

4.

In his book Empathy and Moral Development, Implications for Caring and Justice, Martin Hoffman (2001) explains how the development of empathic concern, sympathetic distress as he calls it, is an important stage in the moral development of children.

5.

For instance, in one of Batson's experiments, subjects had to assign two tasks, one with negative consequences, to two individuals. The subjects in whom empathic concern was induced tended to assign the negative-consequence task to the individual they had not empathized with, whereas subjects in the control condition used an impartial method to choose, such as flipping a coin (Batson et al. 1995).

6.

For a detailed discussion of the downside of empathic concern, see Batson et al. (2016).

7.

We may even qualify this mental state as a "mental action" because, as it will be explained later, it involves a cognitive effort.

8.

In the last section, we will discuss in more detail this ideal degree of availability i.e. the degrees to which each component is realized.

9.

Emotional contagion, sharing the other's emotion without being aware of picking up on the other's emotion, and personal distress, feeling distressed (for oneself) as a result of witnessing someone else's suffering are not considered here because they are not other-oriented and thus play a completely different role than affective empathy and empathic concern.

10.

Note that paying attention to the patient and trying to understand her does not necessarily mean listening to the patient talking about herself. There are other ways of learning about someone which are especially important if the patient is unable to express herself. For example, one can learn about someone through her close ones or through a written document such as advanced directives.
References
Bartlett, Gary. 2018. Occurrent States. Canadian Journal of Philosophy 48 (1): 1–17.

Batson, C. Daniel. 2011. Altruism in Humans. New York: Oxford University Press.

Batson, C. Daniel, Nadia Ahmad, and Eric L. Stocks. 2016. Benefits and Liabilities of Empathy-Induced Altruism. In The Social Psychology of Good and Evil, 2nd ed, ed. Arthur G. Miller. New York: Guilford Publications.

Batson, C. Daniel, Tricia R. Klein, Lori Highberger, and Laura L. Shaw. 1995. Immorality from Empathy-Induced Altruism: When Compassion and Justice Conflict. Journal of Personality and Social Psychology 68 (6): 1042–1054.

Batt-Rawden, Samantha A., Margaret S. Chisolm, Blair Anton, and Tabor E. Flickinger. 2013. Teaching Empathy to Medical Students: An Updated, Systematic Review. Academic Medicine 88 (8): 1171–1177.

Baumberger, Christoph, Claus Beisbart, and Georg Brun. 2017. What Is Understanding? An Overview of Recent Debates in Epistemology and Philosophy of Science. In Explaining Understanding: New Perspectives from Epistemolgy and Philosophy of Science, ed. Stephen Grimm, Christoph Baumberger, and Sabine Ammon, 1–34. New York: Routledge.

Beauchamp, Tom L., and James F. Childress. 2013. Principles of Biomedical Ethics, 7th ed. New York: Oxford University Press.

Bibeau, Marc, Frederick Dionne, and Jeannette Leblanc. 2016. Can Compassion Meditation Contribute to the Development of Psychotherapists' Empathy? A Review. Mindfulness 7 (1): 255–263.

Bunn, William, and Jan Terpstra. 2009. Cultivating Empathy for the Mentally Ill Using Simulated Auditory Hallucinations. Academic Psychiatry 33 (6): 457–460.

Bykvist, Krister. 2006. What Are Desires Good for? Towards a Coherent Endorsement Theory. Ratio 19 (3): 286–304.

Cassell, Eric J. 2004. The Nature of Suffering and the Goals of Medicine. New York: Oxford University Press.

Chambers, Richard, Barbara Chuen Yee Lo, and Nicholas B. Allen. 2008. The Impact of Intensive Mindfulness Training on Attentional Control, Cognitive Style, and Affect. Cognitive Therapy and Research 32 (3): 303–322.

Darwall, Stephen. 1998. Empathy, Sympathy, Care. Philosophical Studies 89 (2–3): 261–282.

Ewing, Alfred C. 1948. The Definition of Good. London: Routledge and Kegan Paul LTD.

FitzGerald, Chloë, Angela Martin, Delphine Berner, and Samia Hurst. 2019. Interventions Designed to Reduce Implicit Prejudices and Implicit Stereotypes in Real World Contexts: A Systematic Review. BMC Psychology 7 (1): 29.

Forscher, Patrick S., Calvin K. Lai, Jordan R. Axt, Charles R. Ebersole, Michelle Herman, Patricia G. Devine, and Brian A. Nosek. 2019. A Meta-Analysis of Procedures to Change Implicit Measures. Journal of Personality and Social Psychology 117 (3): 522–559.

Gaus, Gerald F. 1990. Value and Justification: The Foundations of Liberal Theory. New York: Cambridge University Press.

Gelhaus, Petra. 2012. The Desired Moral Attitude of the Physician: (I) Empathy. Medicine, Health Care and Philosophy 15 (2): 103–113.

Hailpern, Joshua, Marina Danilevsky, Andrew Harris, Karrie Karahalios, Gary Dell, and Julie Hengst. 2011. 'ACES: Promoting Empathy Towards Aphasia Through Language Distortion Emulation Software'. In Proceedings of the SIGCHI Conference on Human Factors in Computing Systems, 609–618. CHI'11.

Halpern, Jodi. 2001. From Detached Concern to Empathy: Humanizing Medical Practice. New York: Oxford University Press.

Halpern, Jodi, and Harvey M. Weinstein. 2004. Rehumanizing the Other: Empathy and Reconciliation. Human Rights Quarterly 26: 561.

Hoffman, Martin L. 2001. Empathy and Moral Development: Implications for Caring and Justice. New York: Cambridge University Press.

Hojat, Mohammadreza. 2009. Ten Approaches for Enhancing Empathy in Health and Human Services Cultures. Journal of Health and Human Services Administration 31 (4): 412–450.

Hojat, Mohammadreza, David Axelrod, John Spandorfer, and Salvatore Mangione. 2013. Enhancing and Sustaining Empathy in Medical Students. Medical Teacher 35 (12): 996–1001.

James, William. 1950. The Principles of Psychology. New York: Dover Publications Inc.

Keen, Suzanne. 2007. Empathy and the Novel. New York: Oxford University Press.

Klimecki, Olga M., Susanne Leiberg, Matthieu Ricard, and Tania Singer. 2014. Differential Pattern of Functional Brain Plasticity after Compassion and Empathy Training. Social Cognitive and Affective Neuroscience 9 (6): 873–879.

Lai, Calvin K., Maddalena Marini, Steven A. Lehr, J.L. Carlo Cerruti, J.A. Shin, J.A. Joy-Gaba, and B.A. Nosek. 2014. A Comparative Investigation of 17 Interventions to Reduce Implicit Racial Preferences. Journal of Experimental Psychology: General 143: 1765–1785.

Lamm, Claus, C. Daniel Batson, and Jean Decety. 2007. The Neural Substrate of Human Empathy: Effects of Perspective-Taking and Cognitive Appraisal. Journal of Cognitive Neuroscience 19 (1): 42–58.

Leiberg, Susanne, Olga Klimecki, and Tania Singer. 2011. Short-Term Compassion Training Increases Prosocial Behavior in a Newly Developed Prosocial Game. PLoS ONE 6 (3): e17798.

Maibom, Heidi. 2017. The Routledge Handbook of Philosophy of Empathy. New York: Routledge.

Marcel, Gabriel. 1950. The Mystery of Being, Vol. 1, Reflection and Mystery. Chicago, IL: Henry Regnery Company.

Marcel, Gabriel. 1999. Essai de philosophie concrète. Folio, Paris: Gallimard.

Mascaro, Jennifer S., James K. Rilling, Lobsang Tenzin Negi, and Charles L. Raison. 2013. Compassion Meditation Enhances Empathic Accuracy and Related Neural Activity. Social Cognitive and Affective Neuroscience 8 (1): 48–55.

McShane, Katie. 2013. Neosentimentalism and the Valence of Attitudes. Philosophical Studies 164 (3): 747–765.

Misra-Hebert, Anita D., J. Harry Isaacson, Martin Kohn, Alan L. Hull, Mohammadreza Hojat, Klara K. Papp, and Leonard Calabrese. 2012. Improving Empathy of Physicians through Guided Reflective Writing. Int J Med Educ 3 (September): 71–77.

Oddie, Graham. 2005. Value, Reality, and Desire. Oxford: Clarendon Press.

Paluck, Elizabeth Levy, and Donald P. Green. 2009. Prejudice Reduction: What Works? A Review and Assessment of Research and Practice. Annual Review of Psychology 60 (1): 339–367.

Roberts, R., and W. Wood. 2009. Intellectual Virtues: An Essay in Regulative Epistemology. Analysis 69 (1): 181–182.

Schroeder, David A., John F. Dovidio, Mark E. Sibicky, Linda L. Matthews, and Judith L. Allen. 1988. Empathic Concern and Helping Behavior: Egoism or Altruism? Journal of Experimental Social Psychology 24 (4): 333–353.

Schulz, Armin W. 2015. Preferences Vs. Desires: Debating the Fundamental Structure of Conative States. Economics and Philosophy 31 (2): 239–257.

Semple, Randye J. 2010. Does Mindfulness Meditation Enhance Attention? A Randomized Controlled Trial. Mindfulness 1 (2): 121–130.

Seppala, Emma M., Cendri A. Hutcherson, Dong T.H. Nguyen, James R. Doty, and James J. Gross. 2014. Loving-Kindness Meditation: A Tool to Improve Healthcare Provider Compassion, Resilience, and Patient Care. Journal of Compassionate Health Care 1 (1): 5.

Shapiro, Johanna, and Lloyd Rucker. 2003. Can Poetry Make Better Doctors? Teaching the Humanities and Arts to Medical Students and Residents at the University of California, Irvine, College of Medicine. Academic Medicine 78 (10): 953.

Simmons, Aaron. 2014. In Defense of the Moral Significance of Empathy. Ethical Theory and Moral Practice 17 (1): 97–111.

Singer, Tania, and Olga M. Klimecki. 2014. Empathy and Compassion. Current Biology 24 (18): R875–R878.

Slote, Michael A. 2007. The Ethics of Care and Empathy. London: Routledge.

Slovic, Paul. 2010. 'If I Look at the Mass I Will Never Act: Psychic Numbing and Genocide'. In Emotions and Risky Technologies, ed. Sabine Roeser, 37–59. The International Library of Ethics, Law and Technology. Dordrecht: Springer Netherlands.

Spaulding, Shannon. 2017. Cognitive Empathy. In The Routledge Handbook of Philosophy of Empathy, ed. Heidi Maibom, 13–21. New York: Routledge.

Stocks, Eric L., David A. Lishner, Bethany L. Waits, and Eirah M. Downum. 2011. I'm Embarrassed for You: The Effect of Valuing and Perspective Taking on Empathic Embarrassment and Empathic Concern. Journal of Applied Social Psychology 41 (1): 1–26.

Stürmer, Stefan, Mark Snyder, Alexandra Kropp, and Birte Siem. 2006. Empathy-Motivated Helping: The Moderating Role of Group Membership. Personality and Social Psychology Bulletin 32 (7): 943–956.

Styles, Elizabeth. 2006. The Psychology of Attention. New York: Psychology Press.

Tang, Yi-Yuan, Yinghua Ma, Junhong Wang, Yaxin Fan, Shigang Feng, Lu Qilin, Yu. Qingbao, et al. 2007. Short-Term Meditation Training Improves Attention and Self-Regulation. Proceedings of the National Academy of Sciences 104 (43): 17152–17156.

Vedsted, Peter, and Hanne N. Heje. 2008. Association between Patients' Recommendation of Their GP and Their Evaluation of the GP. Scandinavian Journal of Primary Health Care 26 (4): 228–234.

de Vignemont, Frederique, and Tania Singer. 2006. The Empathic Brain: How, When and Why? Trends in Cognitive Sciences 10 (10): 435–441.

Watzl, Sebastian. 2017. Structuring Mind. The Nature of Attention and How It Shapes Consciousness. Oxford: Oxford University Press.

Wensing, Michel, Hans Peter Jung, Jan Mainz, Frede Olesen, and Richard Grol. 1998. A Systematic Review of the Literature on Patient Priorities for General Practice Care. Part 1: Description of the Research Domain. Social Science and Medicine 47 (10): 1573–1588.

Wu, Wayne. 2014. Attention. Abingdon, Oxon: Routledge.

Zeidan, Fadel, Susan K. Johnson, Bruce J. Diamond, Zhanna David, and Paula Goolkasian. 2010. Mindfulness Meditation Improves Cognition: Evidence of Brief Mental Training. Consciousness and Cognition 19 (2): 597–605.
Acknowledgements
We would like to thank Florian Cova and Ralf Jox as well as the reviewers for their helpful comments.
Funding
This work was supported by the Swiss National Science Foundation under Grant doc.ch P0FRP1_162009.
Ethics declarations
Conflict of interest
The authors declare that they have no conflict of interest.
Additional information
Publisher's Note
Springer Nature remains neutral with regard to jurisdictional claims in published maps and institutional affiliations.
About this article
Cite this article
Malbois, E., Clavien, C. Overcoming the limits of empathic concern: the case for availability and its application to the medical domain. Med Health Care and Philos 23, 191–203 (2020). https://doi.org/10.1007/s11019-019-09935-1
Keywords
Availability

Cognitive empathy

Medical attitude

Doctor–patient relationship

Affective empathy

Empathic concern