Modeling the formation of automobile body panels by an elastic punch in the software package PAM-STAMP 2G
The practice of forming products with the use of an elastic medium has been established for a fairly long time and has shown itself to be a reliable and economic method of making products of complex shape. Stamping with an elastic punch offers the following advantages:
1) the manufacture of products with high mechanical properties and a quality surface;

2) the use of less metal for the production process due to elimination of the need for two tools; and

3) maintenance of high productivity.
Forming with an elastic punch is most often done to make parts for the aerospace sector and to stamp body parts for the automotive industry.
In this article, the software package PAM-STAMP 2G is used to model the stamping of two large parts of an automobile body – the inside of the hood and the fender (Fig.
1
) – by an elastic punch. The results obtained from the modeling are then discussed. The software was developed by the company ESI-Group
©
.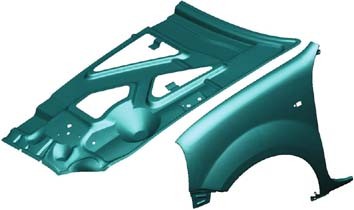 Keywords
Friction Coefficient 
Equivalent Stress 
Semifinished Product 
Design Module 
Automobile Body 
These keywords were added by machine and not by the authors. This process is experimental and the keywords may be updated as the learning algorithm improves.
Copyright information
© Springer Science+Business Media New York 2013