Abstract
Alzheimer's disease (AD) is a chronic neurodegenerative disease that is characterized by the extracellular accumulation of β-amyloid (Aβ). Many studies have shown a close relationship between autophagy and the formation of Aβ. As AD develops and progresses, mitophagy diminishes insoluble Aβ, and mitochondrial dysfunction seems to be a determining factor in the pathogenesis of AD. In our previous study, we showed that β-asarone pharmacological effects in APP/PS1 transgenic mice, reducing Aβ expression. However, the specific mechanism of this effect remains unclear. In this study, AD model rats induced by intracerebroventricular injection of Aβ1-42 were randomly divided into nine groups, and medical intervention was applied to the animals for 30 days. Subsequently, spatial learning and memory were evaluated by the water maze test. Bcl-2 levels in the hippocampus were determined by western blotting (WB). The protein expression of Aβ1-42, Beclin-1, p62, PINK1, and Parkin was assessed by WB and immunohistochemistry (IHC). The data showed that after β-asarone treatment, the learning and memory of the AD rats were clearly improved compared with those of the model group. Moreover, β-asarone decreased Aβ1-42, Bcl-2, and p62 levels but increased Beclin-1 levels compared with those in the model group. In addition, we treated a group of rats with CsA to inhibit mitophagy. β-Asarone increased PINK1 and Parkin expression compared with that in the model group. The results showed that β-asarone can improve the learning and memory of rats with Aβ1-42-induced AD by effectively promoting PINK1-Parkin-mediated mitophagy. Taken together, these results suggest that β-asarone may have the capacity to become a pharmaceutical agent for the treatment of AD in the future.
This is a preview of subscription content, log in to check access.
Access options
Buy single article
Instant access to the full article PDF.
US$ 39.95
Price includes VAT for USA
Subscribe to journal
Immediate online access to all issues from 2019. Subscription will auto renew annually.
US$ 99
This is the net price. Taxes to be calculated in checkout.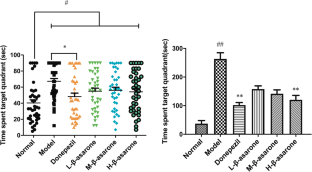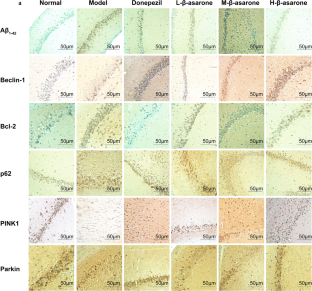 References
Alzheimer's A (2015) 2016 Alzheimer's disease facts and figures. Alzheimers Dement: the journal of the Alzheimer's Association 12:459–509. https://doi.org/10.1016/j.jalz.2016.03.001

Bingol B, Tea JS, Phu L, Reichelt M, Bakalarski CE, Song Q, Foreman O, Kirkpatrick DS, Sheng M (2014) The mitochondrial deubiquitinase USP30 opposes parkin-mediated mitophagy. Nature. 510:370–375. https://doi.org/10.1038/nature13418

Bordi M, Berg MJ, Mohan PS, Peterhoff CM, Alldred MJ, Che S, Ginsberg SD, Nixon RA (2016) Autophagy flux in CA1 neurons of Alzheimer hippocampus: increased induction overburdens failing lysosomes to propel neuritic dystrophy. Autophagy 12(12):2467–2483. https://doi.org/10.1080/15548627.2016.1239003

Bromley-Brits K, Deng Y, Song W (2011) Morris water maze test for learning and memory deficits in Alzheimer's disease model mice. Vis Exp 53:2920. https://doi.org/10.3791/2920

Correia SC, Resende R, Moreira PI, Pereira CM (2015) Alzheimer's disease-related misfolded proteins and dysfunctional organelles on autophagy menu. DNA Cell Biol 34(4):261–273. https://doi.org/10.1089/dna.2014.2757

Deng M, Huang L, Zhong X (2020) β-asarone modulates Beclin-1, LC3 and p62 expression to attenuate Aβ40 and Aβ42 levels in APP/PS1 transgenic mice with Alzheimer's disease. Mol Med Rep 21(5):2095–2102. https://doi.org/10.3892/mmr.2020.11026

Fang YQ, Shi C, Liu L, Fang RM (2012) Pharmacokinetics of beta-asarone in rabbit blood, hippocampus, cortex, brain stem, thalamus and cerebellum. Pharmazie 67(2):120–123

Fang EF, Hou Y, Palikaras K, Adriaanse BA, Kerr JS, Yang B, Lautrup S, Hasan-Olive MM, Caponio D, Dan X, Rocktäschel P, Croteau DL, Akbari M, Greig NH, Fladby T, Nilsen H, Cader MZ, Mattson MP, Tavernarakis N, Bohr VA (2019) Mitophagy inhibits amyloid-β and tau pathology and reverses cognitive deficits in models of Alzheimer's disease. Nat Neurosci 22(3):401–412. https://doi.org/10.1038/s41593-018-0332-9

Fujikake N, Shin M, Shimizu S (2018) Association between autophagy and neurodegenerative diseases. Front Neurosci 12:255. https://doi.org/10.3389/fnins.2018.00255

Geng Y, Li C, Liu J, Xing G, Zhou L, Dong M, Li X, Niu Y (2010) Beta-asarone improves cognitive function by suppressing neuronal apoptosis in the beta-amyloid hippocampus injection rats. Biol Pharm Bull 33:836–843. https://doi.org/10.1248/bpb.33.836

Guglielmotto M, Monteleone D, Piras A, Valsecchi V, Tropiano M, Ariano S, Fornaro M, Vercelli A, Puyal J, Arancio O, Tabaton M, Tamagno E (2014) Aβ1-42 monomers or oligomers have different effects on autophagy and apoptosis. Autophagy 10:1827–1843. https://doi.org/10.1186/s40478-015-0199-x

Katsouri L, Lim YM, Blondrath K, Eleftheriadou I, Lombardero L, Birch AM, Mirzaei N, Irvine EE, Mazarakis ND, Sastre M (2016) PPARγ-coactivator-1α gene transfer reduces neuronal loss and amyloid-β generation by reducing β-secretase in an Alzheimer's disease model. Proc Natl Acad Sci U S A 113(43):12292–12297. https://doi.org/10.1073/pnas.1606171113

Kerr JS, Adriaanse BA, Greig NH, Mattson MP, Cader MZ, Bohr VA, Fang EF (2019) Mitophagy and Alzheimer's disease: cellular and molecular mechanisms. Trends Neurosci 40(3):151–166. https://doi.org/10.1016/j.tins.2017.01.002

Kim JY, Jung WH, Koo JS (2014) Expression of autophagy-related proteins according to androgen receptor and HER-2 status in estrogen receptor-negative breast cancer. PLoS One 9:e105666. https://doi.org/10.1371/journal.pone.0105666

Lin Q, Li S, Jiang N, Shao X, Zhang M, Jin H, Zhang Z, Shen J, Zhou Y, Zhou W, Gu L, Lu R, Ni Z (2019) PINK1-parkin pathway of mitophagy protects against contrast-induced acute kidney injury via decreasing mitochondrial ROS and NLRP3 inflammasome activation. Redox Biol 26:101254. https://doi.org/10.1016/j.redox.2019.101254

Liu J, Li C, Xing G, Zhou L, Dong M, Geng Y, Li X, Li J, Wang G, Zou D, Niu Y (2010) Beta-asarone attenuates neuronal apoptosis induced by Beta amyloid in rat hippocampus. Yakugaku Zasshi 130:737–746. https://doi.org/10.1248/yakushi.130.737

Liu L, Fang YQ, Xue ZF, He YP, Fang RM, Li L (2012) Beta-asarone attenuates ischemia-reperfusion-induced autophagy in rat brains via modulating JNK, p-JNK,Bcl-2 and Beclin 1. Eur J Pharmacol 680:34–40. https://doi.org/10.1016/j.ejphar.2012.01.016

Liu W, Li X, Zhou B, Fang S, Ho W, Chen H, Liang H, Ye L, Tang J (2017) Differential induction of apoptosis and autophagy by pyrrolizidine alkaloid clivorine in human hepatoma Huh-7.5 cells and its toxic implication. PLoS One 12:e0179379. https://doi.org/10.1371/journal.pone.0179379

Luo R, Su LY, Li G, Yang J, Liu Q, Yang LX, Zhang DF, Zhou H, Xu M, Fan Y, Li J, Yao YG (2019) Activation of PPARA-mediated autophagy reduces Alzheimer disease-like pathology and cognitive decline in a murine model. Autophagy 22:1–18. https://doi.org/10.1080/15548627.2019.1596488

Lustbader JW, Cirilli M, Lin C, Xu HW, Takuma K, Wang N, Caspersen C, Chen X, Pollak S, Chaney M, Trinchese F, Liu S, Gunn-Moore F, Lue LF, Walker DG, Kuppusamy P, Zewier ZL, Arancio O, Stern D, Yan SS, Wu H (2004) ABAD directly links Abeta to mitochondrial toxicity in Alzheimer's disease. Science 304(5669):448–452. https://doi.org/10.1126/science.1091230

Majkutewicz I, Kurowska E, Podlacha M, Myślińska D, Grembecka B, Ruciński J, Plucińska K, Jerzemowska G, Wrona D (2016) Dimethyl fumarate attenuates intracerebroventricular streptozotocin-induced spatial memory impairment and hippocampal neurodegeneration in rats. Behav Brain Res 308:24–37. https://doi.org/10.1016/j.bbr.2016.04.012

Menzies FM, Fleming A, Caricasole A, Bento CF, Andrews SP, Ashkenazi A, Füllgrabe J, Jackson A, Jimenez Sanchez M, Karabiyik C, Licitra F, Lopez Ramirez A, Pavel M, Puri C, Renna M, Ricketts T, Schlotawa L, Vicinanza M, Won H, Zhu Y, Skidmore J, Rubinsztein DC (2017) Autophagy and neurodegeneration: pathogenic mechanisms and therapeutic opportunities. Neuron 93(5):1015–1034. https://doi.org/10.1016/j.neuron.2017.01.022

Mishra P, Chan DC (2014) Mitochondrial dynamics and inheritance during cell division, development and disease. Nat Rev Mol Cell Biol 15:634–646. https://doi.org/10.1038/nrm3877

Nilsson P, Loganathan K, Sekiguchi MY, Hui K, Tsubuki S, Tanaka M, Iwata N, Saito T, Saido TC (2013) Aβ secretion and plaque formation depend on autophagy. Cell Rep 5(1):61–69. https://doi.org/10.1016/j.celrep.2013.08.042

Palikaras K, Lionaki E, Tavernarakis N (2015) Coordination of mitophagy and mitochondrial biogenesis during ageing in C. elegans. Nature 521(7553):525–528. https://doi.org/10.1038/nature14300

Pooler AM, Polydoro M, Maury EA, et al (2015) Amyloid accelerates tau propagation and toxicity in a model of early Alzheimer's disease. Acta Neuropathol Commun 3:14. https://doi.org/10.1186/s40478-015-0199-x.

Scheibye-Knudsen M, Fang EF, Croteau DL, Wilson DM III, Bohr VA (2015) Protecting the mitochondrial powerhouse. Trends Cell Biol 25(3):158–170. https://doi.org/10.1016/j.tcb.2014.11.002

Scrivo A, Bourdenx M, Pampliega O, Cuervo AM (2018) Selective autophagy as a potential therapeutic target for neurodegenerative disorders. Lancet Neurol 17(9):802–815. https://doi.org/10.1016/S1474-4422(18)30238-2

Soejitno A, Tjan A, Purwata TE (2015) Alzheimer's disease: lessons learned from amyloidocentric clinical trials. CNS Drugs 29:487–502. https://doi.org/10.1007/s40263-015-0257-8

Sorrentino V, Menzies KJ, Auwerx J (2018) Repairing mitochondrial dysfunction in disease. Annu Rev Pharmacol Toxicol 58 (1):353–389. https://doi.org/10.1146/annurev-pharmtox-010716-104908

Tammineni P, Cai Q (2017) Defective retrograde transport impairs autophagic clearance in Alzheimer disease neurons. Autophagy 13(5):982–984. https://doi.org/10.1080/15548627.2017.1291114

Uddin MS, Kabir MT, Tewari D, Mathew B, Aleya L (2019a) Emerging signal regulating potential of small molecule biflavonoids to combat neuropathological insults of Alzheimer's disease. Sci Total Environ 700:134836. https://doi.org/10.1016/j.scitotenv.2019.134836

Uddin MS, Mamun AA, Labu ZK, Hidalgo-Lanussa O, Barreto GE, Ashraf GM (2019b) Autophagic dysfunction in Alzheimer's disease: cellular and molecular mechanistic approaches to halt Alzheimer's pathogenesis. J Cell Physiol 234(6):8094–8112. https://doi.org/10.1002/jcp.27588

Wang N, Wang H, Li L, Li Y, Zhang R (2020) β-Asarone inhibits amyloid-β by promoting autophagy in a cell model of Alzheimer's disease. Front Pharmacol 10:1529. https://doi.org/10.3389/fphar.2019.01529

Xue Z, Zhang S, Huang L, He Y, Fang R, Fang Y (2013) Increased expression of Beclin-1-dependent autophagy protects against beta-amyloid-induced cell injury in PC12 cells. J Mol Neurosci 51:180–186. https://doi.org/10.1248/bpb.33.836

Xue Z, Guo Y, Zhang S, Huang L, He Y, Fang R, Fang Y (2014) Beta-asarone attenuates amyloid beta-induced autophagy via Akt/mTOR pathway in PC12 cells. Eur J Pharmacol 741:195–204. https://doi.org/10.1016/j.ejphar.2014.08.006

Yang C, Li X, Mo Y, Liu S, Zhao L, Ma X, Fang Z, Chen J, Chen Y, Yu X, Fang S, Zhang Y, Xian S, Wang Q (2016) β-Asarone mitigates amyloidosis and downregulates RAGE in a transgenic mouse model of Alzheimer's disease. Cell Mol Neurobiol 36(1):121–130. https://doi.org/10.1007/s10571-015-0226-2

Zhang Z, Miah M, Culbreth M, Aschner M (2016) Autophagy in neurodegenerative diseases and metal neurotoxicity. Neurochem Res 41(1–2):409–422. https://doi.org/10.1007/s11064-016-1844-x

Zhang Q, Lei YH, Zhou JP, Hou YY, Wan Z, Wang HL, Meng H (2019) Role of PGC-1α in mitochondrial quality control in neurodegenerative diseases. Neurochem Res 44(9):2031–2043. https://doi.org/10.1007/s11064-019-02858-6
Acknowledgements
This work was supported by the China National Natural Science Foundation Grant No.81903971.
Ethics declarations
Conflict of interest
The authors declare that they have no conflicts of interest.
Additional information
Publisher's note
Springer Nature remains neutral with regard to jurisdictional claims in published maps and institutional affiliations.
About this article
Cite this article
Han, Y., Wang, N., Kang, J. et al. β-Asarone improves learning and memory in Aβ1-42-induced Alzheimer's disease rats by regulating PINK1-Parkin-mediated mitophagy. Metab Brain Dis (2020). https://doi.org/10.1007/s11011-020-00587-2
Received:

Accepted:

Published:
Keywords
Mitophagy

Alzheimer's disease

PINK1/Parkin

β-Asarone