Abstract
As a Traditional Chinese Medicine (TCM), Shuangxia Decoction (SXD) has been used to treat insomnia in oriental countries for more than thousands of years and it presents remarkable clinical effects. However, its active pharmacological fraction and the mechanism of sedative-hypnotic effects have not been explored. In this paper, we investigated active pharmacological fraction and revealed the detailed mechanisms underlying the sedative-hypnotic effects of SXD. It showed that SXD water extract compared to ethanol extract possessed better sedative effects on locomotion activity in normal mice and increased sleep duration in subhypnotic dose of sodium pentobarbital-treated mice. SXD alleviated p-chlorophenylalanine (PCPA) -induced insomnia by increasing the content of 5-HT in cortex [F (4, 55) = 12.67], decreasing the content of dopamine (DA) and norepinephrine (NE). Furthermore, SXD enhanced the expression of 5-HT1A and 5-HT2A receptors in hypothalamic and reduced serum levels of IL-1,TNF-α [F (5, 36) = 15.58]. In conclusion, these results indicated that SXD produced beneficial sedative and hypnotic bioactivities mediated by regulating the serotonergic and immune system.
This is a preview of subscription content, log in to check access.
Access options
Buy single article
Instant access to the full article PDF.
US$ 39.95
Tax calculation will be finalised during checkout.
Subscribe to journal
Immediate online access to all issues from 2019. Subscription will auto renew annually.
US$ 99
Tax calculation will be finalised during checkout.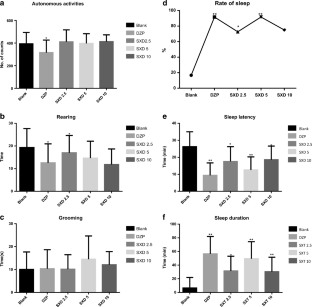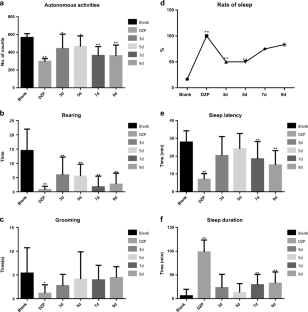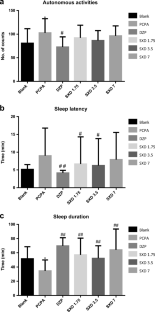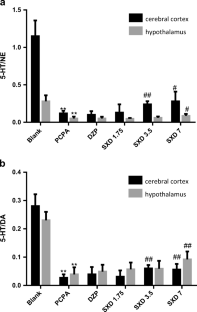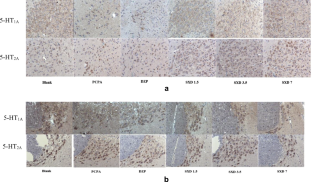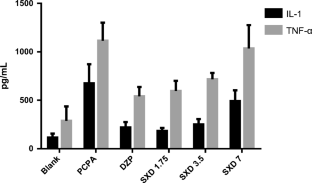 References
Assefa SZ, Diaz-Abad M, Wickwire EM, Scharf SM (2015) The functions of sleep. Neuroscience 2(3):155–171. https://doi.org/10.3934/Neuroscience.2015.3.155

Atkin T, Comai S, Gobbi G (2018) Drugs for insomnia beyond benzodiazepines: pharmacology, clinical applications, and discovery. Pharma Rev 70(2):197. https://doi.org/10.1124/pr.117.014381

Barros HM, Tannhauser MA, Tannhauser SL, Tannhauser M (1991) Enhanced detection of hyperactivity after drug withdrawal with a simple modification of the open-field apparatus. J Pharmacol Methods 26(4):269–275. https://doi.org/10.1016/0160-5402(91)90037-6

Cespuglio R (2018) Serotonin: its place today in sleep preparation, triggering or maintenance. Sleep Med 41:31–39. https://doi.org/10.1016/j.sleep.2018.05.034

Chen YH, Liu L, Guo QS, Zhu ZB, Zhang LX (2016) Effects of different water management options and fertilizer supply on photosynthesis, fluorescence parameters and water use efficiency of Prunella vulgaris seedlings. Biol Res 49:12. https://doi.org/10.1186/s40659-016-0069-4

Hu Y, Wang YN, Zhang GQ, Dong XZ, Liu WW, Liu P (2016) Gan-Dan-Liang-Yi-Tang alleviates p-chlorophenylalanine-induced insomnia through modification of the serotonergic and immune system. Exp Therap Med 12(5):3087. https://doi.org/10.3892/etm.2016.3737

Jeon SJ, Park HJ, Gao Q, Pena IJ, Park SJ, Lee HE, Woo H, Kim HJ, Cheong JH, Hong E, Ryu JH (2015) Ursolic acid enhances pentobarbital-induced sleeping behaviors via GABAergic neurotransmission in mice. Eur J Pharma 762:443–448. https://doi.org/10.1016/j.ejphar.2015.06.037

Jouvet M (1999) Sleep and serotonin: an unfinished story. Neuropsychopharmacology 21:24S–27S. https://doi.org/10.1016/S0893-133X(99)00009-3

Kim J-W, Han J-Y, Hong JT, Li R, Eun JS, Oh K-W (2011) Ethanol Extract of the Flower Augments Pentobarbital-Induced Sleep Behaviors: Involvement of Cl Channel Activation. Evidence-Based Complementary and Alternative Medicine :1–7. https://doi.org/10.1155/2011/109164

Krueger JM (2008) The role of cytokines in sleep regulation. Curr Pharm Design 14(32):3408–3416. https://doi.org/10.2174/138161208786549281

Kuo TH, Pike DH, Beizaeipour Z, Williams JA (2010) Sleep triggered by an immune response in Drosophila is regulated by the circadian clock and requires the NFκB relish. BMC Neurosci 11(1):17. https://doi.org/10.1186/1471-2202-11-17

Liu L, Liu C, Wang Y, Wang P, Li Y, Li B (2015) Herbal medicine for anxiety, depression and insomnia. Curr Neuropharmacol 13(4):481. https://doi.org/10.2174/1570159X1304150831122734

Meng F (2003) Self-made Shuangxia decoction for treatment of 56 cases on insomnia. Clin J Tradit Chin Med Anhui 15(5):397 (In Chinese)

Morin CM, Leblanc M, Daley M et al (2006) Epidemiology of insomnia: prevalence, self-help treatments, consultations, and determinants of help-seeking behaviors. Sleep Med 7(2):123–130. https://doi.org/10.1016/j.sleep.2005.08.008

Mouret J, Bobillier P, Jouvet M (1968) Insomnia following parachlorophenylalanin in the rat. Eur J Pharma 5(1):17. https://doi.org/10.1016/0014-2999(68)90151-9

Nishino S (2013) Neurotransmitters and Neuropharmacology of Sleep/Wake Regulations. Encyclop Sleep 395–406. https://doi.org/10.1016/B978-0-12-378610-4.00087-5

Pakalnis A, Splaingard M, Splaingard D, Kring D, Colvin A (2009) Serotonin effects on sleep and emotional disorders in adolescent migraine. Headache 49(10):1486–1492. https://doi.org/10.1111/j.1526-4610.2009.01392.x

Park SJ, Kim DH, Lee IK, Jung WY, Park DH, Kim JM, Lee KR, Lee KT, Shin CY, Cheong JH, Ko KH, Ryu JH (2010) The ameliorating effect of the extract of the flower of lilacina on drug-induced memory impairments in mice. Food Chem Toxicol 48(6):1671–1676. https://doi.org/10.1016/j.fct.2010.03.042

Perveen T, Haider S, Zuberi NA, Saleem S, Sadaf S, Batool Z (2014) Increased 5-HT levels following repeated administration of Nigella sativa L. (black seed) oil produce antidepressant effects in rats. Scientia Pharmaceutica 82(1):161–170. https://doi.org/10.3797/scipharm.1304-19

Portas CM, Bjorvatn B, Ursin R (2000) Serotonin and the sleep–wake cycle: special emphasis on microdialysis studies. Prog Neurobiol 60(1):13–35. https://doi.org/10.1016/S0301-0082(98)00097-5

Putnins SI, Griffin ML, Fitzmaurice GM, Dodd DR, Weiss RD (2012) Poor sleep at baseline predicts worse mood outcomes in patients with co-occurring bipolar disorder and substance dependence. J Clin Psychiatry 73:703–708. https://doi.org/10.4088/JCP.11m07007

Qu Z, Zhang J, Yang H, Huo L, Gao J, Chen H, Gao W (2016) Protective effect of tetrahydropalmatine against d-galactose induced memory impairment in rat. Physiol Behav 154:114–125. https://doi.org/10.1016/j.physbeh.2015.11.016

Ryu SY, Oak MH, Yoon SK, Cho DI, Yoo GS, Kim TS, Kim KM (2000) Anti-allergic and anti-inflammatory triterpenes from the herb of Prunella vulgaris. Planta Med 66:358–360. https://doi.org/10.1093/carcin/bgr030

Shi Y, Dong JW, Zhao JH, Tang LN, Zhang JJ (2014) Herbal insomnia medications that target GABAergic systems: a review of the psychopharmacological evidence. Curr Neuropharmacol 12:289–302. https://doi.org/10.2174/1570159X11666131227001243

Speed T.J., Finan P.H. (2016) Depression, Sleep Disorders, and DA. In: Monti J., Pandi-Perumal S., Chokroverty S. (eds) Dopamine Sleep 191–211. https://doi.org/10.1007/978-3-319-46437-4_9

Uzun S, Kozumplik O, Jakovljević M, Sedić B (2010) Side effects of treatment with benzodiazepines. Psychiatr Danub 22:90–93 https://www.researchgate.net/publication/42372554

Wu XY, Yang LQ, Li YJ, Wang WW, Zou YM (2009) Study on the sedative and hypnotic effects of Spica prunellae. Lishizhen Med Mate Med Res 20(02):443–444 (In Chinese)

Wu XY, Zhao JL, Zhang M, Li F, Zhao T, Yang LQ (2011) Sedative, hypnotic and anticonvulsant activities of the ethanol fraction from Rhizoma Pinelliae Praeparatum. J Ethnopharmacol 135(2):325–329. https://doi.org/10.1016/j.jep.2011.03.016

Zeng X, Huang J, Zhou C, Wang X, Zhang Y, Zhang YF (2018) Effect of Songyu Anshen fang on expression of hypothalamic GABA and GABA(B) receptor proteins in insomniac rats induced by Para-chlorophenylalanine. Trop J Pharma Res 17(1):17–22. https://doi.org/10.4314/tjpr.v17i1.3

Zhang C, Mao X, Zhao X, Liu Z, Liu B, Li H, Bi KS, Jia Y (2014) Gomisin N isolated from Schisandra chinensis, augments pentobarbital-induced sleep behaviors through the modification of the serotonergic and GABAergic system. Fitoterapia 96:123–130. https://doi.org/10.1016/j.fitote.2014.04.017

Zhang ZQ, De G, Geng D, Zhang Q, Tian Y, Xi Y, Wang WQ, Tang HQ, Xu B, Lin HY, Sun YK (2016) Pharmacodynamic study on insomnia-curing effects of Shuangxia decoction in Drosophila melanogaster. Chin J Nat Med 14(9):653–660. https://doi.org/10.1016/S1875-5364(16)30077-2

Zhang XT, Li L, Chen T, Sun ZY , Tang WW, Wang S, Wang TQ, Wang Y, Zhang H (2018) Research progress in the effect of traditional chinese medicine for invigoration on neurotransmitter related diseases. Evid-Based Compl Alt Med 1–14. https://doi.org/10.1155/2018/4642018

Zhao JL (2011) Study on Sedative and Hypnotic Activity of Different Extracts of Pinellia. J Anhui Agric Sci. (In Chinese)

Zhao X, Cui XY, Chen BQ, Chu QP, Yao HY, Ku BS, Zhang YH (2004) Tetrandrine, a bisbenzylisoquinoline alkaloid from Chinese herb Radix, augmented the hypnotic effect of pentobarbital through serotonergic system. Eur J Pharma 506(2):101–105. https://doi.org/10.1016/j.ejphar.2004.10.046

Zhao JL, Wu X, Yang L, Li Y, Wang W, Zou Y (2009) Study on the Sedative and Hypnotic Effects of Spica prunellae. Lishizhen Med Mater Med Res. (In Chinese)

Zhu M, Bowery NG, Greengrass PM, Phillipson JD (1996) Application of radioligand receptor binding assays in the search for CNS active principles from Chinese medicinal plants. J Ethnopharmacol 54(2–3):153–164. https://doi.org/10.1016/S0378-8741(96)01454-7
Acknowledgments
We acknowledge financial supports from the National Natural Science Foundation of China (81173521).
Ethics declarations
Conflict of interest
The authors have declared that no conflict of interest exists.
Additional information
Publisher's note
Springer Nature remains neutral with regard to jurisdictional claims in published maps and institutional affiliations.
About this article
Cite this article
Sun, Y., Zhang, N., Qu, Y. et al. Shuangxia decoction alleviates p-chlorophenylalanine induced insomnia through the modification of serotonergic and immune system. Metab Brain Dis 35, 315–325 (2020). https://doi.org/10.1007/s11011-019-00499-w
Received:

Accepted:

Published:

Issue Date:
Keywords
Shuangxia decoction

PCPA

Insomnia

Sedative-hypnotic effects

Serotonergic system