Abstract
Background
It has been reported that long intergenic non-protein-coding RNA 324 (LINC00324) promotes liver cancer by upregulating Fas ligand (FasL), which is a major player in intervertebral disk degeneration (IDD), indicating the involvement of LINC00324 in IDD. This study was carried out to investigate the interaction between LINC00324 and FasL in IDD.
Methods
Plasma samples were collected from both IDD (n = 60) and healthy controls (n = 60). The expression of LINC00324 and FasL in plasma was determined by RT-qPCR. The interactions between LINC00324 and FasL in nucleus pulposus (NP) cells were analyzed by overexpression experiments.
Results
LINC00324 and FasL were upregulated in IDD patients, and they were positively correlated. After treatment, the expression levels of FasL and LINC00324 were significantly decreased. In NP cells, overexpression of LINC00324 increased the expression of FasL at both mRNA and protein levels, while overexpression of FasL did not affect the expression of LINC00324.
Conclusion
LINC00324 may upregulate FasL in IDD to promote disease progression.
Access options
Buy single article
Instant access to the full article PDF.
US$ 39.95
Tax calculation will be finalised during checkout.
Subscribe to journal
Immediate online access to all issues from 2019. Subscription will auto renew annually.
US$ 119
Tax calculation will be finalised during checkout.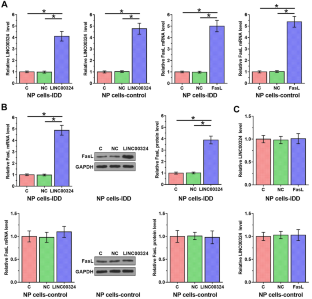 Data availability
The datasets used and/or analyzed during the current study are available from the corresponding author on reasonable request.
References
1.

Kaiser J, Allaire B, Fein PM et al (2018) Correspondence between bone mineral density and intervertebral disc degeneration across age and sex. Arch Osteoporos 13(1):123

2.

Teraguchi M, Yoshimura N, Hashizume H et al (2017) Progression, incidence, and risk factors for intervertebral disc degeneration in a longitudinal population-based cohort: the Wakayama Spine Study. Osteoarthr Cartil 25(7):1122–1131

3.

Leimer EM, Gayoso MG, Jing L et al (2019) Behavioral compensations and neuronal remodeling in a rodent model of chronic intervertebral disc degeneration. Sci Rep 9(1):3759

4.

Yang T, Li R, Liang N et al (2020) The application of key feature extraction algorithm based on Gabor wavelet transformation in the diagnosis of lumbar intervertebral disc degenerative changes. PLoS One 15(2):e0227894

5.

Sun Z, Liu B, Luo ZJ (2020) The immune privilege of the intervertebral disc: implications for intervertebral disc degeneration treatment. Int J Med Sci 17(5):685–692

6.

van Uden S, Silva-Correia J, Oliveira JM et al (2017) Current strategies for treatment of intervertebral disc degeneration: substitution and regeneration possibilities. Biomater Res 21(1):22

7.

Wang F, Cai F, Shi R et al (2016) Aging and age related stresses: a senescence mechanism of intervertebral disc degeneration. Osteoarthr Cartil 24(3):398–408

8.

Kepler CK, Ponnappan RK, Tannoury CA et al (2013) The molecular basis of intervertebral disc degeneration. Spine J 13(3):318–330

9.

Sampara P, Banala RR, Vemuri SK et al (2018) Understanding the molecular biology of intervertebral disc degeneration and potential gene therapy strategies for regeneration: a review. Gene Ther 25(2):67–82

10.

Zhang F, Zhao X, Shen H et al (2016) Molecular mechanisms of cell death in intervertebral disc degeneration. Int J Mol Med 37(6):1439–1448

11.

Cui S, Liu Z, Tang B et al (2020) LncRNA MAGI2-AS3 is down-regulated in intervertebral disc degeneration and participates in the regulation of FasL expression in nucleus pulposus cells. BMC Musculoskelet Disord 21(1):149

12.

Gao J, Dai C, Yu X et al (2019) Long non-coding RNA LINC00324 exerts pro-tumorigenic effects on liver cancer stem cells by up-regulating Fas ligand via PU box binding protein. FASEB J. https://doi.org/10.1096/fj.201902705RR

13.

Wang HQ, Yu XD, Liu ZH et al (2011) Deregulated miR-155 promotes Fas-mediated apoptosis in human intervertebral disc degeneration by targeting FADD and caspase-3. J Pathol 225(2):232–242

14.

Wu S, Gu Z, Wu Y et al (2020) LINC00324 accelerates the proliferation and migration of osteosarcoma through regulating WDR66. J Cell Physiol 235(1):339–348

15.

Pan ZH, Guo XQ, Shan J et al (2018) LINC00324 exerts tumor-promoting functions in lung adenocarcinoma via targeting miR-615-5p/AKT1 axis. Eur Rev Med Pharmacol Sci 22(23):8333–8342

16.

Sloan SR, Wipplinger C, Kirnaz S et al (2020) Combined nucleus pulposus augmentation and annulus fibrosus repair prevents acute intervertebral disc degeneration after discectomy. Sci Transl Med 12(534):eaay2380

17.

Cheng X, Zhang G, Zhang L et al (2018) Mesenchymal stem cells deliver exogenous miR-21 via exosomes to inhibit nucleus pulposus cell apoptosis and reduce intervertebral disc degeneration. J Cell Mol Med 22(1):261–276

18.

Xie J, Li B, Yao B et al (2020) Transforming growth factor-β1-regulated Fas/FasL pathway activation suppresses nucleus pulposus cell apoptosis in an inflammatory environment. Biosci Rep 40(2):BSR20191726. https://doi.org/10.1042/BSR20191726
Ethics declarations
Conflict of interest
All the authors declare that they have no conflict of interest.
Ethical approval
Ethical approval was given by the Ethics Committee of the Affiliated Ganzhou Hospital of Nanchang University. All patients gave their written information consent.
Additional information
Publisher's Note
Springer Nature remains neutral with regard to jurisdictional claims in published maps and institutional affiliations
About this article
Cite this article
Chen, Y., Wu, Y., Chen, R. et al. LncRNA LINC00324 is upregulated in intervertebral disk degeneration and upregulates FasL in nucleus pulposus cells. Mol Cell Biochem (2021). https://doi.org/10.1007/s11010-021-04058-9
Received:

Accepted:

Published:
Keywords
LINC00324

FasL

Intervertebral disk degeneration