Abstract
Esophageal cancer (EC) is a malignancy causing lots of mortality worldwide. Long non-coding RNAs (lncRNAs) are involved in the progression of multiple cancer types. The present study aimed to explore the function and associated mechanisms of lncRNA metastasis-associated lung adenocarcinoma transcript1 (MALAT1) in EC development by focusing on its interaction with miR-1-3p. The levels of MALAT1 and miR-1-3p were investigated in clinical EC specimens. Then, the expression of MALAT1 was knocked down in EC cell lines, and the effects of MALAT1 inhibition on the viability, migration, and invasion, and miR-1-3p/Coronin-1C (CORO1C)/Tropomyosin3 (TPM3) axis in EC cells were detected. The interaction between MALAT1 and miR-1-3p in the progression of EC was further determined by suppressing the expression of miR-1-3p in MALAT1 inhibition cells. The results were further verified with EC xenograft mice model. MALAT1 level was downregulated, while miR-1-3p level was upregulated in EC specimens. The inhibition of MALAT1 suppressed the viability, migration, and invasion in EC cell lines. The changes in phenotypes of EC cells were associated with the upregulation of miR-1-3p level and inhibition of CORO1C/TPM3 activity. Furthermore, the results of dual-luciferase assay showed the direct binding of MALAT1 to the seed sequence of miR-1-3p. The suppressed level of miR-1-3p not only induced the activity of CORO1C/TPM3 signaling, but also upregulated MALAT1 expression, indicating the reciprocal regulation between the two factors. The inhibition of MALAT1 also inhibited tumor growth and epithelial-mesenchymal transition (EMT) in mice model, which was reversed by miR-1-3p inhibition. Collectively, MALAT1 was important to the survival and metastasis of EC cells by sponging miR-1-3p.
This is a preview of subscription content, log in to check access.
Access options
Buy single article
Instant access to the full article PDF.
US$ 39.95
Price includes VAT for USA
Subscribe to journal
Immediate online access to all issues from 2019. Subscription will auto renew annually.
US$ 199
This is the net price. Taxes to be calculated in checkout.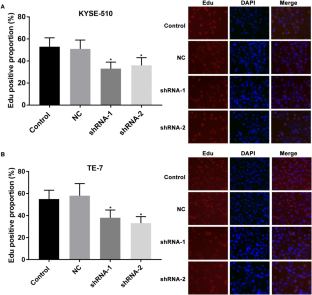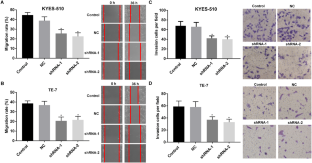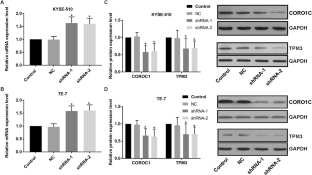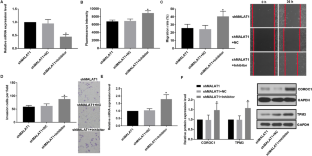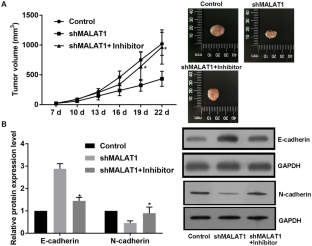 References
1.

Sakai NS, Samia-Aly E, Barbera M, Fitzgerald RC (2013) A review of the current understanding and clinical utility of miRNAs in esophageal cancer. Semin Cancer Biol 23(6):512–521. https://doi.org/10.1016/j.semcancer.2013.08.005

2.

Holmes RS, Vaughan TL (2007) Epidemiology and pathogenesis of esophageal cancer. Semin Radiat Oncol 17(1):2–9. https://doi.org/10.1016/j.semradonc.2006.09.003

3.

Siegel RL, Miller KD, Jemal A (2015) Cancer statistics, 2015. CA 65(1):5–29. https://doi.org/10.3322/caac.21254

4.

GroupMRCOCW (2002) Surgical resection with or without preoperative chemotherapy in oesophageal cancer: a randomised controlled trial. Lancet 359(9319):1–1733

5.

Shapiro J, van Lanschot JJB, Hulshof MCCM, van Hagen P, van Berge Henegouwen MI, Wijnhoven BPL, van Laarhoven HWM, Nieuwenhuijzen GAP, Hospers GAP, Bonenkamp JJ (2015) Neoadjuvant chemoradiotherapy plus surgery versus surgery alone for oesophageal or junctional cancer (CROSS): long-term results of a randomised controlled trial. Lancet Oncol 16(9):1090–1098

6.

Van HP, Hulshof MC, van Lanschot JJ, Steyerberg EW, Mi VBH, Wijnhoven BP, Richel DJ, Nieuwenhuijzen GA, Hospers GA, Bonenkamp JJ (2012) Preoperative chemoradiotherapy for esophageal or junctional cancer. New Engl J Med 43(2):215–219

7.

Cunningham D, Allum WH, Stenning SP, Thompson JN, Van de Velde CJH, Nicolson M, Scarffe JH, Lofts FJ, Falk SJ, Iveson TJ (2008) Perioperative chemotherapy versus surgery alone for resectable gastroesophageal cancer. New Engl J Med 355:1–11

8.

Akella A, Bhattarai S, Dharap A (2019) Long noncoding RNAs in the pathophysiology of ischemic stroke. Neuromol Med 1–10

9.

Spizzo R, Almeida MI, Colombatti A, Calin GA (2012) Long non-coding RNAs and cancer: a new frontier of translational research? Oncogene 31(43):4577–4587

10.

Cho S-F, Chang Y, Chang C-S, Lin S-F, Liu Y-C, Hsiao H-H, Chang J-G, Liu T-C (2014) MALAT1 long non-coding RNA is overexpressed in multiple myeloma and may serve as a marker to predict disease progression. BMC Cancer 14(1):809

11.

Brown JA, Bulkley D, Wang J, Valenstein ML, Yario TA, Steitz TA, Steitz JA (2014) Structural insights into the stabilization of MALAT1 noncoding RNA by a bipartite triple helix. Nat Struct Mol Biol 21(7):633–640

12.

Gutschner T, Hammerle M, Diederichs S (2013) MALAT1—a paradigm for long noncoding RNA function in cancer. J Mol Med 91(7):791–801

13.

Huang C, Yu Z, Yang H, Lin Y (2016) Increased MALAT1 expression predicts poor prognosis in esophageal cancer patients. Biomed Pharmacother 83:8–13. https://doi.org/10.1016/j.biopha.2016.05.044

14.

Cesana M, Davide C, Ivano L, Tiziana S, Olga S, Mauro C, Anna T, Irene B (2011) A long noncoding RNA controls muscle differentiation by functioning as a competing endogenous RNA. Cell 147(2):1–369

15.

Tay Y, Rinn J, Pandolfi PP (2014) The multilayered complexity of ceRNA crosstalk and competition. Nature 505(7483):344–352. https://doi.org/10.1038/nature12986

16.

Jia H (2018) The putative tumour suppressor miR-1-3p modulates prostate cancer cell aggressiveness by repressing E2F5 and PFTK1. J Exp Clin Cancer Res 37(1):219

17.

Lianshui S (2018) MicroRNA-1-3p inhibits the proliferation and migration of oral squamous cell carcinoma cells by targeting DKK1. Biochem Cell Biol 96:355–364

18.

Yang T (2019) miR-1-3p suppresses proliferation of hepatocellular carcinoma through targeting SOX9. Oncotargets Ther 22:2149–2157

19.

Liao Z, Wang X, Liang H, Yu A, Ur Rehman U, Fan Q, Hu Y, Wang C, Zhou Z, Wang T (2017) miR-1 suppresses the proliferation and promotes the apoptosis of esophageal carcinoma cells by targeting Src. Cancer Med-US 6(12):2957–2965. https://doi.org/10.1002/cam4.1214

20.

Choi HS, Yim SH, Xu HD, Jung SH, Shin SH, Hu HJ, Jung CK, Choi JY, Chung YJ (2010) Tropomyosin3 overexpression and a potential link to epithelial-mesenchymal transition in human hepatocellular carcinoma. BMC Cancer 10:122. https://doi.org/10.1186/1471-2407-10-122

21.

Mataki H, Enokida H, Chiyomaru T, Mizuno K, Matsushita R, Goto Y, Nishikawa R, Higashimoto I, Samukawa T, Nakagawa M, Inoue H, Seki N (2015) Downregulation of the microRNA-1/133a cluster enhances cancer cell migration and invasion in lung-squamous cell carcinoma via regulation of Coronin1C. J Hum Genet 60(2):53–61. https://doi.org/10.1038/jhg.2014.111

22.

Chen L, Yao H, Wang K, Liu X (2017) Long non-coding RNA MALAT1 regulates ZEB1 expression by sponging miR-143-3p and promotes hepatocellular carcinoma progression. J Cell Biochem 118(12):4836–4843. https://doi.org/10.1002/jcb.26158

23.

Kim J, Piao HL, Kim BJ, Yao F, Han Z, Wang Y, Xiao Z, Siverly AN, Lawhon SE, Ton BN, Lee H, Zhou Z, Gan B, Nakagawa S, Ellis MJ, Liang H, Hung MC, You MJ, Sun Y, Ma L (2018) Long noncoding RNA MALAT1 suppresses breast cancer metastasis. Nat Genet 50(12):1705–1715. https://doi.org/10.1038/s41588-018-0252-3

24.

Yao W, Bai Y, Li Y, Guo L, Zeng P, Wang Y, Qi B, Liu S, Qin X, Zhao B (2016) Upregulation of MALAT-1 and its association with survival rate and the effect on cell cycle and migration in patients with esophageal squamous cell carcinoma. Tumour Biol 37(4):4305–4312. https://doi.org/10.1007/s13277-015-4223-3

25.

Chen M, Xia Z, Chen C, Hu W, Yuan Y (2018) LncRNA MALAT1 promotes epithelial-to-mesenchymal transition of esophageal cancer through Ezh2-Notch1 signaling pathway. Anticancer Drugs 29:767–773

26.

Li Z, Zhou Y, Tu B, Bu Y, Liu A, Kong J (2017) Long noncoding RNA MALAT1 affects the efficacy of radiotherapy for esophageal squamous cell carcinoma by regulating Cks1 expression. J Oral Pathol Med 46(8):583–590. https://doi.org/10.1111/jop.12538

27.

Jin C, Yan B, Lu Q, Lin Y, Ma L (2016) Reciprocal regulation of Hsa-miR-1 and long noncoding RNA MALAT1 promotes triple-negative breast cancer development. Tumor Biol 37(6):7383–7394

28.

Ren G, Tian Q, An Y, Feng B, Lu Y, Liang J, Li K, Shang Y, Nie Y, Wang X, Fan D (2012) Coronin 3 promotes gastric cancer metastasis via the up-regulation of MMP-9 and cathepsin K. Mol Cancer 11:67. https://doi.org/10.1186/1476-4598-11-67

29.

Thal D, Xavier CP, Rosentreter A, Linder S, Clemen C (2007) Expression of coronin-3 (coronin-1C) in diffuse gliomas is related to malignancy. J Pathol 214(4):415–424

30.

Wang J, Tsouko E, Jonsson P, Bergh J, Hartman J, Aydogdu E, Williams C (2013) miR-206 inhibits cell migration through direct targeting of the actin-binding protein coronin 1C in triple-negative breast cancer. Mol Oncol 73(24 Supplement):1690–1702
Acknowledgements
This work was supported by Public service technology application research project of Zhejiang provincial department of science and technology (No. 2017C33183).
Ethics declarations
Conflict of interest
All authors declare that they have no conflict of interest.
Additional information
Publisher's Note
Springer Nature remains neutral with regard to jurisdictional claims in published maps and institutional affiliations.
Electronic supplementary material
Below is the link to the electronic supplementary material.
About this article
Cite this article
Li, Q., Dai, Z., Xia, C. et al. Suppression of long non-coding RNA MALAT1 inhibits survival and metastasis of esophagus cancer cells by sponging miR-1-3p/CORO1C/TPM3 axis. Mol Cell Biochem 470, 165–174 (2020). https://doi.org/10.1007/s11010-020-03759-x
Received:

Accepted:

Published:

Issue Date:
Keywords
Esophagus cancer

Competitive endogenous RNA

CORO1C

MALAT1

Metastasis

miR-1-3p