Abstract
Study of the characteristics and classification of geothermal gradients can effectively guide the exploration and development of geothermal resources. In this paper, we systematically compare the relationship between the distribution of the geothermal gradient and its basin structure, and numerically model the heat conduction course of typical geothermal–geological profiles. The results show that the distribution of the geothermal gradient in the Beijing–Tianjin–Hebei Plain exhibits the characteristics of east–west zonation, north–south segmentation, and vertical stratification. From west to east, the basin structure can be divided into five belts, viz. the western sag, the central bulge, the eastern sag, the Cangxian uplift, and the Cangdong sag belts. The heat flow and the geothermal gradient of the cap rocks in the basal bulge/uplift belts are higher than in the sag belts. From north to south, the basin structure of the Jizhong depression is subdivided into the northern, middle, and southern segments by the Xushui-Anxin and Hengshui Faults. It also shows an obvious distribution of low and high geothermal gradient interphases, which are similar to their upper and lower basement. Vertically, the geothermal gradient in the bulge/uplift belts exhibits an asymmetrical "mirror reflection" structure. Abnormal geothermal gradient distributions are observed, being confined to the basement uplift belts caused by the tectonic movement which led to the heterogeneity of the horizontal and vertical heat conduction capacity. Therefore, according to the corresponding relationship between the amplitude of the basement uplifting and the size of the geothermal gradient of the cap rock, the geothermal gradient of the Beijing–Tianjin–Hebei Plain can be divided into five categories, of high convex, convex, low convex, deep buried, and exposed types. Among these, the high convex and convex types are the primary targets for geothermal exploration and development.
This is a preview of subscription content, log in to check access.
Access options
Buy single article
Instant access to the full article PDF.
US$ 39.95
Price includes VAT for USA
Subscribe to journal
Immediate online access to all issues from 2019. Subscription will auto renew annually.
US$ 99
This is the net price. Taxes to be calculated in checkout.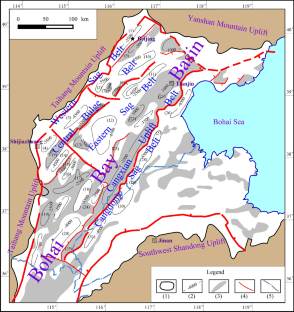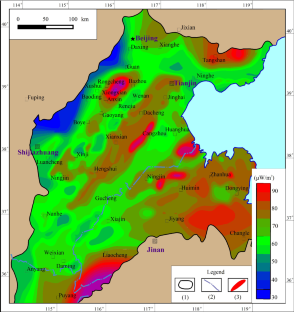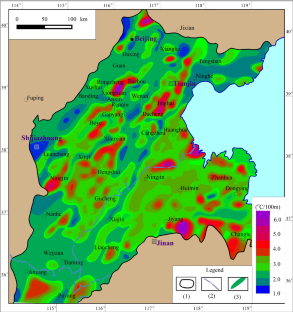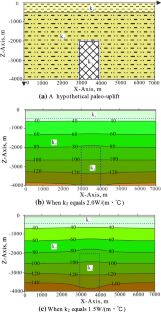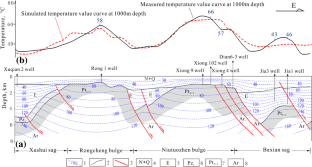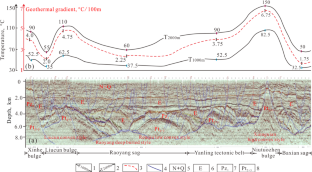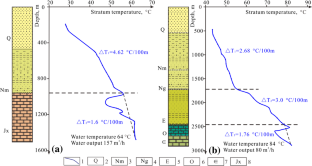 References
Axelsson G, Mongillo MA, Axelsson G (2010) Sustainable geothermal utilization—case histories; definitions; research issues and modelling. Geothermics 39(4):283–291

Cermark V, Rybach L (1989) Vertical distribution of heat production in the continental Crust. Tectonophysics 159:217–230

Chang J, Qiu NS, Zhao XZ (2016) Present-day geothermal regime of the Jizhong depression in Bohaiwan basin, East China. Chin J Geophys 59(3):1003–1016

Chapman DS, Rybach L (1985) Heat flow anomalies and their interpretations. J Geodynamics 4:3–37

Chen MX, Deng X (1990) The map of geothermal gradient of Cenozoic sedimentary cover in the North China plain and its brief explanation. Sci Geol Sin 3:270–277

Dong DW, Li L, Liu J, Li JY (2013) Cenozoic tectonic evolution in the north-central Jizhong Depression. Oil Gas Geol 34(6):771–780

Gong YL, Wang LS, Liu SW, Li C (2003) Distribution characteristics of terrestrial heat flow in Jiyang Depression. Sci China 33(4):384–391

Lao HG, Wu KY, Chen QH (2010) Geologic character and evolution of the accommodation zone in the Jizhong depression. J Geomech 16(3):223–310

Lee WHK (1970) On the global variations or terrestrial heat flow. Phys Earth Planet Inter 2:332–359

Lund JW, Freeston DH, Boyda TL (2011) Direct utilization of geothermal energy 2010 worldwide review. Geothermics 40:159–180

Ma G, Chang EX, Zhou RL (1983) A preliminary investigation on the characteristics of a geothermal field and the conditions for its formation in the northern part of the North China plain. Bull 562 Compr Geol Brigade Chin Acad Geol Sci 4:109–126

Qiao HS, Fang CL, Niu JY, Guan DS (2002) Petroleum geology of deep horizon in Bohaiwan Basin. Petroleum Industry Press, Beijing

Tao SZ, Liu DL (2000) Geothermal field characteristics of Tanlu Fault Zone and its neighboring regions, thermal spring genesis and its composition. Nat Gas Ind 20(6):42–47

Wang JY (2015) Geothermics and its application. Science Press, Beijing

Wang LS, Liu SW, Xiao WY, Li C (2002) Distribution characteristics of terrestrial heat flow in Bohaiwan Basin. Chin Sci Bull 47(2):151–155

Wu KY, Wang YJ, Li ZQ (2010) Palaeo-karst development model of the Pre-Tertiary carbonate rock in Jizhong depression. Carsol Sin 29(4):402–409

Wu WT, Gao XZ, Li L, Zhang DW, Liu B (2015) Favorable conditions formed in large-scale burial-hill reservoir in Bohaiwan Basin. Special Oil Gas Reserv 22(2):22–26

Xiong LP, Zhang JM (1984) Mathematical simulation of refract and redistribution of the flow. Sci Geol Sin 4:454–455

Xiong LP, Zhang JM (1988) Relationship between geothermal gradient and the relief of basement rock in North China plain. Acta Geophys Sin 31(2):146–155

Yan DS, Yu YT (2000) Evaluation and utilization of geothermal resources in oil and gas area of Beijing-Tianjin-Hebei. University of Geosciences Press, China

Yang MH (2009) Transfer structure and its relation to hydrocarbon exploration in Bohaiwan Basin. Acta Petrolei Sinica 30(6):816–823

Yuan Y, Zhu W, Mi L, Zhang G, Hu S, He L (2009) "Uniform geothermal gradient" and heat flow in the Qiongdongnan and Pearl River Mouth Basins of the South China Sea. Mar Pet Geol 26(7):1152–1162

Zhang WC, Cui ZQ, Han CY (2001) Evolution of palaeogene lacustrine basins and oil and gas potentials in the central Hebei depression. J Palaeogeogr 3(1):45–54

Zhou RL (1987) The activity of deep underground water in the northern part of the North China Plain and its effect on the geothermal field. China Acad Geol Sci 562 Brigade 6:17–35

Zhou RL, Liu QS, Zhang J, Yang LQ (1989) The geological characteristics and its development prospect of high uplift type geothermal field basin on Niutuozhen bedrock in North China faulted basin. China Acad Geol Sci Brigade 7(8):21–36
Acknowledgments
This study was supported by the Sinopec research funding for projects (JP14009, JKL18033, JKL18035). The authors would also like to thank Dr. Jinxia Liu, Dr. Zongying Zhou, Dr. Shaoqiang Sui, and Dr. Lu Ji for their support in finishing this study.
About this article
Cite this article
Wang, X., Mao, X., Mao, X. et al. Characteristics and Classification of the Geothermal Gradient in the Beijing–Tianjin–Hebei Plain, China. Math Geosci 52, 783–800 (2020). https://doi.org/10.1007/s11004-019-09814-8
Received:

Accepted:

Published:

Issue Date:
Keywords
Geothermal gradient

Numerical modeling

Geothermal reservoir type

The Beijing–Tianjin–Hebei Plain