Abstract
High Fischer ratio peptides have been used in many kinds of foods due to their special amino acid composition and health-promotion functions. The purpose of this study was to investigate the optimal enzymes for hydrolysis and activated carbon for adsorption during the preparation of high Fischer ratio peptides from soybean protein. Three and two enzymes were tried with different combinations for the first and second hydrolysis steps respectively. Eight types of activated carbon were tested for their adsorption capacity. Our results show that, after evaluating the branched-chain amino acids retention and Fischer ratio computation, double enzyme hydrolysis steps with alcalase and flavorzyme followed with powdered activated carbon adsorption could raise Fischer ratio from 2.96 to 18.9 though branched-chain amino acids dropped around 80%. By further comparing six different candidate carbons, AK-220 activated carbon was comparatively premium in terms of branched-chain amino acids retention, aromatic amino acids removal and total protein loss rate and its adsorption conditions were optimized as pH 5.5, carbon-hydrolysate ratio 0.1 and adsorption time of 3 h. Overall, our findings demonstrate that, after the sequential treatments of two enzymatic hydrolysis (alcalase and flavorzyme) and activated carbon (AK220) adsorption respectively, branched-chain amino acids could be maintained at around 60% while Fischer ratio was elevated about 4 times comparing with the untreated soybean protein. This study could pave the way for widening the value and application of soybean peptides with high Fischer ratio which would very likely be further used as food or medicine supplement.
Access options
Buy single article
Instant access to the full article PDF.
US$ 39.95
Tax calculation will be finalised during checkout.
Subscribe to journal
Immediate online access to all issues from 2019. Subscription will auto renew annually.
US$ 79
Tax calculation will be finalised during checkout.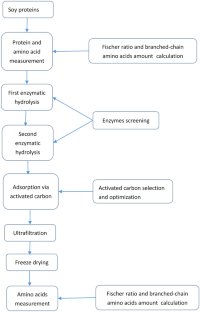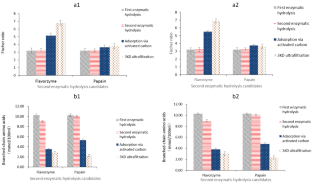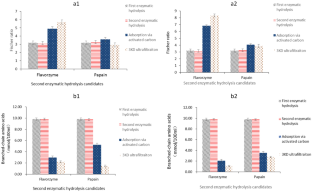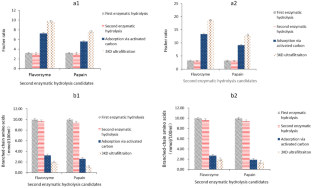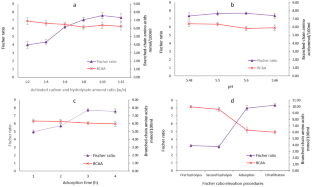 Data Availability
The datasets generated during and/or analyzed during the current study are available from the corresponding author on reasonable request.
References
Ashaolu TJ (2020) Health applications of soy protein hydrolysates. Int J Pept Res Ther. https://doi.org/10.1007/s10989-020-10018-6

Bautista J, Hernandez-Pinzon I, Alaiz M, Parrado J, Millan F (1996) Low molecular weight sunflower protein hydrolysate with low concentration in aromatic amino acids. J Agric Food Chem 44(4):967–971

Bautista J, Corpas R, Cremades O, Hernández-Pinzón I, Ramos R, Villanueva A, Sánchez-Vioque R, Clementeb A, Pedrochea J, Vioqueb J, Parrado J, Millán F (2000) Sunflower protein hydrolysates for dietary treatment of patients with liver failure. J Am Oil Chem Soc 77(2):121–126

Cermakova L, Kopecka I, Pivokonsky M, Pivokonska L, Janda V (2017) Removal of cyanobacterial amino acids in water treatment by activated carbon adsorption. Sep Purif Technol 173:330–338

Fischer JE (1990) Branched-chain-enriched amino acid solutions in patients with liver failure: an early example of nutritional pharmacology. JPEN-Parenter Enter 14(5):249S-256S

Gineys M, Benoit R, Cohaut N, Bèc F, Delpeux-Ouldriane S (2016) Grafting of activated carbon cloths for selective adsorption. Appl Surf Sci 370:522–527

Hu Y, Li Y, Liu XQ (2020) Soybean peptides promote yoghurt fermentation and quality. Biotechnol Lett 42:1927–1937

Jiang W, Yang Y, Tao R, Jiang X, Zhou X, Zhou Z (2017) Preparation of a novel chitosan-based biosorbent cross-linked with phenethylamine for adsorption of aromatic amino acids. Carbohydr Polym 176:236–245

Lan C, Zhao YQ, Li XR, Wang B (2019) High Fischer ratio oligopeptides determination from Antartic krill: preparation, peptides profiles, and in vitro antioxidant activity. J Food Biochem 43(5):e12827

Li T, Tian Y, Sun F, Wang Z, Zhou N (2019) Preparation of high Fischer's ratio corn oligopeptides using directed enzymatic hydrolysis combined with adsorption of aromatic amino acids for efficient liver injury repair. Process Biochem 84:60–72

Mada SB, Ugwu CP, Abarshi MM (2020) Health promoting effects of food-derived bioactive peptides: a review. Int J Pept Res Ther 26:831–848

Naghshi S, Sadeghi O, Willett WC, Esmaillzadeh A (2020) Dietary intake of total, animal, and plant proteins and risk of all cause, cardiovascular, and cancer mortality: systematic review and dose-response meta-analysis of prospective cohort studies. BMJ-Br Med J 370:m2412

Nakhost Z, Hsieh DST, Shih V, Rha CK (1982) Synthesis of low-phenylalanine polypeptides. Int J Pept Prot Res 20(3):267–275

Pedroche J, Yust MM, Lqari H, Girón-Calle J, Vioque J, Alaiz M, Millán F (2004) Production and characterization of casein hydrolysates with a high amino acid Fischer's ratio using immobilized proteases. Int Dairy J 14(6):527–533

Ren Y, Yang Y, Wu W, Zhang M, Wu H, Li X (2016) Identification and characterization of novel anticoagulant peptide with thrombolytic effect and nutrient oligopeptides with high branched chain amino acid from Whitmania pigra protein. Amino Acids 48(11):2657–2670

Shi TX, Li Y (2021) Producing high Fischer ratio peptides from milk protein and its application in infant formula milk powder. Qual Assur Saf Crop 13(1):49–58

Singh BP, Vij S, Hati S (2014) Functional significance of bioactive peptides derived from soybean. Peptides 54:171–179

Tanimoto SY, Tanabe S, Watanabe M, Arai S (1991) Enzymatic modification of zein to produce a non-bitter peptide fraction with a very high Fischer ratio for patients with hepatic encephalopathy. Agric Biol Chem 55(4):1119–1123

Udenigwe CC, Aluko RE (2010) Antioxidant and angiotensin converting enzyme-inhibitory properties of a flaxseed protein-derived high Fischer ratio peptide mixture. J Agric Food Chem 58(8):4762–5476

Wang Y, Song X, Feng Y, Cui Q (2019a) Changes in peptidomes and Fischer ratios of corn-derived oligopeptides depending on enzyme hydrolysis approaches. Food Chem 297:124931

Wang ZG, Ying XG, Wang YF, Yu XW, Luo HY (2019b) Structural analysis and activity evaluation of high Fischer ratio oligopeptides from minced meat of skipjack (Katsuwonus pelamis). J Aquat Food Prod Technol 28(10):1063–1075

Xu Y, Liu C (2007) Introduction of method for determination of degree of hydrolysis of protein hydrolysates. Food Res Dev 28(7):173–176 (In Chinese)

Yamashita M, Arai S, Fujimaki M (1976) A low-phenylalanine,high-tyrosine plastein as an acceptable dietetic food. Method of preparation by use of enzymatic protein hydrolysis and resynthesis. J Food Sci 41(5):1029–1032

Yu GC, Lv J, He H, Huang W, Han Y (2012) Hepatoprotective effects of corn peptides against carbon tetrachloride-induced liver injury in mice. J Food Biochem 36(4):458–464

Zhang LM, Li RC, Hao LM, Tian AY, Lu JK, Zhang JC (2014) Response surface methodology for optimization of extracting total flavonoids from maca leaves and antioxidant evaluation. Mod Food Sci Technol 30(4):233–239 (In Chinese)

Zheng H, Zhang C, Cao W, Liu S, Ji H (2009) Preparation and characterisation of the pearl oyster (Pinctada martensii) meat protein hydrolysates with a high Fischer ratio. Int J Food Sci Technol 44(6):1183–1191

Zhou M, Zhang C, Zeng S, Zheng H, Qin X, Ji H (2009) Preparation of oligo-peptides with high fischer ratio by enzymatic hydrolysis of oyster meat. Mod Food Sci Technol 25(7):751–755 (In Chinese)
Funding
This work was supported by National Key R&D Program of China (2016YFD0400401).
Ethics declarations
Conflict of interest
The authors have no conflict of interest to declare that are relevant to the content of this article.
Additional information
Publisher's Note
Springer Nature remains neutral with regard to jurisdictional claims in published maps and institutional affiliations.
About this article
Cite this article
Yan, L., Shi, T., Li, Y. et al. Optimization of Enzymatic Hydrolysis and Activated Carbon Adsorption for Producing High Fischer Ratio Peptides from Soy Protein. Int J Pept Res Ther (2021). https://doi.org/10.1007/s10989-021-10174-3
Keywords
Fischer ratio

Soy protein

Enzymatic hydrolysis

Activated carbon adsorption