Abstract
During the last decade there has been an alarming increase in the appearance of antibiotic-resistant bacteria. The drug-resistant microorganisms dubbed superbugs are projected to kill 10 million people a year by 2050. The annual frequency of deaths from Methicillin-resistant Staphylococcus aureus (MRSA) is rapidly increasing and surpassing those caused by human immunodeficiency virus/acquired immune deficiency syndrome (HIV/AIDS). Muramyl ligase E (MurE), an enzyme involved in the peptidoglycan biosynthesis of the bacterial cell wall, is a highly druggable target in MRSA. Six anti Methicillin-resistant Staphylococcus Aureus peptides were selected for deep bioinformatic analysis. The six anti-Methicillin-resistant Staphylococcus Aureus peptides were modeled and then docked to MurE ligase and their binding interactions were studied. The findings suggested that the interactions of three antimicrobial peptides (Flowlicidin-2, Ostricacin-2 and Ostricacin-3) with MurE could be essential for their inhibitory activity.
Access options
Buy single article
Instant access to the full article PDF.
US$ 39.95
Tax calculation will be finalised during checkout.
Subscribe to journal
Immediate online access to all issues from 2019. Subscription will auto renew annually.
US$ 79
Tax calculation will be finalised during checkout.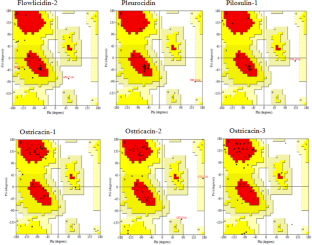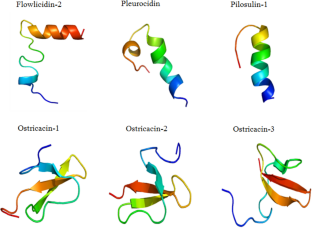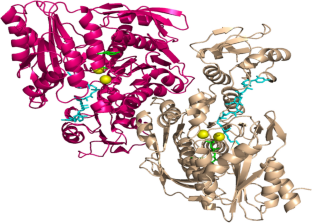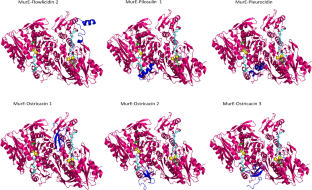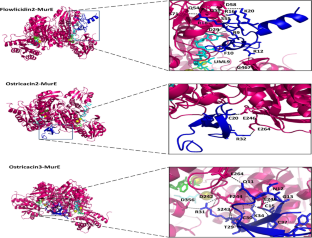 References
Aguilar-Toalá JE, Hernández-Mendoza A, González-Córdova AF, Vallejo Cordoba B, Liceaga AM (2019) Potential role of natural bioactive peptides for development of cosmeceutical skin products. Peptides 122:170170

Bancroft EA (2007) Antimicrobial resistance: it's not just for hospitals. JAMA 298:1803–1804

Barreteau H, Kovac A, Boniface A, Sova M, Gobec S, Blanot D (2008) Cytoplasmic steps of peptidoglycan biosynthesis. FEMS Microbiol 32:168–207

Bhattacharya D, Nowotny J, Cao R, Cheng J (2016) 3D refine: an interactive web server for efficient protein structure refinement. Nucl Acids Res 44(W1):W406–W409

Billones JB, Bangalan MAT (2019) Structure-based discovery of inhibitors against MurE in methicillin-resistant Staphylococcus aureus. Orient J Chem 35:618–625

Boman HG (1995) Peptide antibiotics and their role in innate immunity. Annu Rev Immunol 13:61–92

Bowie JU, Luthy R, Eisenberg D (1991) A method to identify protein sequences that fold into a known three-dimensional structure. Science 253:164–170

Brôtz H, Bierbaum G, Leopold K, Reynolds PE, Sahl HG (1998) The lantibiotic mersacidin inhibits peptidoglycan synthesis by targeting lipid ii. Antimicrob Agents Chemother 42:154–160

El Zoeiby A, Sanschagrin F, Levesque RC (2003) Structure and function of the Mur enzymes: development of novel inhibitors. Mol Microbiol 47:1–12

Kim A, Brogden (2005) Antimicrobial peptides: pore formers or metabolic inhibitors in bacteria? Nat Rev Microbiol 3:238–250

Kouidmi I, Levesque RC, Paradis-Bleau C (2014) The biology of Mur ligases as an antibacterial target. Mol Microbiol 94:242–253

Laskowski RA, MacArthur MW, Moss DS, Thornton JM (1993) PROCHECK: a program to check the stereochemical quality of protein structures. J Appl Cryst 26:283–291

Li-Chan EC (2015) Bioactive peptides and protein hydrolysates: research trends and challenges for application as nutraceuticals and functional food ingredients. Curr Opin Food Sci 1:28e37

Lto E, Strominger JL (1964) Enzymatic synthesis of the peptide in bacterial uridine nucleotides, iii. purification and properties of 1-lysin-adding enzyme. J Biol Chem 239:210–214

Luthy R, Bowie JU, Eisenberg D (1992) Assessment of protein models with three-dimensional profiles. Nature 356:83–85

Moraes GL, Gomes GC, Monteiro de Sousa PR, Alves CN, Govender T, Kruger HG, Lameira J (2015) Structural and functional features of enzymes of Mycobacterium tuberculosis peptidoglycan biosynthesis as targets for drug development. Tuberculosis 95:95–111

Nikolaidis I, Favini-Stabile S, Dessen A (2014) Resistance to antibiotics targeted to the bacterial cell wall . Protein Sci 23:243–259

Nongonierma A, Fitzgerald D (2016) Learnings from quantitative structure activity relationship (QSAR) studies with respect to food protein-derived bioactive peptides. RSC Adv 6:75400e75413

O'Neill J (2016) Tackling drug-resistant infections globally: final report and recommendations. Rev Antimicrobial Resist. Available from https://amr-review.org

Ruane KM et al (2013) Specificity determinants for lysine incorporation in Staphylococcus aureus peptidoglycan as revealed by the structure of a MurE enzyme ternary complex. JBC 288:33439–33448

Ryu S, Song PI, Seo CH, Cheong H et al (2014) Colonization and infection of the skin by S. aureus: immune system evasion and the response to cationic antimicrobial peptides. Int J Mol Sci 15:8753–8772

Simcic M, Sosic I, Hodoscek M, Barreteau H, Blanot D, Gobec S, Grdadolnik SG (2012) The binding mode of second-generation sulfonamide inhibitors of MurD: Clues for rational design of potent MurD inhibitors. PLoS ONE 7(12):e52817

Singh S, Singh H, Tuknait A, Chaudhary K, Singh B, Kumaran S, Raghava GP (2015) PEPstrMOD: structure prediction of peptides containing natural, non-natural and modified residues. Biol Direct 10:73

Singh M, Mukhopadhyay K (2014) Alpha-melanocyte stimulating hormone: an emerging anti-inflammatory antimicrobial peptide. Biomed Res Int 2014:874610

Stefano PP, Sessa L, Concilio S, Iannelli P (2012) YADAMP: yet another database of antimicrobial peptides. Int J Antimicrob Agents 39:346–351

Takahashi D, Shukla SK, Prakash O, Zhang G (2010) Structural determinants of host defense peptides for antimicrobial activity and target cell selectivity. Biochimie 92:1236–1241

Tomašic T, Šink R, Zidar N, Fic A, Contreras-Martel C, Dessen A, Mašic LP (2012) Dual inhibitor of MurD and MurE ligases from Escherichia coli and Staphylococcus aureus. ACS Med Chem Lett 3:626–630

Tu M, Cheng S, Lu W, Du M (2018) Advancement and prospects of bioinformatics analysis for studying bioactive peptides from food-derived protein: sequence, structure, and functions. TrAC Trends Anal Chem 105:7–17

Waghu FH, Barai RS, Gurung P, Idicula-Thomas S (2016) CAMPR3: a database on sequences, structures and signatures of antimicrobial peptides. Nucl Acids Res 44:1094–1097

Wang G, Li X, Wang Z (2016) APD3: the antimicrobial peptide database as a tool for research and education. Nucl Acids Res 44:1087–1093

Wang G (2010) Antimicrobial peptides: discovery, design and novel therapeutic strategies. CABI Wallingford

Yan Y, Tao H, He J, Huang SY (2020) The HDOCK server for integrated protein–protein docking. Nat Protoc 15:1829–1852

Zouhir A, Jridi T, Nefzi A, Ben Hamida J, Sebei K (2016) Inhibition of methicillin-resistant Staphylococcus aureus (MRSA) by antimicrobial peptides (AMPs) and plant essential oils. Pharm Biol 54:3136–3150
Ethics declarations
Conflict of interest
The authors declare that they have no conflict of interest.
Informed Consent
All authors gave informed consent to the submission of this manuscript.
Additional information
Publisher's Note
Springer Nature remains neutral with regard to jurisdictional claims in published maps and institutional affiliations.
About this article
Cite this article
Zouhir, A., Jemli, S., Omrani, R. et al. In Silico Molecular Analysis and Docking of Potent Antimicrobial Peptides Against MurE Enzyme of Methicillin Resistant Staphylococcus Aureus. Int J Pept Res Ther 27, 1253–1263 (2021). https://doi.org/10.1007/s10989-021-10165-4
Accepted:

Published:

Issue Date:
Keywords
Methicillin‐resistant Staphylococcus Aureus (MRSA)

AntiMRSA peptides

Molecular modeling

Molecular docking

Muramyl ligase E (MurE)

Antimicrobial peptides