Abstract
An efficient synthesis of Nα-protected amino nitriles from Nα-protected amino acid amides employing Ph3P, I2 and NMM was described. Various amino acid amides, protected by Fmoc, Z and Boc were conveniently converted to nitriles in high yields. Side chain protected amino acid amides were well-tolerated and a good yield of products was obtained. The protocol serves as one of the mild, among a few available, methods for the racemization-free conversion of Nα-protected amino acid amides to corresponding nitriles with neither harsh condition nor catalyst.
Graphic Abstract
Nα-protected amino acid amides were efficiently transformed to Nα-protected amino acid nitriles employing I2, PPh3, and NMM under mild reaction conditions. Fmoc, Boc and Cbz-protected amino acid amides were converted into their corresponding nitriles groups. Side chain protected amino acid amides also underwent facile conversion to their corresponding nitriles with good yields.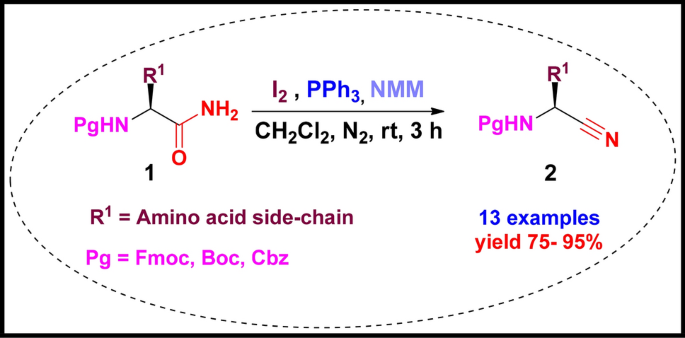 We're sorry, something doesn't seem to be working properly.
Please try refreshing the page. If that doesn't work, please contact support so we can address the problem.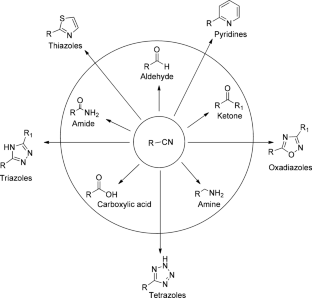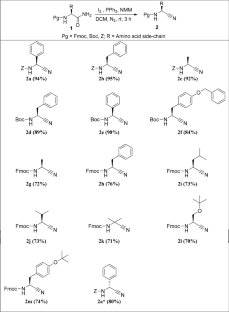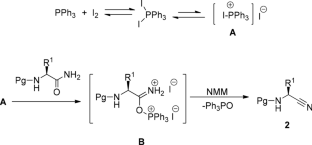 References
Aureggi V, Sedelmeier G (2007) 1,3-Dipolar cycloaddition: click chemistry for the synthesis of 5-substituted tetrazoles from organoaluminum azides and nitriles. Angew Chem Int Ed 46:8440–8444

Bosch L, Vilarrasa J (2007) Cu2(OTf)2-Catalyzed and microwave-controlled preparation of tetrazoles from nitriles and organic azides under mild, safe conditions. Angew Chem Int Ed 46:3926–3930

Bose DS, Narasaiah AV (2001) Use of PyBOP as a convenient activator for the synthesis of nitriles from primary amides. Synthesis 3:373–375

Caddick S, Haynes KK, Judd DB, Williams MRV (2000) Convenient synthesis of protected primary amines from nitriles. Tetrahedron Lett 41:3513–3516

Chavan SP, Khairnar LB, Chavan PN (2014) Efficient and mild method for preparation of allylic amines from aziridine-2-alcohols using PPh3/I2/imidazole. Tetrahedron Lett 55:5905–5907

Claremon DA, Philips BT (1988) An efficient chemoselective synthesis of nitriles from primary amides. Tetrahedron Lett 29:2155–2158

Elangovan S, Quintero-Duque S, Dorcet V, Roisnel T, Norel L, Darcel C, Sortias JB (2015) Knolker type iron complexes bearing an N-heterocyclic carbene ligand: synthesis, characterization, and catalytic dehydration of primary amides. Organometallics 34:4521–4528

Fatiadi AJ (1983) Preparation and synthetic application of cyano compounds. In: Patai S, Rappaport Z (eds) Triple-bonded functional groups, vol 2. Wiley, Chichester, pp 1057–1303

Heller B, Sundermann B, Buschmann H, Drexler HJ, You J, Holzgrabe U, Heller E, Oehme G (2002) Photocatalyzed [2+2+2]-cycloaddition of nitriles with acetylene: an effective method for the synthesis of 2-pyridines under mild conditions. J Org Chem 67:4414–4422

Iranpoor N, Firouzabadi H, Aghapour G (2002) A rapid and facile conversion of primary amides and aldoximes to nitriles and ketoximes to amides with triphenylphosphine and N-chlorosuccinimide. Synth Commun 32:2535–2541

Jasema YA, Barkhada M, Khazalib MA, Butta HP, El-Khwassc NA, Alazani M, Hindawid B, Thiemann T (2014) Two ways of preparing benzonitriles using BrCCl3-PPh3 as the reagent. J Chem Res 38:80–84

Keita M, Vandamme M, Paquin JF (2015) Synthesis of nitriles from aldoximes and primary amides using XtalFluor-E. Synthesis 47:3758–3766

Kim JN, Chung KH, Ryu EK (1990) Improved dehydration method of aldoximes to nitriles: use of acetonitrile to triphenylphosphine/carbon tetrachloride system. Synth Commun 20:2785–2788

Krynitsky JA, Carhart HW (1963) Org Synth Coll IV:436

Kuo CW, Zhu JL, Wu JD, Chu CM, Yao CF, Shia KS (2007) A convenient new procedure for converting primary amides into nitriles. Chem Commun. https://doi.org/10.1039/b614061k

Lehnert W (1971) Nitrile aus primären carbonsäureamiden mit TiCl4/base bei 0 °C. Tetrahedron Lett 19:1501–1502

Maetz P, Rodriguez M (1997) A simple preparation of N-protected chiral α-aminonitriles from N-protected α-amino acid amides. Tetrahedron Lett 38:4221–4222

Miller JS, Marson JL (2001) Designer magnets containing cyanides and nitriles. Acc Chem Res 34:563–570

Munoz JM, Alcazar J, Hoz A, Diaz-Ortiz A (2011) Application of flow chemistry to the reduction of nitriles to aldehydes. Tetrahedron Lett 52:6058–6060

Nakajima N, Ubukata M (1997) Preparation of nitriles from primary amides under Swern oxidation conditions. Tetrahedron Lett 38:2099–2102

Narasaiah AV, Nagaiah K (2004) An efficient and improved method for the preparation of nitriles from primary amides and aldoximes. Adv Synth Catal 346:1271–1274

Narasaiah AV, Sreenu D, Nagaiah K (2006) Triphenylphosphine-iodine: an efficient reagent system for the synthesis of nitriles from aldoximes. Synth Commun 36:137–140

Nishiwaki N, Kobiro K, Hirao S, Sawayama J, Saigo K, Ise Y, Okajima Y, Ariga M (2011) Inverse electron-demand 1,3-dipolar cycloaddition of nitrile oxide with common nitriles leading to 3-functionalized 1,2,4-oxadiazoles. Org Biomol Chem 9:6750–6754

Phakhodee W, Wangngae S, Pattarawarapan M (2017) Approach to the synthesis of 2,3-disubstituted-3H-quinazolin-4-ones mediated by Ph3P-I2. J Org Chem 82:8058–8066

Rad NMS, Soleimani F (2016) One-pot protocol for N-alkylation of purine, pyrimidine and azole derivatives via alcohols using Ph3P/I2: simple route for carboacyclic nucleoside synthesis. Tetrahedron 72:4947–4953

Rai A, Yadav LDS (2013) Cyclopropenone-catalyzed direct conversion of aldoximes and primary amides into nitriles. Eur J Org Chem 2013:1889–1893

Rappai JP, Karthikeyan J, Prathapan S, Unnikrishnan PA (2011) Simple and efficient one-pot synthesis of nitriles from amides and oximes using in situ-generated Burgess-type reagent. Synth Commun 41:2601–2606

Reisener DB, Horning EC (1963) Chloroacetonitrile. Org Synth Coll IV:144

Rickborn B, Jensen FR (1962) α-Carbon isomerization in amide dehydrations. J Org Chem 27:4608–4610

Santhosh L, Nagamangala SR, Thimmalapura VM, Sureshbabu VV (2017) Synthesis of 1,5-disubstituted tetrazole via Ugi-azide reaction: an asymmetric induction approach. Chem Select 2:5497–5500

Sureshbabu VV, Venkataramanarao R, Naik SA, Chennakrishnareddy G (2007) Synthesis of tetrazole analogues of amino acids using Fmoc chemistry: isolation of amino free tetrazoles and their incorporation into peptides. Tetrahedron Lett 48:7038–7041

Sureshbabu VV, Naik SA, Hemantha HP, Narendra N, Das U, Row TNG (2009a) N-Urethane-protected amino alkyl isothiocyanates: synthesis, isolation, characterization, and application to the synthesis of thioureidopeptides. J Org Chem 74:5260–5266

Sureshbabu VV, Naik SA, Nagendra G (2009b) Synthesis of Boc-amino tetrazoles derived from α-amino acids. Synth Commun 39:395–406

Tarleton M, Gilbert J, Sakoff JA, McCluskey A (2012) Cytotoxic 2-phenyacrylnitriles, the importance of the cyanide moiety and discovery of potent broad spectrum cytotoxic agents. Eur J Med Chem 57:65–73

Wang H, Ganesan A (2000) Total synthesis of the fumiquinazoline alkaloids: solution-phase studies. J Org Chem 65:1022–1030

Wang X, Wang QG, LuO QL (2015) Synthesis of isonitriles from N-substituted formamides using triphenylphosphine and iodine. Synthesis 47:49–54

Wanga MX (2015) Enantioselective biotransformations of nitriles in organic synthesis. Acc Chem Res 48:602–611

Wangngae S, Duangkamol C, Pattarawarapan M, Phakhodee W (2015) Significance of reagent addition sequence in the amidation of carboxylic acids mediated by PPh3 and I2. RSC Adv 5:25789–25793

Wangngae S, Pattarawarapan M, Phakhodee W (2017) Ph3P/I2-mediated synthesis of N,N′,N″-substituted guanidines and 2-iminoimidazolin-4-ones from aryl isothiocyanates. J Org Chem 82:10331–10340

Wojtkielewicz A, Totowski Z, Morzycki JW (2015) One-step synthesis of nitriles from acids, esters and amides using DIBAL-H and ammonium chloride. Synlett 26:2288–2292

Yadav AK, Srivastav VP, Yadav LDS (2014) Visible-light-mediated efficient conversion of aldoximes and primary amides into nitriles. RSC Adv 4:4181–4186

Yamaguchi K, Mizuno N (2014) Supported metal hydroxides as efficient heterogeneous catalyst for green functional group transformations. J Jpn Pet Inst 57:251–260

Zhou S, Addis D, Das S, Junge K, Beller M (2009a) New catalytic properties of iron complexes: dehydration of amides to nitriles. Chem Commun. https://doi.org/10.1039/b910145d

Zhou S, Junge K, Addis D, Das S, Beller MA (2009b) General and convenient catalytic synthesis of nitriles from amides and silanes. Org Lett 11:2461–2464
Acknowledgements
Shekharappa is thankful to University Grants Commission for NFSC. Roopesh Kumar L are thankful to DST Nano-mission, Government of India, for financial assistance.
Ethics declarations
Conflict of interest
The authors declare that this article content has no conflicts of interest.
Research Involving Human and Animal Participants
This article does not contain any studies with human participants or animals performed by any of the authors.
Informed Consent
The article does not contain any studies in patients by any of the authors.
Additional information
Publisher's Note
Springer Nature remains neutral with regard to jurisdictional claims in published maps and institutional affiliations.
Electronic Supplementary Material
Below is the link to the electronic supplementary material.
About this article
Cite this article
Shekharappa, Roopesh Kumar, L., Srinivasulu, C. et al. Dehydration of Chiral α-Amides to Chiral α-Nitriles Under the Appel Reaction Conditions. Int J Pept Res Ther 27, 497–502 (2021). https://doi.org/10.1007/s10989-020-10101-y
Accepted:

Published:

Issue Date:
Keywords
α-Amide

α-Nitrile

N-Methylmorpholine

Molecular iodine

Triphenylphosphine