Abstract
Natural compounds extracted from marine organisms consisting of biological active materials like collagen provide a major source of compound with medical applications including wound dressing particularly in co-treatment with other natural or synthetic materials to quick the wound healing process. The current study investigates the potential of Rutilus kutum skin-extracted collagen in combination with chitosan [collagen-chitosan (Col-CH) gel] for in vivo second-degree burn wound healing in rats following finding of the most effective collagen-chitosan ratio. Collagen and chitosan were extracted from R. Kutum skin and shell waste of shrimp, respectively, using acid–base method. SDS-PAGE was performed to determine subunit composition of collagen. After amino acid analysis using HPLC, different ratios of collagen and chitosan mixture (Col-CH, 1:3, 1:1 and 3:1) were prepared to fine the most effective of Col-CH gel on burn wound healing and compare to animals treated with silver sulfadiazine ointment. Wound surface area was analyzed using ImageJ software on days 15 and 30. H&E staining was performed to show the epithelialization, collagen deposition, fibroblast cell accumulation and vessel formation on days 15 and 30. The results from H&E were scored and quantified by pathologist. SDS-PAGE technique revealed that extracted-collagen was type 1 composed of two α (α1 and α2) chains. HPLC showed that Glycine was the most abundant amino acid which included one-third of total amino acid in the skin. The wound surface measurement showed a significant reduction in wound size in animals treated with Col-CH (1:1) compared to silver sulfadiazine treated group at day 25. Histopathological findings represented high score in epithelialization, vessel formation and a decrease in inflammatory cells infiltration in Col-CH (1:1) treated group on days 15 and 30. These data suggest collagen in combination with chitosan with 1:1 ratio can significantly restore burn wound compared to silver sulfadiazine ointment.
Access options
Buy single article
Instant access to the full article PDF.
US$ 39.95
Tax calculation will be finalised during checkout.
Subscribe to journal
Immediate online access to all issues from 2019. Subscription will auto renew annually.
US$ 79
Tax calculation will be finalised during checkout.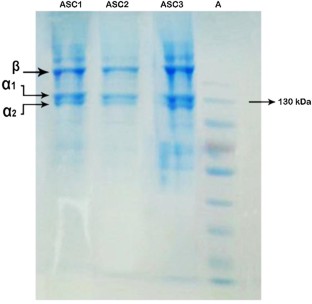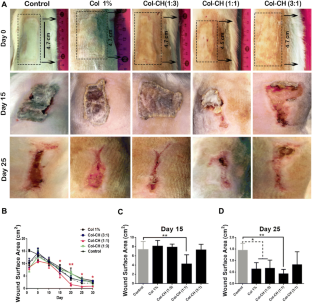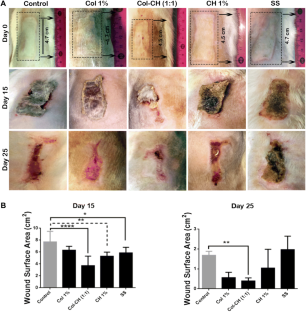 References
Alemdaroğlu C et al (2006) An investigation on burn wound healing in rats with chitosan gel formulation containing epidermal growth factor. Burns 32(3):319–327

AlizadehNodeh M, Moradi Z, Nourani MR (2014) Isolation and purification of collagen from the skin of black pomfret (Parastromateus niger) for tissue engineering purpose. J Appl Tissue Eng 1(1):18–21

Basha S et al (2011) Effects of fish scales extracted collagen biocasings on cutaneous wound healing in dogs. Res J Pharm, Biol Chem Sci 2(2):36–49

Bidlingmeyer BA, Tarvin TL, Cohen SA (1986) Amino acid analysis of submicrogram hydrolyzate samples. Methods in protein sequence analysis. Humana Press, Totowa, pp 229–245

Chen R-N et al (2006) Development of N, O-(carboxymethyl) chitosan/collagen matrixes as a wound dressing. Biomacromol 7(4):1058–1064

Cui F et al (2011) Development of chitosan-collagen hydrogel incorporated with lysostaphin (CCHL) burn dressing with anti-methicillin-resistant Staphylococcus aureus and promotion wound healing properties. Drug Deliv 18(3):173–180

Duan R et al (2009) Properties of collagen from skin, scale and bone of carp (Cyprinus carpio). Food Chem 112(3):702–706

Gharagheshlagh SN, Nourani MR, Jamili S, Javad M (2018) Isolation and Characterization of acid-soluble Collagen from the Skin of Scomberomorus guttatus of Persian Gulf. J of Applied Tissue Engineering 5(3)

Gonzalez AC et al (2016) Wound healing-a literature review. An Bras Dermatol 91(5):614–620

Hema GS, Shyni K, Mathew S, Anandan R, Ninan G, Lakshmanan PT (2013) A simple method for isolation of fish skin collagen-Biochemical characterization of skin collagen extracted from albacore tuna (Thunnus alalunga), dog shark (Scoliodon sorrakowah) and rohu (Labeo rohita). Ann Biol Res 4(1):271-278

Hu Z et al (2017) Marine collagen peptides from the skin of Nile Tilapia (Oreochromis niloticus): characterization and wound healing evaluation. Marine Drugs 15(4):102

Intaraprasita S et al (2012) Efficacy evaluation of the fibroblast-seeded collagen/chitosan scaffold on application in skin tissue engineering. ScienceAsia 38:268–277

Jongjareonrak A et al (2005) Isolation and characterisation of acid and pepsin-solubilised collagens from the skin of Brownstripe red snapper (Lutjanus vitta). Food Chem 93(3):475–484

Kadler KE et al (1996) Collagen fibril formation. Biochem J 316(1):1–11

Kirichenko A et al (2013) Morphological study of burn wound healing with the use of collagen-chitosan wound dressing. Bull Exp Biol Med 154(5):692–696

Kumar NS, Nazeer R, Jaiganesh R (2012) Wound healing properties of collagen from the bone of two marine fishes. Int J Pept Res Ther 18(3):185–192

Laemmli UK (1970) Cleavage of structural proteins during the assembly of the head of bacteriophage T4. Nature 227:680

Landén NX, Li D, Ståhle M (2016) Transition from inflammation to proliferation: a critical step during wound healing. Cell Mol Life Sci 73(20):3861–3885

Latifi N, Karimi H (2017) Correlation of occurrence of infection in burn patients. Ann Burns Fire Disasters 30(3):172

Liu H, Li D, Guo S (2007) Studies on collagen from the skin of channel catfish (Ictalurus punctaus). Food Chem 101(2):621–625

Ma L et al (2003) Collagen/chitosan porous scaffolds with improved biostability for skin tissue engineering. Biomaterials 24(26):4833–4841

Milan PB et al (2020) Decellularization and preservation of human skin: A platform for tissue engineering and reconstructive surgery. Methods 171:62-67

Muyonga J, Cole C, Duodu K (2004) Characterisation of acid soluble collagen from skins of young and adult Nile perch (Lates niloticus). Food Chem 85(1):81–89

Naderi Gharagheshlagh S et al (2019) Isolation and characterization of acid-soluble collagen from the skin of Rutilus Frisii Kutum (Kamensky) of the Caspian Sea. Iran J Fish Sci. https://doi.org/10.22092/ijfs.2019.118957

Nascimento EG et al (2009) Evaluation of chitosan gel with 1% silver sulfadiazine as an alternative for burn wound treatment in rats. Acta Cir Bras 24(6):460–465

Ogawa M et al (2004) Biochemical properties of bone and scale collagens isolated from the subtropical fish black drum (Pogonia cromis) and sheepshead seabream (Archosargus probatocephalus). Food Chem 88(4):495–501

Rahman MS et al (2019) Characterization of burn wound healing gel prepared from human amniotic membrane and Aloe vera extract. BMC Complement Altern Med 19:115

Rane MM, Mengi SA (2003) Comparative effect of oral administration and topical application of alcoholic extract of Terminalia arjuna bark on incision and excision wounds in rats. Fitoterapia 74(6):553–558

Senaratne L, Park P-J, Kim S-K (2006) Isolation and characterization of collagen from brown backed toadfish (Lagocephalus gloveri) skin. Biores Technol 97(2):191–197

Shahidi F (1994) Seafood processing by-products. Seafoods: chemistry, processing technology and quality. Springer, New York, pp 320–334

Shen X-R et al (2017) Beneficial effects of a novel shark-skin collagen dressing for the promotion of seawater immersion wound healing. Mil Med Res 4(1):33

Singh P et al (2011) Isolation and characterisation of collagen extracted from the skin of striped catfish (Pangasianodon hypophthalmus). Food Chem 124(1):97–105

Tahvildari K, Mojahedi H (2016) Investigation of poly aromatic hydrocarbons adsorption using chitosan and its synthetic derivatives. Trends Life Sci 5:2319–5037

Tylingo R et al (2016) Isolation and characterization of acid soluble collagen from the skin of african catfish (Clarias gariepinus), salmon (Salmo salar) and baltic cod (Gadus morhua). J Biotechnol Biomater 6(2):1–6

Ueno H et al (2001) Evaluation effects of chitosan for the extracellular matrix production by fibroblasts and the growth factors production by macrophages. Biomaterials 22(15):2125–2130

Wang L et al (2007) Isolation and characterization of collagen from the skin of deep-sea redfish (Sebastes mentella). J Food Sci 72(8):E450–E455

Wang W et al (2008) Acceleration of diabetic wound healing with chitosan-crosslinked collagen sponge containing recombinant human acidic fibroblast growth factor in healing-impaired STZ diabetic rats. Life Sci 82(3–4):190–204

Ward A (1958) The British gelatine and glue research association. Nature 182(4633):439–440

Xuehui Z, Yuquan C, Hunian Z (2007) Causes of burn-out of articulated phase breaker cable and its prevention measures [J]. Electr Railw 4:32–35

Yan M et al (2008) Characterization of acid-soluble collagen from the skin of walleye pollock (Theragra chalcogramma). Food Chem 107(4):1581–1586

Yates CC et al (2007) The effect of multifunctional polymer-based gels on wound healing in full thickness bacteria-contaminated mouse skin wound models. Biomaterials 28(27):3977–3986

Zhang J et al (2009) Characterisation of acid-soluble collagen from skin of silver carp (Hypophthalmichthys molitrix). Food Chem 116(1):318–322
Funding
This study was funded by Iran University of Medical Science (Grant Number 93-04-29-25335-1).
Ethics declarations
Conflict of interest
All Authors declares that we have no conflict of interest.
Ethical Approval
All applicable international, national, and/or institutional guidelines for the care and use of animals were followed.
Additional information
Publisher's Note
Springer Nature remains neutral with regard to jurisdictional claims in published maps and institutional affiliations.
About this article
Cite this article
Naderi Gharehgheshlagh, S., Fatemi, M.J., Jamili, S. et al. A Dermal Gel Made of Rutilus Kutum Skin Collagen-Chitosan for Deep Burn Healing. Int J Pept Res Ther 27, 317–328 (2021). https://doi.org/10.1007/s10989-020-10082-y
Accepted:

Published:

Issue Date:
Keywords
Fish collagen

Skin

Rutilus kutum

Chitosan

Burn

Healing