Abstract
A primary risk factor of cardiovascular disease is referred to the high concentration of plasma cholesterol. The alleviation of plasma cholesterol and inhibition of the catalytic domain of human 3-hydroxy-3-methylglutaryl coenzyme A reductase (HMGCR), provides an alternative therapeutic candidate for reducing cholesterol. The present study evaluates the impact of rice bran protein hydrolysate (RBPH) on cholesterol homeostasis. The RBPH was produced by in vitro digestion of the extracted protein using commercial pepsin and pancreatic enzymes under optimized conditions. The hydrolysate was subjected to RP-HPLC and LC–MS profiling indicating three major peaks having masses ranging from 120 to 903 m/z. The degree of hydrolysis for producing the bioactive peptides has been marked with 61.53 ± 0.36%. SDS-PAGE reveals resistance to digestion compared to the native protein extracted from rice bran. The RBPH regulates the cholesterol level in two ways, the first potential role is by restricting the recycling of bile salts to the liver via direct excretion, second by exhibiting maximum micellar cholesterol inhibitory capacity and HMGCR inhibition in a dose dependent manner. The modulatory effect of RBPH on cholesterol homeostasis suggests hypocholesterolaemic property which could find an excellent application in developing physiological functional foods.
Access options
Buy single article
Instant access to the full article PDF.
US$ 39.95
Tax calculation will be finalised during checkout.
Subscribe to journal
Immediate online access to all issues from 2019. Subscription will auto renew annually.
US$ 79
Tax calculation will be finalised during checkout.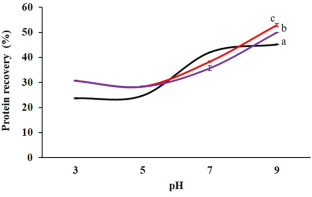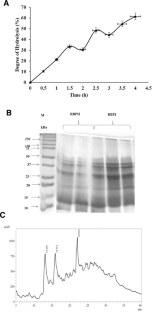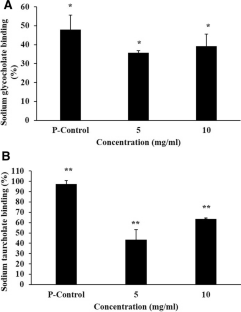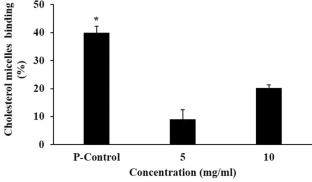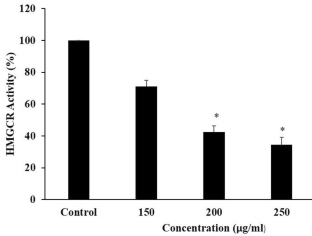 References
Adler-Nissen J (1986) Enzymic hydrolysis of food proteins. Elsevier Applied Science Publishers, Amsterdam

Arnoldi A, Boschin G, Zanoni C, Lammi C (2015) The health benefits of sweet lupin seed flours and isolated proteins. Journal of Functional Foods 18:550–563

Boyd GS, Eastwood MA, MacLean N (1966) Bile acids in the rat: studies in experimental occlusion of the bile duct. J Lipid Res 7(1):83–94

Brown MS, Goldstein JL (1997) The SREBP pathway: regulation of cholesterol metabolism by proteolysis of a membrane-bound transcription factor. Cell 89(3):331–340

Buhaescu I, Izzedine H (2007) Mevalonate pathway: a review of clinical and therapeutical implications. Clin Biochem 40(9–10):575–584

Chandi GK, Sogi DS (2007) Functional properties of rice bran protein concentrates. J Food Eng 79(2):592–597

de Castro RJ, Sato HH (2014) Antioxidant activities and functional properties of soy protein isolate hydrolysates obtained using microbial proteases. Int J Food Sci Technol 49(2):317–328

Fabian C, Ju YH (2011) A review on rice bran protein: its properties and extraction methods. Crit Rev Food Sci Nutr 51(9):816–827

Frota KMG, Mendonça S, Saldiva PHN, Cruz RJ, Arêas JAG (2008) Cholesterol-lowering properties of whole cowpea seed and its protein isolate in hamsters. J Food Sci 73(9):H235–H240

Goldstein JL, Brown MS (1990) Regulation of the mevalonate pathway. Nature 343(6257):425–430

Halder SK, Fink M, Waterman MR, Rozman D (2002) A cAMP-responsive element binding site is essential for sterol regulation of the human lanosterol 14α-demethylase gene (CYP51). Mol Endocrinol 16(8):1853–1863

Helm RM, Burks AW (1996) Hypoallergenicity of rice protein. Cereal Foods World 41(11):839–843

Helvich K (1990) Official methods of analysis. Association of Official Analytical Chemists. No. 630.24 A88 1990.

Istvan ES, Deisenhofer J (2000) The structure of the catalytic portion of human HMG-CoA reductase. Biochim Biophys Acta (BBA) 1529(1–3):9–18

Istvan ES, Palnitkar M, Buchanan SK, Deisenhofer J (2000) Crystal structure of the catalytic portion of human HMG-CoA reductase: insights into regulation of activity and catalysis. EMBO J 19(5):819–830

Iwami K, Sakakibara K, Ibuki F (1986) Involvement of post-digestion'hydrophobia'peptides in plasma cholesterol-lowering effect of dietary plant proteins. Agric Biol Chem 50(5):1217–1222

Kannel WB, Castelli WP, Gordon T, McNamara PM (1971) Serum cholesterol, lipoproteins, and the risk of coronary heart disease: the Framingham study. Ann Intern Med 74(1):1–12

Keyhani J, Keyhani E (1978) Mevalonic acid as a precursor of the alkyl sidechain of heme a of cytochrome c oxidase in yeast Saccharomyces cerevisiae. FEBS Lett 93(2):271–274

Kirana C, Rogers PF, Bennett LE, Abeywardena MY, Patten GS (2005) Naturally derived micelles for rapid in vitro screening of potential cholesterol-lowering bioactives. J Agric Food Chem 53(11):4623–4627

Laemmli UK (1970) Cleavage of structural proteins during the assembly of the head of bacteriophage T4. Nature 227(5259):680–685

Lammi C, Zanoni C, Aiello G, Arnoldi A, Grazioso G (2016) Lupin peptides modulate the protein-protein interaction of PCSK9 with the low density lipoprotein receptor in HepG2 cells. Sci Rep 6(1):1–13

Lowry OH, Rosebrough NJ, Farr AL, Randall RJ (1951) Protein measurement with the Folin phenol reagent. J Biol Chem 193:265–275

Ma Y, Xiong YL (2009) Antioxidant and bile acid binding activity of buckwheat protein in vitro digests. J Agric Food Chem 57(10):4372–4380

Mach F (2004) Statins as immunomodulatory agents. Circulation 109(21):2–15

Mancuso JR, McClements DJ, Decker EA (1999) The effects of surfactant type, pH, and chelators on the oxidation of salmon oil-in-water emulsions. J Agric Food Chem 47(10):4112–4116

Mendonça S, Saldiva PH, Cruz RJ, Arêas JA (2009) Amaranth protein presents cholesterol-lowering effect. Food Chem 116(3):738–742

Morita T, Oh-hashi A, Kasaoka S, Ikai M, Kiriyama S (1996) Rice protein isolates produced by the two different methods lower serum cholesterol concentration in rats compared with casein. J Sci Food Agric 71(4):415–424

Murre C (1992) The helix-loop-helix motif. In Nucleic acids and molecular biology (pp 102–111). Springer, Berlin

Nagaoka S, Futamura Y, Miwa K, Awano T, Yamauchi K, Kanamaru Y, Tadashi K, Kuwata T (2001) Identification of novel hypocholesterolemic peptides derived from bovine milk β-lactoglobulin. Biochem Biophys Res Commun 281(1):11–17

Pal GK, Suresh PV (2016) Sustainable valorisation of seafood by-products: recovery of collagen and development of collagen-based novel functional food ingredients. Innov Food Sci Emerg Technol 37:201–215

Pandolf T, Clydesdale FM (1992) Dietary fiber binding of bile acid through mineral supplementation. J Food Sci 57(5):1242–1246

Rani S, Pooja K, Pal GK (2018) Exploration of rice protein hydrolysates and peptides with special reference to antioxidant potential: computational derived approaches for bio-activity determination. Trends Food Sci Technol 80:61–70

Segatto M, Trapani L, Di Tunno I, Sticozzi C, Valacchi G, Hayek J, Pallottini V (2014) Cholesterol metabolism is altered in Rett syndrome: a study on plasma and primary cultured fibroblasts derived from patients. PLoS ONE 9(8):e104834

Sharif MK, Butt MS, Anjum FM, Khan SH (2014) Rice bran: a novel functional ingredient. Crit Rev Food Sci Nutr 54(6):807–816

Shimomura I, Shimano H, Horton JD, Goldstein JL, Brown MS (1997) Differential expression of exons 1a and 1c in mRNAs for sterol regulatory element binding protein-1 in human and mouse organs and cultured cells. J Clin Investig 99(5):838–845

Shoji Y, Mita T, Isemura M, Mega T, Hase S, Isemura S, Aoyagi Y (2001) A fibronectin-binding protein from rice bran with cell adhesion activity for animal tumor cells. Biosci Biotechnol Biochem 65(5):1181–1186

Soares RAM, Mendonça S, De Castro LÍA, Menezes ACCCC, Arêas JAG (2015) Major peptides from amaranth (Amaranthus cruentus) protein inhibit HMG-CoA reductase activity. Int J Mol Sci 16(2):4150–4160

Sohail M, Rakha A, Butt MS, Iqbal MJ, Rashid S (2017) Rice bran nutraceutics: a comprehensive review. Crit Rev Food Sci Nutr 57(17):3771–3780

Sreedhar R, Tiku PK (2016) Cupincin: a unique protease purified from rice (Oryza sativa L.) bran is a new member of the cupin superfamily. PLoS ONE. https://doi.org/10.1371/journal.pone.0152819

Story JA, Kritchevsky D (1976) Comparison of the binding of various bile acids and bile salts in vitro by several types of fiber. J Nutr 106(9):1292–1294

Takao T, Watanabe N, Yuhara K, Itoh S, Suda S, Tsuruoka Y, Nakatsugawa K, Konishi Y (2005) Hypocholesterolemic effect of protein isolated from quinoa (Chenopodium quinoa Willd) seeds. Food Sci Technol Res 11(2):161–167

Tapal A, Vegarud GE, Sreedhara A, Tiku PK (2019) Nutraceutical protein isolate from pigeon pea (Cajanus cajan) milling waste by-product: functional aspects and digestibility. Food Funct 10(5):2710–2719

Tomotake H, Shimaoka I, Kayashita J, Yokoyama F, Nakajoh M, Kato N (2001) Stronger suppression of plasma cholesterol and enhancement of the fecal excretion of steroids by a buckwheat protein product than by a soy protein isolate in rats fed on a cholesterol-free diet. Biosci Biotechnol Biochem 65(6):1412–1414

Udenigwe CC, Aluko RE (2012) Food protein-derived bioactive peptides: production, processing, and potential health benefits. J Food Sci 77(1):R11–R24

Vallabha VS, Tapal A, Sukhdeo SV, Govindaraju K, Tiku PK (2016) Effect of arginine: lysine ratio in free amino acid and protein form on l-NAME induced hypertension in hypercholesterolemic Wistar rats. RSC Adv 6(77):73388–73398

Wang J, Shimada M, Kato Y, Kusada M, Nagaoka S (2015) Cholesterol-lowering effect of rice bran protein containing bile acid-binding proteins. Biosci Biotechnol Biochem 79(3):456–461

Wang X, Chen H, Fu X, Li S, Wei J (2017) A novel antioxidant and ACE inhibitory peptide from rice bran protein: biochemical characterization and molecular docking study. LWT 75:93–99

Yang L, Kumagai T, Kawamura H, Watanabe T, Kubota M, Fujimura S, Watanabe R, Kadowaki M (2007) Effects of rice proteins from two cultivars, Koshihikari and Shunyo, on cholesterol and triglyceride metabolism in growing and adult rats. Biosci Biotechnol Biochem 71(3):694–703

Yoshida A, Fukui H, Aoyama Y, Oda H (1990) Comparative studies on soy protein and rice protein for cholesterol metabolism in rats. J Nutr Sci Vitaminol 36(2):S137–S139

Zhou L, Zhang Y, Zhao C, Lin H, Wang Z, Wu F (2017) Structural and functional properties of rice bran protein oxidized by peroxyl radicals. Int J Food Propert 20(2):1456–1467
Acknowledgments
We thank Director, CSIR-Central Food Technological Research Institute, Mysore (CFTRI) for his support and providing the facility to carry out the scientific work in the institute. LVK acknowledges the support by CSIR-CFTRI for allowing her to carry out M.Sc investigation in the Protein Chemistry and Technology department, CSIR-CFTRI. VK acknowledges Senior Research fellowship from University of Grant Commission, New Delhi, INDIA.
Ethics declarations
Conflict of interest
There are no conflicts of interest to be declared by the authors.
Additional information
Publisher's Note
Springer Nature remains neutral with regard to jurisdictional claims in published maps and institutional affiliations.
Electronic supplementary material
Below is the link to the electronic supplementary material.
About this article
Cite this article
Kumar, V., Kurup, L.V. & Tiku, P.K. The Modulatory Effect of Cholesterol Synthesis by Oryza sativa Derived Bioactive Peptide Fractions: An In Vitro Investigation. Int J Pept Res Ther 27, 245–251 (2021). https://doi.org/10.1007/s10989-020-10079-7
Accepted:

Published:

Issue Date:
Keywords
Cholesterol micellar

HMGCR

Hypocholesterolaemic

Bioactive peptides

Oryzae sativa

Sodium glycocholate

Sodium taurocholate

Sodium deoxycholate