Abstract
The significant role of proteases in the cancer progression exposed them as potential targets for drug discovery. Regulating protease activities using protease inhibitors is one of the major therapeutic strategies for the treatment of cancer. The proteolysis activities of serine proteases in different stages of metastasis can be regulated by serine protease inhibitors. In the present work, the application of a peptide trypsin inhibitor (TI) from Oceanimonas sp. BPMS22 in cancer treatment was exploited. Initially, the process parameters such as initial medium pH, glucose, yeast extract, and sodium chloride concentrations were optimized for the maximum inhibitor activity using Response surface methodology. The maximum specific trypsin inhibitor activity observed was 40.16 ± 1.33 IU/mg protein at predicted critical conditions, glucose, 19.51 g/L; yeast extract, 23.04 g/L; sodium chloride, 28.29 g/L; and pH 7.26. Further, the apoptotic cell death of purified trypsin inhibitor-treated human chronic myeloid leukemia (K562) cell lines was demonstrated by MTT assay, AO/EtBr staining, and DNA ladder assay. The cellular oxidative stress in K562 cells was confirmed by glutathione levels and fluorescence imaging of ROS generation.
Access options
Buy single article
Instant access to the full article PDF.
US$ 39.95
Tax calculation will be finalised during checkout.
Subscribe to journal
Immediate online access to all issues from 2019. Subscription will auto renew annually.
US$ 79
Tax calculation will be finalised during checkout.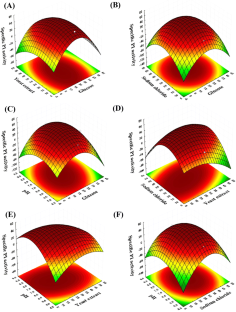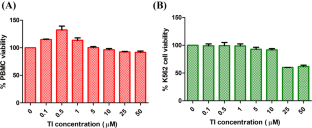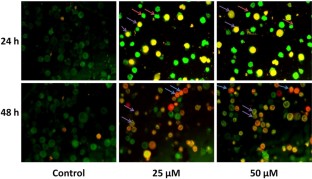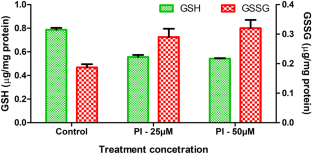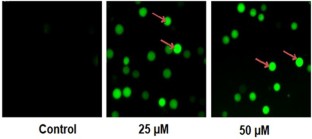 References
Ahmad S, Ahsan AA (2011) Therapeutic roles of heparin anticoagulants in cancer and related disorders. Med Chem 7:504–517

Ahmadi M, Vahabzadeh F, Bonakdarpour B, Mofarrah E, Mehranian M (2005) Application of the central composite design and response surface methodology to the advanced treatment of olive oil processing wastewater using Fenton's peroxidation. J Hazard Mater 123:187–195

An W, Hwang S, Trepel J, Blagosklonny M (2000) Protease inhibitor-induced apoptosis: accumulation of wt p53, p21 WAF1/CIP1, and induction of apoptosis are independent markers of proteasome inhibition. Leukemia 14:1276

Anthony P, Harish B, Jampala P, Ramanujam S, Uppuluri KB (2016) Statistical optimization, purification and applications of xylanase produced from mixed bacteria in a solid liquid fermentation using Prosopis juliflora. Biocatal Agric Biotechnol 8:213–220

Bai CZ, Feng ML, Hao XL, Zhao ZJ, Li YY, Wang ZH (2015) Anti-tumoral effects of a trypsin inhibitor derived from buckwheat in vitro and in vivo. Mol Med Rep 12:1777–1782

Brisdelli F, Coccia C, Cinque B, Cifone MG, Bozzi A (2007) Induction of apoptosis by quercetin: different response of human chronic myeloid (K562) and acute lymphoblastic (HSB-2) leukemia cells. Mol Cell Biochem 296:137–149

Cai Y, Lu J, Miao Z, Lin L, Ding J (2007) Reactive oxygen species contribute to cell killing and P-glycoprotein downregulation by salvicine in multidrug resistant K562/A02 cells. Cancer Biol Therapy 6:1794–1799

Caine GJ, Lip GY (2002) Anticoagulants as anticancer agents? Lancet Oncol 3:591–592

Carley KM, Kamneva NY, Reminga J (2004) Response surface methodology: CASOS technical report Center for Computational Analysis of Social and Organizational Systems. Carnegie Mellon University, Pittsburgh

Castro-Guillén JL, García-Gasca T, Blanco-Labra A (2010) Protease inhibitors as anticancer agents. Nova Science Publishers Inc, New York

Chen Y-W, Huang S-C, Lin-Shiau S-Y, Lin J-K (2005) Bowman-Birk inhibitor abates proteasome function and suppresses the proliferation of MCF7 breast cancer cells through accumulation of MAP kinase phosphatase-1. Carcinogenesis 26:1296–1306

Croucher DR, Saunders DN, Lobov S, Ranson M (2008) Revisiting the biological roles of PAI2 (SERPINB2) in cancer. Nat Rev Cancer 8:535

Danø K, Behrendt N, Høyer-Hansen G, Johnsen M, Lund LR, Ploug M, Rømer J (2005) Plasminogen activation and cancer. Thromb Haemost 93:676–681

Dash SK et al (2015) Folate decorated delivery of self assembled betulinic acid nano fibers: a biocompatible anti-leukemic therapy. RSC Advances 5:24144–24157

de Sá Junior PL, Câmara DAD, Porcacchia AS, Fonseca PMM, Jorge SD, Araldi RP, Ferreira AK (2017) The roles of ROS in cancer heterogeneity and therapy. Oxid Med Cell Longev. https://doi.org/10.1155/2017/2467940

Dia VP, Krishnan HB (2016) BG-4, a novel anticancer peptide from bitter gourd (Momordica charantia), promotes apoptosis in human colon cancer cells. Sci Rep 6:33532

Dinarvand M, Rezaee M, Foroughi M (2017) Optimizing culture conditions for production of intra and extracellular inulinase and invertase from Aspergillus niger ATCC 20611 by response surface methodology (RSM). Braz J Microbiol 48:427–441

Fereidunian A, Sadeghalvad M, Oscoie MO, Mostafaie A (2014) Soybean Bowman-Birk protease inhibitor (BBI): Identification of the mechanisms of BBI suppressive effect on growth of two adenocarcinoma cell lines: AGS and HT29. Archives Med Res 45:455–461

Fritz H, Tschesche H, Fink E (1976) Proteinase inhibitors from boar seminal plasma. Methods Enzymol 45:834–847

Griffith OW (1980) Determination of glutathione and glutathione disulfide using glutathione reductase and 2-vinylpyridine. Anal Biochem 106:207–212

Guo J, Zhao W, Hao W, Ren G, Lu J, Chen X (2014) Cucurbitacin B induces DNA damage, G2/M phase arrest, and apoptosis mediated by reactive oxygen species (ROS) in leukemia K562 cells. Anti-Cancer Agents Med Chem 14:1146–1153

Harish B, Uppuluri KB (2018a) Modeling of growth kinetics for an isolated marine bacterium, Oceanimonas sp. BPMS22 during the production of a trypsin inhibitor. Prep Biochem Biotechnol 48:1–8

Harish B, Uppuluri KB (2018b) Potential anticoagulant activity of trypsin inhibitor purified from an isolated marine bacterium Oceanimonas sp. BPMS22 and its Kinetics. Mar Biotechnol 20:1–12

Harish BS, Uppuluri KB (2018c) Microbial serine protease inhibitors and their therapeutic applications. Int J Biol Macromol 107:1373–1387. https://doi.org/10.1016/j.ijbiomac.2017.09.115

Ilies MA, Supuran CT, Scozzafava A (2002) Therapeutic applications of serine protease inhibitors. Expert Opin Ther Pat 12:1181–1214

Inan M, Chiruvolu V, Eskridge KM, Vlasuk GP, Dickerson K, Brown S, Meagher MM (1999) Optimization of temperature–glycerol–pH conditions for a fed-batch fermentation process for recombinant hookworm (Ancylostoma caninum) anticoagulant peptide (AcAP-5) production by Pichia pastoris. Enzyme Microbial Technol. 24:438–445

Jeong C-H, Joo SH (2016) Downregulation of reactive oxygen species in apoptosis. J Cancer Prev 21:13

Kasibhatla S, Amarante-Mendes GP, Finucane D, Brunner T, Bossy-Wetzel E, Green DR (2006) Acridine orange/ethidium bromide (AO/EB) staining to detect apoptosis. Cold Spring Harbor Protocols. https://doi.org/10.1101/pdb.prot4493

Kraus M, Müller-Ide H, Rückrich T, Bader J, Overkleeft H, Driessen C (2014) Ritonavir, nelfinavir, saquinavir and lopinavir induce proteotoxic stress in acute myeloid leukemia cells and sensitize them for proteasome inhibitor treatment at low micromolar drug concentrations. Leuk Res 38:383–392

Lanza A, Tava A, Catalano M, Ragona L, Singuaroli I, Della Cuna FSR, Della Cuna GR (2004) Effects of the Medicago scutellata trypsin inhibitor (MsTI) on cisplatin-induced cytotoxicity in human breast and cervical cancer cells. Anticancer Res 24:227–234

Lima A, Mota J, Monteiro S, Ferreira R (2016) Legume seeds and colorectal cancer revisited: Protease inhibitors reduce MMP-9 activity and colon cancer cell migration. Food Chem 197:30–38

Liu A et al (2019) Prognostic value of the combined expression of tumor-associated trypsin inhibitor (TATI) and p53 in patients with bladder cancer undergoing radical cystectomy. Cancer Biomark. 26:281–289

Liu K, Liu P-c, Liu R, Wu X (2015) Dual AO/EB staining to detect apoptosis in osteosarcoma cells compared with flow cytometry. Med Sci Monitor Basic Res 21:15

Luo H, Li J, Chen X (2010) Antitumor effect of N-succinyl-chitosan nanoparticles on K562 cells. Biomed Pharmacother. 64:521–526

Mahapatra SK, Chakraborty SP, Majumdar S, Bag BG, Roy S (2009) Eugenol protects nicotine-induced superoxide mediated oxidative damage in murine peritoneal macrophages in vitro. Eur J Pharmacol 623:132–140

Marathe K, Chaudhari A, Kamalaja K, Maheshwari V (2016) Magnesium dependent proteinaceous protease inhibitor with pesticidal potential from alkali-halotolerant Streptomyces spp.: optimization of production using statistical tools. Biocatal Agric Biotechnol. 5:58–68

Mohana S, Shrivastava S, Divecha J, Madamwar D (2008) Response surface methodology for optimization of medium for decolorization of textile dye Direct Black 22 by a novel bacterial consortium. Bioresource Technol. 99:562–569

Morjen M et al (2014) PIVL, a snake venom Kunitz-type serine protease inhibitor, inhibits in vitro and in vivo angiogenesis. Microvasc Res 95:149–156

Moron MS, Depierre JW, Mannervik B (1979) Levels of glutathione, glutathione reductase and glutathione S-transferase activities in rat lung and liver. Biochim Biophys Acta (BBA). 582:67–78

Mourabet M, El Rhilassi A, El Boujaady H, Bennani-Ziatni M, Taitai A (2017) Use of response surface methodology for optimization of fluoride adsorption in an aqueous solution by Brushite. Arab J Chem 10:S3292–S3302

Rajendran N, Subramaniam S, Raja MRC, Brindha P, Kar Mahapatra S, Sivasubramanian A (2017) Plant phenyl-propanoids-conjugated silver nanoparticles from edible plant Suaeda maritima (L.) dumort. Inhibit proliferation of K562-human myeloid leukemia cells. Artif Cells Nanomed Biotechnol 45:1336–1342

Sen S, Dutta S (2012) Evaluation of anti-cancer potential of ragi bifunctional inhibitor (RBI) from Eleusine coracana on human chronic myeloid leukemia cells. Eur J Plant Sci Biotechnol 6:103–108

Shaik IH, Mehvar R (2006) Rapid determination of reduced and oxidized glutathione levels using a new thiol-masking reagent and the enzymatic recycling method: application to the rat liver and bile samples. Anal Bioanal Chem 385:105–113

Srikanth R, Siddartha G, Reddy CHS, Harish B, Ramaiah MJ, Uppuluri KB (2015) Antioxidant and anti-inflammatory levan produced from Acetobacter xylinum NCIM2526 and its statistical optimization. Carbohyd Polym 123:8–16

Stenman U-H (2002) Tumor-associated trypsin inhibitor Clinical chemistry 48:1206–1209

Subhashini J, Mahipal SV, Reddy MC, Reddy MM, Rachamallu A, Reddanna P (2004) Molecular mechanisms in C-Phycocyanin induced apoptosis in human chronic myeloid leukemia cell line-K562. Biochem Pharmacol 68:453–462

Venkatachalam P, Nadumane VK (2019) Purification and characterization of a protease inhibitor with anticancer potential from bacillus endophyticus JUPR15. Curr Cancer Therapy Rev. 15:74–82

Wang C-I, Yang Q, Craik CS (1995) Isolation of a high affinity inhibitor of urokinase-type plasminogen activator by phage display of ecotin. J Biol Chem 270:12250–12256

Wang Z-H et al (2007) Induction of apoptosis by buckwheat trypsin inhibitor in chronic myeloid leukemia K562 cells. Biol Pharmaceut Bull 30:783–786

Westerweel PE, Te Boekhorst PA, Levin M-D, Cornelissen JJ (2019) New approaches and treatment combinations for the management of chronic myeloid leukemia. Front Oncol. https://doi.org/10.3389/fonc.2019.00665

Xiang T, Du L, Pham P, Zhu B, Jiang S (2015) Nelfinavir, an HIV protease inhibitor, induces apoptosis and cell cycle arrest in human cervical cancer cells via the ROS-dependent mitochondrial pathway. Cancer Lett. 364:79–88

Yahata T et al (2020) Targeting of plasminogen activator inhibitor-1 activity promotes elimination of chronic myeloid leukemia stem cells. Haematologica. https://doi.org/10.3324/haematol.2019.230227

Zarei M, Niaei A, Salari D, Khataee A (2010) Application of response surface methodology for optimization of peroxi-coagulation of textile dye solution using carbon nanotube–PTFE cathode. J Hazard Mater. 173:544–551
Acknowledgements
Harish B.S. earnestly acknowledges SASTRA Deemed University for Teaching Assistantship. KBU thank Department of Science and Technology, Government of India for the financial support (SB/FTP/ETA-212/2012). SKM & KBU thank the department of Biotechnology, Government of India for the financial support (BT/PR26940/AAQ/3/887/2017) and DST-FIST Grant (SR/FST/ETI-331/2013) to SCBT, SASTRA for establishing infrastructure facilities are gratefully acknowledged.
Ethics declarations
Conflict of interests
The authors declare that they have no conflict of interests.
Additional information
Publisher's Note
Springer Nature remains neutral with regard to jurisdictional claims in published maps and institutional affiliations.
About this article
Cite this article
Harish, B.S., Raja, M.R.C., Mahapatra, S.K. et al. Production Enhancement of an Anticoagulant Trypsin Inhibitor from Oceanimonas sp. BPMS22 and Its Anti-cancer Activity. Int J Pept Res Ther 27, 197–208 (2021). https://doi.org/10.1007/s10989-020-10078-8
Accepted:

Published:

Issue Date:
Keywords
Serine protease inhibitor

Oceanimonas sp. BPMS22

Central composite design (CCD)

Anti-CML activity