Abstract
Recombinant reteplase is the truncated form of tissue plasminogen activator. Signal peptides play a pivotal role in the secretion of recombinant proteins. This study aimed to evaluate the effect of LTIIb signal peptide on the recombinant reteplase secretion in Escherichia coli. In the current study, cloning and expression of reteplase coding sequence with and without sequence corresponds to the peptide signal using pET 28a system was performed and its recombinant protein expression in E. coli BL21 (DE3) was induced by adding isopropyl β-d-1-thiogalactopyranoside (IPTG) to the final concentrations 0.1 mM. The recombinant reteplase expression was analyzed by sodium dodecyl sulfate-polyacrylamide gel electrophoresis (SDS-PAGE) and western blot assay. The activity of reteplase in periplasmic fraction and supernatant was measured by colorimetric assay. Our results confirm that high levels of reteplase protein are expressed as inclusion bodies. In the presence of peptide signal LTIIb, in periplasmic fraction, reteplase activity was negligible compared to the reteplase standard. No activity observed for reteplase in the periplasmic and extracellular fraction. The comparison between results obtained for LTIIb-reteplase with those to reteplase revealed that LTIIb signal peptide is not the proper candidate for the secretory production of reteplase.
Graphic Abstract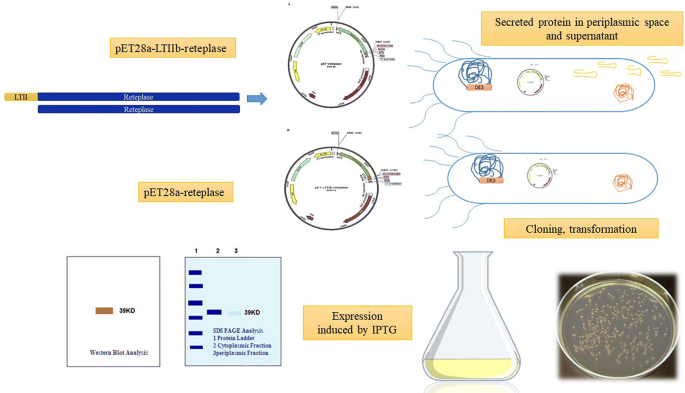 Access options
Buy single article
Instant access to the full article PDF.
US$ 39.95
Tax calculation will be finalised during checkout.
Subscribe to journal
Immediate online access to all issues from 2019. Subscription will auto renew annually.
US$ 79
Tax calculation will be finalised during checkout.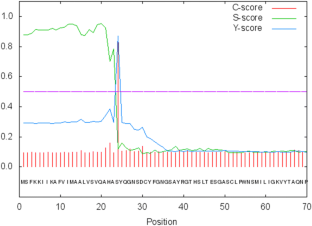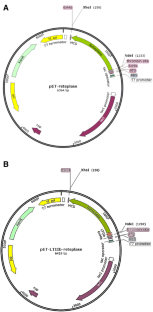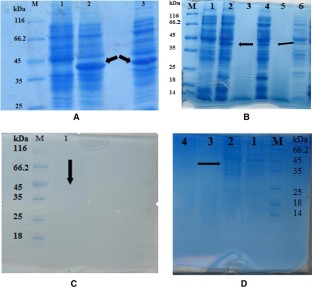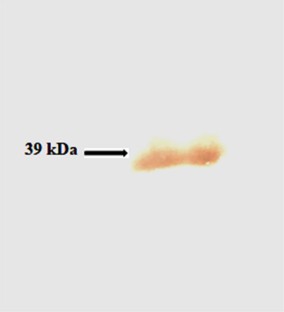 References
Aflakiyan S, Sadeghi HMM, Shokrgozar M, Rabbani M, Bouzari S, Jahanian-Najafabadi A (2013) Expression of the recombinant plasminogen activator (reteplase) by a non-lytic insect cell expression system. Res Pharm Sci 8:9

Albiniak AM, Matos CF, Branston SD, Freedman RB, Keshavarz-Moore E, Robinson C (2013) High-level secretion of a recombinant protein to the culture medium with a Bacillus subtilis twin-arginine translocation system in Escherichia coli. FEBS J 280:3810–3821

Ali M, Salim Hossain M, Islam M, Arman SI, Sarwar Raju G, Dasgupta P, Noshin TF (2014) Aspect of thrombolytic therapy: a review. Sci World J. https://doi.org/10.1155/2014/586510

Anba J et al (1987) Expression vector promoting the synthesis and export of the human growth-hormone-releasing factor in Escherichia coli. Gene 53:219–226

Azaman SNA, Ramanan RN, Tan JS, Rahim RA, Abdullah MP, Ariff AB (2010) Screening for the optimal induction parameters for periplasmic producing interferon-α 2b in Escherichia coli. Afr J Biotechnol 9:6345–6354

Fakruddin M, Mohammad Mazumdar R, Bin Mannan KS, Chowdhury A, Hossain MN (2012) Critical factors affecting the success of cloning, expression, and mass production of enzymes by recombinant E. coli. ISRN Biotechnol. https://doi.org/10.5402/2013/590587

Fathi-Roudsari M, Akhavian-Tehrani A, Maghsoudi N (2016) Comparison of three Escherichia coli strains in recombinant production of reteplase. Avicenna J Med Biotechnol 8:16

Gasteiger E, Hoogland C, Gattiker A, Wilkins MR, Appel RD, Bairoch A (2005) Protein identification and analysis tools on the ExPASy server. The proteomics protocols handbook. Springer, New York, pp 571–607

Gupta SK, Shukla P (2016) Advanced technologies for improved expression of recombinant proteins in bacteria: perspectives and applications. Crit Rev Biotechnol 36:1089–1098

Gupta V, Sengupta M, Prakash J, Tripathy BC (2017) Production of recombinant pharmaceutical proteins. Basic and applied aspects of biotechnology. Springer, New York, pp 77–101

Idicula-Thomas S, Balaji PV (2007) Protein aggregation: a perspective from amyloid and inclusion-body formation. Curr Sci 92:758–767

Iqbal O, Tobu M, Demir M, Fareed J, Aziz S, Messmore H (2002) The role of thrombolytic drugs in the management of acute myocardial infarction and stroke. Turk J Haematol 19:151–177

Jehl M-A, Arnold R, Rattei T (2010) Effective: a database of predicted secreted bacterial proteins. Nucleic Acids Res 39:D591–D595

Jobling MG, Palmer LM, Erbe JL, Holmes RK (1997) Construction and characterization of versatile cloning vectors for efficient delivery of native foreign proteins to the periplasm of Escherichia coli. Plasmid 38:158–173

Khodabakhsh F, Dehghani Z, Zia MF, Rabbani M, Sadeghi HMM (2013a) Cloning and expression of functional reteplase in Escherichiacoli top10. Avicenna J Med Biotechnol 5:168

Khodabakhsh F, Zia MF, Moazen F, Rabbani M, Sadeghi HMM (2013b) Comparison of the cytoplasmic and periplasmic production of reteplase in Escherichia coli preparative. Biochem Biotechnol 43:613–623

Laemmli UK (1970) Cleavage of structural proteins during the assembly of the head of bacteriophage T4. Nature 227:680

Lee SJ, Han YH, Kim YO, Nam BH, Kong HJ, Kim KK (2010) N-terminal pI determines the solubility of a recombinant protein lacking an internal transmembrane-like domain in E. coli. Mol Cells 30:127–135

Liao J, Zhang J, Shen Z (2002) Cloning and expression of tissue-type plasminogen activator mutant reteplase (r-PA) in E. coli. Pharm Biotechnol 9:95–98

Low KO, Mahadi NM, Illias RM (2013) Optimisation of signal peptide for recombinant protein secretion in bacterial hosts. Appl Microbiol Biotechnol 97:3811–3826

Magnan CN, Randall A, Baldi P (2009) SOLpro: accurate sequence-based prediction of protein solubility. Bioinformatics 25:2200–2207

Mandi N, Sundaram KR, Tandra SK, Bandyopadhyay S, Padmanabhan S (2010) Asn12 and Asn278: critical residues for in vitro biological activity of reteplase. Adv Hematol. https://doi.org/10.1155/2010/172484

Manosroi J, Tayapiwatana C, Götz F, Werner RG, Manosroi A (2001) Secretion of active recombinant human tissue plasminogen activator derivatives in Escherichia coli. Appl Environ Microbiol 67:2657–2664

Mergulhao FJ, Monteiro GA (2007) Analysis of factors affecting the periplasmic production of recombinant proteins in Escherichia coli. J Microbiol Biotechnol 17:1236

Morowvat MH, Babaeipour V, Memari HR, Vahidi H (2015) Optimization of fermentation conditions for recombinant human interferon beta production by Escherichia coli using the response surface methodology. Jundishapur J Microbiol 8:e16234

Mousavi P, Mostafavi-Pour Z, Morowvat MH, Nezafat N, Zamani M, Berenjian A, Ghasemi Y (2017) In silico analysis of several signal peptides for the excretory production of reteplase in Escherichia coli. Curr Proteomics 14:326–335

Nossal NG, Heppel LA (1966) The release of enzymes by osmotic shock from Escherichia coli in exponential phase. J Biol Chem 241:3055–3062

Palomares LA, Estrada-Moncada S, Ramírez OT (2004) Production of recombinant proteins. Recombinant gene expression. Springer, New York, pp 15–51

Petersen TN, Brunak S, Von Heijne G, Nielsen H (2011) SignalP 4.0: discriminating signal peptides from transmembrane regions. Nat Methods 8:785

Qian W, Yang J-R, Pearson NM, Maclean C, Zhang J (2012) Balanced codon usage optimizes eukaryotic translational efficiency. PLoS Genet 8:e1002603

Rosano GL, Ceccarelli EA (2014) Recombinant protein expression in Escherichia coli: advances and challenges. Front Microbiol 5:172

Sadeghpour H, Khalvati B, Entezar-Almahdi E, Savadi N, Alhashemi SH, Raoufi M, Dehshahri A (2018) Double domain polyethylenimine-based nanoparticles for integrin receptor mediated delivery of plasmid DNA. Sci Rep 8:6842

Saez NJ, Cristofori-Armstrong B, Anangi R, King GF (2017) A strategy for production of correctly folded disulfide-rich peptides in the periplasm of E. coli. Heterologous gene expression in E. coli. Springer, New York, pp 155–180

Simpson D, Siddiqui MAA, Scott LJ, Hilleman DE (2006) Reteplase. Am J Cardiovasc Drugs 6:265–285

Singh P et al (2013) Effect of signal peptide on stability and folding of Escherichia coli thioredoxin. PLoS ONE 8:e63442

Wooster MB, Luzier AB (1999) Reteplase: a new thrombolytic for the treatment of acute myocardial infarction. Ann Pharmacother 33:318–324

Yari M, Ghoshoon MB, Nezafat N, Ghasemi Y (2019) Experimental evaluation of in silico selected signal peptides for secretory expression of Erwinia asparaginase in Escherichia coli. Int J Peptide Res Ther. https://doi.org/10.1007/s10989-019-09961-w

Yoon SH, Kim SK, Kim JF (2010) Secretory production of recombinant proteins in Escherichia coli. Recent Pat Biotechnol 4:23–29

Zamani M, Nezafat N, Ghasemi Y (2016) Evaluation of recombinant human growth hormone secretion in E coli using the L-asparaginase II signal peptide. Avicenna J Med Biotechnol 8:182

Zare H, Sadeghi HMM, Akbari V (2019) Optimization of fermentation conditions for reteplase expression by Escherichia coli using response surface methodology. Avicenna J Med Biotechnol 11:162

Zhang W, Lu J, Zhang S, Liu L, Pang X, Lv J (2018) Development an effective system to expression recombinant protein in E. coli via comparison and optimization of signal peptides: expression of Pseudomonas fluorescens BJ-10 thermostable lipase as case study. Microbial Cell Fact 17:50

Zhao Y, Ge W, Kong Y, Zhang C (2003) Cloning, expression, and renaturation studies of reteplase. J Microbiol Biotechnol 13:989–992
Acknowledgements
This work has been supported by the Research and Technology Deputy of Shiraz University of Medical Sciences, Shiraz, Iran.
Ethics declarations
Conflict of interest
The authors declare that they have no conflict of interest.
Additional information
Publisher's Note
Springer Nature remains neutral with regard to jurisdictional claims in published maps and institutional affiliations.
About this article
Cite this article
Mousavi, P., Morowvat, M.H., Mostafavi-Pour, Z. et al. Experimental Analysis of E2BB (LTIIb) Signal Peptide in Secretory Production of Reteplase in Escherichia coli. Int J Pept Res Ther 27, 209–218 (2021). https://doi.org/10.1007/s10989-020-10059-x
Accepted:

Published:

Issue Date:
Keywords
Signal peptide

Secretion

Cytoplasmic expression

Reteplase

Escherichia coli

LTIIb (E2BB)