Abstract
Context
Oases in China are experiencing large-scale land use/cover change (LUCC), which profoundly affects regional sustainability. To improve sustainability, a series of land-use policies has been implemented. Can these policies effectively promote the sustainable development of oases in China? To answer this question, comprehensively examining the effects of the land-use policies on future LUCC and oasis landscape sustainability is urgently needed; however, such research is currently lacking.
Objectives
This study aims to evaluate the impacts of major land-use policies on future LUCC and the environmental sustainability of oasis landscapes.
Method
Taking the Zhangye Oasis as an example, we first developed 56 scenarios with different combinations of six land-use policies. Then, we simulated the LUCC between 2017 and 2050 under the 56 scenarios. Finally, we assessed the impacts of future LUCC on three key ecosystem services (ESs) and the water stress index.
Results
We found that the examined land-use policies could effectively control the sprawl of built-up areas, maintain croplands, and promote increases in forest and marsh, improving regional ESs. However, these policies will lead to an increase in water consumption, which will exacerbate regional water stress. Thus, these land-use policies cannot comprehensively improve oasis landscape sustainability.
Conclusions
This paper systematically examines the impacts of six land-use policies on the environmental sustainability of oasis landscapes and reveals that these policies will increase ESs but cause further water shortages. Therefore, strengthening the integrated management of water and land resources is urgently needed to improve current land-use policies and oasis landscape sustainability in a more comprehensive manner.
This is a preview of subscription content, log in to check access.
Access options
Buy single article
Instant access to the full article PDF.
US$ 39.95
Price includes VAT for USA
Subscribe to journal
Immediate online access to all issues from 2019. Subscription will auto renew annually.
US$ 99
This is the net price. Taxes to be calculated in checkout.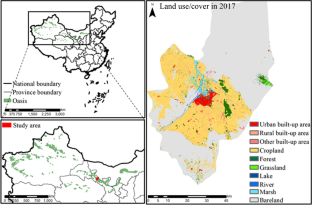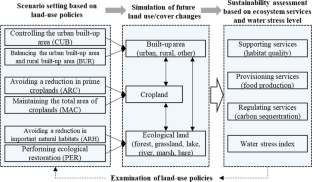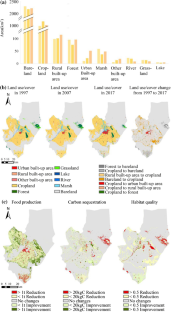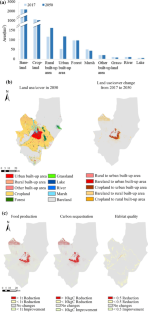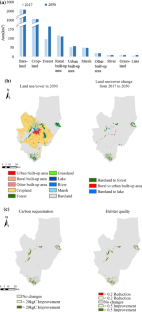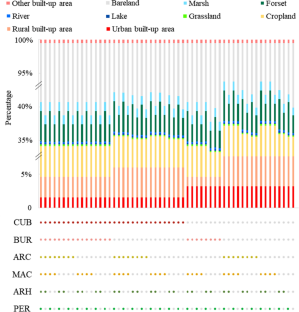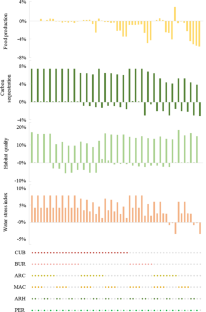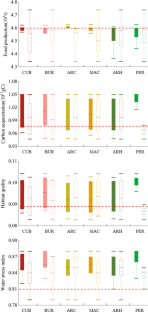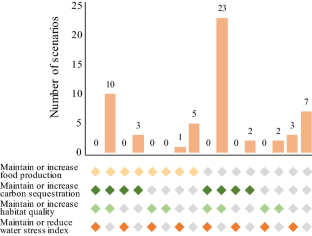 Data availability
The data are available in electronic supplementary materials.
References
Bai Y, Wong CP, Jiang B, Hughes AC, Wang M, Wang Q (2018) Developing China's Ecological Redline Policy using ecosystem services assessments for land use planning. Nat Commun 9(1):1–13

Bryan BA, Gao L, Ye Y, Sun X, Connor JD, Crossman ND, Stafford-Smith M, Wu J, He C, Yu D, Liu Z, Li A, Huang Q, Ren H, Deng X, Zheng H, Niu J, Han G, Hou X (2018) China's response to a national land-system sustainability emergency. Nature 559(7713):193–204

Carter N, Kreutzwiser RD, de Loe RC (2005) Closing the circle: linking land use planning and water management at the local level. Land Use Policy 22(2):115–127

Chen H, Lopez-Carr D, Tan Y, Xi J, Liang XY (2016) China's Grain for Green policy and farm dynamics: simulating household land-use responses. Reg Environ Chang 16(4):1147–1159

Chen YL, Wang SS, Ren ZG, Huang JF, Wang XZ, Liu SS, Deng HJ, Lin WK (2019) Increased evapotranspiration from land cover changes intensified water crisis in an arid river basin in northwest China. J Hydrol 574:383–397

Eziz M, Yimit H, Mohammad A, Huang ZF (2010) Oasis land-use change and its effects on the oasis eco-environment in Keriya Oasis, China. Int J Sustain Dev World Ecol 17(3):244–252

Eziz M, Yimit H, Tursun Z, Rusuli Y (2014) Variations in ecosystem service value in response to oasis land-use change in Keriya Oasis, Tarim Basin, China. Nat Areas J 34(3):353–364

Fan J, Wang Y, Zhou Z, You N, Meng J (2016) Dynamic ecological risk assessment and management of land use in the middle reaches of the Heihe river based on landscape patterns and spatial statistics. Sustainability 8(6):536

Gao H (1987) The distribution and types of oases in China. Arid Land Geogr 10(4):23–29

Gao L, Bryan BA (2017) Finding pathways to national-scale land-sector sustainability. Nature 544(7649):217–222

He CY, Zhang D, Huang QX, Zhao YY (2016) Assessing the potential impacts of urban expansion on regional carbon storage by linking the LUSD-urban and InVEST models. Environ Model Softw 75:44–58

Hu X, Li X, Lu L (2018) Modeling the land use change in an arid oasis constrained by water resources and environmental policy change using cellular automata models. Sustainability 10(8):2878

Huang GW (2015) From water-constrained to water-driven sustainable development-a case of water policy impact evaluation. Sustainability 7(7):8950–8964

Kong DS, Zhang H (2014) Evaluation on the value of carbon sequestration function in the heihe wetland national nature reserve in zhangye. Wetl Sci 12(1):29–34 (in Chinese)

Li JN (2018) Analysis of water resources development and utilization in Ganzhou District of Zhangye City. Agric Sci Technol Inf 542(09):121–122

Li X, Cheng GD, Ge YC, Li HY, Han F, Hu XL, Tian W, Tian Y, Pan XD, Nian YY, Zhang YL, Ran YH, Zheng Y, Gao B, Yang DW, Zheng CM, Wang XS, Liu SM, Cai XM (2018) Hydrological Cycle in the Heihe River Basin and Its Implication for Water Resource Management in Endorheic Basins. J Geophys Res Atmos 123(2):890–914

Li J, Liu Z, He C, Tu W, Sun Z (2016) Are the drylands in northern China sustainable? A perspective from ecological footprint dynamics from 1990 to 2010. Sci Total Environ 553:223–231

Li J, Liu Z, He C, Yue H, Gou S (2017) Water shortages raised a legitimate concern over the sustainable development of the drylands of northern China: evidence from the water stress index. Sci Total Environ 590–591:739–750

Li XY, Xiao DN, He XY, Chen W, Song DM (2007) Evaluation of landscape changes and ecological degradation by GIS in arid regions: a case study of the terminal oasis of the Shiyang River, northwest China. Environ Geol 52(5):947–956

Li GF, Zhou DY, Shi MJ (2019) How do farmers respond to water resources management policy in the Heihe river basin of China? Sustainability 11(7):2096

Liang X, Liu XP, Li D, Zhao H, Chen GZ (2018a) Urban growth simulation by incorporating planning policies into a CA-based future land-use simulation model. Int J Geogr Inf Sci 32(11):2294–2316

Liang X, Liu XP, Li X, Chen YM, Tian H, Yao Y (2018b) Delineating multi-scenario urban growth boundaries with a CA-based FLUS model and morphological method. Landsc Urban Plan 177:47–63

Liang Y, Liu L (2017a) An integrated ecosystem service assessment in an artificial desert oasis of northwestern China. J Land Use Sci 12(2–3):154–167

Liang Y, Liu L (2017b) Simulating land-use change and its effect on biodiversity conservation in a watershed in northwest China. Ecosyst Health Sustain 3(5):1335933

Liang Y, Liu L, Huang J (2017) Integrating the SD-CLUE-S and InVEST models into assessment of oasis carbon sequestration in northwestern China. PLoS ONE 12(2):e172494

Liu JY, Kuang WH, Zhang ZX, Xu XL, Qin YW, Ning J, Zhou WC, Zhang SW, Li RD, Yan CZ, Wu SX, Shi XZ, Jiang N, Yu DS, Pan XZ, Chi WF (2014a) Spatiotemporal characteristics, patterns, and causes of land-use changes in China since the late 1980s. J Geogr Sci 24(2):195–210

Liu YS, Fang F, Li YH (2014b) Key issues of land use in China and implications for policy making. Land Use Policy 40:6–12

Liu JY, Zhang ZX, Xu XL, Kuang WH, Zhou WC, Zhang SW, Li RD, Yan CZ, Yu DS, Wu SX, Nan J (2010a) Spatial patterns and driving forces of land use change in China during the early 21st century. J Geogr Sci 20(4):483–494

Liu Y, Zhang X, Lei J, Zhu L (2010b) Urban expansion of oasis cities between 1990 and 2007 in Xinjiang, China. Int J Sustain Dev World Ecol 17(3):253–262

Liu XP, Liang X, Li X, Xu XC, Ou JP, Chen YM, Li SY, Wang SJ, Pei FS (2017a) A future land use simulation model (FLUS) for simulating multiple land use scenarios by coupling human and natural effects. Landsc Urban Plan 168:94–116

Liu Z, Verburg PH, Wu J, He C (2017b) Understanding land system change through scenario-based simulations: a case study from the Drylands in Northern China. Environ Manag 59(3):440–454

Liu Y, Song W, Deng X (2019a) Understanding the spatiotemporal variation of urban land expansion in oasis cities by integrating remote sensing and multi-dimensional DPSIR-based indicators. Ecol Ind 96:23–37

Liu YX, Li T, Zhao WW, Wang S, Fu BJ (2019b) Landscape functional zoning at a county level based on ecosystem services bundle: Methods comparison and management indication. J Environ Manag 249:109315

Liu Z, Ding M, He C, Li J, Wu J (2019c) The impairment of environmental sustainability due to rapid urbanization in the dryland region of northern China. Landsc Urban Plan 187:165–180

Liu Z, He C, Yang Y, Fang Z (2019d) Planning sustainable urban landscape under the stress of climate change in the drylands of northern China: a scenario analysis based on LUSD-urban model. J Clean Prod 244:118709

Liu Z, Yang Y, He C, Tu M (2019e) Climate change will constrain the rapid urban expansion in drylands: a scenario analysis with the zoned Land Use Scenario Dynamics-urban model. Sci Total Environ 651(2):2772–2786

Long HL (2014) Land use policy in China: introduction. Land Use Policy 40:1–5

Luo GP, Yin CY, Chen X, Xu WQ, Lu L (2010) Combining system dynamic model and CLUE-S model to improve land use scenario analyses at regional scale: a case study of Sangong watershed in Xinjiang, China. Ecol Complex 7(2):198–207

Mao DH, Wang ZM, Wu JG, Wu BF, Zeng Y, Song KS, Yi KP, Luo L (2018) China's marsh loss to urban expansion. Land Degrad Dev 29(8):2644–2657

MEA (Millennium Ecosystem Assessment) (2005) Ecosystems and human well-being: synthesis. Island Press, Washington, DC

Peng J, Yang Y, Liu YX, Hu YN, Du YY, Meersmans J, Qiu SJ (2018) Linking ecosystem services and circuit theory to identify ecological security patterns. Sci Total Environ 644:781–790

PGGD (People's Government of Ganzhou District) (2018) Ganzhou District Yearbook, Gansu Culture Publishing House, Lanzhou, 1998–2018.

Sawut M, Eziz M, Tiyip T (2013) The effects of land-use change on ecosystem service value of desert oasis: a case study in Ugan-Kuqa River Delta Oasis, China. Can J Soil Sci 93(1):99–108

Schwarzel K, Zhang L, Montanarella L, Wang Y, Sun G (2019) How afforestation affects the water cycle in drylands: a process-based comparative analysis. Glob Chang Biol 26(2):944–959

Sharp R, Tallis HT, Ricketts T, Guerry AD, Wood SA, Chapin-Kramer R, Nelson E, Ennaanay D, Wolny S, Olwero N, Vigerstol K, Pennington D, Mendoza G, Aukema J, Foster J, Forrest J, Cameron D, Arkema K, Lonsdorf E, Kennedy C, Verutes G, Kim CK, Guannel G, Papenfus M, Toft J, Marsik M, Bernhardt J, Griffin R, Gowinski K, Chaumont N, Perelman A, Lacayo MM, Hamel P, Vogl AL (2016) InVEST 3.2.0 User's Guide. The Natural Capital Project, Stanford University, University of Minnesota, The Nature Conservancy, and World Wildlife Fund

Shen Q, Gao GY, Han F, Xiao FY, Ma Y, Wang S, Fu BJ (2018) Quantifying the effects of human activities and climate variability on vegetation cover change in a hyper-arid endorheic basin. Land Degrad Dev 29(10):3294–3304

Song W, Zhang Y (2015) Expansion of agricultural oasis in the Heihe River Basin of China: Patterns, reasons and policy implications. Phys Chem Earth 89–90:46–55

Song S, Liu Z, He C, Lu W (2020) Evaluating the effects of urban expansion on natural habitat quality by coupling localized shared socioeconomic pathways and the land use scenario dynamics-urban model. Ecol Ind 33(10):1094–1104

Tang FS, Chen X, Luo GP, Lin Q, Liu HL (2007) A contrast of two typical LUCC processes and their driving forces in oases of and areas: a case study of Sangong River Watershed at the northern foot of Tianshan Mountains. Sci China Ser D 50:65–75

Teah HY, Akiyama T, Carlos RS, Rayo OV, Khew YTJ, Zhao SJ, Zheng LF, Onuki M (2016) Assessment of downscaling planetary boundaries to semi-arid ecosystems with a local perception: a case study in the middle reaches of Heihe River. Sustainability 8(12):1233

UN (United Nations) (1994) United Nations Convention to Combat Desertification (UNCCD).

UN (United Nations) (2015) Transforming our world: the 2030 Agenda for Sustainable Development.

Wang J, Li YR, Wang QY, Cheong KC (2019) Urban-rural construction land replacement for more sustainable land use and regional development in China: policies and practices. Land 8(11):171

Wang Y, Pan J (2019) Building ecological security patterns based on ecosystem services value reconstruction in an arid inland basin: a case study in Ganzhou District, NW China. J Clean Prod 241:118337

Wei HJ, Liu HM, Xu ZH, Ren JH, Lu NC, Fan WG, Zhang P, Dong XB (2018) Linking ecosystem services supply, social demand and human well-being in a typical mountain-oasis-desert area, Xinjiang, China. Ecosyst Serv 31:44–57

Wu J (2013) Landscape sustainability science: ecosystem services and human well-being in changing landscapes. Landsc Ecol 28(6):999–1023

Wu YZ, Hui ECM, Zhao PJ, Long HL (2018) Land use policy for urbanization in China. Habitat Int 77:40–42

Xiao F, Gao G, Shen Q, Wang X, Ma Y, Lü Y, Fu B (2019) Spatio-temporal characteristics and driving forces of landscape structure changes in the middle reach of the Heihe River Basin from 1990 to 2015. Landsc Ecol 34(4):755–770

Xie YW, Bie Q, Lu H, He L (2018) Spatio-Temporal Changes of Oases in the Hexi Corridor over the Past 30 Years. Sustainability 10(12):4489

Xie YC, Gong J, Sun P, Gou XH (2010) Oasis dynamics change and its influence on landscape pattern on Jinta oasis in arid China from 1963a to 2010a: integration of multi-source satellite images. Int J Appl Earth Obs Geoinf 33:181–191

Xu F, Bao HXH, Li H, Kwan MP, Huang XJ (2016) Land use policy and spatiotemporal changes in the water area of an arid region. Land Use Policy 54:366–377

Xue X, Liao J, Hsing YT, Huang CH, Liu FM (2015) Policies, land use, and water resource management in an arid oasis ecosystem. Environ Manag 55(5):1036–1051

Young CEF, de Bakker LB (2014) Payments for ecosystem services from watershed protection: a methodological assessment of the Oasis Project in Brazil. Nat Conserv 12(1):71–78
Acknowledgements
We want to express our respect and gratitude to Yanmin Yang, Bing Li, Benxin Chen and Yihang Wang for their help. This work was supported by the National Natural Science Foundation of China (Grant No. 41871185) and the Second Tibetan Plateau Scientific Expedition and Research Program (Grant No. 2019QZKK0405). It was also supported by the National Natural Science Foundation of China (Grant No. 41971271) and a project from the State Key Laboratory of Earth Surface Processes and Resource Ecology, China.
Additional information
Publisher's Note
Springer Nature remains neutral with regard to jurisdictional claims in published maps and institutional affiliations.
Electronic supplementary material
Below is the link to the electronic supplementary material.
About this article
Cite this article
Gong, B., Liu, Z. Assessing impacts of land use policies on environmental sustainability of oasis landscapes with scenario analysis: the case of northern China. Landscape Ecol (2020). https://doi.org/10.1007/s10980-020-01065-x
Received:

Accepted:

Published:
Keywords
Landscape sustainability

Ecosystem services

Water scarcity

Land system change

Urbanization

Drylands