Abstract
Context
Historical maps of land use/land cover (LULC) enable detection of landscape changes, and help to assess drivers and potential future trajectories. However, historical maps are often limited in their spatial and temporal coverage. There is a need to develop and test methods to improve re-construction of historical landscape change.
Objectives
To implement a modelling method to accurately identify key land use changes over a rural landscape at multiple time points.
Methods
We used existing LULC maps at two time points for 1930 and 2015, along with a habitat time-series dataset, to construct two new, modelled LULC maps for Dorset in 1950 and 1980 to produce a four-step time-series. We used the Integrated Valuation of Ecosystem Services and Tradeoffs (InVEST) Scenario Generator tool to model new LULC maps.
Results
The modelled 1950 and 1980 LULC maps were cross-validated against habitat survey data and demonstrated a high level of accuracy (87% and 84%, respectively) and low levels of model uncertainty. The LULC time-series revealed the timing of LULC changes in detail, with the greatest losses in neutral and calcareous grassland having occurred by 1950, the period when arable land expanded the most, whilst the expansion in agriculturally-improved grassland was greatest over the period 1950–1980.
Conclusions
We show that the modelling approach is a viable methodology for re-constructing historical landscapes. The time-series output can be useful for assessing patterns and changes in the landscape, such as fragmentation and ecosystem service delivery, which is important for informing future land management and conservation strategies.
This is a preview of subscription content, log in to check access.
Access options
Buy single article
Instant access to the full article PDF.
US$ 39.95
Price includes VAT for USA
Subscribe to journal
Immediate online access to all issues from 2019. Subscription will auto renew annually.
US$ 99
This is the net price. Taxes to be calculated in checkout.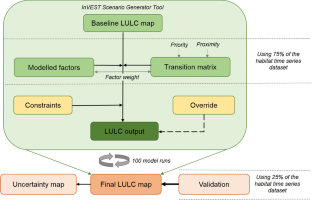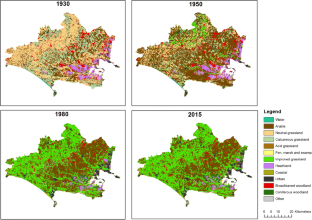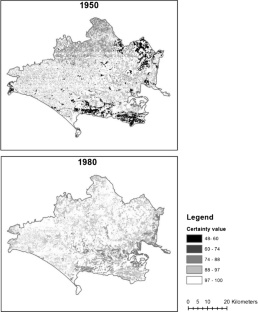 References
AHDB (2018) Livestock and the arable rotation. Warwickshire

Bateman IJ, Harwood AR, Mace GM, Watson RT, Abson DJ, Andrews B, Binner A, Crowe A, Day BH, Dugdale S, Fezzi C, Foden J, Hadley D, Haines-Young R, Hulme M, Kontoleon A, Lovett AA, Munday P, Pascual U, Paterson J, Perino G, Sen A, Siriwardena G, van Soest D, Termansen M (2013) Bringing ecosystem services into economic decision-making: land use in the United Kingdom. Science 341:45–50

Best R, CoppockJ (1962) The changing use of land in Britain. London

Cousins SAO, Auffret AG, Lindgren J, Tränk L (2015) Regional-scale land-cover change during the 20th century and its consequences for biodiversity. Ambio 44:17–27

Cranfield University (2004) National Soilscape Map

DEFRA (2009) ARCHIVE: SSSI legislative timeline [WWW Document]. http://webarchive.nationalarchives.gov.uk/20130402151656/http://archive.defra.gov.uk/rural/protected/sssi/legislation.htm. Accessed 7 Apr 2015

Diaz A, Keith SA, Bullock JM, Hooftman DAP, Newton AC (2013) Conservation implications of long-term changes detected in a lowland heath plant metacommunity. Biol Conserv 167:325–333

Fescenko A, Wohlgemuth T (2017) Spatio-temporal analyses of local biodiversity hotspots reveal the importance of historical land-use dynamics. Biodivers Conserv 26:2401–2419

Fuchs R, Herold M, Verburg PH, Clevers JGPW (2013) A high-resolution and harmonized model approach for reconstructing and analysing historic land changes in Europe. Biogeosciences 10:1543–1559

Fuller RM (1987) The changing extent and conservation interest of lowland grasslands in England and Wales: a review of grassland surveys 1930–1984. Biol Conserv 40:281–300

Gibson D, Quinn J (2017) Application of anthromes to frame scenario planning for landscape-scale conservation decision making. Land 6:1–17

Good R (1937) An account of a botanical survey of Dorset. Proc Linn Soc 149:114–116

Hooftman DAP, Bullock JM (2012) Mapping to inform conservation: a case study of changes in semi-natural habitats and their connectivity over 70 years. Biol Conserv 145:30–38

Intermap Technologies (2007) NEXTMap British Digital Terrain Model Dataset Produced by Intermap. NERC Earth Observation Data Centre [WWW Document]. http://catalogue.ceda.ac.uk/uuid/8f6e1598372c058f07b0aeac2442366d. Accessed 17 Oct 2016

Jackson DL (2000) Guidance on the interpretation of the Biodiversity Broad Habitat Classification (terrestrial and freshwater types): definitions and the relationship with other classifications. JNCC Report 307

JNCC (2015) Guidelines for selection of biological SSSIs [WWW Document]. http://jncc.defra.gov.uk/page-2303. Accessed 7 Apr 2015

Keith SA, Newton AC, Morecroft MD, Bealey CE, Bullock JM (2009) Taxonomic homogenization of woodland plant communities over 70 years. Proc R Soc B Biol Sci 276:3539–3544

Liping C, Yujun S, Saeed S (2018) Monitoring and predicting land use and land cover changes using remote sensing and GIS techniques—a case study of a hilly area, Jiangle, China. PLoS ONE 13:e0200493

Lu D, Mausel P, Brondizio E, Moran E (2004) Change detection techniques. Int J Remote Sens 25:2365–2407

Marques A, Martins IS, Kastner T, Plutzar C, Theurl MC, Eisenmenger N, Huijbregts MAJ, Wood R, Stadler K, Bruckner M, Canelas J, Hilbers JP, Tukker A, Erb K, Pereira HM (2019) Increasing impacts of land use on biodiversity and carbon sequestration driven by population and economic growth. Nat Ecol Evol 3:628–637

McHugh M (2012) Interrater reliability: the kappa statistic. Biochem Medica 22(3):276–282

Moore N (1962) The heaths of Dorset and their conservation. J Ecol 50:369–391

Moulds S, Buytaert W, Mijic A (2018) Data descriptor: a spatio-temporal land use and land cover reconstruction for India from 1960-2010. Sci Data 5:1–11

Natural England (2012) Agricultural land classification, 1:250,000 [WWW Document]

Natural England (2015) Priority Habitats' Inventory version 2.1 [WWW Document]. http://www.gis.naturalengland.org.uk/pubs/gis/gis_register.asp. Accessed 6 Jan 18

Newbold T, Hudson LN, Hill SLL, Contu S, Lysenko I, Senior RA, Börger L, Bennett DJ, Choimes A, Collen B et al (2015) Global effects of land use on local terrestrial biodiversity. Nature 520:45

Newton AC, Walls RM, Golicher D, Keith SA, Diaz A, Bullock JM (2012) Structure, composition and dynamics of a calcareous grassland metacommunity over a 70-year interval. J Ecol 100:196–209

Noszczyk T (2019) A review of approaches to land use changes modeling. Hum Ecol Risk Assess Int J 25:1377–1405

Office for National Statistics (2017) Mid-2017 population estimates [WWW Document]. https://www.ons.gov.uk/peoplepopulationandcommunity/populationandmigration/populationestimates/bulletins/annualmidyearpopulationestimates/mid2017. Accessed 30 Nov 2018

R Core Team (2019) R: a language and environment for statistical computing. R Foundation for Statistical Computing, Vienna

Redhead JW, May L, Oliver TH, Hamel P, Sharp R, Bullock JM (2018) National scale evaluation of the InVEST nutrient retention model in the United Kingdom. Sci Total Environ 610–611:666–677

Redhead JW, Powney GD, Woodcock BA, Pywell RF (2020) Effects of future agricultural change scenarios on beneficial insects. J Environ Manag 265:110550

Redhead JW, Sheail J, Bullock JM, Ferreruela A, Walker KJ, Pywell RF (2014) The natural regeneration of calcareous grassland at a landscape scale: 150 years of plant community re-assembly on Salisbury Plain, UK. Appl Veg Sci 17:408–418

Reis S (2008) Analyzing land use/land cover changes using remote sensing and GIS in Rize, North-East Turkey. Sensors 8:6188–6202

Ridding LE, Redhead JW, Pywell RF (2015) Fate of semi-natural grassland in England between 1960 and 2013: a test of national conservation policy. Glob Ecol Conserv 4:516–525

Ridding LE, Watson SCL, Newton AC, Rowland CS, Bullock JM (2020) Ongoing, but slowing, habitat loss in a rural landscape over 85 years. Landsc Ecol 35:257–273

Robinson E, Blyth E, Clark D, Comyn-Platt E, Finch J, Rudd A (2017) Climate hydrology and ecology research support system meteorology dataset for Great Britain (1961-2015) [CHESS-met] v1.2. NERC Environ Inf Data Centre. https://doi.org/10.5285/b745e7b1-626c-4ccc-ac27-56582e77b900

Rowland CS, Morton R, Carrasco L, McShane G, O'Neil AW, Wood CM (2017a) Land Cover Map 2015 (vector, GB). NERC Environ Inf Data Centre. https://doi.org/10.5285/6c6c9203-7333-4d96-88ab-78925e7a4e73

Rowland CS, Morton RD, Carrasco L, O'Neil A, (2017b) Applying earth observation to assess UK land use change: lot 2 medium resolution optical, report to BEIS, London

Sala OE, Chapin FS III, Armesto JJ, Berlow E, Bloomfield J, Dirzo R, Huber-Sanwald E, Huenneke LF, Jackson RB, Kinzig A, Leemans R, Lodge DM, Mooney HA, Oesterheld M, Poff LN, Sykes MT, Walker BH, Walker M, Wall DH (2000) Global biodiversity scenarios for the year 2100. Science 287:1770–1774

Sharma R, Nehren U, Rahman S, Meyer M, Rimal B, Aria Seta G, Baral H (2018) Modeling land use and land cover changes and their effects on biodiversity in Central Kalimantan, Indonesia. Land 7:57

Sharp R, Tallis HT, Ricketts T, Guerry AD, Wood SA, Chaplin-Kramer R, Nelson E, Ennaanay D, Wolny S, Olwero N, Vigerstol K, Pennington D, Mendoza G, Aukema J, Foster J, Forrest J, Cameron D, Arkema K, Lonsdorf E, Kennedy C, Verutes G, Kim CK, Guannel G, Papenfus M, Toft J, Marsik M, Bernhardt J, Griffin R, Glowinski K, Chaumont N, Perelman A, Lacayo M, Mandle L, Hamel P, Vogl AL, Rogers L, Bierbower W (2016) InVEST +VERSION + User's Guide

Song X-P, Hansen MC, Stehman SV, Potapov PV, Tyukavina A, Vermote EF, Townshend JR (2018) Global land change from 1982 to 2016. Nature 560:639–643

Stamp D (1931) The land utilisation survey of Britain. Geogr J 78:40–47

Stoate C, Boatman ND, Borralho RJ, Carvalho CR, De Snoo GR, Eden P (2001) Ecological impacts of arable intensification in Europe. J Environ Manag 63:337–365

Tanguy M, Dixon H, Prosdocimi I, Morris DG, Keller V (2016) Gridded estimates of daily and monthly areal rainfall for the United Kingdom (1890-2015) [CEH-GEAR]. NERC Environ Inf Data Centre. https://doi.org/10.5285/33604ea0-c238-4488-813d-0ad9ab7c51ca

Tittensor DP, Walpole M, Hill SLL, Boyce DG, Britten GL, Burgess ND, Butchart SHM, Leadley PW, Regan EC, Alkemade R, Baumung R, Bellard C, Bouwman L, Bowles-Newark NJ, Chenery AM, Cheung WWL, Christensen V, Cooper HD, Crowther AR, Dixon MJR, Galli A, Gaveau V, Gregory RD, Gutierrez NL, Hirsch TL, Höft R, Januchowski-Hartley SR, Karmann M, Krug CB, Leverington FJ, Loh J, Lojenga RK, Malsch K, Marques A, Morgan DHW, Mumby PJ, Newbold T, Noonan-Mooney K, Pagad SN, Parks BC, Pereira HM, Robertson T, Rondinini C, Santini L, Scharlemann JPW, Schindler S, Sumaila UR, Teh LSL, van Kolck J, Visconti P, Ye Y (2014) A mid-term analysis of progress toward international biodiversity targets. Science 346:241–244

Veldkamp A, Lambin E (2001) Predicting land-use change. Agric Ecosyst Environ 85:1–6

Verburg PH, Overmars KP (2009) Combining top-down and bottom-up dynamics in land use modeling: exploring the future of abandoned farmlands in Europe with the Dyna-CLUE model. Landsc Ecol 24:1167–1181

Verburg PH, Soepboer W, Veldkamp A, Limpiada R, Espaldon V, Mastura SSA (2002) Modeling the spatial dynamics of regional land use: the CLUE-S model. Environ Manag 30:391–405

Webb NR (1990) Changes on the Heathlands of Dorset, England, between 1978 and 1987. Biol Conserv 51:273–286

Webb NR, Haskins LE (1980) An ecological survey of Heathlands in the Poole basin, Dorset, England, in 1978. Biol Conserv 17:281–296

Willems JH (2001) Problems, approaches, and results in restoration of Dutch calcareous grassland during the last 30 years. Restor Ecol 9:147–154

Zayed Y (2016) Agriculture: historical statistics. House Commons Libr 12:1–18
Acknowledgements
Thanks to Maliko Tanguy and Emma Robinson, UKCEH Wallingford for their assistance with the UKCEH GEAR and CHESS datasets, respectively. Thank you to Josué Rodríguez, CEH Wallingford for his help installing python modules. Thank you also to James Douglass at the InVEST Natural Capital Project for his assistance with the Scenario Generator Rule-Based tool. This work was funded by the Natural Environment Research Council (NERC), Grant Reference Number: NE/P007716/1 as part of the project Mechanisms and Consequences of Tipping Points in Lowland Agricultural Landscapes (TPAL), which forms part of the Valuing Nature Programme. The Valuing Nature Programme (www.valuing-nature.net.) is funded by the Natural Environment Research Council (NERC), the Economic and Social Research Council, the Biotechnology and Biological Sciences Research Council, the Arts and Humanities Research Council and the Department for Environment, Food and Rural Affairs. The recast LCM1990 was supported by the NERC award number NE/R016429/1 as part of the UK-SCAPE programme delivering National Capability.
Additional information
Publisher's Note
Springer Nature remains neutral with regard to jurisdictional claims in published maps and institutional affiliations.
Electronic supplementary material
Below is the link to the electronic supplementary material.
About this article
Cite this article
Ridding, L.E., Newton, A.C., Redhead, J.W. et al. Modelling historical landscape changes. Landscape Ecol (2020). https://doi.org/10.1007/s10980-020-01059-9
Received:

Accepted:

Published:
Keywords
Agriculture

Intensification

InVEST

LULC

Mapping

Time-series