Abstract
Projections of indicators of forest ecosystem goods and services (EGS) based on process-based landscape models are critical for adapting forest management to climate change. However, the scarcity of fine-grained, spatially explicit forest data means that initializing these models is both a challenge and a source of uncertainty. To test how different initialization approaches influence the simulation of forest dynamics and EGS indicators we initialized the forest landscape model LandClim with fine resolution empirical data, coarse empirical data, and simulation-derived data, and evaluated the results at three spatial scales (stand, management area and landscape). Simulations were performed for a spruce (Picea abies) dominated landscape in the Black Forest, Germany, under current climate and a climate change scenario. We found that long-term (>150 years) projections are robust to initialization uncertainty. In contrast, shorter-term projections are sensitive to initialization uncertainty, with sensitivity increasing when EGS are assessed at smaller spatial scales, and when the EGS indicators depend on the spatial distribution of individual species. EGS dynamics are strongly influenced by interactions between the density, species composition, and age structure of initialized forests and simulated forest management. If EGS dynamics are strongly influenced by climate change, such as when climate change induces mortality in drought-sensitive species, some of the initialization uncertainty can be masked. We advocate for initializing landscape models with fine-grained data in applications that focus on spatial management problems in heterogeneous landscapes, and stress that the scale of analysis must be in accordance with the accuracy that is warranted by the initialization data.
Access options
Buy single article
Instant access to the full article PDF.
USD 39.95
Price includes VAT (USA)
Tax calculation will be finalised during checkout.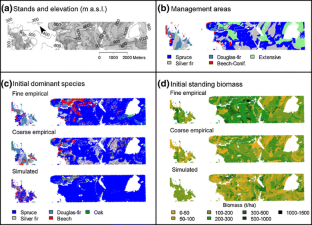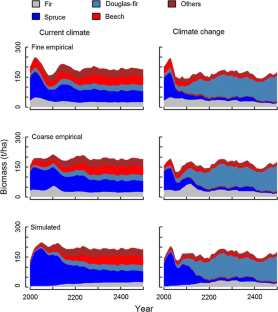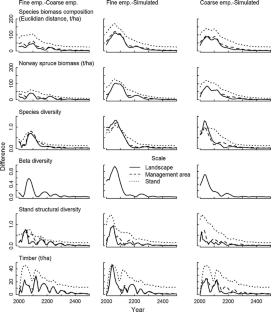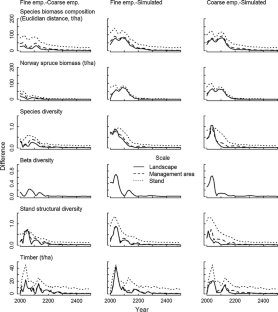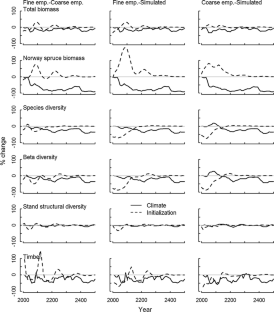 References
BMELV (2006) Survey instructions for the 2nd National Forest Inventory. 2nd corrected translation, February 2006, of the 2nd corrected and revised reprint, May 2001. Available from the Federal Ministry of Food, Agriculture 550 and Consumer Protection, Berlin

Bolte A, Ammer C, Lof M, Madsen P, Nabuurs GJ, Schall P, Spathelf P, Rock J (2009) Adaptive forest management in central Europe: climate change impacts, strategies and integrative concept. Scand J For Res 24:473–482

Brin A, Brustel H, Jactel H (2009) Species variables or environmental variables as indicators of forest biodiversity: a case study using saproxylic beetles in Maritime pine plantations. Ann For Sci 66:306–306

Briner S, Elkin C, Huber R, Grêt-Regamey A (2012) Assessing the impacts of economic and climate changes on land-use in mountain regions: a spatial dynamic modeling approach. Agric Ecosyst Environ 149:50–63

Bugmann H (1997) Sensitivity of forests in the European Alps to future climatic change. Clim Res 8:35–44

Bugmann H (2001) A review of forest gap models. Clim Change 51:259–305

Buma B, Wessman CA (2012) Differential species responses to compounded perturbations and implications for landscape heterogeneity and resilience. For Ecol Manag 266:25–33

Cary G, Keane R, Gardner R, Lavorel S, Flannigan MD, Davies ID, Li C, Lenihan JM, Rupp TS, Mouillot F (2006) Comparison of the sensitivity of landscape-fire-succession models to variation in terrain, fuel pattern, climate and weather. Landsc Ecol 21:121–137

Chew JD, Stalling C, Moeller K (2004) Integrating knowledge for simulating vegetation change at landscape scales. West J Appl Forestry 19:102–108

Collins M, Booth BBB, Harris GR, Murphy JM, Sexton DMH, Webb MJ (2006) Towards quantifying uncertainty in transient climate change. Clim Dyn 27:127–147

Colombaroli D, Henne PD, Kaltenrieder P, Gobet E, Tinner W (2010) Species responses to fire, climate and human impact at tree line in the Alps as evidenced by palaeo-environmental records and a dynamic simulation model. J Ecol 98:1346–1357

Cordonnier T, Courbaud B, Berger F, Franc A (2008) Permanence of resilience and protection efficiency in mountain Norway spruce forest stands: a simulation study. For Ecol Manag 256:347–354

Deutschman DH, Levin SA, Pacala SW (1999) Error propagation in a forest succession model: the role of fine-scale heterogeneity in light. Ecology 80:1927–1943

Elkin C, Reineking B, Bigler C, Bugmann H (2012) Do small-grain processes matter for landscape scale questions? Sensitivity of a forest landscape model to the formulation of tree growth rate. Landsc Ecol 27:697–711

Elmqvist T, Folke C, Nyström M, Peterson G, Bengtsson J, Walker B, Norberg J (2003) Response diversity, ecosystem change, and resilience. Front Ecol Environ 1:488–494

Fahrig L (2003) Effects of habitat fragmentation on biodiversity. Annu Rev Ecol Evol Syst 34:487–515

Fischer J, Lindenmayer DB, Manning AD (2006) Biodiversity, ecosystem function, and resilience: ten guiding principles for commodity production landscapes. Front Ecol Environ 4:80–86

Hanewinkel M, Hummel S, Cullmann DA (2010) Modelling and economic evaluation of forest biome shifts under climate change in Southwest Germany. For Ecol Manage 259:710–719

He HS, Mladenoff DJ (1999) Spatially explicit and stochastic simulation of forest-landscape fire disturbance and succession. Ecology 80:81–99

Heinimann HR (2010) A concept in adaptive ecosystem management—an engineering perspective. For Ecol Manag 259:848–856

Henne PD, Elkin CM, Reineking B, Bugmann H, Tinner T (2011) Did soil development limit spruce (Picea abies) expansion in the Central Alps during the Holocene? Testing a palaeobotanical hypothesis with a dynamic landscape model. J Biogeogr 38:933–949

Hernández-Stefanoni J, Dupuy J, Tun-Dzul F, May-Pat F (2011) Influence of landscape structure and stand age on species density and biomass of a tropical dry forest across spatial scales. Landsc Ecol 26:355–370

IPCC (2007) Contribution of working group II to the fourth assessment report of the intergovernmental panel on climate change. Climate change 2007: impacts, adaptation and vulnerability. Cambridge University Press, Cambridge

Jost L (2007) Partitioning diversity into independent alpha and beta components. Ecology 88:2427–2439

Keane RE, Morgan P, White JD (1999) Temporal patterns of ecosystem processes on simulated landscapes in Glacier National Park, Montana, USA. Landsc Ecol 14:311–329

Kennedy RSH, Wimberly MC (2009) Historical fire and vegetation dynamics in dry forests of the interior Pacific Northwest, USA, and relationships to Northern Spotted Owl (Strix occidentalis caurina) habitat conservation. For Ecol Manage 258:554–566

Kirilenko AP, Sedjo RA (2007) Climate change impacts on forestry. PNAS 104:19697–19702

Lasch P, Lindner M, Erhard M, Suckow F, Wenzel A (2002) Regional impact assessment on forest structure and functions under climate change—the Brandenburg case study. For Ecol Manag 162:73–86

Liang Y, He H, Bu R, Hu YM, Shao GF (2011) Are plot data effective for landscape prediction? A simulation study of tree species response to climate warming under varying environmental heterogeneity. Ann For Sci 68:899–909

McElhinny C, Gibbons P, Brack C, Bauhus J (2005) Forest and woodland stand structural complexity: its definition and measurement. For Ecol Manag 218:1–24

Miehle P, Livesley SJ, Li C, Arndt SK (2006) Quantifying uncertainty from large-scale model predictions of forest carbon dynamics. Glob Change Biol 12:1421–1434

MLR (1999) Richtlinie Landesweiter Waldentwicklungstypen. Ministerium Ländlicher Raum Baden-Württemberg, Stuttgart

Müller T, Oberdorfer E, Philiippi G, Walter E (1992) Potentielle natürliche Vegetation und Naturräumliche Einheiten. Landesanstalt für Umweltschutz Baden-Württemberg, Karlsruhe

Nothdurft A, Wolf T, Ringeler A, Böhner J, Saborowski J (2012) Spatio-temporal prediction of site index based on forest inventories and climate change scenarios. For Ecol Manag 279:97–111

Paillet Y, Bergès L, Hjältén J, Odor P, Avon C, Bernhardt-Römermann M, Bijlsma RJ, De Bruyn L, Fuhr M, Grandin U, Kanka R, Lundin L, Luque S, Magura T, Matesanz S, Mészáros I, Sebastià MT, Schmidt W, Standovár T, Tóthmérész B, Uotila A, Valladares F, Vellak K, Virtanen R (2010) Biodiversity differences between managed and unmanaged forests: meta-analysis of species richness in Europe. Conserv Biol 24:101–112

Papaik MJ, Fall A, Sturtevant B, Kneeshaw D, Messier C, Fortin M-J, Simon M (2010) Forest processes from stands to landscapes: exploring model forecast uncertainties using cross-scale model comparison. Can J For Res 40:2345–2359

Pretzsch H, Grote R, Reineking B, Rötzer T, Seifert S (2008) Models for forest ecosystem management: a European perspective. Ann Bot 101:1065–1087

Radeloff VC, Mladenoff DJ, Gustafson EJ, Scheller RM, He HS, Zollner PA, Akçakaya R (2006) Modeling forest harvesting effects on landscape pattern in the Northwest Wisconsin Pine Barrens. For Ecol Manag 236:113–126

Ravenscroft C, Scheller RM, Mladenoff DJ, White MA (2010) Forest restoration in a mixed-ownership landscape under climate change. Ecol Appl 20:327–346

Schlyter P, Stjernquist I, Brring L, Jönsson AM, Nilsson C (2006) Assessment of the impacts of climate change and weather extremes on boreal forests in northern Europe, focusing on Norway spruce. Clim Res 31:75–84

Schumacher S, Bugmann H (2006) The relative importance of climatic effects, wildfires and management for future forest landscape dynamics in the Swiss Alps. Global Change Biol 12:1435–1450

Schumacher S, Bugmann H, Mladenoff D (2004) Improving the formulation of tree growth and succession in a spatially explicit landscape model. Ecol Model 180:175–194

Schumacher S, Reineking B, Sibold J, Bugmann H (2006) Modeling the impact of climate and vegetation on fire regimes in mountain landscapes. Landsc Ecol 21:539–554

Seidl R, Rammer W, Jäger D, Currie WS, Lexer MJ (2007) Assessing trade-offs between carbon sequestration and timber production within a framework of multi-purpose forestry in Austria. For Ecol Manag 248:64–79

Seidl R, Fernandes PM, Fonseca TF, Gillet F, Jönsson AM, Merganicová K, Netherer S, Arpaci A, Bontemps J-D, Bugmann H, González-Olabarria JR, Lasch P, Meredieu C, Moreira F, Schelhaas M-J, Mohren F (2011) Modelling natural disturbances in forest ecosystems: a review. Ecol Model 222:903–924

Shifley SR, Thompson FR, Dijak WD, Fan ZF (2008) Forecasting landscape-scale, cumulative effects of forest management on vegetation and wildlife habitat: a case study of issues, limitations, and opportunities. For Ecol Manag 254:474–483

Steenberg JWN, Duinker PN, Bush PG (2011) Exploring adaptation to climate change in the forests of central Nova Scotia, Canada. For Ecol Manag 262:2316–2327

Sturtevant BR, Miranda BR, Shinneman DJ, Gustafson EJ, Wolter PT (2012) Comparing modern and presettlement forest dynamics of a subboreal wilderness: does spruce budworm enhance fire risk? Ecol Appl 22:1278–1296

Syphard AD, Yang J, Franklin J, He HS, Keeley JE (2007) Calibrating a forest landscape model to simulate frequent fire in Mediterranean-type shrublands. Environ Model Softw 22:1641–1653

Temperli C, Bugmann H, Elkin C (2012) Adaptive management for competing forest goods and services under climate change. Ecol Appl 22:2065–2077

Thornton PE, Running SW, White MA (1997) Generating surfaces of daily meteorological variables over large regions of complex terrain. J Hydrol 190:214–251

Uriarte M, Canham CD, Thompson J, Zimmerman JK, Murphy L, Sabat AM, Fetcher N, Haines BL (2009) Natural disturbance and human land use as determinants of tropical forest dynamics: results from a forest simulator. Ecol Monogr 79:423–443

Waldron JD, Lafon CW, Coulson RN, Cairns DM, Tchakerian MD, Birt A, Klepzig KD (2007) Simulating the impacts of southern pine beetle and fire on the dynamics of xerophytic pine landscapes in the southern Appalachians. Appl Veg Sci 10:53–64

Xu C, He HS, Hu Y, Chang Y, Larsen DR, Li X, Bu R (2004) Assessing the effect of cell-level uncertainty on a forest landscape model simulation in northeastern China. Ecol Model 180:57–72

Xu C, He HS, Hu Y, Chang Y, Li X, Bu R (2005) Latin hypercube sampling and geostatistical modeling of spatial uncertainty in a spatially explicit forest landscape model simulation. Ecol Model 185:255–269

Xu C, Gertner GZ, Scheller RM (2009) Uncertainties in the response of a forest landscape to global climatic change. Glob Change Biol 15:116–131

Yousefpour R, Temperli C, Elkin C, Bugmann H, Hanewinkel M, Meilby H, Bredahl Jacobsen J, Jellesmark Thorsen B (2012) Updating beliefs and combining evidence in adaptive forest management under climate change: a case study of Norway spruce (Picea abies L. Karst) in the Black Forest, Germany. Journal of Environmental Management (accepted)
Acknowledgments
We thank Dirk Schmatz (WSL) for providing downscaled climate scenario data. C. T. and J. Z. were funded by MOTIVE, a project within the European commission's 7th framework program (Grant agreement no. 226544).
Electronic supplementary material
Below is the link to the electronic supplementary material.
About this article
Cite this article
Temperli, C., Zell, J., Bugmann, H. et al. Sensitivity of ecosystem goods and services projections of a forest landscape model to initialization data. Landscape Ecol 28, 1337–1352 (2013). https://doi.org/10.1007/s10980-013-9882-0
Received:

Accepted:

Published:

Issue Date:
Keywords
Climate change

Forest inventory

Landscape model

Model initialization

Simulation

Uncertainty