Thermal decomposition mechanism and quantum chemical investigation of hydrazine 3-nitro-1,2,4-triazol-5-one (HNTO)
Abstract
The thermal decomposition mechanism of hydrazine 3-nitro-1,2,4-triazol-5-one (HNTO) compound was studied by means of differential scanning calorimetry (DSC), thermogravimetry and derivative thermogravimetry (TG-DTG), and the coupled simultaneous techniques of in situ thermolysis cell with rapid scan Fourier transform infrared spectroscopy (in situ thermolysis/RSFTIR). The thermal decomposition mechanism is proposed. The quantum chemical calculation on HNTO was carried out at B3LYP level with 6-31G+(d) basis set. The results show that HNTO has two exothermic decomposition reaction stages: nitryl group break first away from HNTO molecule, then hydrazine group break almost simultaneously away with carbonyl group, accompanying azole ring breaking in the first stage, and the reciprocity of fragments generated from the decomposition reaction is appeared in the second one. The C–N bond strength sequence in the pentabasic ring (shown in Scheme 
1
) can be obtained from the quantum chemical calculation as: C3–N4 > N2–C3 > N4–C5 > N1–C5. The weakest bond in NTO
−
is N7–C3. N11–N4 bond strength is almost equal to N4–C5. The theoretic calculation is in agreement with that of the thermal decomposition experiment.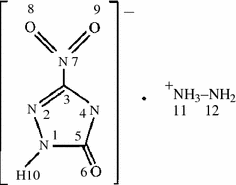 Keywords
Hydrazine 3-nitro-1,2,4-triazol-5-one (HNTO) 
Quantum chemical calculation 
Thermal decomposition mechanism 
Notes
Acknowledgements
We acknowledge the support of the National Natural Science Foundation of China (No. 20573098) and the Foundation of National Key Laboratory of Science and Technology on Combustion (No. 9140C3503020605).
Copyright information
© Akadémiai Kiadó, Budapest, Hungary 2009