Impact of thiourea concentration on the properties of sol–gel derived Zn(O,S) thin films and Cu(In,Ga)Se2 solar cells
Original Paper: Devices based on sol-gel or hybrid materials
Abstract
A novel approach based on sol–gel spin coating method to deposit Zn(O,S) thin film using thiourea(TU) as a sulfur source replacing CdS as buffer layer was developed and the influence of TU concentration on the properties of Zn(O,S) thin films and Cu(In,Ga)Se2(CIGS) solar cells were investigated in this paper. It was found by X-ray diffraction and X-ray photoelectron spectroscopy that sol–gel derived Zn(O,S) thin films were amorphous and composed of ZnS, ZnO as well as Zn(OH)2. The variation of the optical band gap as a function of the S/(S+O) ratio was determined by energy-dispersive spectroscopy and UV-VIS-NIR. The results indicated that the minimum value for band gap of approximate 3.72 eV was obtained when the S/(S+O) = 0.44. Efficiency of up to 7.28% was achieved for a CIGS solar cell with Zn(O,S) buffer layer from 0.2M TU, which was attributed to the optimized conduction band offset (CBO) of +0.45 eV at the CIGS/Zn(O,S) interface.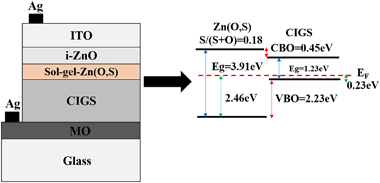 Keywords
Zn(O,S) 
Sol–gel method 
TU concentration 
CIGS solar cells 
CBO 
Notes
Funding
This study was funded by the National Nature Science Foundation of China (61774084), a project supported by the special fund of Jiangsu Province for the transformation of scientific and technological achievements (BA2015121) and Joint Frontier Research Project of Jiangsu Province (BY2016003-09), a Project Funded by the Priority Academic Program Development of Jiangsu Higher Education Institutions and Opening Project of State Key Laboratory of Advanced Technology for Float Glass.
Compliance with ethical standards
Conflict of interest
The authors declare that they have no conflict of interest.
Copyright information
© Springer Science+Business Media, LLC, part of Springer Nature 2018